Junction City Cemetery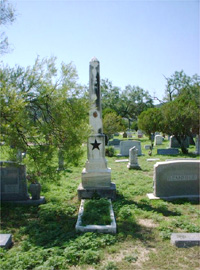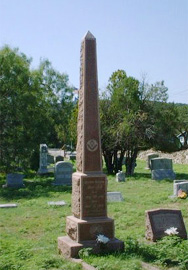 Photos by Sheriff Jerry Hicks
Kimble County, Cemeteries of Texas
Section Three
Compiled By: Frederica Burt Wyatt, July 6,2000
Submitted By: Gloria B. Mayfield, Rusk County CC
Coordinator: Dolores I. Bishop
The "new" cemetery section, lying immediately west of South Twentieth Street, is known as the West Addition. The area was opened for burials in the 1940's. Some headstones bear older dates, for some re interments from other locations have taken place. First person buried here was Tommy Carl Dobbs (little son of Ray and Ruth Dobbs), who died 9 October 1943.
Within this section are the final resting places of a number of Kimble County's war heroes. Among those who gave their "all" during World War II were Cecil Martin Holekamp, William D. Conner, Horace Bolt Maddux, and John W. Montgomery. Memorial stones for Wilson Buster, Jr. and Glenn Hodges repose here in their families' plots. Travis Morgan who served during the Korean Conflict, drowned in the Ohio River before returning to his family. Two brave men who died during the Viet Nam struggle are here: Roger Baxter and Glenn Pelton. Charles Tubbs died in an air tragedy while serving his country.
Two Spanish-American War veterans, one veteran of the Great White Fleet, a veteran of the Boer War, and many from World Wars I and II are buried here. Three former members of the State Legislature - M.E. Blackburn, J.B. Randolph, and C.C. Chessher - were buried here. Weaver H. Baker, former Chairman, State Board of Control, is at rest in this section of the cemetery.
Sections: One, Two, Three, Four, and Five
LAST NAME, FIRST NAME, BIRTH, DEATH, COMMENTS
Abbott, Sarah Frances Abel, Dec 31 1881, Oct 20 1952, W/o J.C.
Abel, Katie S., Apr 12 1896, Oct 06 1987, W/O W.J.
Abel, William Jack, Jul 23 1890, Dec 04 1961, -
Adams, Preston Elba, Jun 08 1907, Feb 20 1985, -
Allen, Anabel Dickey, Jul 23 1899, May 06 1984, W/o L.R.
Allen, Lewis Raymond, Jan 10 1895, Jan 01 1955, -
Allsup, Henry Britton, May 23 1899, Aug 21 1957, -
Allsup, Lillian A. Randolph-Bradford, Sep 21 1896, Nov 28 1953, W/o H.B.
Andrews, James William, Aug 18 1887, Jan 02 1979, -
Andrews, Mary Dunlap-Goodall, Apr 27 1901, Sep 12 1962, W/o W.G.
Andrews, Mattie E. Tomberlin-Greenwood, Aug 04 1899, Jan 27 1977, W/o J.W.
Andrews, William Gray, Oct 18 1894, Dec 09 1952, -
Ard, George A., Jul 22 1907, Jun 06 1994, -
Atkins, Hulda Cox, Mar 02 1895, Sep 24 1975, W/o W.F.
Atkins, William Franklin, Jul 29 1887, Jul 12 1955, -
Baker, Charlie H., Dec 16 1874, May 16 1961, -
Baker , James D., Jr., May 15 1903, Jul 10 1982, -
Baker, Lessie Juanita Reid, Jul 19 1889, Feb 24 1988, W/o Weaver
Baker, Mollie Hudson, Apr 03 1871, Mar 25 1953, W/o Thomas
Baker, Samma E. Jobes, Apr 24 1885, May 15 1972, W/o J.D., Sr.
Baker, T. Eli, Mar 07 1903, Feb 11 1969, -
Baker, Thomas, Feb 16 1862, Oct 21 1948, -
Baker, Weaver Hudson, Apr 10 1894, Sep 22 1946, -
Baker, Willie D. Nance, Apr 25 1903, Feb 15 1979, W/o Eli
Ball, Janie Rampy, Jul 13 1904, Aug 09 1992, W/o John
Ball, Jesse Lee, Sep 02 1899, Apr 16 1952, -
Ball, John H., Aug 15 1907, Nov 06 1973, -
Bankston, Louise Atkins, Jun 15 1925, Mar 23 1972, -
Bannowsky, Alfred A., May 18 1898, Dec 14 1984, -
Bannowsky, Emily Ann Weaver, Dec 08 1871, Oct 01 1965, W/o W.A.
Bannowsky, Minnie Furr, Apr 02 1901, Oct 10 1994, W/o A.A.
Bannowsky, Samuel G. "Guss", Oct 15 1904, Sep 11 1995, -
Bannowsky, Infant, May 30 1959, May 30 1959, S/o Jim & Kay
Bannowsky, William Albert, Nov 19 1857, Aug 04 1946, -
Barker, Allie A. Smith, Mar 19 1900, Feb 23 1977, W/o Henry
Barker, Henry Mack, Oct 31 1893, Feb 04 1974, -
Barker, James W., Jun 21 1949, Jun 21 1949, S/o M/M Earl
Barker, Jane Corl, Feb 17 1927, Mar 19 1997, W/o James
Barker, Marcus Bryan, Mar 31 1956, Dec 22 1980, -
Baxter, Elizabeth Weaks, Jan 31 1926, Oct 10 1990, W/o Elmer
Baxter, Roger Bruce, Feb 14 1945, May 06 1970, Killed in Viet Nam
Baylor, John C., Aug 17 1909, Sep 02 1948, -
Beck, Joe J., Dec 04 1909, Feb 17 1994, -
Bishop, Charlie Lee, May 01 1897, Nov 20 1974, -
Bishop, Gordon Glenn, Jun 05 1935, Sep 21 1968, -
Bishop, Thelma Kelley, Sep 04 1900, Jun 24 1993, W/o C.L.
Bittel, Ruby Wright, Sep 10 1904, Jul 03 1958, -
Black, Frank Bell, Dec 14 1884, Aug 21 1952, -
Black, George W., 1859, 1940, -
Black, Mary Bell, Dec 08 1863, Sep 06 1956, W/o G.W.
Black, Robert L., Feb 08 1921, Sep 18 1993, -
Blackard, A.A., May 12 1904, Feb 21 1973, -
Blackard , Katherine Lea, Jan 20 1909, Jan 01 1995, W/o A.A.
Blackburn, Dayton T., Sep 10 1916, Feb 09 1962, -
Blackburn, Howard W., Oct 15 1905, May 15 1986, -
Blackburn, Lela Elizabeth Tomlinson, Nov 21 1882, Jun 25 1974, W/o Roy
Blackburn, Marvin Ellis, Aug 26 1874, May 27 1966, -
Blackburn, Mary Ellis, Aug 08 1902, Jan 15 1994, -
Blackburn, Nevada, Apr 10 1914, May 28 1995, -
Blackburn, Retta Ann Daugherty, Feb 04 1877, Sep 08 1968, W/o M.E.
Blackburn, Roy Patton, Sep 11 1880, Nov 13 1966, -
Blackburn, Tommie Smith "Smitty", Jul 26 1910, Apr 19 1994, W/o Howard
Boekhaus, Edward W., Jun 13 1880, Dec 02 1963, -
Boekhaus, Lena E. Ludwig, Feb 19 1891, Dec 09 1971, W/o E.W.
Boerm, Dessie Ellen Gillespie, Aug 16 1901, Mar 15 1949, W/o W.M.
Boerm, William Martin, Jan 24 1898, Sep 15 1959, -
Booth, Clarence E. "Nubbin", Sep 04 1919, Apr 23 1974, -
Braden, J.F., -, Apr 04 1955, -
Braley, Louise King, Apr 22 1913, Oct 24 1985, W/o Warren
Braley, Warren H., May 26 1911, Jan 16 1962, -
Brite, Alta Pearl Paul , May 18 1902, Dec 10 1980, W/o Herbert
Brite, Charlie , Nov 11 1933, Jan 17 1951, -
Brite , Herbert, Jun 27 1893, Sep 26 1958, -
Brite, H. Hudson, May 11 1921, Dec 13 1992, -
Brite, Ovella McCoy, Aug 15 1916, Aug 05 1995, W/o Hudson
Brockman, Alma L., Mar 13 1872, Jan 08 1975, W/o Otto
Brockman, Otto J., Oct 16 1859, May 30 1956, -
Brown, James Howard, Jan 27 1956, Feb 18 1960, -
Brown, Johnny Boy, Dec 26 1931, Nov 07 1987, -
Brown, Renda Gay, Jan 31 1960, Feb 04 1960, D/o Johnny & Norma
Brown, Infant, Feb 20 1965, Feb 20 1965, I/o Johnny & Norma
Brown, Tommie B. Arnold, Apr 09 1894, Nov 12 1958, W/o W.B.
Brown, Wilburn B., May 03 1894, Nov 22 1962, -
Browning, Auva W., Sep 02 1894, Mar 25 1955, -
Browning, Dr. Helen E. Gray, Sep 23 1896, Apr 03 1969, W/o A.W.
Bundick, Ima Jean, Oct 19 1932, Jan 07 1952, -
Bundick, Martin Leslie "Cap", Apr 02 1908, Jun 09 1980, -
Bundick, Ruby Alma Eddleman, Jul 01 1908, Oct 12 1971, W/o M.L.
Bundy, Alice Harding, Jul 06 1886, Sep 27 1964, W/o S.S.
Bundy, Harry L., May 30 1909, Oct 02 1958, -
Bundy, Mabel Hodges, Feb 15 1919, May 12 1989, W/o Harry
Bundy, Stanton Scofield, Aug 19 1885, Apr 26 1956, -
Burkett, William Troy, Aug 11 1938, May 16 1953, -
Burt, Ernest Matt, Jul 26 1880, Dec 03 1938, -
Burt, Dr. John Fred , Nov 20 1877, Aug 10 1956, -
Burt, John Matt, Jr., Feb 22 1887, Feb 26 1953, Veteran- Great White Fleet- U.S. Navy
Burt, John Warren, Nov 03 1903, Dec 01 1921, -
Burt, Mildred Corrine Harriss, Nov 24 1929, Jul 20 1997, W/o Fane L.
Burt, Sadie Oliver, Apr 02 1890, Mar 01 1988, W/o J. Fred
Burt, Sinia Bessie Lee Allsup, Oct 20 1897, Dec 15 1988, W/o J. Matt
Burt, Zora Miller (McCorkle), Dec 01 1887, Jun 09 1980, W/o Ernest
Buster, Erma Ruth, May 23 1914, Jun 03 1962, W/o R.E.
Buster, Ovie, Jan 21 1900, Apr 17 1951, -
Buster, Royce E. "Toby", Sep 29 1909, Mar 19 1983, -
Buster, Ruth Owen-Williamson, Apr 09 1900, Dec 02 1974, W/o Ovie
Buster, Wilson B., Jan 07 1895, Apr 28 1978, -
Buster, Wilson B., Jr., Jan 21 1920, Jun 22 1945, Killed WWII
Buster, Zella Mae Owen, Aug 05 1896, Oct 30 1978, W/o W.B.
Butland, Thomas S., 1878, 1926, Boer War Veteran
Cairns, Dr. David, Oct 15 1915, Apr 25 1953, -
Callan, Laurena Mitchell, Jul 07 1892, Dec 22 1959, W/o R.C.
Callan, Richard C., Jan 12 1885, Apr 04 1962, -
Camp, Blalock C. "Doc", Jun 04 1898, Oct 03 1996, -
Camp, Hulda Leifeste, Aug 04 1887, Sep 20 1964, W/o O.J.
Camp, Julia Gladys McWright, Oct 30 1904, Oct 20 1980, W/o B.C.
Camp , Max L., Oct 04 1915, Apr 23 1961, -
Camp, Oscar Jared, Jan 14 1886, Jun 17 1951, -
Camp, Sherry Sue, Jan 13 1946, Jan 13 1946, D/o B.C. & Gladys
Carlile, James A., May 18 1950, Sep 17 1971, -
Carpenter, James Warren, Sep 13 1895, Jun 22 1958, -
Carpenter, Lorine Morriss, Feb 12 1902, May 22 1989, W/o J.W.
Carroll, Jimmie Elvis, Jun 24 1945, Apr 14 1953, -
Cavaness, J.A. "Si", Sep 03 1894, Jan 06 1966, -
Cavaness, Sophia Brown, Jun 05 1869, Aug 17 1956, W/o W.H.
Cavaness, Stella Felps, Oct 23 1893, Dec 15 1978, W/o J.A.
Cavaness, William Henry, May 01 1864, Jul 15 1949, -
Chadwell, Kaleta Taylor, Jun 02 1911, Jan 21 1995, W/o W.G.
Chadwell, Walter Gann, May 31 1907, Oct 14 1962, -
Chessher, Comer C., Sep 16 1904, Jun 02 1957, -
Chessher, Ruby Jinkins, Oct 14 1906, Feb 02 1951, W/o C.C.
Cloud, Robert Walter, Sep 10 1890, Apr 05 1960, -
Cobb, Ethel May, 1907, 1950, -
Coffey, Mary Alice Vann, Apr 17 1884, Sep 02 1966, W/o S.A.
Coffey, Sam Albert, Nov 09 1878, Dec 27 1950, -
Coleman, Fred, Aug 08 1904, Dec 24 1975, -
Coleman, Henry Thomas, May 17 1899, Dec 06 1970, -
Coleman, Marie Wootton, Oct 24 1911, Dec 29 1991, W/o Fred
Coleman, Mary Edith Robinson, Dec 13 1867, Mar 08 1963, W/o W.J.
Coleman, William Jinkins "Jinks", Jun 16 1865, Oct 27 1950, -
Conner, Glenn A., Dec 24 1908, Nov 24 1964, -
Conner, Florence A. Glenn, Apr 12 1880, Jan 14 1967, W/o J.R.
Conner, John Riley, Oct 14 1871, Apr 12 1968, -
Conner, Lisa Dianne, May 16 1966, Nov 28 1966, D/o Ed & Geneva
Conner, Olie Ethel Wagner, Jan 01 1915, Feb 19 1967, W/o Glenn
Conner, W.D., Dec 03 1910, Dec 19 1944, Killed in WWII
Cook, Laura E. Phillips, 1865, 1961, W/o Sam
Cook, Sam H., 1857, 1955, -
Corkill, Cecil Martin, Nov 29 1900, May 03 1976, -
Cotter, Lucinda Jane Bagley, Dec 17 1890, Jan 27 1970, -
Couey, Claudius J., Aug 23 1873, Dec 11 1955, -
Cowsert, Bertha "Bert" Lucke, Dec 23 1896, Nov 16 1984, W/o L.F.
Cowsert, Helen Lucke, Dec 27 1893, Jul 29 1996, W/o J.D.
Cowsert, John DeWitt, May 07 1891, Aug 12 1983, -
Cowsert, Leonard F., May 02 1896, Feb 21 1955, -
Craven, Cecil Hayes, Oct 06 1904, Feb 24 1973, -
Craven, Harold Lee, Nov 26 1906, May 30 1978, -
Craven, Ruby Lee Callan , Feb 19 1911, Jan 09 2000, W/o Cecil
Crumbley, Billy Dean, Oct 03 1932, Jan 25 2000, -
Crumbley, J.J. "Jack", Mar 22 1898, Oct 28 1947, -
Cryer, Alice R. Lawson, Oct 31 1894, Jan 22 1975, W/o Thomas
Cryer, Thomas Fate, May 30 1892, Jan 21 1971, -
Cullen, Callie Blanche, Jun 21 1878, Mar 30 1966, -
Cullen, Lucy Evelyn, Jun 07 1874, Apr 19 1958, -
Curtis, Ray C., Nov 04 1909, Oct 31 1960, -
Curtis, Ray, Jr., Aug 02 1931, Feb 18 1970, -
Dagen, John L., Jan 06 1924, Aug 11 1957, -
Daharsh, Ed Virgil, May 04 1928, Jul 15 1974,
Daharsh, Timothy Dean, Jan 22 1958, Feb 01 1958, S/o Ed & Mavis
Dannheim, Beulah Weatherred-Fulton, May 15 1887, Nov 15 1950, W/o W.H.
Dannheim, W.H., Mar 27 1871, Mar 13 1951, -
Davee, Verna L. Millsap, Apr 12 1914, Aug 15 1954, W/o D.F.
Davis, Bonnie Sue, Jan 19 1955, Sep 09 1955, D/o Richard & Laverne
Davis, Clara, Oct 04 1891, Dec 08 1968, -
Davis, Kenneth, Dec 13 1955, Dec 14 1955, S/o Richard & Lavern
Davis, Laura Lorene Marsh, Dec 16 1872, Feb 06 1959, -
Davis, Louis Hayes, May 15 1883, Mar 01 1969, -
Davis, Mary Alice Knox, Oct 01 1883, Sep 09 1989, W/o Robert
Davis, Robert Henry, Sep 12 1864, Aug 27 1952, -
Deats, Daisy Fleming, Jul 20 1877, Jul 10 1951, W/o J.E.
Deats, Elva Watson-Jackson, Mar 22 1907, Jun 14 1991, W/o Temple
Deats, Joshua E., Oct 28 1872, Mar 24 1950, -
Deats, Temple Ellis, Mar 15 1905, Mar 09 1965, -
Deike, Samantha Alice, 1957, Sep 11 1958, -
Dickinson, Sheldon James, Feb 02 1895, Oct 22 1985, -
Dobbs, Ray L., Oct 29 1912, Jan 12 1994, -
Dobbs, Tommy Carl, Dec 20 1938, Oct 09 1943, -
Dockery, Ada Seay, Jan 26 1858, Jan 14 1944, -
Dowell, James A., Jan 03 1922, Sep 11 1990, -
Dunbar, Arthur D., Mar 18 1908, Apr 17 1956, -
Dunbar, Leonard L., Jun 09 1912, Feb 02 1969, -
Dunk, Ana Mae, May 29 1906, Nov 05 1955, -
Dunning, Roxie I. Keith, Mar 05 1900, Apr 29 1988, W/o V.N.
Dunning, Vallon N., Dec 22 1892, Aug 16 1961, -
Durst, Kittrell Goree, Jul 25 1894, May 12 1961, -
Durst, Ludye Tomberlin, Mar 05 1896, Nov 22 1962, W/o K.G.
Edwards, Uel, Apr 07 1891, Nov 23 1960, -
Evans, Gilford, Apr 22 1896, Sep 13 1967, -
Evans, James Frederick, Apr 27 1951, Jul 12 1961, -
Evans, Rachel L. Smith, Dec 03 1904, Jun 21 1962, W/o Gilford
Fairchild, Charles R., Jun 17 1904, Jun 04 1954, -
Fairchild, Duane, Feb 13 1964, Aug 25 1985, -
Fairchild, Samuel Theodore "Ted", May 06 1932, Aug 29 1999, -
Farmer, Cornelia J. Hornor, Feb 03 1894, Nov 18 1966, W/o J.S.
Farmer, Joseph Sayers, Jan 13 1891, Sep 09 1959, -
Farris, Mary Eddith Allsup, Feb 29 1896, Mar 05 1978, W/o Isaac
Fellers, Nancy Lorena Hinds, Aug 14 1884, Nov 25 1974, W/o W.L.
Fellers, W.L., Aug 03 1882, Feb 23 1969, -
Felps, Erich Fleming "Flem", Dec 26 1906, Sep 22 1956, -
Felps, Joe William, May 07 1896, Jul 29 1976, -
Felps, Nan Moore, Dec 31 1914, Jul 19 1976, W/o Flem
Ferguson, Betty June Blackwell, Jan 09 1925, Jan 29 1987, W/o Lewis
Findley, Evelyn, Sep 24 1956, Oct 02 1956, D/o E.M. & E.S.
Finis, Carlton Doug, Nov 29 1954, 1954, -
Fish, Margaret M. Brown-McNutt, May 04 1908, Jun 08 1974, -
Fisher, Alton, Mar 20 1916, Apr 11 1986, -
Fisher, Alva S., Dec 09 1893, Apr 15 1975, -
Fisher, Audrey L., Dec 01 1920, Jan 31 1960, -
Fisher, Aurora L. Reese, Feb 22 1884, Oct 02 1962, W/o W.K.
Fisher, Joe Dell, Feb 17 1919, Nov 17 1961, -
Fish, John Burl, May 15 1880, Dec 23 1959, -
Fisher, Lelia M. Browning, May 02 1897, Aug 13 1970, W/o Alva
Fisher, Lounette Goodman, Dec 19 1885, Sep 07 1979, W/o J. Burl
Fisher, Robert Wiley, Feb 12 1890, May 22 1979, -
Fisher, Sally Elizabeth Ivy, Jul 21 1884, Jul 21 1993, W/o R.W.
Fisher, William King, May 27 1886, Nov 21 1973, -
Flanagan, Molly Beth, Oct 27 1962, Apr 20 1964, D/o Glen & Gracie
Flanagan, Phillip Scott, Feb 21 1965, Feb 21 1965, S/o Glen & Gracie
Flanagan, Steven Glen, Dec 26 1957, Dec 27 1957, S/o Glen & Gracie
Fritz, Hazel Hagemann, Jun 30 1887, Mar 03 1949, W/o Joe
Fritz, Joe Peter, Aug 09 1873, Sep 03 1948, -
Fruge, Jack M., Nov 11 1900, Jun 20 1976, -
Fruge, William "Bill", Dec 09 1933, Nov 13 1954, -
Fry, Lema P. Coldiron-Massey, Jan 29 1910, Feb 04 1977, -
Furr, Georgia Dunning, Mar 20 1906, Jan 21 1975, W/o Hubert
Furr, Hubert Andrew, Jul 05 1902, Jun 19 1978, -
Furr, James Carlton, Feb 23 1930, Nov 18 1961, -
Gardner, Wilburn T., Mar 07 1898, Dec 30 1978, -
Gaver, Margaret Elizabeth, Nov 22 1955, Apr 17 1956, D/o Edgar & Margaret
Gilliam, Myrtle McNutt, Oct 05 1899, Nov 28 1994, W/o W.R.
Gilliam, W. Roy, May 06 1887, Apr 29 1957, -
Good, Jess E., Dec 17 1894, Sep 11 1959, -
Good, Mona L. McKinney, Jul 22 1912, Sep 09 1958, W/o Jess
Gordon, Cynthia Ann, Jul 07 1954, Jan 18 1958, D/o E.J. & Melba
Greer, J.E., -, Jun 24 1960, -
Greer, Ona Bradshaw, -, Mar 15 1980, W/o J.E.
Grobe, Louis W., May 04 1878, Aug 30 1956, -
Grobe, Marie Cooper, Jun 09 1909, Jun 22 1981, W/o L.W.
Guthrie, Frank R., Dec 08 1898, Mar 15 1980, -
Guthrie, John Houston, Jun 06 1886, Sep 12 1959, -
Guthrie, Lena E. Griffith, Apr 15 1882, Jul 15 1986, W/o John
Guthrie, Sarah Kathryn Lewis, Jul 18 1907, Aug 05 1996, W/o Frank
Hagood, Charles Luke, Oct 23 1911, Jul 17 1994, -
Hagood, Elizabeth Summers, Oct 26 1912, Dec 02 1997, W/o Charles Luke
Haines, Infant, Oct 22 1957, Oct 22 1957, D/o M/M Addis
Haler, Felix, Jul 30 1897, Sep 02 1953, -
Hamer, Alex J., Oct 29 1874, Dec 14 1970, -
Hamer, Annie Braley, Aug 15 1876, Dec 06 1946, W/o A.J.
Hamer, Clifford F., Feb 18 1898, May 02 1952, -
Hamer, Gladyse L. McCraw-Hawkins, Feb 24 1910, Sep 29 1964, W/o H.A.
Hamer, Henry A. "Bill", Mar 27 1899, Sep 19 1970, -
Hamilton, George Mills, Sep 04 1888, Apr 05 1954, -
Hamilton , Mary Beasley, Dec 18 1894, May 09 1986, W/o George
Hankins, John M., Sep 19 1877, Dec 27 1960, -
Hankins, Lois C., May 05 1903, Jun 27 1981, -
Hankins, Nellie Corkill, Jul 07 1880, Jun 15 1975, W/o J.M.
Hannah, Florence Lenore Sharrock, Aug 05 1877, Mar 30 1954, -
Hardeman, Dora T. Ward, Oct 28 1889, Jan 22 1979, W/o W.N.
Hardeman, Thomas Nash, Mar 12 1921, Dec 19 1956, -
Hardeman, Ward Nash, Sep 15 1889, Feb 12 1984, -
Hardeman, William W. "Bill", Jun 11 1954, Apr 12 1971, -
Harding, Margaret Cloud, Feb 04 1880, Nov 10 1956, -
Hargroves, Amanda O'Neill-Bundick, Apr 22 1879, Sep 19 1960, -
Herring, Hazel Kane, Jul 27 1903, Mar 13 1998, W/o J.F.
Herring, James F., Feb 14 1895, Jun 02 1985, -
Hill, Aubrey Earl, Aug 23 1906, Aug 24 1962, -
Hill, Earl G., Sep 07 1885, Oct 26 1982, -
Hill, Lura Betty Taylor, Nov 02 1906, Jan 13 1981, W/o Aubrey
Hill, Minnie E. Josey, Feb 23 1889, Jul 22 1959, W/o Earl G.
Hodges, Albert L. "Duddy", May 25 1945, Sep 02 1961, -
Hodges, Bess Corder, Sep 22 1887, Mar 20 1970, W/o J. Lester
Hodges, Carl M., Nov 02 1919, Aug 20 1963, -
Hodges, Elizabeth Arminta Lane, 1866, Jun 12 1947, W/o F.M.
Hodges, Francis Lane, 1893, Sep 25 1966, -
Hodges, Francis Marion "Bud", Jul 27 1869, Jun 04 1953, -
Hodges, Glenn, Nov 17 1920, Jan 24 1944, Memorial MarkerKilled in WWII
Hodges, James Lester, Jan 31 1890, Sep 01 1949, -
Hodges, James R. "Jim", Feb 04 1902, Jun 16 1968, -
Hodges, Lafayette R., Jan 03 1898, Jul 21 1986, -
Hodges, Love Quick, Jun 21 1898, Sep 04 1985, W/o L.R.
Hodges, Mabel, Feb 04 1915, Feb 03 1970, -
Hodges, Vinie Furry, Jun 14 1895, Jan 00 1962, W/o F. Lane
Hoggett, Pierce A., Jr. "Dynamite", Feb 14 1934, Feb 19 1997, -
Holekamp, Cecil Martin, May 16 1924, Apr 10 1945, Killed in WWII
Holekamp, Conrad T., Feb 11 1895, Apr 01 1979, -
Holekamp, Dr. C. Ted, Jul 25 1927, Sep 06 1980, -
Holekamp, Dorra Martin, -, Aug 10 1963, W/o C.T.
Holekamp, Dorra Kathleen, Jan 31 1963, Jan 04 1977, -
Holekamp, Laverne Johnston, Feb 10 1938, Nov 06 1976, W/o Dr. Ted
Holland, Ara Chapman, Nov 29 1898, Feb 22 1969, W/o Clay
Holland, Clay H., Jun 09 1888, Mar 06 1976, -
Holland , Hal F., Jul 05 1893, Nov 10 1974, -
Holland, Sarah D. Cox, Apr 30 1894, May 29 1962, W/o Hal
Holt, James M., Oct 01 1897, Jul 20 1961, -
Holt, Myrtle Mae, Dec 18 1901, Jan 28 1966, W/o James
House, Margaret, 1897, Feb 09 1971, -
Hubbell, Frank A., May 03 1911, Nov 27 1989, -
Hubert, Harry G., Oct 07 1874, Jul 16 1959, -
Hubert, Ruby Gann, Feb 25 1884, Feb 01 1972, W/o H.G.
Hunger, August H., Dec 17 1918, Feb 14 1971, -
Hunger, Donna Leagh, Nov 30 1953, Jan 01 1955, D/o August & Nettie
Hunger, Ed C., Oct 12 1889, Feb 14 1971, -
Hunger, Nettie B. Ferguson, Nov 29 1913, Feb 14 1971, W/o August
Hunger, Trudie Blanch Savage, Mar 03 1896, Oct 27 1960, W/o Ed
Hunsucker, Milburn L., Dec 16 1900, Mar 03 1974, -
Hunsucker, Minnie Coffey, Apr 14 1909, Nov 26 1967, W/o M.L.
Hurte, Augie C., May 04 1896, Jan 25 1968, -
Hurte, Willie W. Baker, Sep 11 1908, Feb 05 1991, W/o A.C.
Hyde, Infant, Jun 03 1960, Jun 03 1960, D/o Clarence & Nell
Ingram, Leonard B., Sep 10 1882, Sep 23 1944, -
James, W.E. "Gene", Oct 09 1907, Feb 25 1991, -
Johnson, Elmer Perry, Jan 09 1884, Aug 15 1961, -
Johnson, Lennie L. Lambright, Dec 25 1909, Jul 31 1988, W/o Lonnie
Johnson, Lonnie Filmore, Oct 30 1906, Sep 20 1978, -
Johnson, Mary A. Logan, Mar 21 1888, Apr 22 1975, W/o Elmer
Jones, Carrie Ola Wyckoff, May 04 1901, Jun 10 1999, W/o Luther
Jones, Eugene H., Nov 16 1915, Jan 21 1996, -
Jones, Jeri Lynn, Oct 30 1967, Mar 12 1969, D/o M/M Hugh Ned
Jones, Lottie May Brooks, Apr 03 1898, Nov 01 1993, -
Jones, Martin Luther, Oct 30 1900, Sep 19 1966, -
Jones, Shirley May, 1929, Oct 01 1961, -
Jones, W. Alwin "Froggie" Linn , Jun 05 1916, Aug 02 1992, W/o Eugene
Jordan, Grace Fisher, Jan 25 1908, Nov 05 1989, W/o J.N.
Jordan, J. Nick, Jr., Aug 22 1906, Mar 24 1953, -
Jordan, Janie Rebecca Atkins-Burkett, Mar 26 1918, Feb 01 1995, W/o J.C.
Jordan, Julius C., Mar 25 1917, Oct 10 1961, -
Joy, Edwin, Apr 06 1890, Oct 05 1957, -
Joy, Harry O. "Dutch", Aug 06 1913, Jun 03 1997, -
Joy, Lee August, Jan 17 1912, Oct 03 1997, -
Joy, Lottie Freeman, Mar 08 1889, Apr 05 1981, W/o Edwin
Joy, Melba Walton, Oct 29 1916, Sep 20 1975, W/o Lee
Joy, Minnie E. Thiers, Mar 20 1892, Sep 28 1973, W/o W.C.
Joy, William Cash, Aug 10 1892, Nov 17 1959, -
King, Helen G. Craddock, Jul 22 1914, Jan 01 1952, -
King, Jack, Jul 28 1909, Aug 31 1991, -
Kirchman, Frances Long, Aug 22 1882, Aug 16 1960, W/o T.M.
Kirchman, Thomas M., Jul 04 1880, Jun 08 1955, -
Kirkpatrick, Patricia Shields, Nov 28 1908, Oct 01 1977, W/o V.H.
Klaische, John Raymond, May 19 1906, Mar 30 1983, -
Lackey, Georgia Verbie Morris, Nov 29 1890, Nov 13 1960, W/o H.D., Sr.
Lackey, Henry David, Jul 10 1886, Sep 19 1952, -
Lackey, Henry D., Jr., Apr 07 1926, May 29 1994, -
Lackey, Howard Clinton, Sep 25 1951, Sep 26 1951, S/o H.D. & Iris
Lackey, Stanley F., Jun 05 1914, Apr 05 1983, -
Ladd, Helen Athalie Burt-Maddux, Jan 28 1916, Jul 04 1964, -
LaForge, Birdie, Feb 13 1913, Mar 28 2000, W/o W.E.
LaForge, Wilburn E., Sep 26 1901, Oct 30 1985, -
Lane, Agnes Wyckoff, Nov 09 1892, Jan 02 1976, W/o J.D.
Lane, Jesse David, May 20 1880, Jun 23 1958, -
Lawler, Harry Hayden, Jan 07 1892, Mar 15 1978, -
Lawson, Jeanne E., Dec 16 1920, Mar 06 1960, -
Leverett, Dula Payne, Apr 04 1895, Jan 07 1978, W/o Mark
Leverett, Mark Hiram, May 03 1887, Jan 20 1949, -
Lewis, Donald H., Aug 30 1923, Mar 22 1995, -
Lindsay, Loma Katherine Turman, Dec 04 1900, Mar 17 1984, -
Linn, Ned A., Feb 12 1880, Apr 08 1968, -
Linn, Willie L. Smith, Jan 06 1880, Oct 01 1960, W/o Ned
Liverman, Ellie Allen, Jan 15 1886, Nov 20 1951, W/o J.A.
Liverman, John A., Jun 09 1874, Apr 27 1960, -
Liverman, John Wayne, Mar 29 1954, Dec 05 1999, -
Livingston, J.M., Feb 06 1890, Sep 16 1960, -
Livingston, Margaret Turman, Aug 03 1894, Jun 30 1983, W/o J.M.
Loeffler, Allie Mae Dockery, Dec 21 1898, Dec 20 1989, W/o A.W.
Loeffler, Alvin W., Jul 29 1891, Nov 17 1985, -
Loeffler, Cayloma Davis, Dec 31 1922, Dec 29 1998, W/o Victor J.
Loeffler, Ola Jetton, Jan 17 1897, Nov 16 1988, W/o R.H.
Loeffler, Robert H., Aug 14 1889, Nov 24 1969, -
Loeffler, Russa Nell Kothmann, Jul 12 1931, Oct 14 1995, W/o Gerald
Loeffler, Selma, Feb 08 1887, Jul 24 1953, -
Loeffler, Victor Jetton, Nov 01 1920, Apr 03 1996, -
Love, Hetty E. Gardner, Feb 29 1888, Jun 10 1984, W/o T.F. P.
Love, Tom F.P., Sep 02 1874, Dec 01 1968, -
Lowgren, Edwin O., Apr 23 1892, Dec 11 1949, -
Lowgren, Mittie Kidd, Jan 06 1895, May 14 1982, W/o E.O.
McAngus, Callie Mae Love, May 16 1913, Jan 31 1956, W/o W.E.
McCorkle, Blaine W., Mar 08 1874, Apr 07 1964, -
McCraw, Edward H., Oct 23 1875, Feb 28 1950, Spanish-American War veteran
McDonald, Virginia Meador, Apr 15 1903, Sep 23 1983, W/o Joe
McDonough, J.T., Feb 02 1928, Nov 01 1993, -
McDonough, Myrtle E. Meador, Mar 27 1906, Jul 11 1988, W/o Gilbert
McGary, Mason David, Feb 09 1884, Nov 14 1956, -
McGary, Mildred Viola , Mar 15 1887, Nov 20 1951, W/o M.D.
McGaughy, Carolyn Barthelow, Oct 06 1928, Dec 07 1971, -
McKay, Rufus Edgar, Mar 14 1881, Nov 06 1963, -
McKay, Thomas Dayton, Oct 01 1911, Feb 03 1954, -
McKay, Tilda Jane Brown, Oct 09 1881, Nov 25 1962, W/o R.E.
McKiddy, Ada Lucille Greenwood, Apr 04 1922, Mar 31 1962, -
McWright, Hurshle, Oct 06 1898, Mar 08 1964, -
McWright, Jim Jones, May 27 1879, Mar 31 1949, -
McWright, Julia E. Wray, Oct 05 1882, Jul 23 1960, W/o J.J.
McWright, Mae Bray (Taylor), Feb 16 1901, Jun 13 1988, W/o Sherman
McWright, Sherman M., Mar 21 1903, Dec 07 1945, -
Maddux, Clay Henry, Apr 13 1893, Apr 23 1960, -
Maddux, Edith Davis-Williamson, Jan 21 1916, Jan 11 1994, 2nd W/o Lee
Maddux, Gladys Van Clief, Feb 08 1893, Jan 23 1951, W/o Clay
Maddux, Horace Bolt, Jun 12 1924, Mar 18 1944, Killed in WWII
Maddux, Joe B., May 28 1895, Aug 13 1972, -
Maddux, Josephine Bolt, Nov 16 1897, Mar 01 1996, W/o Joe
Maples, Archie E., Jan 24 1925, Apr 13 1954, -
Maples, Isaac Lee, Jan 29 1889, Dec 05 1968, -
Martin, John Rowland, Dec 24 1866, Jan 29 1956, -
Martin, Stella McMillan, Jun 20 1873, Jun 28 1969, W/o J.R.
Meador, Thomas R. "Fritz", Nov 25 1909, Feb 22 1970, -
Meixner, Naomi Mae Yarbrough, Sep 23 1910, Mar 27 1998, W/o Wm. Frank
Meixner, William Frank, Oct 30 1908, Nov 23 1962, -
Middleton, Edna Kelley-Caldwell, Mar 02 1904, Jun 28 1975, W/o James
Middleton, James Roe, Dec 27 1899, May 11 1974, -
Miller, Urah L. Braden, Nov 05 1895, May 13 1971, -
Moine, Selest E., Dec 18 1863, Dec 22 1951, -
Montgomery, Alpha Myrtle Hicks, May 09 1895, Sep 17 1987, W/o H.A.
Montgomery , Henry Austin, Jan 29 1894, Mar 30 1964, -
Montgomery, John W., Oct 19 1922, Feb 04 1945, Killed iN WWII
Montgomery, Mary Louise Sherrod, May 01 1937, Feb 23 2000, W/o Billy
Montgomery, Infant, Mar 19 1955, Mar 19 1955, I/o Harvey & Sadie
Moore, Austin, Aug 27 1902, Oct 03 1967, -
Morgan, Callie Davee-Whitton, Jun 29 1910, Feb 01 1995, -
Morgan, Martha Clementine White, Jan 11 1884, Feb 23 1955, W/o W.W.
Morgan, Travis, Nov 30 1930, Jul 30 1951, Drowned in Ohio River After Service in Korea
Morgan, William W., Jul 07 1882, Mar 29 1957, -
Moss, Dr. E. Bruce, Jul 14 1883, Nov 29 1956, -
Motley, Blix Hankins, Jul 10 1904, Dec 27 1989, W/o Dillard
Munn, Robert Guy, Jul 21 1905, Feb 11 1983, -
Munn, Ruby Newman, Aug 09 1904, Jul 23 1967, W/o R.G.
Munn, James C., Apr 07 1878, Dec 22 1955, Spanish-American War Veteran
Murr, Howard Luke "H.L.", Apr 25 1950, Apr 15 1977, -
Murr, Luke Williamson, Jr., Jun 16 1924, Feb 26 1955, -
Nail, Clifton O., Aug 27 1930, Dec 19 1993, -
Neal, Ben F., Apr 13 1881, Sep 05 1949, -
Neal, Bertha K. Loeffler, Mar 02 1885, Nov 28 1968, W/o B.F.
Neal, Robert M., Apr 27 1919, Apr 23 1981, -
Neff, Cora Elizabeth Towell, Apr 20 1883, Jan 01 1957, W/o D.M.
Neff, Daniel Marion, Jan 15 1883, Jan 06 1961, -
Nelson, Sallie Cloud, Apr 01 1872, Mar 25 1965, W/o Allen
Nethery, Maurice Johnson, Oct 23 1888, Jan 04 1964, -
Nethery, Mollie Harrison, Oct 08 1890, Jan 25 1947, W/o M.J.
Newby, Daisy Belle Carpenter, May 13 1911, Mar 21 1985, W/o LaRue
Nixon, Gary, Feb 01 1948, Mar 28 1952, S/o Aden & June
Nixon, Laverne, Oct 09 1953, Oct 09 1953, S/o Leeroy & Katy
O'Donnell, Winifred Coleman, Nov 11 1905, Apr 19 1972, -
Oxford, Lula Mae Highsmith, Sep 19 1894, Mar 04 1984, W/o Ottie
Oxford, Ottie, Dec 12 1891, Dec 01 1949, -
Parks, Lonia L. Crawford, Apr 01 1892, Feb 03 1972, W/o Walter
Patterson, Dwight, Jan 28 1900, Apr 01 1955, -
Patterson, L. Helen Drake , Aug 19 1903, May 05 1963, W/o Dwight
Patton, James "Buddy", Nov 05 1921, May 07 2000, -
Patton, Josie Mae Miller-Maples, Mat 10 1926, Jun 19 1980, W/o James
Paul, Jesse D., Oct 01 1889, Dec 18 1965, -
Pearl, Raymond W., Jan 27 1905, Jul 28 1980, -
Pearl , Texas Mae Fellers, Sep 17 1908, Dec 31 1980, W/o Raymond
Pelton, Elvie E. "Jack", Jul 25 1917, Dec 13 1991, -
Pelton, Glenn Eugene, Aug 26 1947, Jul 23 1969, Killed in Viet Nam
Phillips, Jessie E. Gardner, May 13 1880, Apr 21 1978, W/o T.B.
Phillips, John Lamar, Oct 27 1888, Mar 02 1964, -
Phillips, May Hill, May 11 1908, Feb 28 1984, W/o William L.
Phillips, Nannie E. Allen-Summers, Feb 12 1891, Mar 10 1962, W/o John
Phillips, Robert Hill, Jan 16 1933, Feb 12 1973, -
Phillips, T.B., Dec 26 1875, Aug 15 1947, -
Phillips, William Lester, Jul 04 1902, Apr 26 1982, -
Pinkerton, Elmer L., Oct 23 1922, Nov 10 1951, -
Porter, Chet, May 22 1914, May 11 1999, -
Powell, Clara R. Becker, Aug 05 1898, Jul 06 1959, W/o Leon
Powell, Leon R., Sep 22 1899, Oct 19 1965, -
Prentice, Mary Martin, Feb 05 1907, Jul 08 1989, W/o Seaton
Prentice, Seaton Davey, Nov 05 1900, May 03 1969, -
Quick, Mosella Booth, Apr 22 1864, Mar 16 1946, -
Ragland, Helene Patterson "Pat", Mar 30 1906, Mar 29 1991, W/o J. Louie
Ragland, Jamie L., Jr., Nov 16 1942, Feb 23 1948, -
Ragsdale, Irma Madge Phillips, Mar 03 1901 , Sep 19 1991, W/o Walker
Ragsdale, Walker, Jul 15 1897, Apr 04 1972, -
Ragsdill, Fannie Marguerite Knox, Apr 15 1903, Jun 23 1956, W/o Howard
Ragsdill, Howard, Jul 22 1892, Sep 19 1978, -
Raley, James Olan, Mar 27 1904, Dec 03 1961, -
Raley, Minnie Alma Spieker, Jul 24 1906, Oct 08 1974, W/o J.O.
Randolph, James B. "Judge", May 21 1874, Mar 15 1950, -
Randolph, Mamie Terry, Dec 03 1876, Dec 08 1966, W/o J.B.
Reed, Emily A Bannowsky, Apr 27 1909, Jan 03 1987, -
Reese, Birt B., Nov 11 1879, Dec 06 1957, -
Reese, Lula E. Fisher, Jun 11 1884, Jan 03 1974, W/o Birt
Reid, Calbert Emory, Feb 05 1885, Jan 20 1966, -
Reid, Maud Livingston , Jan 04 1885, May 27 1963, W/o C.E.
Rennell, Elizabeth Herbert-Newman, Jun 23 1860, Nov 05 1952, W/o Joe
Rennell, Joe, Jun 16 1856, Mar 26 1949, -
Reynolds, Arch L., Mar 21 1893, Apr 22 1972, -
Reynolds, Bessie Bishop, Dec 08 1891, Sep 28 1957, W/o A.L.
Reynolds, Fred W., Sep 27 1906, May 26 1992, -
Richardson, C.L. "Bud", Apr 04 1908, Jan 11 1965, -
Richardson, Floyd M. "Pete", Jun 07 1904, Apr 07 1959, -
Richardson, Gladys M., Aug 24 1902, Nov 14 1963, W/o Pete
Ruff, James Franklin "Boy", Oct 24 1929, Jul 10 1999, -
Ruff, Joe A., Aug 20 1886, Jun 26 1958, -
Ruff, Wintha M. Petty, Oct 15 1895, Jun 19 1978, W/o Joe
Sanders, Ima Pearl Hurley "Poss", Nov 24 1930, Jun 08 1950, W/o Henry
Sanders, Katie Dianne, Dec 28 1948, Jun 08 1950, D/o Henry & Ima
Sanders, Vickie C., Jul 31 1969, Feb 14 1971, D/o Dennis & Edwina
Scherrer, Ann Lucke-Murrah, Mar 25 1891, Nov 17 1945, -
Schwiening, Agnes Eichenloff, 1878, Dec 30 1957, W/o Fred, Sr.
Schwiening, Fred, Sr., 1865, 1953, -
Schwiening, Fred, Jr., Jul 08 1911, Mar 15 1972, -
Schwiening, Lovella Tweedle, Jun 20 1914, May 02 1950, W/o Fred, Jr.
Schwiening, Myrtle Renfro, Mar 13 1901, Aug 06 1981, W/o Otto
Schwiening, Otto, Mar 29 1903, Mar 12 1985, -
Scott, J.F., Jul 20 1873, Jan 21 1954, -
Scott, Maud B. Hollinger, Jan 10 1879, Jan 13 1954, W/o J.F.
Self, Sarah Ellen Tobey, Apr 06 1880, Jan 26 1961, W/o S.M.
Self, Silas Monroe, May 25 1880, Mar 16 1964, -
Sellers, Johnny Ward, Sep 28 1910, Sep 20 1979, -
Sellers, Rubie Baylor, Jul 29 1911, Apr 20 1971, W/o J.W.
Sharpe, Nora Gilliam-Dunbar, Aug 17 1919, Apr 16 1972, -
Sheppard, James D., May 09 1908, Mar 26 1977, -
Sheppard, Melba Maggie Burt-Johnson, Nov 09 1910, Sep 10 1989, W/o J.D.
Sigal, Ben F., Aug 09 1879, Oct 14 1950, -
Simon, Arthur L., Mar 21 1882, Apr 18 1962, -
Simon, Elsie, Dec 21 1910, Feb 16 1983, -
Simon, Lora Probst, Mar 16 1886, May 05 1981, W/o Arthur
Skaggs, Anna Boekhaus, May 29 1911, Aug 25 1948, W/o Marvin
Skaggs, Marvin, Mar 09 1898, Jan 10 1967, -
Skaggs, Ruth M. Merritt-Watson, Oct 16 1919, Oct 08 1981, W/o V.H.
Skaggs, Verlan Hodges, Feb 14 1919, May 06 2000, -
Smith, Addie M. Fish, Jan 28 1880, Jun 25 1964, W/o Frank
Smith, Anna Overby, Dec 13 1890, Jun 02 1983, W/o J. Holt
Smith, Clara Bell Driefus, Jul 27 1855, Jul 14 1947, -
Smith, Euel Jack, Mar 04 1901, Jan 28 1956, -
Smith, Frank G., Oct 01 1870, Jun 09 1953, -
Smith, Dr. J. Holt, Apr 06 1890, Feb 20 1963, -
Smith, J. Overby, Nov 07 1915, Dec 22 1982, -
Smith, Mildred E. Wallace, Apr 11 1906, Jan 14 1981, W/o E.J.
Smith, Mitchell H., Feb 24 1922, May 13 1978, -
Smith, Velma E. Knight, Feb 26 1883, Apr 16 1964, -
Soward, Michael Sheppard, Apr 23 1953, Jan 12 1998, -
Stapp, Acy Frank, Feb 24 1895, Mar 01 1961, -
Stapp, Dillard F., May 17 1891, Mar 07 1953, -
Stapp, Hugh Chester, Aug 20 1895, May 06 1952, -
Stapp, Josephine Harriss , Nov 29 1893, Dec 11 1950, 1st W/o A.F.
Stapp, Lucretia Stott, Apr 27 1904, Feb 26 1992, W/o A.F.
Stapp, May Claire Collins, May 01 1899, Apr 09 1994, W/o Dillard
St Clair, Roland G., Feb 13 1911, Jun 16 1958, -
Stegall, Floye Henrietta, Jun 22 1914, Apr 23 1985, -
Stegall, Grover Cleveland, Aug 27 1924, Aug 10 1951, -
Stegall, Horace Banks, Sep 09 1911, Dec 27 1999, -
Stegall , Martha Ann Boyett, Oct 22 1890, Aug 20 1964, -
Stegall, Jewell Pearl, Jun 15 1928, Dec 24 1996, W/o Andy
Stephenson, Bashie Holcomb, 1884, Jan 05 1953, W/o C.C.
Stephenson, Claud C., Sep 04 1882, Jul 30 1948, -
Stephenson, Essie Lola Abbott, 1902, Sep 06 1956, W/o Ira
Stewart , Gracie Wood, Sep 23 1895, Dec 30 1971, W/o S.A.
Stewart, Samuel Avery, Oct 07 1888, Dec 09 1968, -
Swanson, J.T., Oct 28 1893, Apr 13 1950, -
Swanson, Ruby Cook-Ashbranner, Aug 23 1899, Feb 27 1973, W/o J.T.
Taylor, Catherine Porter, Dec 30 1916, Jun 20 1998, W/o William Leroy
Taylor, Henry Isaac "Tuffy", Feb 25 1898, Jan 01 1954, -
Taylor, Jakie, Jul 30 1928, Oct 24 1946, -
Taylor, Lila May Baker, Feb 09 1897, Mar 08 1986, W/o W.I.
Taylor, Thomas Baker, Feb 17 1925, Sep 29 1965, -
Taylor, Virginia Hubert, Jun 08 1905, Mar 09 1990, -
Taylor, William Leroy, Jun 17 1916, Mar 14 1994, -
Terrell, Cleo Patton, Oct 18 1892, Mar 10 1961, W/o Ward
Terrell, Ward, Dec 27 1881, Apr 06 1961, -
Thorp, Dollie Wood, Apr 16 1893, Jul 22 1970, W/o Noah
Thorp, Doris Dell Parks, Sep 21 1930, Jun 14 1992, W/o Orlen
Thorp, Noah Orlen, Aug 10 1928, Sep 24 1995, -
Thorp, Noah Orvy, Aug 26 1888, Mar 28 1969, -
Tinsley, Ella V. Stevenson, Apr 11 1890, Sep 03 1960, W/o Walter
Tinsley, Walter Miller, Jul 21 1890, Dec 06 1992, -
Tomberlin, Emma Jean Nunn, Sep 16 1888, Apr 21 1958, W/o J.E.
Tomberlin, James Eugene, Aug 23 1890, May 13 1959, -
Tubbs, Charles D., Apr 08 1928, Jun 15 1965, -
Tubbs, Roy Don, May 11 1951, Aug 23 1963, -
Urban, L.L. "Vic", Aug 03 1904, Apr 15 1952, -
Vaughn, Everett C., Dec 08 1919, Apr 29 1993, -
Walden, Dan Rodney, Dec 16 1948, Aug 31 1951, -
Wallace, Joseph Astor, Mar 11 1906, May 08 1961, -
Wallace, Natalee Lowry, Sep 13 1909, Jan 24 1977, W/o Astor
Walters, Jane Finnegan, Jul 26 1884, Dec 19 1960, -
Warden, George W., Apr 04 1922, Mar 03 1978, -
Warren, G.B. "Boots", May 08 1909, Jan 28 1971, -
Warren, Henry C., Jan 03 1871, Dec 11 1943, -
Warren, Mabel Albertson, Sep 05 1873, Mar 23 1961, W/o Henry
Watson, Jack Wells "Dub", Nov 20 1921, Aug 16 1958, -
Whaley, Stella Martin-McKee, Dec 22 1896, Jul 03 1923, W/o Joe
Whittle, Jo Myrtle Haynes, Mar 04 1887, Aug 08 1950, W/o W.T.
Whittle, Wilfred Thomas, Jun 17 1889, May 08 1955, -
Wilder, Samuel J., May 20 1913, Jan 24 1947, -
Williams, Barney Dave, Mar 08 1888, Jul 19 1952, -
Williams, Burgess A. "Pat", Feb 28 1904, Jan 19 1956, -
Williams, Josephine Steen, Sep 07 1896, Sep 00 1984, W/o Barney
Williams, Ruby Duderstadt, Jan 23 1906, Sep 17 1979, W/o Weldon
Williams, Weldon R., Oct 06 1904, Mar 04 1979, -
Williamson, Johnny Dean, Jan 15 1960, Jan 16 1960, S/o Earl & Mina
Williamson, Loyd Victor, Mar 25 1921, Nov 16 1996, -
Wilson, Verda Maddux, Dec 16 1890, Nov 03 1980, W/o William B.
Wilson, William B., Feb 04 1897, Apr 10 1980, -
Winn, Jack C., Sep 01 1896, May 02 1958, -
Winn, Lucille Dechert, Feb 03 1926, Aug 17 1966, W/o Jack
Winslett, Leslie L., Nov 26 1908, Nov 21 1974, -
Wolfe, Blanche, 1917, Sep 22 1996, -
Wood, Andrew Newton, Dec 31 1879, Oct 19 1961, -
Wood, Leona E. Thorn, Feb 22 1903, Jul 31 1970, W/o Richard
Wood, Mertie Alma Ellis, Aug 11 1888, May 08 1987, W/o W.W.
Wood, Richard B., Feb 07 1903, Oct 25 1961, -
Wood, Ruth Riddle, Sep 17 1906, Dec 21 1992, W/o Andrew
Wood, William W. "Cap", Jun 08 1887, Feb 25 1971,
Woodard, Irma Lawler, Sep 05 1920, Jan 10 1989, W/o Cecil
Woodard, Birdie C. Gann, 1878, 1969, W/o S.P.
Woodard, Samuel P., Apr 07 1873, Oct 31 1944, -
Worrell, Gladys Gibson, Nov 25 1893, May 25 1974, W/o M.E.
Worrell, Maurice E., Aug 13 1889, Nov 00 1968, -
Wright, Dr. Herbert E., Mar 01 1900, Nov 30 1965, -
Wright, Lela Taylor, Feb 18 1898, Feb 13 1997, W/o H.E.
Yarbrough, Mary Annie Tucker, Jul 21 1893, Jul 20 1989, W/o R.C., Sr.
Yarbrough, Richard C., Mar 22 1891, Aug 19 1982, -
Yarbrough, Richard C. II, Oct 25 1918, Jan 16 1996, -

---