Junction City Cemetery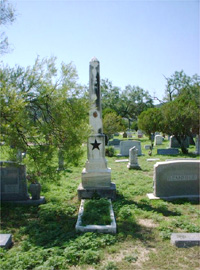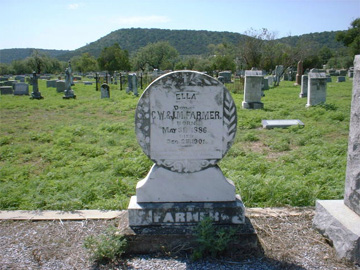 Photos by Sheriff Jerry Hicks
Kimble County, Cemeteries of Texas
Section Two
Compiled By: Frederica Burt Wyatt, July 1,2000
Submitted By: Gloria B. Mayfield, Rusk County CC
Coordinator: Dolores I. Bishop
This portion of the cemetery encompasses the James H. Pepper (1902) and Robert Tomberlin (1930) Additions lying west of the dividing road in the area bounded by the north rock fence. First grave in this section was that of Jim Pepperís wife, Rosanna. The metal fence and ancient Desert Willow at her gravesite near the cemetery driveway are landmarks of Section # 2.
Herein are the final resting places of at least eighteen Civil War veterans (both Union and Confederate), one veteran of the Indian Wars, at least five veterans of the Spanish-American War, a veteran of the Boer War, and veterans of both World Wars, including Thomas Rembold, who died of Spanish Influenza during the first world conflict. Two victims of the Rocksprings killer tornado ñ Dottie Fleming and J.T. Bartley ñ were brought here for burial amidst their loved ones.
Among some persons of note at rest here are O.C. Fisher, who served thirty-two years in the United States House of Representatives, Ranger Captain W.W. Taylor (whose grave has an official historical marker), and Walter W. Buck, who donated the land for the South Llano River State Park and Buck Wildlife Area.
Sections: One, Two, Three, Four, and Five
LAST NAME, FIRST NAME, BIRTH, DEATH, COMMENTS
Abbott, James Coleman, Mar 03 1877, Dec 02 1946
Allen, John A., Aug 06 1857, Apr 06 1941
Allen, Ola Kelley, Jun 02 1866, Oct 20 1942, Wife of J.A.
Ashley, Albert Earl, Aug 01 1912, Jun 13 1975
Ashley, Arlen Earl, Jun 17 1947, Mar 19 1983
Ashley, Ila Erline, Oct 04 1934, Nov 30 1941, D/o Albert E. & Ila
Bailey, Elizabeth Taylor, May 03 1843, Feb 18 1930, Wife of T.J.
Bailey, Thomas Jefferson, May 28 1843, Apr 10 1917, CSA Veteran
Baldwin, Anson Neal, Dec 25 1894, Mar 17 1937
Barker, Charlie Forest, Apr 26 1869, Apr 27 1935
Barnes, John L., Oct 13 1907, Dec 02 1991
Barnes, Merle Blackburn-Barthelow, Feb 18 1905, May 25 1941, Wife of Clint
Barthelow, E.J., Sep 24 1890, Apr 29 1931
Bartley, J.T., Jun 23 1907, Jul 31 1927
Bartley, Johnnie T. "Bud", 1881, 1955
Bartley, Lavonia Dee Dowdy, 1879, 1962, Wife of Bud
Baylor, Beulah Duncan, Sep 19 1880, Aug 04 1933, Wife of C.T.
Baylor, Charles T., Feb 29 1880, Jul 23 1968
Beasley, John Kennon, May 25 1897, Jun 01 1920
Beasley, Leslie, Nov 09 1864, Jun 12 1927
Beasley, Leslie, Jr., Dec 24 1892, Sep 28 1977
Beasley, Lula Weekly, Mar 15 1869, Jul 02 1939, Wife of Leslie, Sr.
Beasley, Roland B., Jun 19 1906, Oct 13 1961
Beasley, Ross, Jun 10 1888, May 10 1973
Beasley, Willie Mae Bickenbach, Aug 07 1906, Nov 19 1993, Wife of Ross
Becker, Lillie Quicksall, Feb 04 1867, Aug 04 1940, Wife of Rudolph
Becker, Lucille, Sep 12 1903, Dec 23 1915
Becker, Rudolph, Sr., Apr 12 1847, Sep 28 1925
Bishop, Allen P., Nov 19 1828, Feb 10 1907, CSA Veteran
Bishop, Joseph M., Jan 08 1867, Jun 11 1950
Bishop, Rebecca Bartlett, Jan 29 1829, Oct 28 1903, Wife of A.P.
Bishop, Sallie Francis Landers, Feb 02 1873, Jun 24 1947, Wife of J.M.
Blackburn, Amy Gertrude, Apr 12 1909, Apr 18 1925
Blackburn, John D., Jul 04 1903, Jan 15 1956
Blackburn, Mary C. Lyles, July 29 1850, Aug 13 1919, Wife of M.C.
Blackburn, Rev. Melville C., Jan 05 1849, Nov 28 1910, Methodist minister grave insignia
Blackburn, Ruth Beasley, Sep 20 1909, Jan 15 1956, Wife of J.D.
Blythe, Joseph E. "Texas Joe", Jan 12 1878, Nov 17 1953, Spanish-American War Veteran
Blythe, Nannie Lou Davis, Jan 23 1894, Dec 28 1970, Wife of Joe
Bode, Edwin Otto, Oct 30 1862, Dec 17 1925
Bode, Ottilie Winkel, Jan 30 1864, Mar 10 1957, Wife of E.O.
Bolt, Edward Ellis, Sep 08 1866, Aug 08 1930
Bolt, Elizabeth Serena Browning "Bessie", Jun 30 1900, Oct 31 1994, Wife of W.E.
Bolt, Horace, Dec 00 1899, 1918
Bolt, Lottie Tisdale, Feb 00 1876, Aug 00 1968, Wife of E.E.
Bolt, William Edward, Jan 14 1896, Feb 01 1986
Boone, Dona Winslett, Oct 00 1844, Mar 06 1925, Wife of John Watson
Boone, John Watson, Jul 13 1828, Nov 14 1906, CSA Veteran
Boone, John B. "Jack", Jun 03 1903, Apr 04 1918
Boone, John W., Apr 15 1845, Apr 12 1930, Civil War Veteran ñ Union
Boone, Mary Alice Talburt-Hurst, Jun 03 1874, Oct 22 1960, Wife of John W.
Boone, Richard W., Oct 14 1908, Oct 01 1983
Boone, Robert , Sep 09 1903, Sep 05 1904, S/o T.W. & O.M.
Borden, Bobby Lee, Apr 15 1931, Apr 15 1931, S/o L.D. & Una
Bowers, Hepsy Ann Johnson, Sep 17 1835, Aug 16 1907, Wife of J.P.
Bowers, J.P., Sr., 1835, Dec 20 1925, CSA Veteran
Bowers, S.J., Apr 29 1868, Mar 06 1931
Bowers, Willie Beatrice Taylor, Feb 01 1885, Dec 23 1963
Boyett, Clarissa Abi Cann, Jul 22 1877, Mar 07 1935
Braley, George C., May 13 1896, Jul 02 1928
Braley, John D., Apr 16 1865, Aug 16 1948
Braley, John Owen, Aug 29 1898, Dec 17 1975
Braley, Katherine A., Oct 08 1908, Aug 27 1925
Braley, Zilpha Jane Ragsdill, Nov 20 1874, Dec 26 1965, Wife of J.D.
Brancel, Infant, Jan 30 1961, Jan 30 1961, I/o H.B. & Eva
Bridges, Doris Faye Jones, Jun 14 1909, Oct 06 1979, Wife of Guy W.
Bridges, Guy W., Apr 30 1902, Jan 14 1955
Brooks, Nettie Randle, Jul 13 1873, Jul 17 1973, Wife of T.A.
Brooks, Thomas A,, Jan 26 1862, Dec 24 1940
Brown, Anthony Keith, Jul 21 1940, Aug 04 1940, S/o Morris & Ann
Buck, Corrinth Orlean "Corrie" Stroud, Dec 23 1859, Dec 20 1940, Wife of W.W., Sr.
Buck, Stroud Ethan, 1884, 1913
Buck, W.W., Oct 03 1857, Jun 29 1932
Buck, Walter White, Jr., Mar 17 1892, May 02 1982
Burleson, Dr. Rufus H., 1843, Sep 24 1916
Burt, Charlotte Fredericke Bannowsky, Jun 04 1856, Jun 10 1947, Wife of J.W.
Burt, Dr. James Warren, Jul 20 1851, Jan 21 1913
Burt, Dr. John Matt, Sr., Nov 10 1853, Sep 06 1925
Byrd, Infant, 1936, 1936
Cabler, Birda Springs-Dagen, Apr 09 1877, Jan 25 1963
Cabler, James Fisher, Sep 22 1888, Nov 28 1932
Cain, Volney Curtis, Jr., Jan 06 1957, May 13 1957
Campbell, George M., Jan 28 1895, May 30 1934
Carroll, Georgia Annie Dunken, May 01 1880, Dec 26 1932, Wife of J.W.
Carroll , James W., Aug 08 1877, Apr 05 1953
Chaison, Nancy Lavenia "Bena" Rose, Sep 14 1879, Aug 31 1956, Wife of W.W.
Chaison, William Wesley, Nov 17 1874, Apr 20 1942, Spanish-American War Veteran
Chase, Ferninand M., Jan 27 1869, Mar 26 1942
Chase, Hattie Scoggin, Jan 11 1882, Dec 19 1923, Wife of F.M.
Chenault, Clarence Franklin, Apr 25 1884, May 12 1973
Chenault, James Allen, Aug 02 1918, Feb 04 1937
Chenault, John Bass, 1848, 1917, CSA Veteran
Chenault, Lillie Harmon, Dec 13 1856, Jun 29 1914, Wife of J.B.
Chenault, Lula Burt Hodges, Apr 25 1885, May 12 1948, Wife of C.F.
Clark, James A., Dec 31 1851, Oct 06 1935
Clark, Martha M. Thacker, Nov 23 1858, Dec 26 1945, Wife of J.A.
Clark, W.T., Jan 30 1888, Jul 27 1970
Cloud, John W., Apr 16 1878, Jul 12 1919
Cloud, Sarah Horton, Jul 28 1845, Oct 28 1905, Wife of W.J.
Cloud, William Horton, Jun 09 1870, Dec 21 1950
Cloud, William J., Jun 30 1838, Nov 30 1917, CSA Veteran
Cobb, Beulah Irene Griffin, Nov 24 1873, Dec 12 1934, Wife of Ollie
Cobb, Joshua Oliver "Ollie", Apr 24 1864, Jan 22 1940
Cobb, Wilma, Aug 03 1905, Feb 12 1910, D/o L.L. & M.
Cochran, William R., May 01 1875, Nov 11 1942
Cole, Effie Daugherty, Oct 16 1883, Nov 21 1924
Coleman , Iva Pearl, Nov 21 1896, Mar 28 1983
Coleman, Joe L., Mar 17 1891, Dec 17 1918
Collins, Andrew J., Jun 22 1918
Colvin, William Clark, Jan 18 1949, Mar 31 1990
Connell, James Simpson, Apr 30 1879, Nov 21 1961
Coon, Robert Louise, Sep 22 1930, Mar 04 1935, D/o J.F. & Willie
Cotterell, William James III, Sep 01 1921, May 04 1999
Cowsert, Martha Jane Bailey, Feb 20 1869, Jul 13 1938, Wife of R.N.
Cowsert, Robert Nathan "Nat", Jan 30 1865, Jan 14 1948
Cox , J. Thomas, Apr 23 1862, Jan 02 1914
Crain, William Jasper, Sep 24 1862, Jun 18 1916
Craven, Lillian Daisy Hayes, Dec 24 1882, Dec 13 1973, Wife of N.S.
Craven, Newton Starr, Jul 02 1875, Dec 25 1931
Cross, Sarah Clydell, Sep 00 1917, Sep 00 1917, D/o James & Martha
Crumley, Tassie Pierce-Fish, Apr 07 1892, Oct 30 1967
Cunningham, Frances Charlene, Oct 16 1940, Oct 16 1940, D/o Herschel & Zella
Curtis, Ella Clarinda Thomas, Mar 15 1874, Jul 06 1958, Wife of T.N.
Curtis, Louisa Jackson, Jan 15 1836, Jun 24 1913, Wife of Baxter C.
Curtis, T.N. "Pony", Feb 04 1872, Jan 31 1941
Curtis, William A., Feb 02 1874, Sep 02 1953
Curtis, William B., Jan 18 1895, Jun 29 1961
Curtis, Infant, Apr 09 1926, Apr 12 1926
Dagen, Dellia Cabler-Winslett, Nov 23 1891, Jan 15 1987, Wife of J.S.
Dagen , Ida M., Aug 28 1899, Feb 28 1988
Dagen , John Samuel, Jan 17 1896, Dec 05 1939
Davey, Myrtle Dorcas, Mar 25 1875, Mar 21 1955
Dechert, Augusta E.C., Feb 22 1894, Jul 12 1917
Dechert, Anna Marie Eckert, Aug 12 1870, Nov 26 1953, Wife of W.O.
Dechert, Clarence W., Mar 07 1908, Mar 18 1982
Dechert, Elgin Willie, Jun 06 1897, Jan 30 1994
Dechert, Lola Matilda Grobe, Apr 28 1905, Oct 25 1985, Wife of Elgin
Dechert, Marvin W., Jun 23 1910, Oct 26 1925
Dechert, Willie Otto, May 21 1867, May 24 1920
DeFreest, Harold, Jun 23 1909, Jul 03 1936
DeFreest, Henry, Jun 02 1878, Dec 02 1943
DeFreest, Marion J., Apr 22 1876, Dec 12 1937
DeFreest, Mary, Oct 02 1874, Jun 17 1962
Denman, Barbara Caroline, Dec 18 1924, Oct 29 1928
Denman, Hez O., Aug 14 1894, Nov 13 1978
Denman, Jack Charles, Jun 26 1921, Oct 29 1966
Denman, Margaret Van Clief, Jul 08 1897, Jun 28 1992, Wife of H.O.
DeYoung, Emma Cloud, May 09 1876, May 29 1949
Dickerson, Febagene Riley, Feb 24 1920, Oct 07 1996
Dickey, Oscar D., Jun 07 1891, Oct 23 1959
Dixon, Dr. Carroll B., Dec 13 1895, Aug 21 1989
Dixon, Dr. Charles David, Sep 09 1873, Jan 11 1941
Dixon, Lela, Nov 17 1873, Aug 05 1962, Wife of Charles
Dixon, Susie C. Beasley, Nov 06 1899, Jun 02 1974, Wife of Carroll
Doss, Bertie M. Brown, Jan 13 1899, Oct 28 1983, Wife of W.T.
Doss, Walter T., Apr 16 1899, Jan 20 1969
Dowdy, Mary Allie, Jan 08 1874, Nov 13 1931, Wife of E.M.
Duderstadt, Fred E., Oct 02 1882, Sep 12 1934
Duderstadt, Margaret Parker, Nov 09 1888, Oct 17 1974, Wife of Fred
Dunbar, Charles E., Aug 09 1893, Jul 14 1928
Dunbar , Lydia Taylor (Little), Apr 05 1898, Aug 09 1987 , Wife of Charles
Dunk, Ada Etheridge, Nov 17 1899, Dec 20 1959, Wife of W.H.
Dunk, Evelyn Ada, Sep 29 1935, Mar 08 1941
Dunk, William H., Apr 21 1894, Apr 13 1992
Dupree, Louella Wiseman-Baldwin, Dec 17 1876, Apr 26 1951
Earwood, Ollie, May 21 1891, Aug 08 1919
Ekis, Eula "Brownie" Motley-Eager, Feb 11 1916, Jul 06 1997
Fish, James Riley, Oct 15 1889, Dec 20 1928
Fish, John Emanuel, Aug 16 1883, Feb 19 1943
Fish, Odessa West, Sep 25 1918, Dec 18 1931, S/o M/M J.E.
Fisher, Jobe B., Nov 26 1858, Feb 13 1946
Fisher, Marian DeWalsh, Mar 29 1906, Sep 02 1994, Wife of O.C.
Fisher, Marjorie Whitworth, Nov 12 1916, Mar 08 1938, Wife of J. Browning Fisher
Fisher, Otto B., Aug 24 1896, Feb 14 1983
Fisher, Ovie Clark, Nov 22 1903, Dec 09 1994, U.S. Congress
Fisher, Rhoda Clark, Apr 19 1864, Jun 23 1933, Wife of Jobe
Fleming, Bernice Howard, Oct 29 1905, Jun 23 1995, Wife of Troy
Fleming, Bryan Robert, Oct 12 1968, Jul 27 1988
Fleming, Dottie, Aug 30 1909, Apr 13 1927
Fleming, Edward, Jan 00 1872, 1922
Fleming, Elizabeth Jane Black, Sep 20 1853, Oct 06 1921, Wife of O.B.
Fleming, Howard Lacy, Apr 29 1902, Nov 21 1972
Fleming, J. Slator, Apr 05 1901, Feb 02 1949
Fleming, James Lendon, Jan 27 1941, Apr 17 1943, S/o Lem & Mary
Fleming, Lem Lendon, Nov 06 1907, Aug 17 1985
Fleming, Lydia Ben Bishop, Oct 07 1874, Jan 06 1926, Wife of Edward
Fleming, Mary Etta, 1881, Oct 00 1963
Fleming, Mary Lucille Edwards, Nov 08 1908, Apr 02 1989, Wife of Lem
Fleming, Oliver B. "Bud", Jan 12 1850, Mar 14 1928
Fleming, Oliver Stanton, Apr 10 1919, Apr 11 1919
Fleming, Ollie, Aug 00 1883, Mar 00 1963
Fleming, Robert Alton, Dec 24 1905, Dec 00 1988
Fleming, R.A., Jr., Mar 08 1938, Mar 08 1938
Fleming, Troy Judd, Feb 10 1898, Dec 06 1983
France, Pearl, 1873, Jul 09 1933
Fraser, Simon, Jun 22 1834, Mar 02 1912, CSA Veteran
Frazier, Bonner Clarence E., Mar 11 1909, Apr 18 1934
Fulton, Jake, May 29 1871, Mar 26 1940
Garrett, Jimmie, Jun 15 1893, Jul 23 1905
Glossbrenner, Nina Herring, Dec 27 1899, Aug 31 1931, 1st Wife of Earl
Goben, Dora Mae Green, Sep 17 1884, Oct 02 1943, Wife of Leo
Graham, John C., Apr 05 1887, Jul 05 1971
Graham, Joseph Patrick, Mar 10 1931, Aug 05 1936
Graham, Margaret Callan, Mar 02 1888, Dec 14 1974, Wife of John C.
Graham, Serena M. Taylor, Nov 17 1888 , Jan 20 1911, 1st Wife of J.C.
Graham, Thomas C., Apr 13 1909, Aug 08 1909, S/o J.C. & S.M.
Graves, Dea, Mar 09 1872, Aug 07 1942
Graves, John Riley, Apr 01 1887, May 12 1967
Graves, Sophia Brown, 1880, 1921, Wife of Dea
Green, Nataleen Ann Rieck, Apr 13 1920, Jan 10 1991
Grobe, Emma B. Rode, Jan 14 1883, Nov 30 1936, Wife of Louis
Guyton , Oretes Winstead, Feb 11 1902, Mar 03 1935, Wife of J.V.
Hamer, Johanna Holekamp, Aug 21 1856, Jan 30 1938
Hardeman, Conde Blackstone, 1873, Aug 07 1947
Hardeman, Hunter D., Feb 04 1878, May 03 1948
Hardeman, Idyl Jett, 1879, Aug 08 1947, Wife of Conde
Hardeman, Victor B., Nov 22 1875, Nov 07 1935
Harper, John Carroll, Apr 23 1884, Dec 14 1909
Harris, Sarah Evelyn Martin, Oct 05 1857, Nov 02 1938
Harrison, Burtie, Oct 12 1886, Oct 12 1916
Harrison, Elmer H., Jun 21 1885, Oct 18 1970
Harrison, Lillie Bode, Jul 19 1885, Feb 08 1970, Wife of E.H.
Harrison, Manilus Nabors, Oct 11 1863, Jul 06 1951
Harrison, Margaret Ella Griffin, Jul 27 1861, Nov 08 1951, Wife of M.N.
Harry, Charles M., 1841, 1914, CSA Veteran
Henderson, Willie, Jan 17 1920, Feb 01 1928, D/o Hilry & Annie
Hendricks, Bobby D., Jr., Mar 03 1960, Apr 22 1960
Herring, Elizabeth Bishop, 1870, Jan 29 1950, Wife of J.T.
Herring, Josh T., Feb 20 1866, Mar 21 1926
Hibdon, Minnie Jetton-Barnes, Oct 13 1884, Feb 09 1985
Hines , John Wayne, Aug 19 1902, Dec 31 1939
Hodges, Arthur B. "Boy", Dec 31 1887, Sep 11 1945
Hodges, Bessie Taylor, Dec 01 1884, Jan 14 1905
Hodges, Brazoria, Apr 30 1907, Nov 11 1917
Hodges, Elizabeth Graham, Nov 17 1884, Oct 06 1963, Wife of Henry
Hodges, Henry R., May 23 1879, Mar 21 1956
Hodges, J.P., Jun 03 1867, Mar 12 1932
Hodges, James Newton, Apr 12 1862, Dec 29 1942
Hodges, Katie Rowena Rugh, Jun 29 1866, Oct 08 1915, Wife of J.N.
Hodges, Nettie Miller, Jul 04 1877, Mar 04 1961, Wife of P.T.
Hodges, Porter T., Mar 22 1878, Sep 03 1928
Hodges, Sarah M. Loyless, May 15 1852, May 16 1936, Wife of T.M.
Hodges, Thomas M., Jul 30 1849, Nov 09 1927
Hodson, Percy C., Nov 06 1883, May 01 1962
Hoggett, Elmo Graham, Oct 02 1897, Feb 07 1920
Hoggett, Louis S., Aug 10 1857, Jul 24 1926
Hoggett , Marlin J., Oct 31 1893, Sep 11 1967
Hoggett, Marguerite Wright, Jun 02 1907, Jun 02 1980, Wife of P.A.
Hoggett, Pierce A., Dec 14 1901, May 12 1979
Hoggett, Terissa R. Griffin, Jan 29 1870, Jan 19 1931, Wife of Louis
Holekamp, Dora Muegge, Jan 17 1860, Jun 23 1937, Wife of Ernst
Holekamp, Edwin A., May 31 1889, Oct 24 1975
Holekamp, Ernst, Mar 02 1859, Apr 05 1941
Howard, Dora Bernice Chenault-Kindrick, Jul 09 1907, Nov 16 1999, Wife of Grady Kindrick, Wife of H.L. Howard
Howard, Horton L., May 16 1905, Jul 00 1975
Howard, James Robert, Sep 01 1995, Sep 01 1995, S/o H.O. & Lisa
Huffman, Mack, Oct 12 1864, Dec 23 1952
Huffman, Orris, Jun 29 1911, Mar 00 1930
Huffman, Robert Lee, Sep 27 1908, Jan 09 1978
Huffman, Tennie Fleming, Apr 10 1874, May 23 1952, Wife of Mack
Hull, Henrietta Blanche, Feb 07 1913, Jun 17 1993
Hull, Howard, Nov 08 1921, Jan 20 1923, S/o Melvin & Mary
Hull, James Richard, Feb 19 1884, Aug 18 1961
Hull, John T., Jun 19 1846, Jan 21 1929, Civil War Veteran - Union
Hull, Keturah Leigh, Oct 06 1844, Oct 01 1918, Wife of J.T.
Hull, Margaret E. Cobb, Nov 29 1891, May 05 1978, Wife of J.R.
Hull, Mary M. Apelt, Apr 30 1886, Jan 24 1947, Wife of Melvin
Hull, Melvin C., Jan 23 1872, Jun 07 1953
Hull, Richard Ollie, Aug 15 1922, Jan 15 1929
Hunger, Johanna Gradel, Oct 01 1858, Aug 20 1938, Wife of Theodore
Hunger, Theodore, Feb 28 1855, May 22 1934
Hunter, Jonathon Dock, Aug 01 1834, Jul 15 1907, CSA Veteran
Ingram, Ina Herring, Dec 27 1899, Jun 06 1958
Jackson, Alice Loraine, Aug 14 1923, Dec 30 1940
Jackson, Arthur L., Aug 22 1899, Jun 28 1988
Jackson, Eola Bingham, 1903, Sep 22 1979, Wife of Arthur L.
Jackson, Ruby S. Bundick-Fish, Jul 05 1900, Aug 22 1974, Wife of V.F.
Jackson, Vernon Frank, Nov 21 1896, Feb 19 1992
James, Ray Edison, Sep 16 1887, Jun 02 1917
James, Raymond Pickett "Buckshot", Oct 10 1913, Dec 21 1994
Jarvis, Agnes Hodges, Feb 28 1874, Feb 01 1966, Wife of Robert L.
Jarvis, George J. Waldemar "Buster", Apr 24 1904, Dec 17 1931
Jarvis, Mary Elizabeth Cardwell, Dec 25 1866, Oct 25 1936, Wife of W.T.
Jarvis, Robert Irvin, Sep 01 1894, Aug 13 1955
Jarvis, Robert Lee, Dec 08 1864, Dec 10 1945
Jarvis, Rosa Belle Ivy, Dec 26 1891, Feb 08 1978, Wife of Tate
Jarvis, William Tate, Dec 15 1892, Oct 00 1968
Jarvis, William Thomas, Feb 03 1862, Sep 06 1932
Jarvis, Zora, Dec 21 1891, Mar 03 1903
Jenkins, Lena Harrison, Apr 22 1888, Mar 06 1933
Jenkins, Nan Elizabeth, 1927, 1927
Jeter, James Heskew, May 17 1883, May 09 1933
Jetton, Amelia Ann Farrar, 1863, 1950, Wife of L.H.
Jetton, Irene "Dude" Whitworth, May 09 1910, Aug 12 1998, Wife of Lewis D.
Jetton, Lewis Henson, 1858, 1910
Jetton, Lewis D., Sep 28 1900, Oct 08 1995
Jetton, Loma McCollum, Nov 06 1904, Apr 04 1979, Wife of T.H.
Jetton, Terry Hampus, Aug 10 1894, Jul 22 1991
Johnson, Mortimer, May 15 1890, Aug 07 1956
Johnston, Annie Marguerite, Apr 09 1898, Dec 01 1906, D/o T.C. & Annie
Johnston, Thomas Fordtran, Aug 09 1910, Feb 28 1971
Jones, Gertrude Stewart, Jul 04 1894, Jan 22 1987
Jones, Martha Texana, Feb 14 1862, Oct 16 1937, Wife of P.C.
Jones , Paul C., Mar 05 1942
Jones , Thomas Stevens, Sep 01 1886, Dec 22 1942
Jones, Viola Mae Bruce, Nov 16 1887, Mar 28 1973, Wife of T.S.
Jordan, Agnes Jarvis, Nov 06 1896, Aug 09 1979, Wife of Edgar
Jordan, Edgar Charles, Nov 21 1890, Dec 24 1927
Kane, Elmer Louis, Jun 14 1936, Jul 02 1951
Kane, Emma Louise, Jun 07 1918, Feb 01 1935
Kane, Herbert Aloise, Dec 15 1934, Jan 05 1935, S/o Elmer & Essie
Kane, Herbert H., Mar 17 1882, Mar 12 1965
Keefe, Ida May Jarvis, Sep 12 1898, Feb 27 1959, Wife of William W.
Keefe, William Weldon, Oct 01 1900, Feb 16 2000
Kelley, Guy Brown, Jul 22 1902, Apr 01 1923
Kelley, James Leonard, Mar 05 1875, Nov 29 1904
Kelley, Leona Baker, Aug 22 1874, Oct 14 1963, Wife of William H.
Kelley, Susan Abigail Higginbotham, Jun 26 1837, Dec 03 1914, Wife of W.H., Sr.
Kelley, William H., Mar 17 1868, Jan 11 1938
Kellogg, Jack L., Apr 09 1887, Oct 09 1954
Kindrick, Grady, Feb 03 1904, Jul 15 1935
Kindrick, Iva Lou Miller, Sep 02 1874, Sep 13 1949, Wife of S.B.
Kindrick, Lillian, Oct 18 1898, Oct 08 1934
Kindrick, Samuel Bennett, Jun 07 1861, Aug 13 1933
King, Lee Willy Jarvis, Jul 13 1892, Apr 03 1911
Knox , Ramona Jeanine, Jul 18 1930, Jun 06 1931, D/o M/M John
Lamm, Mattie Millsap, 1872, Apr 10 1948
Land, Henry, Oct 07 1870, Mar 23 1947
Land, Louise Grobe, Feb 05 1880, Jul 18 1934, Wife of Henry
Landers, A.R., Jan 12 1837, Mar 14 1908, CSA Veteran
Landers, Christopher Lee, Apr 23 1824, Jan 08 1904
Landers, Eliza F. Small, Jul 01 1844, Nov 30 1920, Wife of A.R.
Laney, Mandy Lynell, Oct 25 1976, Oct 25 1976
Latta, Mamie Earwood, Feb 08 1880, Apr 22 1918, Wife of Oscar
Lavelle, Infant, I/o M/M Russell
Lawler, Arthur Oran, Feb 02 1876, Feb 12 1973
Lawler, Martha J. McAuley, Feb 01 1852, Sep 19 1934, Wife of S.F.
Lawler, Samuel Finley, Aug 14 1849, Oct 18 1918
Lawler, Willie E. Robbins, Oct 05 1885, Aug 28 1970, Wife of A.O.
Leifeste, Edward W., Apr 06 1877, Oct 15 1956
Leifeste, Lula May Glossbrenner, Mar 10 1888, May 01 1988, Wife of Edward
Leigh, Martha C., Feb 10 1853, Dec 31 1934
Lemons, Fanny Alice Hibdon, Sep 30 1870, Dec 19 1937
Lemons, Herman, Jul 13 1916, Jun 02 1938
Livingston, Lewis Homer, Dec 23 1886, Jan 10 1937
Livingston, Mabel Hodges, Dec 22 1891, Dec 22 1970, Wife of L.H.
Loeffler, Jewel Riley "Sally", Dec 22 1915, Aug 21 1994, Wife of Reuben
Loeffler, Reuben Spicer, Feb 03 1910, Jan 23 1992
Low, Billie Leon, Apr 17 1950, Apr 17 1950, I/o Joe & Naomi
Lowry, Lee William, Nov 04 1876, Apr 07 1960
Lowry, Margaret Elizabeth Ragland, Nov 04 1884, Jul 19 1965, Wife of Lee
McCoy, Eli Barney, Jan 10 1889, Feb 13 1946
McCoy, Raymond Arthur, Mar 15 1932, Jan 28 1936, S/o Eli & Ruby
McCoy, Ruby Roberts, Aug 10 1893, Jan 01 1947, Wife of E.B.
McCullough, Ella Jane, Aug 29 1947, Aug 29 1947, D/o F.R. & Cora
McCullough, Francis Roy "Mac", Nov 06 1904, Sep 16 1986
McCullough, Margaret Viola Maples, Oct 01 1920, Nov 23 1942, Wife of F.R.
McDonald, John L., Feb 07 1879, Mar 28 1955
McDonald, Lillie M. Evans, Jul 28 1918, Nov 08 1976, Wife of Ivy
McDonald, Lola Velma Fleming, Sep 14 1907, Jun 18 1997
McDonald, Milton P., Aug 25 1939, Feb 06 1993
McDuffe, Novella Myrtle, Nov 25 1941, Jul 08 1942
McKee, Susie Pepper, Apr 09 1853, Oct 08 1928, Wife of W.R.
McKee, William R., Mar 08 1857, Sep 19 1940
McLendon, Edgar, Dec 05 1876, Dec 28 1967
McLendon, Mitchell Harris, Mar 15 1882, May 18 1975, Wife of Edgar
McLendon, Mitchell, Aug 08 1909, Sep 03 1961
McNutt, Natalee Sandherr-Fleming, May 27 1903, Jan 13 1955, Wife of W.H.
McSween, Ida V., Aug 21 1900, Dec 17 1904
McSween, Mary Hodges, Feb 20 1872, Oct 01 1962, Wife of W.M.
McSween, William Lewis, Aug 25 1896, Apr 22 1918
McSween, William M., May 25 1864, Aug 28 1902
Maddux, Damon, Aug 24 1905, Jun 05 1973
Maddux, Earl Larry, Oct 17 1901, Mar 29 1935
Maddux, Ethel Gipson, Apr 07 1905, Jan 03 1943, Wife of Lee
Maddux, Lee H., May 27 1899, Nov 06 1973
Massie, James Lee, Sep 27 1885, Sep 11 1983
Massie, Minnie Stephen, Jan 14 1884, Aug 19 1937, Wife of J.L.
Maultsby, R.A., 1851, Jan 09 1925
Maultsby, Mrs. R.A., Feb 22 1932
Meredith, Mary Idabell McDonald, Apr 02 1860, Feb 08 1953, Wife of T.J.
Meredith, Thomas J. "Jeff", Nov 10 1856, Jun 25 1939
Meyers, Allie Kelley, Jun 21 1895, Apr 23 1969
Meyers, Arthur B., Jan 07 1914
Millard, Frank L., Sep 02 1874, Jun 04 1945
Millard, Maud M. Delano, Jul 20 1875, Jun 06 1944, Wife of F.L.
Miller, Elizabeth "Eliza", 1821, 1918, Wife of Jesse B.
Miller, J. Larkin, Jun 13 1892, Jun 26 1965
Miller, J. York, Jan 17 1849, Dec 28 1914
Miller , John Alexander, Feb 15 1848, Oct 24 1926
Miller, Lavonia C., Apr 22 1846, Mar 04 1916, Wife of J.Y.
Miller, Martha Browning, Sep 07 1853, Mar 04 1930, Wife of J.A.
Miller, Winnery Elizabeth Wallace, Jun 29 1887, Oct 20 1917
Montgomery, Charles G., 1883, Dec 31 1924
Montgomery, Mabel Lee, 1884, Nov 19 1947, Wife of Charles
Moore, Ellen V., 1898, Feb 23 1969, 1st Wife of Elvie
Moore, Elvie R., Jan 30 1900, Apr 23 1981
Moore, Flora Becker-Hardin, Mar 29 1901, Dec 14 1980, Wife of Elvie
Moos, Craft, Nov 27 1889, Dec 09 1973
Moos, Myrtle M. Goad, Oct 27 1888, Aug 12 1965, Wife of Craft
Moos, Tibbie S. Craft, Jan 12 1866, Dec 10 1939, Wife of W.G.
Moos, William G., Aug 20 1856, Jun 11 1942
Moss, Alice Christine Schraub, May 04 1916, Dec 27 1965
Motley, John Dillard, Jul 07 1909, Apr 00 1977
Motley, Lucy Hodges, Feb 14 1886, Jul 10 1980, Wife of R.J.
Motley, Robert Dillard, Aug 15 1937, Mar 28 1966
Motley, Robert J., Jul 17 1885, Feb 08 1923
Motley, Robert M. "Buzz", Dec 11 1911, Nov 23 1970
Mudge, Arthur L., Apr 12 1864, Jan 03 1947
Mudge, Ethel Mary Gordon, Jun 12 1876, Mar 29 1967, Wife of A.L.
Mudge, Fred, Apr 25 1900, Apr 13 1971
Mudge, Mary Lily, Oct 20 1910, Oct 15 1912, D/o A.L. & Ethel
Munn, Bertie Turner, Jul 25 1882, Apr 03 1976, Wife of J.S.
Munn, Fay, Feb 01 1909, Feb 11 1909, Triplet D/o J.S. & B.
Munn, John Spencer, Jan 01 1877, Nov 04 1955, Spanish-American War Veteran
Murr, Carleton C., Jun 06 1938, Jun 08 1938, S/o Roy & Ena
Murr, Georgena Hunger, May 08 1897, Sep 23 1979, Wife of Roy
Murr, Henry, Sep 24 1844, Jan 06 1935, Veteran of the Indian Wars
Murr, Lena, Jun 02 1918, Sep 24 1935
Murr, Mary Jane Kennedy-Woolf, Mar 17 1847, Aug 25 1933, Wife of Henry
Murr, Roy Mayes, Jul 24 1896, May 29 1961
Murrah, Barbara, Sep 28 1937, Sep 28 1937
Murrah, Charles N., May 14 1934, Feb 21 1936
Nance, Georgia Williams, Nov 24 1873, Feb 23 1936, Wife of Will E.
Nance, Iola K., Sep 03 1851, Mar 09 1915, Wife of T.N.
Nance, Lela Hall, Nov 21 1881, May 03 1927, Wife of O.D.
Nance, O. Douglas, Apr 10 1885, Jul 06 1941
Nance, Thomas N., 1848, 1929
Nance, Will E., Oct 27 1871, Oct 05 1932
Neal, Amanda Clara, Nov 11 1877, Aug 17 1946, Wife of R.A.
Neal, James Irwin, May 10 1903, Apr 25 1940
Neal, Richard A., Oct 25 1874, Nov 20 1952
Neatherlin, Charles O., Sep 16 1866, Dec 11 1937
Nessmith, Florence M. Dean "Susie", Apr 12 1912, Aug 15 1971
Nethery, Ida Flowers, Jul 06 1860, Jul 13 1922, Wife of W.O.
Nethery, Mabel Alene, Mar 25 1911, Apr 23 1924
Nethery, Maggie Butler, Jun 26 1888, Dec 08 1929, Wife of Rufus
Nethery, Rufus C., Oct 01 1886, Jan 15 1964
Nethery, William Henry, Sep 26 1855, Oct 07 1928
Newby, Bevie Olin, Mar 07 1879, Dec 26 1961
Newby, Claudia Lowry, Jul 02 1881, Sep 15 1933, Wife of B.O.
Northcutt, Emma Phillips, May 24 1879, Oct 06 1974, Wife of J.H.
Northcutt, J. Harry, Dec 29 1878, Mar 31 1942
Oliver, Julia, Sep 23 1902, Mar 16 1904, D/o Y.P. & Lula
Oliver, Lula Cloud, May 22 1868, Sep 03 1908, Wife of Y.P.
Oliver, Young Pinckney, Mar 22 1857, Jan 14 1925
Paterson, Agnes Burns, Mar 26 1861, Jan 20 1939, Wife of James
Paterson, Andrew, Nov 18 1851, Sep 08 1924
Paterson, James, Jul 19 1853, Dec 17 1914
Paterson, Nancie Roberts, Nov 10 1865, Oct 18 1911, Wife of Andrew
Patterson, H. Olney, Feb 00 1891, May 03 1928
Patterson, Mattie Hodges, Mar 18 1898, Jun 19 1966, Wife of H.O.
Pepper, Rosanna H. Smith, Oct 04 1850, Mar 25 1902, Wife of James H.
Pickett, Kate Elizabeth Morrill, Oct 19 1853, Oct 17 1939, Wife of R.J.
Pickett, Lee H., Nov 11 1883, Nov 13 199
Pickett, Prentice Augustus, Jan 23 1886, Jan 30 1914
Pickett, Ruben J., Jan 23 1845, Mar 17 1925, CSA Veteran
Pinkerton, Geneva A., 1935, 1935, D/o M.D. & Lorena
Ponton, Addie M. Chaison, Jul 25 1899, Mar 10 1981, Wife of Joel
Ponton, Joel Samuel, Jun 16 1890, Jan 26 1979
Powell, Della E., Dec 31 1868, Feb 03 1910, Wife of G.K.
Prentice, James, Nov 15 1859, Nov 16 1942
Prentice, Maud E. Davey, Sep 09 1872, Sep 06 1947, Wife of James
Ragland, George R. "Bob", May 11 1882, Jun 21 1940
Ragland, J.W., Jan 24 1853, Aug 12 1931
Ragland, James Lee, Apr 06 1886, Apr 13 1923
Ragland, Mae Allen, Jun 21 1884, Oct 30 1936, Wife of Bob
Ragland, Infant, I/o Bob & Mae
Ragland, Matilda Ann Plowman, Jan 09 1855, Nov 23 1924, Wife of J.W.
Ragland, Willie Loraine Maddux, Jun 25 1887, Nov 14 1965, Wife of J.L.
Ragsdill, Ellis, Jun 12 1876, Feb 11 1961
Ragsdill, George W., Nov 22 1844, Jul 24 1915, CSA Veteran
Ragsdill, Kate Rose Vineyard, Sep 30 1845, Nov 22 1918, Wife of G.W.
Ramsey, A.S. "Sidney", Feb 26 1885, Oct 01 1932
Ramsey, Eula Hodges, Feb 14 1886, Jul 05 1934, Wife of Joe
Ramsey, Katie Vivian, Feb 03 1914, Jun 13 1915
Ramsey, Louis Harrell, Feb 14 1915, May 19 1937
Randle, Clinton Ples, Dec 27 1919, Apr 03 1993
Randle, Edith R. Connell, Jun 14 1902, Sep 08 1962, Wife of S. F.
Randle, Ernst D., Dec 16 1906, Feb 22 1989
Randle, Fannie Alena Hale, 1888, 1954, Wife of T.T.
Randle, Sidney F., Jul 15 1905, Jul 23 1975
Randle, Terry II, 1924, S/o W.D.
Randle, Terry Lynn, Dec 07 1924, Jan 02 1993
Randle, Terry Thomas, Oct 23 1875, Jun 08 1947
Randolph, Frank L., Jan 20 1872, Jan 13 1939
Randolph, Lena E. Ramsey, Feb 03 1882, Jun 11 1966, Wife of F.L.
Randolph, Marguerite, Jan 23 1906, Nov 02 1915
Randolph, Infant, Mar 16 1911, Mar 20 1911, D/o F.L. & Lena
Ranney, Eugene Earl, Jul 05 1877, Jul 25 1953, Spanish-American War Veteran
Rembold, Allie G. Ray, Jan 26 1872, Apr 09 1966, Wife of P.J.
Rembold, Peter James, Jan 27 1857, Dec 25 1944
Rembold, Tom William, Aug 10 1888, Oct 15 1918, Died in WWI
Reynolds, Dorothy Hill, Jul 27 1918, May 03 1990
Reynolds, Lela, Jun 01 1919, Jun 01 1919, D/o A.L. & Bessie
Richardson, L.E., Jan 00 1815, Dec 16 1905, CSA Veteran
Richardson, Martha Temple, Dec 00 1834, 1919, Wife of L.E.
Richter, Edward, Dec 19 1835, Nov 11 1916, Civil War Veteran
Ridgeway, D. Davidson, Jul 10 1874, Apr 09 1940
Rieck, H.W. "Bill", Jan 28 1924, May 13 1991
Rieck, Hugh William "Captain", Jun 09 1889, Dec 20 1938
Rieck, James Paterson, Apr 26 1921, Sep 28 1967
Rieck, Meta Paterson, Nov 19 1889, Mar 16 1970, Wife of Hugh W.
Rieck, Ruth Clark Codding, Jan 03 1893, Jul 09 1933, Wife of Al
Riley, Don O., Jul 13 1913, May 14 1915, S/o W.P. & Minnie
Riley, Minnie Laura Kountz, Feb 29 1888, Jan 16 1980, Wife of W.P.
Riley, William Patrick, Sep 29 1877, Jan 15 1933
Robinson, Hallie L. Glenn, Sep 12 1879, Oct 21 1947, Wife of L.P.
Robinson, Lemuel P., Oct 19 1876, Mar 09 1933, Spanish-American War Veteran
Roe, Nolan "Kid", Apr 02 1908, Jul 07 1995
Roe, Ruth Sandherr, May 13 1913, Sep 26 1996, Wife of Nolan
Rose, Mary Ann Scott, Apr 27 1830, Jul 20 1905
Russell, Loyless Jarvis, Sep 14 1899, Apr 02 1989, Wife of W.T.
Russell, William T., Aug 07 1885, Aug 27 1957
Sanders, Harrel Wayne, Aug 03 1949, Aug 03 1949, S/o Harrell & Dorothy
Sandherr, Charlie Murr, Jun 22 1910, Nov 13 1911, S/o Henry & Mary
Sandherr, Henry Thomas, Jun 25 1908, Nov 17 1908, S/o Henry & Mary
Sandherr, Mary V. Murr, Mar 18 1884, Jan 05 1980, Wife of Natt
Sandherr, Natt, Nov 02 1870, Mar 12 1917
Sandherr, Natt, Jr., Oct 04 1916, May 14 1937
Savage, John H., Dec 15 1865, Jul 10 1937
Savage, Sereptia Lavada Robbins, Aug 10 1870, Dec 13 1957, Wife of J.H.
Schoolcraft, Lois Ellen Sifford, May 22 1913, Jun 28 1967, Wife of M.L.
Schoolcraft, M.L. "Les", Nov 04 1902, Sep 12 1964
Schoolcraft, Shere Faye, Apr 18 1936, Aug 23 1940
Schoolcraft, Fred, Jr., Sep 21 1964, Sep 22 1964
Schraub, Christian A., Mar 07 1883, Jun 26 1963
Schraub, Clifton, Dec 21 1917, Mar 12 1935
Schraub, Josie Ella Graville, Mar 21 1889, Jul 05 1964, Wife of C.A.
Schrier, Charlie, Mar 18 1892, Jun 06 1967
Schrier, Ernest, Dec 07 1889, Oct 25 1933
Schrier, Frances F. Browning "Kittie", Jul 01 1866, Apr 12 1954, Wife of J.P.
Schrier, Jesse Parker, Jr., Oct 27 1860, Dec 31 1939
Schrier, Thelma E., Mar 02 1901, Jun 16 1966
Schrier, Viola, Oct 24 1896, Aug 21 1959
Schrier, Walter A., Jun 14 1908, Feb 18 1982
Sheppard, Anna Mae Cook, Apr 04 1895, Aug 02 1990, Wife of T.E.
Sheppard, Thomas E., Oct 27 1884, Oct 03 1934
Shulek, John, Jr., Jan 03 1887, Jan 10 1971
Simon, Meta, Feb 07 1908, Jun 09 1917
Simpson, David, Jan 00 1921, Oct 08 1921, S/o M/M J.B.
Skaggs, Newton H., Oct 16 1857, Aug 31 1933
Skaggs, Sarah Minerva Farrar, Jan 25 1858, Jan 29 1949, Wife of N.H.
Smith, Dan
Smith, Effie Wooldridge, Aug 26 1881, Aug 28 1983, Wife of Samuel Hoy
Smith, Elias "Jack", May 00 1898, Apr 24 1933
Smith, F.M., 1918, Jan 09 1925, S/o Alva & Marian
Smith, H.R. "Sox", Nov 17 1902, Jan 28 1979
Smith, John James, Mar 24 1822, Aug 27 1924, CSA & War with Mexico Veteran
Smith, Lenora Billingsley, Apr 01 1856, Feb 26 1949, Wife of J.J.
Smith, Lettie A. Fish, Sep 00 1870, Jun 23 1964, Wife of W.L.
Smith, Ruby Elizabeth Gibbs, Jul 28 1907, May 12 1928, Wife of Alva
Smith, Samuel Hoy, May 10 1877, Mar 04 1936
Smith, W.L. "Lou", Dec 00 1860, Aug 05 1932
Smith, Walter W., Mar 15 1868, Jun 17 1938
Smith, Willie Boyett-Coon, Oct 29 1903, Oct 17 1985, Wife of H.R.
Stephen, Cleveland J., Jun 06 1885, Dec 11 1961
Stephen, G.R. "Bob", May 25 1872, Feb 05 1953
Stephen , James Joseph, Jun 10 1876, Nov 01 1927
Stephen, Jasper H., Oct 25 1848, Jul 14 1924
Stephen, Julia Oliver, Jan 25 1845, Oct 26 1928, Wife of J.H.
Stephen, Roy Jack, Jul 09 1932, Apr 28 1969
Stephen, Teil, Jun 04 1878, Oct 11 1972
Stephen, Willie Vara Pickett-James, Apr 25 1888, May 03 1969, Wife of C.J.
Stevenson, Bernice Sutton, Jun 08 1894, Nov 21 1956, Wife of R.G.
Stevenson, Mary Emma Pickett, Jun 06 1892, Aug 19 1930, 1st Wife of R.G.
Stevenson, Rosco G., Jul 20 1893, Aug 12 1962
Stevenson, R.G., Jr., Aug 14 1930, Dec 12 1933
Stewart, Anna Lee Baylor, Jul 24 1903, Nov 19 1993, Wife of K.S.
Stewart, Dennis Ray, Apr 07 1969, Jan 27 1970, S/o Donnie & M.J.
Stewart, Don, Jan 27 1970, Jan 28 1970
Stewart, Infant, Feb 05 1968, Feb 05 1968, S/o D. & M.J.
Stewart, Elizabeth Kirkpatrick, Oct 16 1858, Jan 24 1933, Wife of J.M.
Stewart, Gordon Franklin, Jun 23 1892, Jan 16 1966
Stewart, John Milton, Sep 07 1861, Feb 07 1957
Stewart, Knowles S., Jan 28 1892, Oct 29 1932
Stewart, Rutherford B., 1930, 1932, S/o Myles & Ora
Stone, Dr. Donald Stuart, Oct 02 1879, Feb 13 1934
Stone, Jean J.
Lampman, Jun 15 1910, Jun 30 1995, Wife of Wilson
Stone, Mary Grace Finney, Dec 17 1881, Jun 07 1956, Wife of D.S.
Stone, Michael H., Mar 18 1947, Jul 25 1960
Stone, Dr. Wilson S., Oct 06 1907, Feb 28 1968
Strong, George Jefferson, Nov 26 1885, Apr 02 1942
Strong, Stella Raney Whittle, Feb 28 1887, Nov 10 1938, Wife of G.J.
Taylor, Albert Ray, Nov 13 1900, May 02 1993
Taylor, Alton, Aug 03 1930, Nov 21 1935, S/o J.T. & B.
Taylor, Bertha Leora Banta, Dec 15 1891, Oct 23 1982, Wife of J.T.
Taylor, Cloma, Dec 21 1891, Feb 16 1981
Taylor, Dena Lorena Taylor, Mar 13 1903, Oct 20 1972, Wife of Albert
Taylor, Edward Audgenia Spurlock, 1898, Jan 19 2000, Wife of John
Taylor, Gene Alan, Aug 16 1935, Aug 17 1935
Taylor, Jacob Thomas, Aug 27 1887, Aug 08 1974
Taylor, James Leslie, Jan 17 1894, Nov 23 1960
Taylor, John, Dec 02 1891, Jun 30 1978
Taylor, John Albert, Mar 01 1856, May 12 1933
Taylor, John Morgan, Jun 28 1918, Apr 23 1937
Taylor, Laura Evans, Jun 01 1865, Jul 10 1918, Wife of T.C.
Taylor , Laymond, Dec 19 1913, Jul 21 1978
Taylor, Myrtle E. Bartley, Mar 29 1894, Apr 13 1981, Wife of James L.
Taylor, Onie Davis, Nov 26 1878, Aug 18 1942, Wife of W.W.
Taylor, Orville B. "Shorty", Dec 30 1908, Feb 15 1956
Taylor, T. Walter, Sep 15 1883, Dec 06 1908
Taylor, Stewart Morgan, Nov 11 1893, Nov 21 1978
Taylor, Viga I. Chaison, Oct 13 1903, Dec 23 1978, Wife of Stewart
Taylor, William Walter, Jun 02 1868, Feb 22 1945, Historical Marker
Thiele, Alice V., Dec 05 1928, Nov 13 1992, Wife of Otto
Thiele, Lois Agnes Whittington, Jun 12 1905, May 08 1935
Thiers, Dora Bettie, Feb 06 1931, Feb 12 1944
Thomas, Ida M. Taylor, Sep 10 1881, Dec 12 1914, Wife of Sidney, Jr.
Tibbitt, Carl Juanita, Jun 22 1918, Oct 26 1918, D/o C. & M.
Tibbitt, Carl Matthew, Nov 14 1894, Apr 17 1955
Tibbitt, Minnie Skaggs, May 14 1895, Jun 17 1987, Wife of Carl
Tobey, Wilma Ava, Sep 25 1907, Aug 11 1909
Tomberlin, Ada Bailey, Jan 08 1872, Nov 17 1912, Wife of J. Matt
Tomberlin, Emma Schmidt, Apr 01 1856, Feb 15 1944, Wife of James M.
Tomberlin, J. Matt, Nov 00 1861, Jul 07 1920
Tomberlin, James M., Dec 17 1840, Aug 05 1922, CSA Veteran
Tomberlin, Tom, Jan 29 1894, Apr 22 1912
Tomlinson, Ravina Wood, 1852, May 25 1919, Wife of Joseph J.
Tomlinson, T.B., May 15 1958, May 15 1958, S/o Vester & Alma
Tomlinson, Verne Lorene, Oct 06 1922, D/o Walter & Emma
Turman, James William, Dec 00 1849, Dec 26 1904
Turman, Lillie Gertrude, Dec 04 1904, Feb 12 1905, D/o J.W. & M.M.
Turner, Etta Hoggett, Nov 14 1891, May 26 1990
Vierling, George William, Jun 28 1864, Jan 31 1943
Vierling, George W., Jr., Jun 18 1891, May 16 1962
Vierling, Josephine Stevens, Dec 13 1899, Apr 12 1964, Wife of George, Jr.
Vierling, Mary Magdalena Lynn, Apr 22 1870, Jun 20 1963, Wife of George, Sr.
Wahl, Alex W., 1895, Nov 11 1936
Wahl, Clifton Alex, 1918, Aug 07 1919
Wallace, Ancil M., Apr 02 1882, Nov 27 1958
Wallace, Annie Belle Riley, Mar 30 1880, Jul 27 1925, Wife of James A.
Wallace, Dayton A., Jan 22 1914, Mar 04 1920
Wallace, Edward W., Nov 16 1907, Jan 22 1914
Wallace , Effie Collier, Apr 03 1899, Jun 25 1925, Wife of Amon C.
Wallace, James A., May 15 1879, Jun 01 1955
Wallace, Lula Raney-Dean, May 27 1887, May 23 1963
Wallace, Rosie Fish, Oct 30 1886, Dec 06 1983, Wife of Ancil
Wallace, William "Bill", Feb 04 1921, Jun 11 1957
Watson, Felix H., Oct 29 1869, Apr 19 1937
Watson, Joe D., Sep 17 1904, Aug 14 1936
Watson, Kathleen Emma, Feb 28 1873, Oct 26 1961
Watson, Marjorie Ragland, Jan 01 1909, Feb 03 1931, Wife of J.D.
Watson, Mattie Ella Davey, Nov 11 1877, Feb 18 1960, Wife of Felix
Webber, Joseph S., Oct 24 1865, Nov 25 1956
Webber, Louisa, Feb 07 1874, Mar 02 1928, Wife of J.S.
Westmoreland, Dorothy Hodges, Feb 11 1906, May 02 1958
Whittle, Daniel Thomas, Aug 13 1861, Dec 13 1948
Whittle, Martha Raney, Apr 24 1851, Feb 11 1935, Wife of D. T.
Whitworth, Mark Evans, Aug 26 1952, Aug 28 1952, S/o M/M Bill
Whitworth, Mary Margaret Rogers, Jun 05 1877, Jul 19 1957, Wife of W.H.
Whitworth, Pat Stapp, Jan 24 1896, May 03 1966, Wife of W.W.
Whitworth, Walton W., Aug 31 1895, Jul 09 1972
Whitworth, William Henry, May 04 1860, Jun 19 1943
Whitworth, Worth Evans, May 25 1927, Dec 04 1983
Williams, Lula Beasley, Oct 11 1890, Aug 10 1986, Wife of Roy
Williams, Roy, Feb 19 1882, Apr 07 1933
Willis, Edward Amber, Oct 02 1846, Sep 11 1933, Civil War Veteran
Willis, Kate V. Newcomer, Aug 23 1853, Feb 08 1938, Wife of E.A.
Willis, Mary Gorrell, Feb 19 1877, Sep 05 1971
Wilson, Alvira Ella Finney, Jan 16 1869, Jul 07 1952, Wife of W. Hugh
Wilson, Frank Lawler, Jan 28 1869, Dec 01 1934, Boer War Veteran
Wilson, Mary Jane Clark, 1873, 1954, Wife of Frank L.
Wilson, William Hugh, Mar 23 1848, May 26 1934
Winslett, Emma Virginia, Sep 00 1857, Nov 01 1927
Winslett, Edward Henricks "Ned", Jul 10 1853, Jul 02 1939
Witt, Charles A., Dec 00 1833, Sep 24 1908
Wood, Emmett, Oct 22 1886, Apr 12 1955
Wood, Josephine Katherine Rembold, Aug 13 1884, Mar 27 1974, Wife of Emmett
Wood, Leroy T. "Doc", Mar 03 1889, Oct 03 1959
Wood, Rebecca R. Herring, Feb 01 1893, Jun 21 1978, Wife of Doc
Wright, Dr. Carlton C., Jan 30 1915, Apr 11 1981
Wright, Josephine M. Zito, Jan 28 1917, Nov 15 1995, Wife of C.C.
Wright, Lois M. McCraw, May 19 1911, May 29 1993, Wife of W.M.
Wright, William M., Sep 24 1907, Apr 28 1976
Wright, William M., Jr., Jan 07 1936, Nov 24 1955
Wynne, Antoinette Hardeman, Dec 25 1881, May 25 1951, Wife of Guy
Wynne, Guy E., Jul 24 1887, Nov 13 1934
Younglove, Laurie J. Stone, Apr 03 1935, Sep 25 1994

---