Junction City Cemetery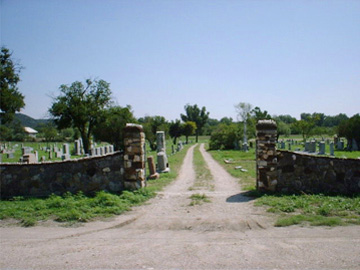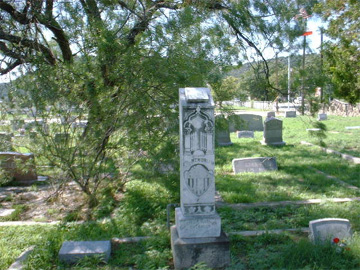 Photos by Sheriff Jerry Hicks
Kimble County, Cemeteries of Texas
Section One
Compiled By: Frederica Burt Wyatt, July 1,2000
Submitted By: Gloria B. Mayfield, Rusk County CC
Coordinator: Dolores I. Bishop
History: This part of the Junction Cemetery includes the "original" or "old" Section, as well as that part known as the "H.E." Wilson Addition. Some of the graves (hopefully all) in a small cemetery at the corner of Elm and South Ninth Streets near downtown Junction City were moved here after the original part of this cemetery was founded about 1880. According to the late Minnie Kountz Riley, the remains of her uncle, Isaac Newton Kountz (killed by Comanche Indians 24 December 1876), were reinterred here in 1891.
Fay Wright Stevenson, wife of one of Texas' greatest governors, rests here. She passed away into eternity at the Governor's Mansion within the year following the gubernatorial inauguration of Coke Robert Stevenson.
This part of the cemetery contains, among others, the graves of at least two veterans of the Mexican War, a widow of a Civil War causality, at least twenty-eight veterans of the Confederate States Army, one veteran of the Texas Frontier Troops, veterans of both World Wars (including Burt M. Fleming, the first Kimble County "doughboy" to make the supreme sacrifice for his country in World War I), and Charlie Baker, a victim of the Rocksprings 1927 killer tornado.
At peace here is Alice Taylor Rayner, who as a young child, witnessed the killing of family members by Kiowas. She and others of her kin were taken into captivity by the same band of Indians. Those captured were held several months before being ransomed to freedom. As a young woman, Alice was widowed when her husband was killed by a neighbor.
Among folk buried here are those who attended to the needs of the spirit (at least three ministers) and those who ministered to the needs of the body (five doctors).Those who lived by the sword and died by the sword (or rather, the Texas six-shooter) lie here. Most of the graves are of those persons who received no particular acclaim, but with their passing, they left a goodly heritage.
Section # 1 is situated east of the dividing road in that part bounded by the north rock wall.
Sections: One, Two, Three, Four, and Five
LAST NAME, FIRST NAME, BIRTH, DEATH, COMMENTS
Alden, Infant, S/o M/M T.L.
Allbright, Dorothy Jo, Nov 14 1936, Nov 14 1936, Twins of Joe & Willa
Albright, Wilma Jo, Nov 14 1936, Nov 14 1936, Twins of Joe & Willa
Allbright, Robert E. Lee, Mar 12 1873, Apr 21 1942
Allbright, Sophronia Cargile, Feb 08 1877, Apr 12 1945, W/o R.E.L.
Allen, A.J., 1825, 1911, CSA Veteran
Allen, Cynthia S. Patterson, Mar 09 1865, Nov 18 1884, W/o L.D.
Allen, Mary McLeod Smith, Jul 28 1811, May 12 1896, W/o A.J.
Alsup, Drew S., Feb 11 1849, Aug 04 1936
Alsup, Mary Ellen Highsmith, Feb 09 1857, Feb 04 1941
Anderson, Callie P. Jones, Apr 28 1832, Nov 23 1904, Widow of Thomas Anderson, CSA soldier, killed Civil War
Anderson, Darrell, Dec 23 1894, Sep 06 1913
Anderson, J.M. "Mack", Jan 16 1863, Mar 16 1944
Anderson, Sally E. Alsup, Dec 17 1872, Oct 26 1958, W/o J.M.
Andrews, Joe R., Sep 01 1898, Aug 25 1837
Andrews , Leo R., 1919 , Jun 22 1925
Andrews, Margaret, ID/o W.G. & Sarah
Andrews, Samuel Green, Feb 15 1905, Sep 04 1929
Andrews, Sarah E. Highsmith, Aug 26 1875, Sep 09 1936, W/o W.G.
Andrews, William G., Aug 01 1873, Jul 13 1935
Armstrong, James Daniel, Apr 13 1840, Sep 29 1892, CSA Veteran
Armstrong, Martha Lucas Baugh, Oct 25 1846, Sep 04 1887, W/o J.D.
Armstrong, Mary Ann Southerland, Nov 03 1818, Sep 03 1893, W/o R.M.
Armstrong, Robert M., May 05 1810, Oct 14 1897
Armstrong, Richard Nick "Dicky", Jul 02 1927, Sep 26 1955
Baker, Achsah L. Cato, Mar 01 1829, Dec 01 1890, W/o Isaac W.
Baker, Achsah J., Aug 07 1880, Oct 17 1890
Baker, Charles Silas "Charlie", Feb 22 1892, Apr 13 1927
Baker, Frank, Nov 02 1874, Dec 22 1946
Baker , Ham C., Feb 08 1850, Feb 26 1913
Baker, Isaac W., Sep 13 1820, Sep 29 1899, CSA Veteran
Baker, Isaac W. II, Mar 02 1852, Aug 31 1894
Baker, I.W. "Buddy", Oct 10 1878, Mar 07 1944
Baker, James D., Jul 19 1859, Feb 12 1916
Baker, John, Dec 05 1888, Mar 08 1911
Baker, John P., Feb 24 1861, Jun 01 1928
Baker, Margaret, Jul 21 1857, Aug 22 1883, W/o I.W.
Baker, Mary Rodgers-Moody, Dec 11 1854, Feb 08 1925, W/o Isaac II
Baker, May Hall, Dec 12 1879, Jun 16 1954, W/o Frank
Baker, Pearl, Jan 12 1886, Jan 24 1886
Baker, William W., Nov 12 1847, Dec 27 1915
Baker, Infant, Aug 28 1909, Aug 28 1909, I/o Frank & May
Baker, Infant, Jan 24 1886, Jan 24 1886, I/o R.T.
Baker, Infant, Apr 30 1942, Apr 30 1942, D/o Sidney & Hazel Lee
Baldwin, Elizabeth Ann, Mar 18 1943, Mar 18 1943
Baldwin, Minnie Eula, Feb 28 1896, Mar 03 1898
Baldwin, Infant, Aug 08 1947, Aug 09 1947, I/o L.J. & Daisy
Barfield , John E., 1900, 1953
Barfield, M. Devereaux, Aug 13 1867, Dec 07 1923
Barfield, Sally Elizabeth Burton (Burleson), Dec 16 1872, May 12 1931, W/o M.D.
Barfield, Thelma Alpha, Nov 11 1915, Sep 21 1933
Barfield, Thomas B., Oct 10 1888, Oct 26 1918
Barker, Virginia Elizabeth Merideth, 1894, Jul 06 1932, W/o J.W.
Barker, Infant, May 09 1948, May 09 1948, D/o James & Jane
Barksdale, Polley, Jan 26 1813, Jan 12 1884
Barnes, Freddie Lee, Nov 24 1933, Oct 17 1936
Barr, Fay Taylor, Nov 23 1904, Mar 20 1931, W/o W.E.
Barron, Ms Belen, 1869, Jan 23 1926
Baugh, Frankie F., Oct 17 1925, Jul 07 1926, D/o W.L. & Frankie
Baugh, Nessie, Feb 04 1918, Jul 06 1921, D/o W.L. & Frankie
Beasley, Louise Corrine, Apr 04 1876, Apr 11 1887, D/o J.F. & M.J.
Beasley , Pierre Adolph, Mar 29 1870, May 05 1899, S/o J.F. & M.J.
Benson, Caleb, Ca 1835, 1887
Berry, H.A., Dec 01 1849, May 25 1917
Bessent, Byrd Anna Nichols, Oct 28 1879, Mar 10 1961, W/o G.P.
Bessent, George Phillip, May 31 1874, Sep 21 1936
Bingham, Lavica Ann, Dec 08 1831, Jan 03 1910
Bird, Daniel, Jan 23 1809, Jan 07 1885, CSA Veteran
Bishop, Bessie, Mar 30 1901, Nov 05 1903, D/o Buck & Allie
Bishop, J.C. "Buck", Jun 00 1879, 1962
Bishop, J.L., Jul 03 1844, Dec 01 1930, CSA Veteran
Bishop, J.R. "Buster", Mar 25 1877, Nov 27 1931
Bishop, Laura Aline Henderson, 1880, 1978, W/o Buck
Bishop, Mary Harlow, May 26 1844, May 11 1924, W/o J.L.
Bissett, Artimicia Blain, Oct 26 1859, Mar 23 1952, W/o J.T.
Bissett, Frank S., Feb 14 1884, Jun 00 1961
Bissett, Frankie Lucille, Sep 08 1917, Sep 17 1918, D/o Frank & Ina
Bissett, Ina Estelle Davis, Jan 04 1891, Dec 28 1956, W/o Frank
Bissett, James T., 1858, Jan 17 1915
Bissett, Joe Blain, Mar 16 1882, Apr 15 1957
Bissett, Mary Lanan, Nov 03 1886, Aug 02 1978, W/o Joe
Bissett, Mary Stella, Nov 03 1884, Nov 09 1804, W/o R.W.
Bissett, R.W., 1880, Dec 24 1950
Blain, Arnold, No Dates
Blain, Emma Arrington, Oct 24 1835, Jun 09 1922, W/o J.W.
Blain, Johnnie, Dec 31 1865, Jul 31 1903
Blain, Roger, Apr 24 1869, Jul 29 1930
Blain, Woody, Aug 06 1871, Aug 29 1934
Blair, Gracie M., Feb 06 1900, Mar 14 1902
Blair, Wallace, Aug 15 1853, Jun 06 1885
Blakeney, Mary Lee, Aug 03 1945, Nov 19 1946, D/o Claude & Oney
Blakeney, Shirley Ann, Nov 05 1946, Nov 26 1946, D/o Claude & Oney
Boerner, Emma, Aug 29 1865, Aug 22 1884
Bond, John Wesley, Dec 12 1896, Jan 21 1968
Bowers, Charles J., Dec 26 1876, Jun 21 1951
Bowers, Elizabeth Dan Allen, Jan 09 1876, Jan 14 1973, W/o C.J.
Bowers, Howard T., Jun 10 1909, Oct 15 1990
Bowers, Lindsay R., Feb 11 1895, May 01 1955
Bowers, Mary Hortense Allen, Jan 30 1874, Jul 07 1958, W/o R.L.
Bowers, Robert Loftin, Jun 22 1870, Apr 28 1953
Bowers, Sam, Jul 28 1893, Dec 17 1930
Bradshaw, Robert K., May 06 1825, Jan 22 1901
Braley, Erasmus Asberry, Jul 00 1827, Jun 08 1901, CSA Veteran
Braley, Frances A. "Lena", 1857, Jun 00 1925, W/o E.A.
Brinegar, Addie Dora Wright, Feb 09 1898, May 22 1940
Brooks, Thomas C., Aug 08 1905, Feb 18 1907, S/o Tom & Nettie
Brown, Louisa, Oct 12 1864, Jan 30 1886, W/o Joab
Brown, Twin Son, Jan 13 1886, Mar 28 1886, Sons/o J. & L.
Brown, Twin Son, Jan. 13, 1886, Nov. 5, 1886, Sons/o J. & L.
Bryant, Anna Belle, Aug 13 1932, Nov 12 1933
Burton, Infant, Nov 24 1881, Nov 24 1881, S/o Felix & Adeline
Butland, Infant, S/o M/M Tom S.
Butler, Floyd, Jan 00 1948, Apr 21 1948
Caldwell, Eliza J. Roddy, Oct 30 1825, Dec 12 1891, W/o Jacob
Caldwell, Jacob, Jul 04 1815, Apr 10 1892, CSA Veteran
Caldwell, Mrs. J.C., 1893
Cantwell, Robert Luther, Oct 22 1882, Jul 18 1929
Carl, John D., Oct 27 1885, Children/o Rev. Daniel & Martha
Carl, Lucy, Dec 12 1884, Children/o Rev. Daniel & Martha
Carroll, Charles F., Jul 02 1946, Jul 02 1946, S/o Charles & Dorothy
Carroll, M.L., Feb 01 1863, Feb 03 1902
Carter, Ray, 1879, Jun 11 1915
Cavin
Chadwick, Jay, Feb 20 1896, Sep 12 1950
Chapman, Angie Roe-Middleton, Oct 18 1882, Feb 24 1966, 2nd W/o J.J.
Chapman, Cora Middleton, Sep 23 1901, Mar 09 1925, 1st W/o J.J.
Chapman, James Jefferson, Mar 04 1894, Nov 18 1951
Chick, Charlie David, 1903, Aug 03 1904
Chick, Eliza M. Evans, 1883, Aug 03 1904
Clements, Crofford, Sep 10 1879, Sep 30 1880
Clements, Ida Julia, May 24 1904, May 24 1904, D/o G.C. & Julia
Cobb, Frank M., 1855, Apr 21 1911
Cobb, Lida May, Nov 14 1900, Aug 27 1915
Cobb, Nannie Avant, Aug 23 1869, Oct 05 1898
Cockran, Martha L. Reed, 1843, Jun 14 1923, W/o James
Cockran, May Winibelle, 1927, May 18 1929
Conner, E.C., Jun 09 1860, Jan 28 1891
Cook, George W., Oct 11 1849, Dec 09 1923
Copple, Virgil O.
Corder, Winnie, Jun 09 1898, May 16 1899, D/o N.H. & M.C.
Cotter, Hugh S., Sep 12 1890, Jun 22 1902
Cotter, J.J., Dec 28 1832, Apr 21 1912, CSA Veteran
Couey, Andrew Whitney, Sep 19 1849, Sep 29 1927
Cox, John, Sep 21 1830, Jan 07 1914, CSA Veteran
Cox , Rachel Walker-Harmon, Aug 27 1831, Apr 02 1909, W/o John
Creighton, E.D., Feb 00 1857, Aug 19 1926
Crisp, Allene, Apr 06 1930, Mar 31 1935, D/o John & Minnie
Crisp, Dorothy Fay, Oct 00 1921, Dec 29 1922
Crisp, Infant, Jan 24 1935, Jan 24 1935
Crisp, Infant, Jan 20 1944, Jan 20 1944, I/o T.N. & Eatha
Crisp, Mattie Tennessee Cox, Jan 00 1856, W/o R.L., Family thinks she is buried here.
Crisp, Robert L., Mar 00 1850, Dec 29 1929
Cross, Julius Ward, Apr 11 1894, Oct 18 1931
Cross, Infant, D/o Willis & Fannie
Crumbley, Janie Reed, 1866, Apr 13 1928, W/o George J.
Currie, Helen O. Wallace-Joiner, Aug 20 1932, Aug 03 1979
Curtis, Child
Dannheim, Robert Lee, Aug 30 1932, Feb 12 1934, S/o M/M H.T.
Daugherty, Carlton, Sep 00 1954, Nov 29 1954
Davis, Ben F., Jul 23 1868, Mar 15 1933
Davis , Black W., May 29 1888, Jul 03 1966
Davis, Charlie C., Jan 02 1874, Dec 11 1894
Davis, Claud Edgar, Jun 02 1906, Sep 15 1929
Davis, Cynthia Ann McPeters, Aug 04 1870, Nov 10 1948, W/o Ben
Davis , Dennis E., Jul 19 1886, Mar 21 1925
Davis, Ira Lawson "Loss", Dec 21 1895, Dec 01 1980
Davis, Irene, Feb 16 1921, Nov 11 1924
Davis, John Edward, Nov 05 1844, Jun 22 1927
Davis, Laman, 1898, Jan 31 1930
Davis, Leola Florence Bradley, Aug 03 1891, Oct 28 1911, W/o Branick
Davis, Leroy, Oct 06 1942, Mar 31 1961
Davis, Marion A., May 08 1882, May 24 1942
Davis, Margaret M. Petty, Apr 02 1878, Nov 14 1944, W/o Marion
Davis, Mittie L. Miller, Mar 29 1896, Oct 07 1889, W/o Black
Davis, Nancy Agnes, Dec 22 1852, Sep 13 1938, W/o W.B.
Davis, Ora Hodges-Kelley, Feb 06 1882, Mar 18 1975, W/o Ransford
Davis, Rachel Gibbs-Taylor, Feb 05 1850, Oct 06 1924, W/o John E.
Davis, Ransford "Ran", Apr 02 1881, Dec 01 1961
Davis, Stella Schrier, Aug 11 1894, Aug 03 1976, W/o Dennis
Davis, William B., May 23 1853, Nov 09 1892
Davis, Wm. Branick, Dec 21 1885, Mar 24 1954
Davis, Infant, Jun 01 1882, Sep 01 1882, I/o W.B. & Agnes
Dawson, William Alfred, Aug 15 1865, Mar 18 1933
DeWitt, T.E., 1873, Sep 19 1904
Denman, Claud C., 1843, 1906, CSA Veteran
Dial, Nadine Holton, Sep 05 1924, May 15 1940
Dickson, Mathis, Jul 12 1928
Dickson, Marie, Jul 12 1928
Dixon, Julia King, 1893, 1930, W/o W.B.
Donaldson, Thomas Watson, Jan 14 1892, May 20 1927
Donnan, Dr. William M., 1837, 1883, CSA Veteran
Doss, Anne Eliza Rainbolt, Circa 1913, W/o J.W.
Dower , Infant, May 17 1890, May 17 1890, S/o Charles & Viola
Dumas, J.H., Jul 22 1853, Dec 12 1938
Durst, Austin McGary "Miss Ausie", Sep 15 1889, Jun 24 1973
Durst, John M., Jul 23 1868, Jul 10 1915
Durst, John Sterling, Oct 20 1841, Aug 31 1924, CSA Veteran
Durst, Lilla Kittrell, Mar 28 1854, Sep 04 1936, W/o John S.
Durst, Mary
Durst, Sterling O. "Sod", Jul 15 1882, Dec 15 1966
Eason, Robert Martin, 1869, 1878
Eason, Thomas Gay, 1835, Mar 15 1891, CSA Veteran
Eckert, Louise Duty, Dec 29 1926
Eckert, Infant, Jun 20 1941, Jun 20 1941, S/o Joe & Elsie
Eisenhower, Nila Jane, Oct 16 1945, Oct 16 1945, D/o James & Plina
Elledge, Hugh G.E., Jun 00 1876, Nov 28 1930
Erskine, Andrew F., Nov 05 1902, Nov 17 1988
Erskine, Infant, Aug 10 1951, Aug 10 1951, I/o Andrew & Elva
Etheridge, Henry C., Apr 04 1906, Mar 16 1931
Etheridge, Serrepta Earlene, Jul 03 1931, Jul 10 1931
Evans, Alcy Gentry, 1859, Feb 17 1905, W/o David C.
Evans, Aquilla, Jun 14 1894, Feb 14 1956
Evans, David Crockett, 1848, May 10 1915
Evans, Eugene, Sep 21 1884, Jan 21 1949
Evans, Gilford R., Aug 27 1920, Jul 27 1941
Evans, Gracie Nell, Sep 02 1932, Jul 26 1935, D/o Gilford & Rachel
Evans, John , Feb 27 1888, Mar 01 1960
Evans, Minnie Alice Cohea, Mar 02 1893, Jun 27 1979, W/o John
Evans, Willie Clyde
Evans, Winston, Apr 01 1912, Mar 24 1929
Evans, Infant, Apr 26 1926, Apr 26 1926
Farmer, Asa Grenade, Dec 04 1875, Jul 09 1959
Farmer, Ella, May 31 1886, Dec 25 1901, D/o G.W. & J.M.
Farmer, George Durst, Feb 23 1905, Jan 17 1929
Farmer, George W., 1844, 1927, CSA Veteran
Farmer, Georgia, Dec 17 1881, Oct 23 1882, D/o G.W. & J.M.
Farmer, Jemima M. Pullen, Jun 29 1855, Sep 21 1947, W/o G.W.
Farmer, Norma Durst, Apr 30 1877, Sep 05 1979, W/o A.G.
Farmer, Olive, Mar 10 1880, Nov 04 1882, D/o G.W. & J.M.
Farmer, Robert, Dec 08 1877, Oct 21 1882, S/o G.W. & J.M.
Farmer, Stella Irene, Feb 01 1917, Feb 03 1917, D/o Hardy & Irene
Felps, Ernest, Jan 08 1892, Feb 05 1950
Felps, Hydie G. Bishop, May 23 1872, Jan 26 1963, W/o Riley J.
Felps, Riley J., Jul 31 1864, Jul 12 1926
Felps, W.D., Oct 12 1830, Jun 16 1898, CSA Veteran
Feltman, Clifford Allen, Oct 08 1945, Jul 01 1957, S/o Wayne & Rosie
Feltman, Marvin Dale "Bobby", Dec 27 1937, May 16 1953
Fish, Elias F., Mar 10 1851, Mar 15 1937
Fish, Lavicy Jane Bingham, Mar 18 1851, Mar 25 1928, W/o Elias
Fish, Margaret Russell, Jan 15 1870, Feb 27 1936, W/o W.N.
Fish, William Malcolm, Sep 26 1873, Aug 16 1969
Fleming, Burt M., Apr 05 1894, Oct 13 1918, Killed in WWI
Fleming, John R., Feb 12 1858, Jan 13 1884
Fleming, John Savage, Nov 05 1862, Jul 04 1957
Fleming, Judie L., Jan 13 1892, Feb 03 1892, D/o J.S. & R.A.
Fleming, Roxie Ann Wooten, Jun 05 1870, Oct 19 1955, W/o John S.
Foley, Pearl, Feb 21 1882, Jun 22 1897
Foley, Vashti Baker, Mar 04 1857, Apr 10 1894, W/o W.B.
Foley, William B., Oct 12 1851, Jul 14 1929
Ford , Bettie Collier-Andrews, Sep 19 1901, May 08 1960
Ford, Infant, Jan 20 1885, Jan 20 1885, S/o A.T. & Maria Fleming Ford
Formby, Wiley L., May 05 1848, Apr 22 1884
Foster, Anna Spurling-Stites, Nov 09 1889, Nov 17 1984
Foster, Clarence Alvin, Oct 24 1928, Nov 26 1942
Foster, William Claud, Jun 13 1897, Dec 13 1956
France, George W., Jul 19 1879, Jul 18 1947
France, Ola Phillips, Jul 26 1883, Jan 03 1966, W/o George
French, Mattie, Sep 21 1871, Aug 03 1893, W/o W.M.
Fritz, Infant, Apr 15 1919, Apr 15 1919, I/o Joe & Hazel
Gage, Fannie, Jun 15 1847, Jun 23 1927
Gardner, John Fletcher, Dec 11 1851, Nov 30 1931-
Gardner, Jonnie K., Dec 19 1884, Dec 23 1884, D/o J.F. & M.E.
Gardner, Mary E. Garner, Oct 08 1859, Feb 08 1922, W/o J.F.
Gardner, W.H. "Buck", Jul 21 1882, Aug 08 1922
Gentry, Louis, Aug 31 1851, Dec 11 1935
Gentry, Mary Fletcher, Aug 28 1853, Jul 11 1939, W/o Louis
Gibson, Earl, Aug 28 1888, Nov 09 1943
Gifford, Maude E. Cromeans, May 14 1896, Apr 08 1977, W/o T.A.
Gifford, Thomas A., 1889, 1954
Gillette, Mary Lauraney McPeters, May 03 1855, Apr 25 1947, W/o E.B.
Gilliam, Albert Nolan, Nov 09 1900, Jun 28 1991
Gilliam, Mary Anderson, Aug 26 1901, Jan 21 1998, W/o A. Nolan
Gilliam, Infant, Nov 23 1927, Nov 23 1927, S/o Nolan & Mary
Gilmore, Benjamin Walton, Aug 10 1868, Oct 21 1913
Glossbrenner, Earl Goins, Dec 15 1895, Nov 23 1981
Glossbrenner, Mary Elizabeth "Betty" Kropff, Jan 27 1913, Mar 17 2000, W/o Earl
Goben, George F., Dec 22 1852, Jun 12 1926
Goben, Leroy, Mar 18 1918, May 20 1927
Goben, M. Elvira Hart, Jun 29 1857, Dec 19 1934, W/o G.F.
Graham, Cyrus S., Jun 15 1834, Jun 14 1901, CSA Veteran
Graham, Mabel G., Aug 00 1890, Nov 28 1908
Graham, Martha Jane, Aug 29 1836, Oct 11 1903, W/o Cyrus
Graham, Miles Hamp, Jan 29 1861, Apr 17 1896
Graves, G.W., Feb 12 1859, May 20 1885
Graves, Ida Mae Pierson, May 17 1889, Apr 05 1942, 2nd W/o Pete
Graves, Lola Williams, 1886, Jun 27 1931, 1st W/o Pete
Graves, Pete, Nov 14 1886, Jul 15 1940
Greenwood, Annabelle, 1926, Dec 17 1927, D/o Oscar & Mattie
Greenwood, John C., Dec 14 1852, Mar 11 1928-
Greenwood, Lucy West, Dec 07 1870, Apr 23 1942, W/o John
Greenwood, Oscar A., Sr., Jul 19 1888, Dec 11 1929
Gregory, Mrs. J.C., May 00 1909
Gregory, J.C.
Griffith, John, Jun 25 1884, Sep 30 1897, S/o S.A. & S.M.
Griffith, Samuel A., Oct 10 1856, Feb 18 1936
Griffith, Susan M. Griffin, May 20 1861, May 11 1951, W/o S.A.
Grubbs, Bennie F., Dec 22 1906, Nov 26 1948
Grubs, Billie Don, Apr 18 1944, Apr 18 1944, C/o G.F. & Elva
Grubbs, Guinn Dell, May 01 1941, May 01 1941, C/o B.F. & Elva
Grubbs, J. Nett, May 16 1940, Jun 16 1940, C/o B.F. & Elva
Gunby, Frank M., Jul 11 1847, Apr 30 1884
Haler, Mary Jo, Jun 13 1947, Jun 14 1947, D/o M/M Felix
Hall, Mary Louise King, Jan 09 1896, Aug 03 1918
Hancock, Mrs. Devon A. (Armstrong-Witt), Sep 00 1844, Aug 13 1912
Hardin, Pearl Turner, 1881, 1951
Hardin, Tase, Sep 06 1900, Apr 25 1938,
Harris, Emma Canfield, Jan 01 1855, Mar 28 1885, W/o J.F.
Harrison, Deana Evans, Feb 17 1869, Aug 29 1908, W/o Felix
Harriss, Martha Corrine Searcy, Mar 20 1868, Jan 09 1933, W/o Thomas
Harriss, Norma Lee, Mar 19 1926, Mar 24 1926, D/o James & Minnie
Haskell, V.B., Dec 27 1918
Haven, Thomas Alexander, Aug 28 1887, Jan 04 1938
Haven, Tommie Cooper, Feb 24 1916, Sep 30 1935
Henderson, Annie Curtis, Nov 10 1892, Aug 21 1995, W/o H.D.
Henderson, Charles W., Aug 10 1892, Oct 17 1956
Henderson, Hilry D., Nov 01 1887, Aug 31 1977
Henderson, Robert, Jan 06 1896, Sep 15 1929
Hensley, Arthur O., Jr., Dec 21 1936, Dec 21 1936, S/o A.O. & Alif Fay
Heskew, Omer, 1908, Sep 09 1911, S/o M/M "Gip" M.
Heyman, Alice H. Eddins, Sep 23 1872, Mar 12 1959, W/o J.A.
Heyman, Julius A., Dec 02 1868, Nov 14 1949
Heyman, W.C., Dec 17 1897, Jan 08 1899, S/o J.A. & A.H.
Heyman, Infant, Apr 12 1912, Apr 12 1912, S/o J.A. & A.H.
Hicks, Fred Bert, Apr 13 1923, Sep 23 1923
Hicks, Lucy Ann, Oct 00 1880, May 09 1923, W/o P.L.
Hicks, Pleas L., May 00 1877, Jul 00 1955
Highsmith, Annie Ragland, Jul 10 1893, Jul 06 1969, W/o J.C.
Highsmith, Catherine Foster, Dec 20 1835, May 23 1929, W/o William
Highsmith, J.W., Aug 28 1863, Nov 27 1903
Highsmith, Jesse J., Feb 26 1917, Aug 20 1929, S/o J.C. & Annie
Highsmith, Jesse R., Jun 22 1859, Jan 16 1913
Highsmith, Joseph Coleman, Jun 07 1885, Dec 12 1921
Highsmith, Mary Emily Truss, Jan 06 1866, Aug 12 1951, W/o J.R.
Hodges, Alfred Francis, Mar 24 1879, Sep 03 1932
Hodges, Carrah E., Jul 29 1884, Feb 02 1885, D/o J.M. & S.A.
Hodges, Elizabeth Murr, Sep 19 1880, Sep 16 1956, W/o A.F.
Hodges, Emma Whitehead, Jul 15 1853, Mar 01 1885, 1st W/o G.W.
Hodges, George Raymond, May 05 1893, Dec 23 1963
Hodges, George W., May 24 1848, Aug 22 1919
Hodges, Hattie Alley, Jun 19 1875, Nov 01 1935, 3rd W/o G.W.
Hodges, Howard Henry, Mar 07 1908, Mar 07 1908, S/o M/M A.B.
Hodges, Mary, Sep 08 1843, Nov 15 1923, W/o Thomas R.
Hodges, Stella Holden, Sep 27 1868, Feb 17 1895, 2nd W/o G.W.
Hodges, Thomas Murr, Sep 30 1903, Apr 25 1985
Hodges, Thomas Randolph, Jun 14 1828, Mar 11 1889, Mexican War Veteran
Hogue, L.M., Apr 10 1853, Feb 27 1925
Hogue, Louis R., Jan 16 1891, Sep 09 1914
Hogue, Sarah Richmond, Feb 14 1861, Sep 29 1933, W/o L.M.
Holden, Lula, Jun 10 1876, Nov 16 1890
Howard, Charles H., Aug 31 1891, Sep 09 1955
Howell, W.H., 1844, Nov 18 1902
Hubbell, James Greg, Dec 17 1924, Dec 17 1924, S/o M/M Harry
Huffman, Margaret R., Mar 04 1826, Jun 24 1891, W/o A.M.
Hull, Mary Adeline, Oct 10 1887, Dec 17 1891, D/o J.T. & Keturah
Hunt, Mr., 1915
Hunt, Emily Ann Patterson, 1853, 1884, W/o Hezekiah
Hurley, DeRoss, 1946, 1946
Hurley, Joy, Feb 10 1946, Feb 10 1946
Hurley, Infant, May 18 1911, May 18 1911, D/o Oscar & Lula
Hutcheson, Eamanza Berry, 1841, Nov 04 1881, W/o Hezekiah K.
Jackson, John Thomas, Jan 03 1863, Jul 31 1935
Jennings, Clyde D., Feb 21 1925, Jan 08 1933, S/o O.E. & Lillie
Jennings, Maggie Ford, Dec 24 1876, Jan 19 1938, W/o Oliver
Jennings, Oliver , Sep 27 1865, May 24 1927
Jennings, Roda M. Feltman, Jul 02 1860, Feb 26 1937, W/o W.M.
Jennings, Roy, 1923, 1925, S/o O.E. & Lillie
Jennings, William M., May 14 1955, Apr 01 1929
Jeter, Amanda E. Heskew, Jul 15 1847, Sep 24 1934, W/o B.S.
Jeter, Benjamin S. , Jan 08 1848, Apr 20 1932, CSA Veteran
Jeter, William H., Nov 17 1841, Jan 31 1910, CSA Veteran
Jobes, Charles Schreiner, May 16 1905, Oct 12 1966
Jobes, Georgia Ann Miller, Apr 08 1881, Jul 30 1947, W/o H.D.
Jobes, Harry Douglas, Jul 03 1880, Jul 16 1964
Jobes, Little Hobart, May 29 1914, Jan 08 1917
Jobes, Nancy Ann Allen, Aug 28 1851, May 17 1919, W/o S.S.
Jobes, Samuel S., Nov 09 1852, Nov 17 1903
Johnson, Alice Henry, Nov 30 1905, May 30 1937
Johnson, Herbert, Jan 22 1915, Mar 19 1915
Johnson, Kate Bishop, Feb 19 1882, Dec 23 1966
Johnson, Katie Vining, May 16 1873, Dec 11 1957, W/o W.H.
Johnson, Nellie Fay, Mar 28 1906, Sep 16 1906
Johnson, William Henry, 1872, Jul 18 1922
Joiner, Warren, Nov 06 1922, Oct 02 1962
Jones, Dora Kaiser, Oct 01 1862, Feb 06 1940, W/o Thomas M.
Jones, Thomas Madison, Mar 23 1853, Jan 15 1929
Joy, Sarah Lee Rodgers, Oct 21 1864, Feb 28 1952, W/o Will
Joy, Will, 1864, Dec 01 1893
Kaiser, Henry, Jan 27 1885, Mar 04 1910
Keen, Maggie Miller-Jobes, Jul 26 1883, Apr 17 1984, W/o W.M.
Keen, William M., Jun 09 1869, Oct 09 1944
Keese, Nancy, Feb 13 1833, Jan 05 1886, W/o O.H.P.
Keese, Oliver H.P., Aug 04 1828, Dec 05 1884 , CSA & Mexican War Veteran
Keese, Thomas, Sep 21 1860, Aug 09 1886, S/o O.H.P. & Nancy
Kelley, Bennett, Sep 04 1895, Oct 29 1897, S/o E.F. & Effie
Kelley, Elmer, Oct 27 1901, Jul 24 1902, S/o E.F. & Effie
Kelley, Irene, Aug 19 1908, Oct 15 1908, D/o E.F. & Effie
Kelley, Infant, 1900, 1900, S/o E.F. & Effie
Kelley, O. Michael, Apr 01 1882, Apr 05 1958
Kemp, Roy, Jun 27 1886, Mar 03 1968
Kevan, W., May 16 1912
Key , Ambrose, Jun 27 1893, May 24 1976
King, Eva McMillan, Jul 20 1876, Jul 13 1963, W/o R.R.
King, Guy McMillan, 1903, Sep 17 1930
King, Dr. J. Brown, Oct 14 1848, Oct 31 1910
King, Jennie Weekley, Mar 16 1863, Apr 06 1899, W/o J.B.
King , Roy Brown, Mar 06 1901, Jan 07 1948
King, Rufus Roy, Aug 10 1878, Jul 13 1963
Kiser, Mary Jane, 1839, Mar 01 1916
Koeller, Ruth Elizabeth Kountz, Aug 25 1889, Jun 18 1984
Koock, Alma Farmer, May 31 1886, Apr 11 1938
Kountz, Dr. Ezekiel K., 1828, 1881, CSA Veteran
Kountz, Harriet S. Lindamood, Jun 02 1830, Sep 26 1892, W/o E.K.
Kountz, Isaac Newton, Aug 20 1860, Dec 24 1876, Killed by Indians
Kountz, John Cook, Oct 14 1850, May 29 1929
Kountz, Laura Louise Turner, Feb 22 1865, Oct 03 1939, W/o J.C.
Kropff, Florence Francis Smith, Mar 01 1873, Jan 05 1955, W/o J.G.
Kropff, James George, Oct 26 1861, Feb 12 1940
Kutz, Alexander, Jun 20 1887, Sep 22 1960
Kuykendall, Lilly Louise, Jan 15 1947, Mar 16 1947, D/o Rudy & Viola
Lanan, Harry, Dec 10 1884, S/o Mike & Mollie
Lanan, Mary Alda "Mollie" Caldwell, Circa 1854, W/o Mike
Lanan, Mike, Mar 01 1849, Dec 21 1931
Lanan, Willie, Aug 22 1882, S/o Mike & Mollie
Lawler, Alcy Rebecca, Aug 30 1909, Jun 17 1918, D/o M/M J.W.
Lawler, Olive Lula Skaggs, Aug 03 1877, Nov 02 1914, W/o A.O.
Lawler, Oran Arthur, Apr 15 1905, May 22 1908, S/o A.O. & O.L.
Linn, Amanda Pairlee Hammonds, Feb 04 1839, Oct 11 1909
Livingston, Warren M., Oct 28 1917, Oct 13 1985
Lowrey, Joe, Jul 19 1854, Apr 04 1912
Lucke, Clara, Sep 30 1879, May 16 1898
Lucke, Herman, Jul 17 1855, Apr 07 1937
Lucke, Minna Solbrig, Jun 04 1860, Mar 21 1941, W/o Herman
McAllister, Jessie Dawson, Sep 01 1828, Jan 26 1902
McAuley, James, Jun 19 1840, Dec 27 1930, CSA Veteran
McAuley, Rebecca Allen, Sep 00 1811, Dec 14 1900, W/o Cornelius
McCarty, Ollie Rembold-Donaldson, Mar 11 1895, Sep 16 1986
McCoy, Alice Ledbetter, 1881, 19--, W/O E.A.
McCoy, Eugene Arthur, Jul 20 1879, Sep 18 1931
McCoy, John Michael, Jul 15 1946, Jul 28 1946, S/o Virgil & Nataleen
McDonald, Clifford, 1903, Apr 30 1928
McDonald, Elsie Joy, Jul 11 1950, Jul 11 1950, D/o J.B. & W.M.
McDonald, Jimmie Leon, Mar 11 1951, Mar 26 1951, S/o J.H. & Oney
McDonald, Mary Elizabeth Cross, Apr 13 1923
McDonald, Ophelia, Nov 09 1927
McDonald, Roxie Taylor, 1878, Mar 16 1968, W/o W.M.
McDonald, Sam
McDonald, Susan McCarty-Furry, Aug 12 1868, Nov 24 1951
McDonald, Susie Aleene, Mar 16 1916, Nov 12 1917
McDonald, Tempie Marie, Aug 17 1913, Mar 05 1926, D/o W.M. & Roxie
McDonald, William Martin, May 31 1874, Mar 28 1935
McDonald, Willie Mae Allen, Jun 18 1914, Jul 11 1950, W/o J.B.
McDonald, Infant, Jan 01 1951, Jan 01 1951, I/o Ivy & Lillie
McDonough, Bessie Spencer, Apr 10 1884, Apr 10 1969, W/o J.B.
McDonough, Hattie A., Feb 00 1844, Nov 00 1916
McDonough, James B., Dec 00 1881, Jul 16 1931
McKinney, Lawson F., Sep 25 1905, Jun 05 1951
McMillan, Lou Achsah Baker, Dec 19 1854, May 03 1900
McNatt, Betty Fae, Aug 01 1924, Jul 18 1929
McNatt, Noel Douglas, Dec 03 1921, Jul 20 1929
McPeters, John L., Jan 14 1868, May 01 1950
McPeters, Nancy Melvina Hall, Oct 00 1866, 1946, W/o W.S.
McPeters, W.S."Bud", May 00 1860, 1930
Maddux, Ida Grace Ellis, Mar 12 1866, Nov 11 1951, W/o J.N.
Maddux, John Nelson, Feb 19 1861, Jul 30 1930
Mains, Joseph, Jun 21 1830, Mar 23 1905
Mains, Rebecca, Jun 01 1842, Dec 18 1923, W/o Joseph
Maize, William N., 1861, Aft 1920
Martin, Albert Phillip, Jan 22 1901, Jun 02 1901, S/o J.H. & A.C.
Martin, Infant, May 24 1903, May 24 1903, S/o J.H. & A.C.
Martin, Barbara Ann, Apr 09 1931, Apr 09 1931 , D/o Rowland & Ada
Meador, Charles N., Feb 02 1868, Jan 20 1944
Meador, Julia Lee Harriss, Feb 24 1887, Nov 15 1977, W/o Charles
Meek, Isic Wesley, 1863, 1884
Merck, Samuel Jenkins, Dec 31 1916, Jun 02 1917, IS/o M/M Jeff
Meredith, Harold, 1913, Dec 12 1929
Meyers, Dorothy Lee, Dec 26 1948, Dec 26 1948
Miller, Diane, Nov 24 1947, Nov 24 1947, D/o Bud & Lenora
Miller, Emma Mae Hodges, Oct 31 1900, Apr 19 1984, W/o J.A.
Miller, James Alton, Dec 09 1897, Feb 27 1971
Miller, James Hodges, Apr 24 1928, Apr 25 1928, S/o J.A. & Emma
Miller, John, Jan 21 1920
Moore, James David, Jan 11 1924, Sep 28 1950
Nagel, Walter Woodrow, Nov 28 1937, Aug 17 1939, S/o Walter & Margaret
Neal, Sep 30 1933
Neal, Mar 06 1925
Nichols, George S., May 11 1914, Jun 08 1962
Nichols, George W., Aug 24 1851, Mar 20 1930, Frontier Troops Veteran
Nichols, Henrietta Lee Peters, Mar 05 1880, May 08 1939, W/o T.B.
Nichols, Lilly Linn, Sep 28 1951, W/o Marlin
Nichols, Lola Bell, Sep 25 1904, Mar 08 1905, D/o T.B. & Henrietta
Nichols, Marlin S., Feb 07 1862, Nov 02 1914
Nichols, Mary Pettitt, Nov 22 1851, Aug 11 1933, W/o G.W.
Nichols, Mosie, Dec 12 1872, Dec 26 1928
Nichols, Ruby Lee, Feb 25 1909, Feb 05 1910, D/o T.B. & Henrietta
Nichols, T.B., Feb 15 1882, Feb 03 1953
Nichols, Viola Gwendolyn, Jan 16 1908, Nov 13 1908, D/o M.S. & Lilly
Nixon, James Allen, Jan 06 1880, Oct 31 1943
Nixon, Mary Jane Furry, May 01 1890, Nov 29 1953, W/o J.A.
O'Neal, Hubert, May 25 1901, Nov 09 1902, S/o W.B. & V.
O'Rear, David Madison, Jul 00 1865, Apr 24 1940
O'Rear, Rosie Pink Camp, Jul 19 1868, May 04 1947, W/o D.M.
Parks, Linda Gene, Jun 29 1946, Nov 13 1946
Parks, Neada, Apr 28 1948, Apr 28 1948, Twins/o Jack & Lula Mae
Parks, Neta, Apr 28 1948, Apr 28 1948, Twins/o Jack & Lula Mae
Parks, Rex, Mar 15 1955
Parrish, Baby Boy, May 29 1961, May 29 1961
Patterson, Alice McKemey, Sep 07 1891, Jun 27 1966, W/o C. Frank
Patterson, Cabot Frank, Sep 27 1879, Aug 29 1969
Patterson, Earl C., Aug 10 1884, Jan 30 1953
Patterson, Earline, May 26 1939, Sep 23 1939, D/o Charles & Annie
Patterson, Elizabeth Lumira Kountz, Jul 04 1857, Jan 14 1946, W/o N.C.
Patterson, Floyd C., Jan 20 1881, Aug 12 1956
Patterson, Harry J., Oct 14 1888, Jun 24 1946
Patterson, Jeraline, May 26 1939, Sep 20 1939, D/o Charles & Annie
Patterson, Luvania Martha Cross, Apr 02 1822, Jan 02 1885, W/o N.Q.
Patterson, Nicholas Cummings, Feb 15 1855, Feb 18 1944
Patterson, Olly B., Jul 18 1892, Dec 12 1896, S/o W.J. & Mary I.
Patterson, T. Lynn, Aug 07 1886, Aug 10 1887, S/o N.C. & E.L.
Patterson, Infant, I/o N.C & E.L.
Patton, Delbert, Mar 26 1900, Sep 22 1906, S/o Dock & Maggie
Payne, Tommie G., 1898, Dec 09 1900
Pearce, Billy Leroy, Sep 20 1922, Feb 14 1928, S/o W.S. & Mattie
Pearce, Mattie A., Sep 08 1884, Mar 03 1965
Pearce, William S., Feb 18 1876, Apr 15 1952
Perkins, Cora B., Aug 07 1869, Aug 09 1884
Perkins, W.W., Mar 21 1863, Aug 21 1884
Perkins, Infant, Sep 02 1883, D/o J. & E.
Peters, Grenade Farmer, Feb 01 1901, Jan 11 1995
Peters, Isabelle Dyer, Jan 15 1848, Jun 26 1906, W/o Samuel
Peters, Samuel B., 1842, 1924, CSA Veteran
Pettitt, Donald Elwood, Oct 00 1938, Dec 30 1940, S/o Raymond & Earlene
Pettitt, Elbie, Sep 06 1899, May 10 1913
Pettitt, Etta J., Oct 14 1866, Mar 04 1898, 1st W/o J. Rance
Pettitt, Joseph Ransom, Jan 11 1863, Sep 16 1946
Pettitt, Mary Ann Ellis, Apr 30 1829, May 10 1901, Actually buried in pioneer Cemetery
Pettitt, Nancy Elizabeth Patterson "Bess", Nov 10 1882, Dec 06 1946, 2nd W/o J. Rance
Petty, Edgar, Oct 00 1942
Petty, Mattie Viola Wilson, Feb 18 1891, Jul 17 1978, W/o Edgar
Phillips, C.C., Apr 14 1850, Dec 07 1902
Phillip, Infant, Aug 12 1929, Aug 12 1929, I/o John D. & Faye
Phillips, Merica Ward, Dec 00 1834, Dec 17 1899, W/o Robert
Phillips, Robert, Mar 00 1823, Apr 00 1902
Phillips, Sarah Elizabeth McPeters, May 19 1853, Feb 09 1935, W/o C.C.
Pierce, Emory B., 1859
Pierce, Vick
Pierson, Isaac F., Mar 01 1894, Feb 24 1961
Pierson, Lettie V., Jul 21 1898, Sep 00 1990, W/o I.F.
Pinkerton, Lorena Henderson, Mar 23 1918, Jun 08 1955
Ponton, Andrew Judson, Aug 04 1829, Jan 12 1908, CSA Veteran
Porter, Sudie E. Carlile, Aug 07 1875, Feb 10 1953, W/o T.P.
Porter, Thomas P., Jul 03 1872, Jan 30 1939
Porterfield, E.R., Apr 18 1872, Sep 27 1929
Pullen, Dr. Asa, Nov 02 1820, Apr 24 1907, CSA Veteran
Pullen, Fredonia, Aug 12 1857, Oct 03 1887
Pullen, Juliet M. Guilliland, Jan 20 1824, Oct 22 1917, W/o Asa
Rainey, Infant, Jul 18 1925
Raney, Dovie Lee Cameron , Oct 09 ----, May 26 1936, W/o John
Ratliff, Estella Marie, Aug 29 1929, Apr 02 1936, D/o Lee
Rayner, Alice Taylor, Jun 07 1855, Jan 20 1892, W/o Gaston
Reed, W.A., Sep 18 1855, Apr 02 1916
Reynolds, Alice E. Wilhelm, Oct 23 1867, Sep 03 1959, W/o T.B.
Reynolds, Rex D., Apr 25 1909, Apr 10 1966
Reynolds, Thomas B., Mar 14 1861, Nov 20 1930
Richardson, H.T., Oct 00 1850, Jul 28 1928
Richardson, Mrs. Louise D. Briscoe, 1862, Aug 25 1887, 1st W/o H.T.R.
Richardson , Nancy Jane Stout, Mar 00 1869, Mar 31 1891, 2nd W/o H.T.
Richardson, Sarah Shields, Mar 00 1849, Aug 22 1925, 3rd W/o H.T.
Richardson, Times Nathan, Jul 29 1887, Feb 27 1918
Richardson, Walter R., May 31 1882, Feb 20 1940
Riddle, Dale Jackson, 1909, Jun 15 1923, S/o M/M Joe
Riddle, Wilma Lee, Dec 03 1934, Feb 11 1935, D/o Lee
Riggs, Thomas, Mar 09 1832, Mar 04 1885, CSA Veteran
Robertson, Ira H., Sep 15 1875, Aug 28 1930
Robertson, Martha Olive, May 06 1882, Jun 16 1961, W/o Ira
Rodgers
Rodgers
Rodgers, Silas, Feb 10 1833, Feb 10 1902, CSA Veteran
Roe, Mary Frances Alsup, Nov 08 1856, Jul 28 1944
Roe, Infant, Nov 23 1925, Nov 23 1925, I/o Sanford
Roe, Tiras Edward, Aug 25 1905, Jan 10 1916
Roe, William L., Apr 08 1848, Jan 24 1929
Rogers, Dr. Paul H., Feb 21 1872, Oct 04 1927
Rucker, John Tate, Sep 24 1898, Jul 01 1957
Ruff, Wilma Jo, Feb 20 1937, Aug 24 1937, D/o M/M Lee
Sanders, Barbara Aline Furry, Oct 29 1898, Apr 08 1959, W/o Orby D.
Sanders, Child , 1905, 1907, S/o W.E. & Ellie
Sanders, Ellie Maud Highsmith, Mar 08 1883, May 13 1912, W/o W.E.
Sanders, Orby D., Oct 11 1894, May 21 1947
Saunders, Bertha Smith-Wagner, Oct 17 1898, Apr 19 1980, W/o Herschel
Saunders, Herschel R., 1909, 1953
Schrader, Janie, Dec 22 1896, Jul 08 1914
Scott, George Lee, Jan 05 1871, Dec 22 1938
Shooman, Albert John, Nov 07 1901, Sep 18 1940
Simon, Grace Williford, Nov 24 1905, Jul 22 1929, W/o C.W.
Smalley, Rose Anna Lee Evans, W/o J.E.
Smith, Carroll, S/o Monroe & Fannie
Smith, D. Christopher, Jul 10 1835, Jun 06 1914, CSA Veteran
Smith, Donald, Nov 01 1922, S/o George & Kate
Smith, Ellis Eugene, Jun 19 1915, S/o Monroe & Fannie
Smith, Fannie Lee Pierce, Apr 15 1865, Oct 25 1909, 1st W/o J.W.
Smith, Fannie Nichols, Sep 00 1875, Mar 02 1920, 1st W/o Monroe
Smith, George W., Nov 08 1844, Dec 12 1916, CSA Veteran
Smith, James Monroe, Dec 08 1906, May 16 1936
Smith, Jimmie Don, Mar 05 1933, Aug 23 1937
Smith, John D., Oct 08 1908, Aug 16 1935
Smith, John Wiley, Sep 22 1867, Nov 01 1942
Smith, Kate Cottle, 1902, May 16 1929, W/o George
Smith, Martha A. Burnett, Jul 17 1838, Jul 23 1933, W/o G.W.
Smith, Mary Lee Hogue, Jul 26 1887, Apr 07 1948, W/o Monroe
Smith, Mary M., Dec 12 1837, Nov 22 1922, W/o D.C.
Smith, Mattie Leta Meredith, Nov 07 1890, Feb 02 1923, W/o J.W.
Smith, Infant, I/o John & Mattie
Smith, Monroe, Apr 11 1875, Aug 16 1928
Smith, Nancy Elizabeth Pearson, Jan 27 1875, Mar 22 1935, W/o Thomas
Smith, Pony
Smith, Stewart, Aug 26 1922, Mar 05 1925, S/o Monroe & Mary
Smith, Thomas T., Jul 00 1868, Apr 04 1932
Smith, Verna Lee, Jun 07 1911, Jun 26 1916
Smith, Wiley, Jul 10 1811, Mar 23 1896
Sparkman, John L., Apr 13 1920
Spencer, Caroline Taylor, Feb 13 1844, Oct 14 1920, W/o W.A.
Spencer, Creed "Bud", 1876, Feb 22 1895
Spencer, James Josiah "Kince", Feb 13 1879, Nov 23 1932
Spencer, Ralph Lynne "Lennie", Dec 30 1882, Feb 08 1883, S/o Will & Carrie
Spencer, William Addison "Major", Sep 07 1840, Aug 22 1922, CSA Veteran
Stephenson, Martha Ellen McKinley, Jun 17 1860, Sep 23 1928, W/o W.A.
Stephenson, William Alexander, Mar 03 1860, Apr 02 1931
Stevenson, Fay Wright, Oct 03 1896, Jan 03 1942, W/o Gov. Coke R. Stevenson
Stevenson, James Bascom, Sep 06 1892, May 13 1950
Stevenson, Robert M., Feb 16 1854, Mar 30 1927
Stevenson, Virginia Hurley, Sep 20 1867, Feb 10 1952, W/o R.M.
Stites, James R., Nov 01 1912, Jan 16 1964
Stites, Roy Calvin, Jul 21 1942, Oct 24 1942, S/o James & Frances
Stricklin, Willie Virginia Kountz, Dec 16 1896, Jul 19 1991
Sutton, Cora, Jul 13 1976, W/o Homer
Sutton, Elmer Eugene, Jul 23 1894, Dec 20 1958
Sutton, Homer C., Nov 13 1899, Jul 10 1967
Sutton, John Henry, Oct 20 1865, Jan 19 1940
Sutton, Mary Elizabeth Hickerson, Sep 07 1857, Nov 30 1929
Sutton, Roy, Jan 01 1900, Mar 28 1961
Tatum, James V., Mar 21 1868, Jul 23 1935
Taylor, Elizabeth Tumlinson, Jul 13 1814, Feb 22 1886
Taylor, Fred Hayes, Aug 21 1902, Aug 21 1988
Taylor, G.C.
Taylor, George Dee, Oct 19 1889, Sep 03 1969
Taylor, Henry David, Jan 14 1875, Aug 22 1922
Taylor, John William, Dec 21 1880, Apr 13 1956
Taylor, Lois Crumbley, May 30 1889, Nov 13 1935, W/o William
Taylor, Mrs. M.A., 1828, Jan 30 1913
Taylor, Pearl E., Jan 13 1897, May 03 1981, W/o G.D.
Taylor, Vashti Baker, Nov 03 1876, Aug 24 1968, W/o H.D.
Taylor , W.W.
Terry, Lula Maud, Oct 08 1882, Jan 14 1883, D/o Will & Sarah
Terry, Sarah Juliette Pullen, Dec 29 1853, Nov 06 1913, W/o William
Thomas, Dennis L., Dec 18 1902, Jul 03 1908
Tilly, Thomas Jefferson, 1859, Dec 01 1924
Timms, Ben, IS/o Edgar & Frankie
Timms, Bill B., Feb 24 1912, Dec 17 1980
Timms, Edgar Lee, Aug 15 1910, May 00 1955
Timms, Edgar Welton, Mar 08 1961, Aug 06 1962, S/o Sherman & Dorothy
Timms, James E., Dec 15 1929, Nov 15 1962
Timms, Wilma Fay, Jun 01 1939, May 18 1940, D/o Edgar & Frankie
Tomberlin, Ellen Texas Patterson-Adkins-Glossbrenner, Apr 11 1871, May 16 1952, W/o Robert
Tomberlin, Robert L., Apr 15 1872, Feb 21 1954
Tomlinson, Emma Vanhooser (Fleming-Allsup), Mar 10 1890, Jun 07 1978, W/o Walter
Tomlinson, Jimmie Lee, Feb 01 1955, Feb 05 1955, C/o Alton & Jewel
Tomlinson, Linda Irene, Dec 06 1949, Dec 19 1949, D/o M/M Marvin
Tomlinson, Rita Diane, Dec 07 1950, Jun 22 1951, D/o M/M Marvin
Tomlinson, Tammie Lee, Nov 18 1952, Nov 18 1952, D/o Alton & Jewel
Tomlinson, Walter J., May 18 1884, Sep 02 1930
Tschirhart, Infant, Nov 23 1932, Nov 23 1932, S/o Ernest & Dovie
Turbiville, Mary Holland, 1890, 1918, W/o V.W.
Turman, Elbert H., Sep 12 1886, Jun 28 1898, S/o J.M.C. & M.Z.D.
Turman, John M.C., May 25 1857, Mar 28 1898
Turner, Aaron D., Jul 28 1879, Jul 07 1882, S/o R.M. & E.V.
Turner, Clarence M., Jul 17 1905, Nov 02 1979
Turner, David Larkin, Jul 06 1890, Jul 13 1930
Turner, Emily Ann Alsup, 1822, 1898
Turner, Emma Victoria Scarborough, Jan 14 1863, Mar 07 1945, W/o R.M.
Turner, Jack, Jul 29 1884, Dec 14 1976
Turner , Joe, 1893, 1968
Turner, John M., Nov 19 1902, May 29 1973
Turner, L.S., Mar 10 1903, Mar 30 1903, D/o S.A. & W.J.
Turner, Robert "Bob", Jun 09 1888, Aug 28 1952
Turner, Robert M., Jan 21 1858, Feb 09 1928
Turner, Runa B., Mar 12 1886, May 17 1896, D/o R.M. & E.V.
Turner, Ruth M. Stites, Dec 04 1907, Apr 24 1962, W/o John M.
Vance, David, 1876, Feb 01 1904
Vance , Mary J., Dec 00 1845, Aug 01 1906
Varnum, Mattie Porter, Feb 26 1902, Apr 01 1929
Vickers, Martha Jane Patterson, 1857, Dec 12 1876, W/o C.L.
Vining, George Martin, Apr 10 1880, Mar 29 1936
Vining, Sarah Ann Stringer, Dec 12 1856, Aug 28 1925, W/o G.M.
Wagner, Alice Clara McDonald, Jul 06 1861, Jul 07 1919, W/o W.B.
Wagner, Bluford, Jul 10 1888, Sep 08 1932
Wagner, Infant, Dec 18 1916, Dec 18 1916, I/o Bluford & Bertha
Wagner, John, 1895, Dec 19 1928
Wagner, Joseph Franklin, Nov 24 1884, Feb 22 1946
Wagner, Lillie Elizabeth, Aug 22 1883, Jul 15 1950
Wagner, William Benton, 1843, 1923
Wagnon, J.T., Jun 04 1845, Mar 24 1891, CSA Veteran
Wagnon, Verna, Jun 15 1889, Mar 20 1891, D/o J.T. & J.E.
Unmarked Grave, Between J.T. &, Verna, ,
Waits, Joseph H., Sep 24 1860, Aug 19 1919
Waits, Joseph Humphrey, Jul 14 1891, Jan 22 1944
Waits, Rachel Brown, Nov 28 1870, Jun 15 1962, W/o J.H.
Waits, Walter, Apr 05 1901, Feb 18 1918
Waits, Wayne, Apr 15 1907, Dec 16 1992
Wallace, Alanzio E., Sep 06 1967, Sep 08 1967, S/o M/M Rusty
Wallace , Amanda Ann, May 09 1980, May 09 1980
Wallace, Baugher J., Feb 29 1860, Jun 10 1948
Wallace, Elfie Spencer, 1869, 1897, 1st W/o B.J.
Wallace, Dovie, 1897, 1897, Children Of B.J. & Elfie
Wallace, Libby, 1897, 1897, Children Of B.J. & Elfie
Wallace, Liddy, 1897, 1897, Children of B. J. & Elfie
Wallace, Frances Pearl Merck, Jun 28 1882, Oct 18 1945, W/o B.J.
Wallace, James, Jan 03 1957, Jan 03 1957, IS/o Bob & Dorothy
Wayland, James, Ca 1826, Etching is indiscernible
Ward, Mrs. M.E., Aug 20 1834, Apr 10 1902
Watson, Clifton, May 00 1928, Jul 17 1928, S/o L.B. & Eliza
Webb, Ander D., Jul 12 1899, Apr 03 1946
Webb, Susie Mae, Mar 24 1955, Mar 24 1955, D/o M/M H.C.
West, Infant, Feb 08 1899, I/o Mrs. D.H.
Whitaker, Sylvia Phillips, 1902, Aug 27 1926, W/o W.A.
Whitaker, William Orville, Jul 20 1924, Jul 20 1924, S/o W.A. & Sylvia
Whiteley, Ruby Thornton, Aug 09 1913, Jan 24 1930, W/o Ernest
Whitlock, Dora Lee, Jan 12 1942, Jan 12 1942, D/o B.R. & Ruthie
Whitlock, Marie, Dec 02 1940, Dec 02 1940, D/o B.R. & Ruthie
Whitlock, Norma Louise, Jun 13 1944, Jun 13 1944, Twin Daughters of E.J. & Cleo
Whitlock, Norma Ruth, Jun 13 1944, Jun 13 1944, Twin Daughters of E.J. & Cleo
Whitlock, Wanda Lee, Aug 18 1946, Oct 08 1947, D/o B.R. & Ruthie
Williams, John W., Jun 17 1867, Sep 28 1936
Williford, D.T., Feb 15 1862, Nov 17 1928
Willis, Emmett H., 1891, Sep 12 1916
Willis, William Kindrick, Mar 01 1897, Aug 03 1962
Wilson, Ida May, May 11 1887, Dec 17 1956
Wilson, J.J., Dec 19 1856, Oct 06 1900
Wilson, John Blevins, Sep 24 1880, Jun 27 1942
Wilson, Louie H., 1861, Dec 11 1956, W/o John B.
Wilson, Margaret Pettitt, Aug 13 1853, May 13 1926, W/o Andy
Wingfield, Zene O., Oct 16 1884, Oct 25 1917
Winslett , Ramona, Oct 23 1929, Oct 28 1929, D/o M/M Jack
Wood, Infant Daughter, Mar 05 1925, Mar 05 1925, D/ M/M J.A.
Wright, E. Beatrice Walters, Jul 25 1874, Aug 28 1965, W/o R.H.P.
Wright, James Levi, Jul 31 1873, Aug 10 1931
Wright, J. Odie, Nov 19 1892, Nov 21 1959
Wright, Lina Jarvis, Oct 29 1894, Oct 13 1986, W/o J.O.
Wright, Martha Juanita, May 30 1953, Nov 24 1955, D/o Howard & Pauline
Wright, Mollie Miller, Jan 19 1874, Aug 02 1953, W/o J.L.
Wright, Nell Taylor, Feb 18 1897, Feb 07 1961, W/o O.C.
Wright, Omer C., Jul 10 1898, May 11 1986
Wright, Dr. R.H.P., 1871, Jun 07 1927
Wright, Thomas, 1860, Apr 23 1925
Wyatt, Catherine, Dec 21 1834, Dec 17 1889
Yates, Jimmie Ray, May 13 1940, Jul 10 1940, S/o John & Effie
Broken Stone, "I.F----), Oct 09 1966, Unidentified wreck victim
---