Weathers Cemetery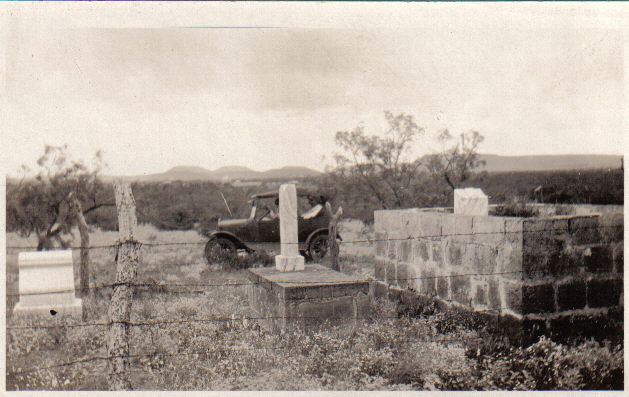 Coke County, Cemeteries of Texas
Submitted by Jo Anne Smith Ezell

This cemetery is located about eight miles from Robert Lee on private land. There are four marked graves.
In 1878, J.W. "Jim" Weathers with his family moved in with ox wagon from south in Texas, and set up the first sheep ranch on open ranges on land north of Hayrick in what was later called Graham Valley community.
In 1887, his six year old son was dead from a rattlesnake bite and was buried one-fourth mile from the Weathers' residence on a hill slope. His grave is rectangle made of square rock that is three feet tall and five feet long with an old tombstone standing tall.
Two years later J. W. Weathers was killed in a bar at Fort Chadbourne and was buried next to his son Thomas. His grave is marked with a tall tombstone with WEATHERS on the base.
Sam Weathers is buried on the other side of Thomas. Sam's tombstone has BROTHER on the top and there is no ! rock around it.
Mrs. Glovinnia Weathers married a Mr. Rambin soon after Jim's death. Mr. Rambin never returned from a journey and Glovinnia and her children was left without knowledge of his whereabouts. Glovinnia is buried next to J.W. Weathers. Her tombstone is low and there is no writing except name and dates. A rock wall about three feet tall and made of twelve inch square hewn rock extends around both graves. It is said Roy Taylor of Robert Lee hewn the rocks and erected the wall.
A barbed wire and net fence enclosed the cemetery with a small gate that is obstructed on the outside by a large cedar tree and prickley pear plant. Old flags (iris) plants are growing around each grave and planted as a border inside the fenced area. In early springtime, the present owner of this land tells us these old flag plants blooms profusely.
1. Ramcin, Glovinnia A. 9/25/1859 San Felipe, Austin Co. TX 11/20/1938 Robert Lee, Coke Co. TX
2. Weathers, J.W. Oct 1853 Dec 18 1889 "Weep not he is not dead but sleeping." Come Ye Blessed."
3. Weathers, Sam "Brother" Mar 31 1883 Aug 28 1913
4. Weathers, Thomas D.. Nov 02 1881 Jan 02 1887 "Our darling has gone "before To greet us on the golden shore."
NOTE: J.W. and Glovinnia Weathers also had a daughter, Minnie, that was born July 2, 1888 and died Sept. 25, 1971, and is buried in the Robert Lee cemetery. The four graves above are the only people ever buried in this family cemetery.
---