Immanuel Lutheran Church Cemetery (A-D)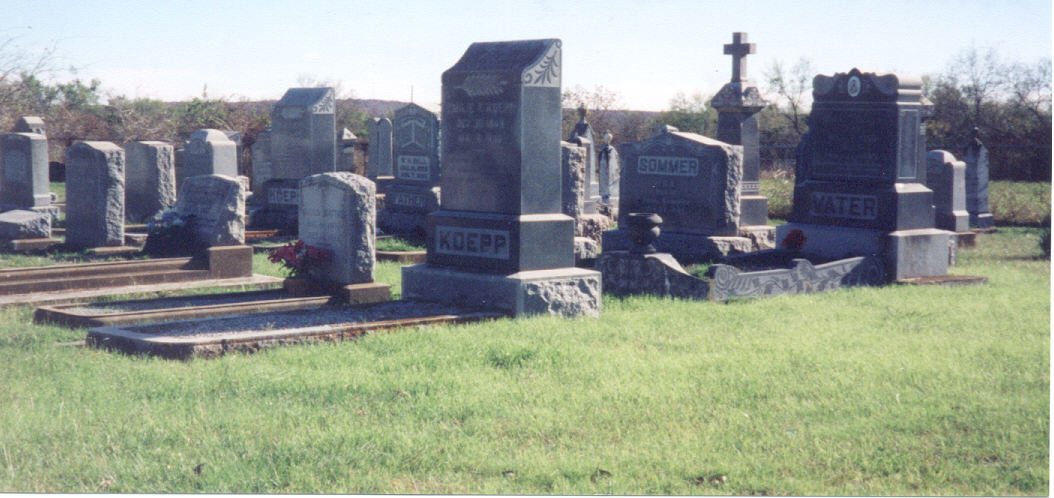 Wilson County, Cemeteries of Texas
Submitted by Shirley Grammer
Cemeteries of TX Coordinator: Dolores I. Bishop

click on photo for an
Overall Picture of the Cemetery from the east end facing west.
Immanuel Lutheran Cemetery was established in January 1902 when Gustav and Bertha Schroeder donated two acres of land for a cemetery and the Immanuel Lutheran Church Congregation put a fence around it and dedicated it for that purpose.
The deed was recorded in the records of Wilson County, Texas March 22, 1902.
Gabriele Hedwig Koepp (10/14/1902 - 10/21/1902), infant daughter of Franz Koepp and Augusta Schmidt Koepp, was the first to be interred in the cemetery. On September 17, 1997, Bernie E. Ramzinski and Laura F. Ramzinski deeded 1.27 acres of land to the Immanuel Lutheran Church Cemetery. This deed is also filed in the deed records of Wilson County. There are approximately 400 burials in the cemetery, many of early German Ancestry who settled in the area during the 1870's.
Location: North of La Vernia on Hwy 1346 (St. Hedwig) go about 3 miles. The cemetery is on the left.
| | | | | |
| --- | --- | --- | --- | --- |
| Last Name | First Name | Birth | Death | Comments |
| Barkmeyer | Annie L. | Apr 21 1906 | May 11 2002 | - |
| Barkmeyer | Edward H. | Apr 03 1930 | May 05 1997 | - |
| Barkmeyer | Ludwig | Dec 08 1861 | Dec 12 1950 | H/o Hedwig |
| Barthold | Anna E. | 1905 | 1975 | - |
| Bell | Harvey H. Jr | Oct 28 1926 | Jul 22 1982 | - |
| Bell | Katherine | Sep 28 1905 | Jul 03 2002 | - |
| Bell | Louise C. | Jan 31 1876 | Jun 15 1940 | - |
| Bell | W.H. | Dec 19 1865 | Aug 07 1926 | - |
| Beutnagel | Herbert William | Nov 10 1903 | Aug 26 1908 | S/o William & M.L. |
| Block | Otto | Mar 16 1881 | Jul 20 1946 | - |
| Boeck | Burney W. | 1908 | 1949 | - |
| Boeck | Herbert :Buddy" Allen | Feb 15 1943 | Apr 22 2003 | - |
| Boeck | Katherine "Katie" Elizabeth | Sep 28 1905 | Jul 03 2002 | - |
| Boeck | Mary | Dec 08 1881 | Nov 23 1935 | - |
| Boeck | Verga | Dec 03 1918 | Dec 03 1918 | - |
| Boeck | Wilhelmiene Caroline | May 05 1856 | May 24 1926 | - |
| Brause | Alwine | Apr 20 1888 | Dec 16 1949 | - |
| Brause | Eugene | Apr 08 1913 | Oct 31 1990 | - |
| Brause | Herman | Dec 07 1866 | May 17 1951 | - |
| Breda | William Joseph Jr | Feb 24 1951 | Jun 25 1980 | - |
| Bretzke | Walter | Dec 07 1907 | Dec 10 1986 | - |
| Brietzke | Elsie B. | Jul 23 1910 | Apr 01 1986 | - |
| Brietzke | Julius H. | Feb 14 1859 | Mar 03 1937 | - |
| Brietzke | Louis C. | Feb 06 1892 | Jan 23 1966 | - |
| Brietzke | Otilia E. | Feb 26 1876 | Dec 13 1954 | - |
| Brietzke | Otto | Feb 03 1896 | Feb 12 1983 | - |
| Brietzke | Richard P. | Apr 07 1896 | Jun 20 1948 | - |
| Brigman | Al Tony | Aug 29 1916 | Jan 31 2001 | - |
| Brotze | Roland | Jul 26 1919 | Apr 07 2001 | - |
| Brotze | Val Dieckow | Aug 29 1915 | Nov 18 2004 | - |
| Broyles | Joanna Dawn | Oct 14 1969 | Jan 22 2004 | - |
| Bundy | Bernadine | Mar 27 1915 | Reserved | W/o Russell |
| Cain | Pauline | Jan 22 1897 | Dec 22 1927 | - |
| Deicke | August | Jun 27 1861 | Dec 20 1933 | - |
| Deicke | Richard A. | Dec 06 1886 | Jun 04 1969 | - |
| Dieckow | Charlie | Oct 15 1873 | Oct 31 1948 | - |
| Dieckow | Edward H. | Mar 03 1903 | Jul 10 1956 | - |
| Dieckow | Louis A. | Oct 26 1903 | Dec 03 1986 | - |
| Dieckow | Martha M. | Aug 26 1909 | Jan 20 1976 | W/o Paul F. |
| Dieckow | Ottilie A. | Jan 13 1906 | Sep 25 1992 | Sister to Louis A. |
| Dieckow | Paul | Sep 20 1879 | Sep 17 1956 | - |
| Dieckow | Thekla A. | Nov 20 1888 | Mar 08 1957 | W/o O.H. |
| Doege | Edward Otto | Oct 11 1919 | Mar 17 2006 | |
| Doege | Emil F. | Oct 28 1883 | Jun 19 1956 | - |
| Doege | Martha E. | Sep 08 1888 | Dec 03 1980 | - |
| Duelm | Caroline | May 11 1862 | Jul 15 1960 | - |
| Duelm | Emma M. | Feb 24 1886 | Aug 27 1920 | - |
| Duelm | Felix F. | Sep 29 1888 | Dec 27 1924 | - |
| Duelm | Fritz D. | Sep 07 1863 | Nov 28 1940 | - |
| Duelm | Gilbert | 1894 | 1935 | - |
| Duelm | Irene | Feb 03 1926 | Mar 21 1993 | - |
| Duelm | Willie | 1896 | 1920 | - |