Pleasant Hill Cemetery A-G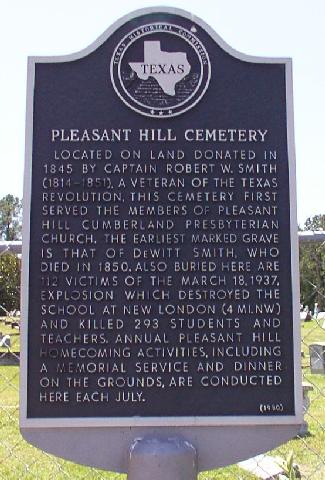 Transcribed By: Mary Frank Dunn
Photos by Brenda Wooddell (BW) Bill Grigg (BG)
Submitted By: Gloria B. Mayfield Cemeteries of TX
Coordinator: Dolores I. Bishop
Location on the south side of Highway 323 about half way between Henderson and Overton. This is a very old cemetery originally at a Cumberland Presbyterian Church but since about 1856 has been a Missionary Baptist Church. Many victims of the New London School Explosion Mar 18 1937 are buried here. Copied Apr 21 1965.
Special comments : ______ George L. Carlous Georgia C. G.W. Virgil James Twilla (All Inside One Coping. No Surname. Beside Barrett Graves)
Three Graves With Funeral Home Markers That Are Unreadable Then Two With An Edging Around.
Hamilton Andrew "In Honor of Service US- USD 1812 Departed This Life Feb 18 1859 A.D. In The 64th Year Of His Age. Erected By His Bereaved Widow"
At Foot: Captain Robert W. Smith Soldier in the Texas War for Independence at San Jacinto - 1836 Erected by State of Texas
Some Additions To Pleasant Hill Taken From Obituaries In The Henderson Daily News Henderson Texas.
Submitted by Brenda Wooddell:
Cooper Information provided by Peggy Hooper (PH)
Last Name

First Name

Birth

Death

Comments

----

Mrs. Ruby

Apr 9,1904

Sep 29,1938

----

-----

Infant

May 8,1946

May 8,1946

I/O Louise

Alexander

Hazel

Feb 25,1918

Nov 9,1919

----

Alexander

Maude

Sep 15,1889

Dec 26,1918

"Mother"

Allen

Clarence

1912

1950

----

Allen

Dave M.

1881

1947

"Father"

Allen

Frances Lee Hubbard

Mar 16,1848

Jul 10,1933

W/O W.E.

Allen

Infant Daughter

Sep 2,1908

Jan 4,1909

D/O J.H. & M.C.

Allen

James H.

Apr 22,1869

Feb 8,1923

----

Allen

Mary Cora

Apr 25,1868

Jan 31,1928

W/O J.H.

Allen

Mary Elner

Aug 31,1910

Mar 22,1918

D/O J.H. & M.C.

Allen

Myrtle L.

1900

1939

"Mother"

Allen

Novie

Dec 16,1906

Nov 12,1932

"Mother" W/O R.M.

Allen

Ruben Alver

Dec, 1899

Jan , 1946

----

Allen

William E.

Sep 4, 1844

Feb 14,1914

----

Allmon

Almita

Nov 29,1924

Mar 18,1937

----

Alsbrooks

James

Dec 10,1901

Sep 4,1950

----

Alsobrooks

Alva V. (Buster)

Sep 8,1926

Jan 10,1947

----

Anderson

Lillian

Jun 7,1922

Mar 18,1937

----

Anderson

Myrtle A.

----

----

Anderson

William A.

Apr 13,1896

May 9,1953

----

Anderton

Veda Mae

Jul 31,1907

Nov 5,1938

----

Anthony

Thos Alford

1867

1945

"Father"

Armstrong

Oscar

Aug 21,1881

Oct 25,1975

Death Date – Obituary

Armstrong

Rosa

Aug 20,1884

Sep 11,1947

---

Ashley

Donnie Shelly

Feb 13,1933

Jan 9,1965

----

Ashmore

Infant

1938

-

D/O M/M M.E.

Baker

Jeanette A.

Feb 13,1918

Mar 26,1918

----

Barber

Arden L.

Oct 31,1925

Mar 18,1937

----

Barber

Mary M.

Jul 22,1873

Jan 10,1940

----

Barber

Melvin

1913

1945

----

Barber

Smith

1910

1941

----

Barker

Drusilla

1868

1941

"Mother"

Barker

Thomas M.

1864

1944

"Father"

Barrett

Donald

-
-

Age 11 Years"Victim of New London School Disaster" "Brother'

Barrett

Edward Jr.

Feb 25,1925

Mar 18,1937

S/O M/M E.T.

Barrett

H. Frank

1888

Jun 29,1969

Age 80

Barrett

Pauline

-
-

Age 19 "Post Graduate Victim of New London School Disaster' "Sister"

Barrett

Zoetta L.

1892

1964

----

Bealle

Edwin M.

May 1,1873

Jan 2,1917

----

Beasley

Billy Ray

Feb 18,1930

Jul 19,1934

----

Beasley

Genie

Nov 15,1880

Jun 28,1884

D/O W.L.& M.E.

Beasley

Lena

Sep 14,1878

Sep 18,1878

----

Beasley

M.E.

Feb 24,18-4

Apr 14, 1917

W/O W.L.

Beasley

Mrs. Mary

Mar 10,1882

Dec 25,1918

W/O W.L.

Beasley

W.L.

----

----

No Dates

Beasley

W.L.

May 26,1836

May 26,1914

----

Beggs

Mrs. Peggy Lou

-

Feb, 1960

Age 26-3-2

Bennett

Infant

1918

1918

S/O M/M T.V.

Bennett

Mary Frances

1927

1937

----

Bennett

Mattie

1884

1924

"Mother"

Bennett

Robert Earl

1911

1915

----

Bennett

Thomas Virgle

1880

1960

"Daddy"

Bennett

Willie May

1887

1937

"Mother"

Bevers

E.E.

1911

1940

"Husband"

Billingsley

Opal Wooster

May 21,1909

Feb 7,1933

W/O Alton

Blackard

Billy Gale

Aug 13,1937

Dec 9,1939

S/O M/M G.J.

Blackwell

Mary V.

Mar 4,1854

Jun 10,1882

W/O B.J.

Blankenship

Elizabeth

Jun 17,1882

Mar 12,1959

----

Boyd

Darlene Patsy

Feb 25,1940

Jan 2,1952

----

Boyd

G.W.

Nov 12,1859

Feb 18,1959

----

Boyd

Irvin J.

May 25,1909

Jul 5,1963

----

Boyd

Labertha A.

1880

----

----

Boyd

Vicie M.

May 20,1883

Jul 22,1954

"Mother"

Boyd

W. Lee

Sep 15,1884

----

----

Boyd

William L.

1870

1940

----

Bradberry

James Leon

Dec 25,1926

Jan 7,1927

----

Braden

Sybil Dell

May 23,1924

Mar 18,1937

----

Brewer

Elliott Hickman

Jan 6,1893

Nov 25,1897

S/O W.T. & Mollie

Brewer

Mary Ann

Aug 27,1903

Jun 10,1906

D/O W.T. & Mollie

Brian

Homer W.

May 30,1915

Jun 23,1957

----

Brian

Infant Boy

Jul 21,1962

Jul 21,1962

----

Brian

Wilma Lee

May 10,1936

Jun 10,1936

----

Briley

Etta

1880

Sep 15,1974

"Mama" Age 93 Henerietta

Briley

John J.

1873

1952

"Papa"

Briley

Robert E.

Nov 8,1902

Dec 3,1933

----

Brinkerhoff

Guy W.

Mar 28,1894

Sep 9,1963

Texas Pvt 1 Co 164 Depot Brig WWI

Brown

Bagley McMurray

Jan 25,1880

Dec 30,1908

S/O Taylor Brown Jr.&M.K.

Brown

Beatrice

Dec 19,1911

Apr 24,1927

D/O Truitt & Lottie

Brown

Elizabeth T.

Oct 31,1846

Jan 25,1912

W/O J.H.

Brown

Infant

Oct 7,1858

Oct 7,1858

D/O Neill & Margaret Johnson Brown

Brown

J.H.

Apr 22,1842

Oct 29,1914

Mason

Brown

Lottie

Jan 4,1879

Jul 10,1970

----

Brown

Truitt

Feb 14,1874

Feb 27,1922

----

Bryan

James J.

Feb 2,1922

May 24,1945

Texas Pvt US Army

Busby

Callie Orene

1906

1940

----

Busby

Florene

1934

1940

----

Busby

Hiram Luther

1928

1940

----

Busby

Hiram Luther

July, 1894

Nov,1956

----

Busby

Lois Ferne

1935

1940

----

Butler

Annie

Nov 14,1877

Sep 8,1953

"Mother"

Butler

Cathran

Nov 5,1921

Feb 10,1957

----

Bynum

Cora V.

Jun 17,1903

-

----

Bynum

J.E.

Jun 13,1864

Aug 17,1938

----

Bynum

Judge N.

Sep 17,1901

Feb 20,1962

"Daddy"

Bynum

Mattie

Sep 3,1873

Jan 13,1966

Age 92

Caddell

Elnora Melton

Nov 13,1898

Feb 28,1974

Death Date – Obituary

Caddell

James J.

Dec 13,1883

Jan 2,1957

Death Date – Obituary

Carmichael

Lottie C.

Nov 11,1895

Jan 25,1948

"Mom"

Carmichael

W. Frank

Apr 14,1888

Nov 9,1949

"Dad"

Castleberry

Michele Renee

Jan 2,1964

Jan 7,1964

----

Caston

Edward

Oct 26,1893

Oct 29,1953

TEXAS PFC CO A 355 INFANTRY WWI

Cedar Stump

Probably

Marking A

Grave

Choate

Augustine K.

May 23,1889

Nov 1,1960

Cpl Btry F 44 Arty CAC WWI PH

Choate

Murray Dixon

Jul 13,1924

Mar 18,1937

"Victim New London School Explosion

Clamp

W.J.

1862

1929

"Father"

Clamp

W.V.

1865

1944

----

Clark

Amos E.

Mar 11,1892

Nov 13,1954

----

Clark

M. Edwin

Jun 15,1888

Dec 19,1963

"Papa"

Clark

Mrs. Annie B.

Oct 24,1894

Dec 25,1964

----

Clark

Nellie G.

Apr 5,1890

----

"Mama"

Coats

Annie M.

Aug --, 1844

Jul 11,1896

W/O O.P.

Coats

Caldonia

Aug 15,1876

----

----

Coats

John C.

Aug 1,1873

Nov 15,1952

"Father"

Coats

O.P.

May 15,1840

Oct 11,1913

"Father"

Coats

William Bartlett

Feb 23,1850

Jan 9,1934

----

Cohagan

Infant

Sep 16,1941

Sep 16,1941

D/O R.M. & Millie

Cohagan

Marie

Jun 2,1917

Oct 11,1917

D/O R.M & Millie

Cohagan

Mildred

Dec 3,1925

May 20,1935

----

Cohagan

R.M. (Tots)

Feb 22,1893

Oct 3,1960

----

Coker

Joseph N.

Mar 4,1877

Oct 15,1953

"Daddy"

Coker

No Name On Other Side

-

-

"Mother"

Collins

LaMar V.

1925

1942

----

Connell

Flora M.

May 11,1897

----

----

Connell

Mike B.

Jan 11,1895

Dec 31,1955

----

Connell

Opal Lucille

1921

1936

----

Cooper
Almer Brown .
Mar 23 1898
Feb 27 1969
son of Samuel Houston Cooper and Mary Jane ELLIOTT Cooper (PH)

Cooper

Amburs N.

Feb 26,1893

Jul 31,1964

----

Cooper

Charlie Corneilus (Charlie)

May 2,1874

Sep 14,1941

"Papa" (PH)

Cooper

Clifton

1908

1958

son of Charles Cornelius (Charlie) Cooper and Winnie Ann (PH)

Cooper

Edgar

1900

1944

----

Cooper

Evie

Sep 17,1893

Sep 2,1950

----

Cooper
Georgia Eva Harris
Jan 6 1889
Jan 5 1975
w/o Monnie Dexter Cooper (PH)
Cooper
Graham Ashton
Jul 07 1914
Feb 1916
son of Monnie Dexter Cooper and Georgia Eva Harris (PH)

Cooper

Dec 5,1875

Dec 26,1931

"Mother" w/o Cornelius Neal Cooper (PH)

Cooper

Jun 8,1895

Jun 8,1895

son of George Washington Cooper and Laura Gabrielia Andrews (PH)

Cooper

J. M.

-

-

I think J.M. Cooper is my James Melvill(e) Cooper born 23 Jun 1874 Rusk County (Peggy Hooper)

Cooper

Oct 28,1905

Apr 18,1906

son of Cornelius (Neal) Cooper and Ida May Cooper (PH)

Cooper

Joe

Jul 24,1872

Apr 10,1964

Dates - Obituary h/o Maggie

Cooper
Juli

a

Ann Brown
Sep 11 1847
May 31 1919
w/o Lem (PH)
Cooper
Lemuel Stephens
Feb 20 1881
Dec 29 1970
h/o Nora C. (PH)
Cooper
Lem (Lemuel Thompson )
Jun 14 1845
Apr 13 1928
wife of Lemuel Thompson Cooper (PH)

Cooper

Aug 26,1906

Nov 5,1907

son of Lem and Nora (PH)

Cooper

Maggie E. Harris

1872

1944

w/o Joseph "Joe" Cooper

Cooper

Martha

Mar 10,1831

Apr 13,1898

Cooper
Mary Jane Elliott
Nov 13 1854
Nov 22 1902
w/o Samuel (PH)

Cooper

Martha Frances

May 30,1874

Nov 19,1946

W/O J.M. I think Martha Frances is my Martha Frances SMITH wife of James (Peggy Hooper)(PH)

Cooper
Monnie Dexter
Jan 16 1883
Nov 10 1964
h/o Georgia (PH)
Cooper
Nora C. Gilstrap
Dec 6 1883
Sep 5 1973
w/o Lem S.(PH)
Cooper
Nora Belle CANSLER
wife of Almer (PH)

Cooper

Mrs. Ora Bel (Orabel

August, 1904

Apr 16,1939

wife of William Sanford Cooper (PH)

Cooper

Cornelius "Neal "

Jul 27,1868

Jan 20,1941

"Father"h/o Ida May (PH)

Cooper
Rutha Ann WEEMS
Sep 15 180?
Jun 22 1890
wife of Cornelius Benjamin (Ben) Cooper (PH)
Cooper
Samuel Houston
Feb 5 1847
Dec 29 1933
h/o Mary Jane (PH)

Cooper

William Sanford

Oct 6,1901

Dec 14,1952

---- (PH)

Cooper

Winnie Ann

Feb 5,1876

Jan 20,1954

"Mama" wife of Charlie Cooper (PH)

Cooper,

William Charlie

Jul 16,1891

Sep 5,1964

----

Cope

Franklin Thad

Sep 12,1941

Sep 12,1941

S/O Gene & Marjorie

Cope

Franklin Turney

Oct 19,1880

Jan 4,1958

----

Cost

Bennett S.E.

Mar 27,1923

Apr 30,1945

Texas Pfc 165 Inf WWII

Couch

Lillian

Feb 19,1885

Apr 29,1960

----

Cox

Effie

1907

----

----

Cox

Eula Rosalys

Dec 1,1898

Apr 21,1941

----

Cox

Franklin J.

Sep 7,1887

Jan 6,1965

"Father"

Cox

John T.

Aug 14,1870

Nov 29,1948

----

Cox

Lela Pearl

Jul 14,1875

Mar 20,1943

----

Cox

Lessie

1888

1930

----

Cox

Perry Lee

Nov 5,1926

Mar 18,1937

S/O M/M R.M.

Cox

William Fletcher

Jan 31,1890

Oct 27,1952

Texas Sea US Navy WWI

Crager

Mrs. Allie

Jul 4,1854

Jan 21 1940

----

Crawford

Lena Augusta

May 20,1896

----

"Mama"

Crawford

Rev. Winfield

Dec 1,1886

Dec 18,1951

"Papa"

Crelia

Cecelia Ann

Feb 1,1947

May 18,1958

----

Crelia

Sandra Lucinda

Jul 21,1948

May 18,1958

----

Crews

M.P. (Jack)

May 2,1904

Oct 30,1943

----

Crim

A. Belle

1881

1951

----

Crim

Annie Belle

Sep 16,1920

Mar 18,1937

D/O M/M B.M.

Crim

Basil M.

1877

1944

----

Crossland

Donna I.

Mar 21,1875

Jun 4,1950

"Mother"

Crossland

George H.

Feb 8,1871

Sep 12,1960

"Father"

Crouch

Mary Alice

1878

1943

----

Crouch

Walter M.

1879

----

----

Davis

Patsy Lee

Sep 27,1939

Sep 27,1939

----

Davis

Perlia J.

1921

1939

----

Davis

Thomas T.

1880

1945

"Father"

Daye

Nobel F.

Aug 24,1940

Nov 28,1940

----

DeArmon

Dennie Daniel

1918

1962

"Daughter"

DeArmon

Olivia Goss

1883

----

"Mother"

Diamond

L. Ida

Dec 29,1894

Sep 29,1940

----

Dickeson

Gaines Winston

Dec 3,1940

Apr 7,1963

----

Dickson

California

Jul 19,1852

Mar 22,1917

"Mother"

Dickson

Charley C.

Dec 20,1854

Oct 25,1937

"Daddy"

Dill

Eulous A.

1901

1962

----

Dill

Myrtle A.

1905

----

----

Dillard

Bernice L.

Nov 8,1904

Nov 3,1972

Death Date –Obituary

Dillard

James H.

Nov 21,1892

Feb 17,1961

"Dad"

Dollar

Bertha

Dec 11,1893

----

Dollar

D.J.

Aug 20,1891

Apr 23,1955

"Father"

Dollar

Doyle Wayne

Apr 29,1958

May 2,1958

----

Dollar

Johnnie A.

Sep 1,1912

Oct 8,1964

----

Dorsey

Cassie Elizabeth

1907

1951

"Mother"

Dorsey

Corney Cornelius

1874

1963

----

Dorsey

Donald D.

Mar 8,1932

Jul 6,1933

----

Dorsey

Effie L.

1874

1945

----

Dorsey

Haskell

1925

1934

S/O M/M W.A.

Dorsey

Kate Young

1880

1938

----

Dorsey

Luna F,

-

Nov 10,1939

Infant D/O M/M B.E.

Dorsey

Mary S.

Jun 19 1866

Aug 19,1953

"Mother"

Dorsey

Milton Ray

Jan 4,1922

Aug 14,1957

Texas CS2 US NAVY WWII

Dorsey

Minnie

Sep 18,1902

Jun 7,1957

----

Dorsey

Newell

Feb 24,1899

Oct 24,1944

----

Dorsey

Newton P.

1905

1948

----

Dorsey

Noah R.

1871

1951

----

Dorsey

Thomas A.

Jan 12,1856

Sep 19,1927

"Father"

Dorsey

Thomas Gordon

1923

1944

"Son"

Dorsey

Velton R.

May 31,1908

Sep 24,1961

Texas TE O 5 1853 SVC Comd Unit WWII

Dotson

Eddie V. Clamp

Jan 9,1885

Jun 2,1913

----

Drake

Fannie R.

Oct 27,1898

Jun 2,1950

"Mother"

Drake

Leo F.

Nov 21,1925

May 5,1946

----

Drake

Winnifred Velvene

1924

1937

D/O M/M L.R.

Duffee

Sallie

Apr 3,1844

Oct 7,1900

W/O Thomas

Duncan

Celena Theodosia

Jun 17,1869

Jun 22,1944

"Grandmother"

Dunklin

J.T.

Sep 22,1842

Oct 27,1932

----

Dunklin

Mary Sally

1869

1957

----

Dunklin

Morrie E.

1873

19--

----

Dunklin

Mrs. E.H.

Nov 10,1844

Nov 5,1914

W/O J.T

Dunklin

Willie C.

1875

1918

----

Easley

Daniel Preston

Sep 7,1918

One Date

"Son"

Easley

J.B.

Jun 22,1828

Oct 14,1908

----

Easley

James Eugene

Aug 8,1879

May 3,1968

Death Date- Obituary

Easley

Martha Irene

Jan 22,1894

Jun 2,1946

"Mother"

Easley

William P.

May 11,1872

May 10,1921

----

Eaton

Elizabeth C.

Aug 1,1853

Sep 15,1854

D/O J. & T.I.

Eaton

G.W.

Jun 25,1868

Feb 22,1937

"Father"

Eaton

Martha Eaton Rhodes

Dec 5,1876

Dec 9,1947

"Mother"

Eaton

Noel J.

Feb 21,1911

----

----

Eaton

William B.

Jan 17,1900

Mar 29,1945

----

Edmonds

Mrs. Cora

1878

1937

----

Eggleston

Mary Ann

1871

1961

----

Elliot

Jr.

Mar 25,1893

Jul 27,1955

----

Elliott

Cora E.

1868

1941

"Mother"

Elliott

Samuel L.

1857

1943

"Father"

Elliott

Weekly

May 16,1849

Mar 29,1889

----

Elrod

John Alfred

1894

1953

"Father"

Emberling

A.P.

Mar 30,1894

Nov 30,1961

----

Emberling

George Lee

Feb 3,1924

Mar 21,1937

S/O M/M A.P.

Emberling

Mildred

Jun 2,1905

----

----

Emberling

Wanda Louise

April, 1926

Mar 18,1937

D/O M/M A.P.

Embry

Hoyt R.

Jun 7,1906

May 6,1948

Mason

Estes

Joseph

Oct 11,1885

Jan 4,1912

----

Estes

Mattie

Jul 22,1842

Apr 3,1909

----

Estes

Mrs. N.

Oct 26,1840

Oct 29,1916

W/O M.

Fall

Dr. William Strator

Jul 4,1850

Mar 16,1940

"Father"

Fall

Mollie

Sep 16,1868

Jan 7,1952

----

Ferrell

Infant

Sep 29,1945

Sep 29,1945

----

Ferris

Edward W.

Jan 19,1875

Jun 19,1953

----

Ferris

Ella I.

Oct 22,1875

Oct 7,1941

----

Field

Elizabeth Jane

1935

1950

----

Fields

William Loyd

Jan 16,1941

Jan 17,1941

S/O Boyd & Elizabeth

Finney

Augustus P.

1854

1916

----

Finney

Julia M.

1851

1940

----

Five

Unmarked

Graves

----

Fleener

Minor W.

Sep 27,1928

Jun 29,1956

Indiana T Sgt Avn Depot SQAF WWII

Ford

John Arnold

Feb 9,1924

Mar 18,1937

London Band

Fort

George T.

Apr 12,1902

May 1,1936

----

Four

Unmarked

Graves

----

Four

Unmarked

Graves

Franklin

G.I.

1880

1947

"Father"

Franklin

Luella

1881

1953

"Mother"

Fussell

J.W.

Feb 4,1855

Dec 13,1922

----

Fussell

Maxine

Jul 8,1856

Jul 15,1928

Gandy

Alma

Jul 25,1889

Mar 2,1975

Dates- Obituary

Gandy

Cap

May 9,1889

May 18,1962

"Daddy"

Gandy

Infant

Feb 10,1935

Feb 10,1935

D/O M/M L.O.

Gandy

Martha Jean

Aug 5,1926

Mar 18,1937

D/O M/M Cap

Gaudet

Dorothy Janice

Mar 11,1938

Mar 11,1938

----

Gaudet

Whitney Roland

May 11,1907

Feb 1,1964

"Frenchy"

Gaut

Lizzie

Dec 24,1876

Dec 19,1929

W/O Sam

Gee

Elliott H.

1882

----

"Dad"

Gee

Nora Mae

1882

1953

"Mother"

Giles

Lewis Thomas

Oct 10,1941

Pvt 65 Field Arty 96 Div

Gill

Jessie Bell

Dec 25,1888

Dec 26,1959

----

Gill

T.D. (Bud)

Nov 7,1891

Oct 17,1950

----

Gilstrap

Carl Clinton

May 19,1915

May 22,1947

"Son"

Gilstrap

Clifford D.

Apr 4,1904

Jun 28,1958

----

Gilstrap

Conway H.

1880

1936

"Father"

Gilstrap

Cornelia

Nov 3,1855

May 21,1926

----

Gilstrap

Ernest O.

May 10,1890

Jan 30,1925

"Father"

Gilstrap

Florence B.

----

-----

----

Gilstrap

Hazel G.

1914

1951

----

Gilstrap

Infant

May 22,1936

May 23,1936

D/O Sam & Hazel

Gilstrap

J.B.

Mar 18,1859

Mar 21,1938

----

Gilstrap

Monnie Dell

Dec 26,1892

Feb 18,1931

----

Gilstrap

Monnie Mae

Jul 15,1934

Sep 8,1935

D/O M/M T.C. Jr.

Gilstrap

Noonie A.

1881

19--

----

Glover

Chalmers Fulton

Nov 25,1901

Dec 3,1902

S/O J.E. & S.E.

Glover

John Eli

Oct 19,1858

Apr 261936

"Father"

Glover

John Rembert

Oct 13,1896

Dec 1,1933

----

Glover

Mary B.

Sep 2,1852

Jun 29,1880

----

Glover

Montezuma

1856

1926

----

Glover

Sue B. Christie

Oct 10,1867

Jun 1,1912

"Mother"

Goodwin

Zero

May 30,1873

W/O T.J.G.

Gordon

Dollie L.

Sep 16,1895

Jul 1,1961

----

Goundel

Peter D.

Feb 6,1890

Dec 18,1960

----

Gramling

Carl B.

Apr 23,1897

Nov 21,1960

Texas Pvt 31 CO 165 Depot Brigade WWI

Gramling

Dora t.

Jun 5,1886

Jan 27,1948

----

Gray

Arthur

Oct 5,1940

A. Crim Funeral Marker

Green

Mattie E.

Apr 7,1868

Dec 29,1945

"Mammy" W/O Frank Wooster

Greenwood

Gertrude

Dec 18,1892

Oct 11,1918

W/O A.N.

Greer

Dessie & Jessie

Feb 13,1947

Feb 13,1947

----

Greer

James

1928

1945

----

Grolemund

Walter Edward

1890

1944

"Daddy"

Gross

Jack Hughson

Oct 16,1914

Aug 10,1960

Texas BM 2 USNR WWII

Gunn

Ernestine

August, 1914

Oct 22,1957

----

Gunn

Fuller Hershell

Aug 13,1910

Sep 30,1955

Texas M 1 USNR WWII

Gunn

H.D.

Apr 19,1923

Mar 18,1937

"Son"

Gunn

Ruby Pearl

Apr 18,1897

Aug 18,1959

----

Guthrie

Burtis E.

Jan 31,1906

May 2,1951

----