Simmons Cemetery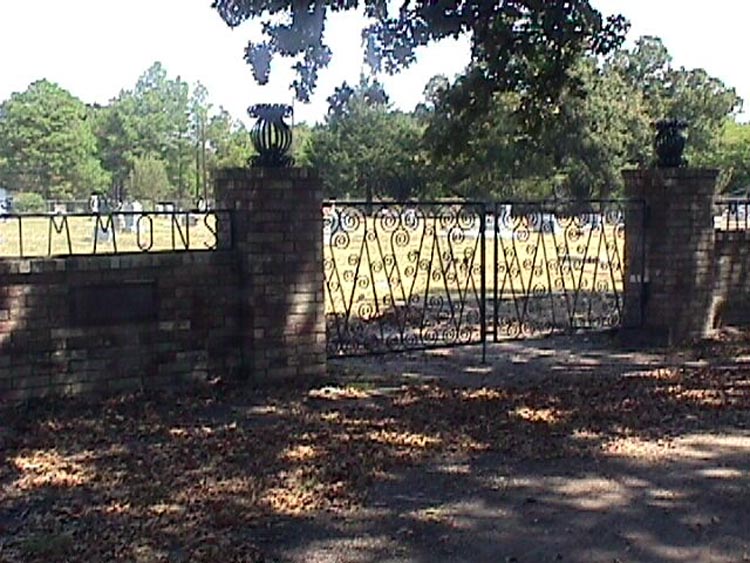 Simmons, Hunt County, Cemeteries of Texas
Submitted & Photos by Elaine Nall Bay & Patricia Nall
Cemeteries of Texas Coordinator: Dolores I. Bishop
From I-30 take the Hwy 34S exit. Travel approximately 5.5 miles on Hwy 34S. Turn right onto FM 1564-W. Travel approximately 1/2 mile to CR223. At the CR223 intersection, stands a small frame church. Simmons Cemetery is located directly behind this church. Use the church driveway to get to the cemetery.
The cemetery is surrounded by a chain link fence. All plots are single rows, and rows are transcribed in a north to south direction. A gravel road that divides the cemetery into east and west sections provides entrance into the cemetery from the only gate, located on the south side of the cemetery. Map
East Section 1-3
Survey begins in the southeast corner of the cemetery.
Row # 1

Unmarked Grave

-

-

-

Adult Male

Unmarked Grave

-

-

-

Adolescent Male

Palmore

Jul 01 1951

Jun 05 1964

-

Palmore

Dec 17 1926

Jan 27 1996

M: Sep 23 1950

Palmore

Sep 25 1932

-

-

Empty Spot

-

-

-

-

Unmarked Grave

-

-

-

Adult Male

Unmarked Grave

-

-

-

Child Male

Horn

Apr 07 1931

Feb 27 1993

"Father"

Horn

May 26 1934

-

"Mother"

Unmarked Grave

-

-

-

Adult Male

Unmarked Grave

-

-

-

Child Male

Kitchens

Jun 23 1962

May 31 1999

-

Childs

Amy

-

-

Adult Female

Dene

Dorothy

-

-

Adult Female

Atkins

-

-

-

Adult Male

Atkins

-

-

Child Male

Kitchens

-

-

Child Male

Anderson Bros. Clayton FHM

Atkins

-

-

Child Male

Atkins

-

-

Toddler Male

Hughes

Feb 08 1930

Dec 28 1990

-

Atkins

Nov 27 1933

Jun 29 1992

M: Jun 23 1961

Atkins

Dec 28 1936

-

-

Ferguson

Jul 20 1922

-

-

Jan 08 1910

-

-

Morrison

May 31 1927

Aug 24 1985

-

Causey

Feb 04 1911

Jun 19 2001

-

Causey

Oct 23 1904

Nov 27 1989

-

Empty Spot

-

-

-

-

Unmarked Grave

-

-

Jan 08 1910

-

-

Morrison

May 31 1927

Aug 24 1985

-

Causey

Feb 04 1911

Jun 19 2001

-

Causey

Oct 23 1904

Nov 27 1989

-

Empty Spot

-

-

-

-

Unmarked Grave

-

-

-

Child Male

Unmarked Grave

-

-

-

Child Male

-

-

Adolescent Male

Coker Matthews FHM

Empty Spot

-

-

-

-

Unmarked Grave

-

-

-

Child Male

Empty Spot

-

-

-

-

Empty Spot

-

-

-

-

Allen

Sep 21 1924

May 23 1988

M: Oct 01 1948

Allen

Aug 04 1921

-

-

Empty Spot

-

-

-

-

Empty Spot

-

-

-

-

Empty Spot

-

-

-

-

Empty Spot

-

-

-

-

Unmarked Grave

-

-

-

Adult Male

Unmarked Grave

-

-

-

Adolescent Female

Unmarked Grave

-

-

-

Child Male

Unmarked Grave

-

-

-

Adult Male

Unmarked Grave

-

-

-

Adult Male

Fence

Row # 2

Sealey

1911

1922

S/o J.W.

Sealey

Feb 19 1869

Aug 28 1940

-

Unmarked Grave

-

-

-

Female Adult

Unmarked Grave

-

-

-

Male Toddler

Brown

Sep 07 1873

Aug 12 1947

-

Brown

Aug 19 1871

Jul 14 1937

-

Unmarked Grave

-

-

-

Female Child

Unmarked Grave

-

-

-

Adult Male

Unmarked Grave

-

-

-

Child Male

Jan 07 1935

Oct 22 1970

M: Jan 17 1958

Underwood

Oct 25 1935

-

-

Winkle

Jan 11 1948

-

"Bill"

Winkle

Robert

Jan 11 1948

-

"Bob"

Winkle

Alvin N.

Jan 18 1906

Jul 25 1972

"Father"

Winkle

Pirlene

Jul 17 1917

May 02 1991

"Mother"

Winkle

Dean

Mar 25 1920

Feb 17 1979

"Mother"

Kitchens

Jan 28 1937

Apr 27 1937

-

McCarter

Jun 26 1935

Jun 26 1936

-

Jan 25 1880

Mar 05 1975

-

McCarter

Aug 06 1878

Jun 22 1929

"Father"

Aug 09 1905

May 09 1951

"Mother"

McCarter

Feb 06 1908

Jul 12 1988

-

Mack

Jun 03 1896

Mar 20 1954

Military Marker

Mack

Jan 31 1897

Oct 24 1962

Military Marker

Mack

Nov 16 1922

Apr 11 1945

-

Empty Spot

-

-

-

-

Unmarked Grave

-

-

-

Male Toddler

Unmarked

-

-

-

Male Infant

Unmarked Grave

-

-

-

Male Adolescent

Unmarked Grave

-

-

-

Male Adult

McDonald

May 18 1919

Dec 17 1995

-

McDonald

Freeman

Sep 11 1869

Feb 14 1958

-

Freeman

Aug 26 1879

Dec 10 1979

-

Freeman

Ellen B.

Jan 05 1916

Aug 28 1965

-

Freeman

-

-

-

Lindsey

Jan 01 1927

-

"Father"

Lindsey

Jun 24 1938

Sep 02 1990

"Mother"

Unmarked Grave

-

-

-

Adult Male

Unmarked Grave

-

-

-

Child Male

Unmarked Grave

-

-

-

Adolescent Male

Empty Spot

-

-

-

-

Empty Spot

-

-

-

-

Empty Spot

-

-

-

-

Unmarked Grave

-

-

-

Child Male

Fence

Row 3

Empty Spot

-

-

-

-

Empty Spot

-

-

-

-

Coker

Dec 29 1889

May 07 1952

-

Coker

Apr 09 1908

Apr 11 1968

-

Campbell

1903

1988

Coker Matthews FHB

Scudder

Apr 17 1917

Oct 11 1973

-

Scudder

Aug 13 1917

Oct 03 1973

-

Vansickle

Sep 08 1870

Nov 24 1943

-

Vansickle

Oct 06 1875

Dec 22 1958

-

Underwood

Sep 10 1910

Feb 08 1975

W/o J.E. Underwood

Underwood

Mar 29 1884

Oct 08 1956

-

Underwood

Mar 17 1881

Jan 17 1931

-

Jacks

Aug 27 1904

Dec 02 1997

-

Jacks

Feb 18 1908

Jul 31 1997

-

Jacks

Dec 12 1927

Mar 04 1962

-

Kitchens

1940

1999

Quinlan FHM

Kitchens

1939

1999

-

Empty Spot

-

-

-

-

Unmarked Grave

-

-

-

Adolescent Male

Colbert

Nov 18 1907

-

M: Sep 28 1933

Colbert

Jun 11 1915

Jan 08 1988

-

Lancaster

Kathryn

Oct 13 1896

Mar 08 1930

-

Lancaster

Deborah

Sep 13 1886

Jan 05 1975

-

Empty Spot

-

-

-

-

Empty Spot

-

-

-

-

Unmarked Grave

-

-

-

Adult Female

Unmarked Grave

-

-

-

Adult Male

Unmarked Grave

-

-

-

Adult Male

Unmarked Grave

-

-

-

Adult Male

Unmarked Grave

-

-

-

Child Male

Unmarked Grave

-

-

-

Child Male

Unmarked Grave

-

-

-

Child Male

Hancock

Aug 07 1914

-

-

Hancock

Mar 17 1914

Jan 15 2001

-

Hancock

Oct 05 1916

Jun 14 1970

-

Unmarked Grave

-

-

-

Male Toddler

Unmarked Grave

-

-

-

Female Child

Sinclair

1861

1942

-

Sinclair

1899

1967

-

Unmarked Grave

-

-

-

Child Male

Unmarked Grave

-

-

-

Child Female

Unmarked Grave

-

-

-

Adolescent Female

Graham

Nov 25 1923

Nov 01 1990

-

Empty Spot

-

-

-

-

Unmarked Grave

-

-

-

Child Male

Fence