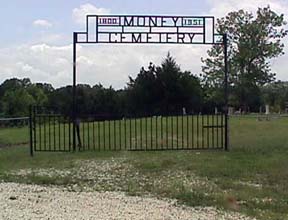 1800-1951
Hunt County, Cemeteries of Texas
Submitted by Elaine Nall Bay - Patricia Nall
June 2004-photos Jan 2005
Directions #1: From the intersection of Hwy. 69N and Hwy. 380 on the northwest side of Greenville, travel approximately 4 miles to CR 1033 (gravel road). Turn south and travel 1.5 miles to lane that curves to right. Money Cemetery is located on the north side of the lane. This route is impassable to barely passable when it has rained.
Direction #2:
From Greenville town square, take 69S for approximately 0.8 mile. Curve right onto Hwy 224. Travel approximately 1/2 mile and turn north onto Hwy 34N. Travel approximately 4 miles. Tidwell Cemetery is on the right side of Hwy 34N beside the Tidwell Baptist Church. Turn left onto Hunt County Rd 1001. Travel approximately 2 miles to the cemetery, located on the left side of the road.
Rows are laid out and surveyed in a N to S direction.
Additional Obits by Elaine Nall Bay and Patricia Nall
Rows 11-18
Name

Birth

Death

Comments

Row 1

-

-

-

Chain link fence

-

-

-

12 Vacant space

-

-

-

Cupp, -----n

10 Nov 1936

13 June 1937

14 Vacant space

-

-

-

20 June 1921

29 Aug 1921

13 Vacant space

-

-

-

Wire fence

-
-
-

Row 2

-

-
-

Chain link fence

-
-
-

12 Vacant space

-

-

-

Wilemon, Beulah

1881

1912

d/o James & Mary Spoonemore

9 Vacant space

-

-

-

Concrete slab

-
-
-

18 Vacant space

-
-
-

Wire fence

-
-
-

Row 3

-
-
-

Chain link fence

-
-
-

7 Vacant space

-
-
-

24 Feb 1931

19 Sept 1932

9 Vacant space

-
-
-

17 Sept 1866

19 Mar 1931

d/o James G. "Tip" Nall & Elizabeth A. Butterworth

born Talladega Co., AL

m1 Nathaniel A. Wilkerson m2 Willis Warner Holloway Picture

Vacant space

Vacant space

Vacant space

Begin Spoonemore plot

1858

1927

1860

1932

End Spoonemore plot

Vacant space

-
-
-

Vacant space

-
-
-

Vacant space

-
-
-

Vacant space

-
-
-

Vacant space

-
-
-

25 Mar 1909

15 June 1914

Begin Henderson plot

11 Jan 1907

15 April 1907

23 Feb 1900

8 Feb 1908

End Henderson plot

15 June 1845 Perry Co. MS

Mar 1903 Atoka Co. OK

Buried Kale, Okla Grave lost

7 Feb 1828 Hamilton Co. TN

26 June 1907 Hunt Co. TX

Wed 27 Nov 1863 Harrison Co., Tex

7 Feb 1828

24 June 1907

Hand-carved stone

11 July 1904

26 June 1906

d/o Charles M. & Jessie E. Henderson

5 Oct 1867

7 Mar 1937

Married 24 Dec 1896

5 July 1869

20 Aug 1953

3 May 1838

4 Nov 1916

Pvt. Co.D 1 Ark Cav

20 Jan 1844

30 Dec 1924

13 Vacant space

-
-
-

Wire fence

-
-
-

Row 4

-
-
-

Chain link fence

-
-
-

Vacant space

-
-
-

Vacant space

-
-
-

Vacant space

-
-
-

Vacant space

-
-
-

19 Nov 1919

20 Mar 1991

7 June 1944

7 June 1944

38 Vacant space

-
-
-

Wire fence

-
-
-

Row 5

-
-
-

Chain link fence

-
-
-

11 Vacant space

-
-
-

19 Sept 1914

Jan 18 2009

Obit

14 Mar 1909

8 Dec 1993

Vacant space

-
-
-

Vacant space

-
-
-

Vacant space

-
-
-

23 June 1923

21 Nov 1974

Pvt. U.S. Army

1 Jan 1901

12 Feb 1980

17 Sept 1894

5 Aug 1964

6 Vacant space

-
-
-
-
-
-

4 Vacant space

-
-
-

1891

1906

1899

1904

8 Feb 1931

29 July 1931

---

1911

Vacant space

-
-
-

Vacant space

-
-
-

1877

1935

Begin Reeves plot

1921

1933

-

1905

1926

-

1911

1926

-

1903

1916

End Reeves plot

11 Vacant space

-
-
-

Wire fence

-
-
-

Row 6A

-
-
-
Chain link fence
-
-
-
18 Vacant space
-
-
-
Harrison, Melissa

3 July 1860

30 July 1947

Harrison, Robert T.

1 Jan 1840

2 Jan 1923

Vacant space

-
-
-

Vacant space

-
-
-

Vacant space

-
-
-

10 Feb 1878

12 Jan 1963

17 July 1907

26 June 1908

d/o S.S. & Frances Ashley

18 May 1885

9 April 1920

wife of S.S. Ashley

1844

1921

25 Mar 18989

6 April 1901

s/o J.H. & M.J. Chapman

13 Jan 1871

10 Jan 1897

Vacant space

Vacant space

1904

1910

Vacant space

Vacant space

25 Nov 1830

28 April 1905

wife of A.L. West

6 Jan 1832

19 Dec 1901

7 Vacant space

-
-
-

15 Dec 1904

25 Dec 1907

s/o T.F. & L.B. Jacobs

9 Vacant space

-
-
-

Wire fence

-
-
-

Row 6B

-
-
-

Chain link fence

-
-
-

Vacant space

Vacant space

Vacant space

Begin Money plot

Vacant space

18 June 1904

4 Mar 1998

17 Sept 1898

2 Jan 1963

1879

1933

1876

1940

Vacant space

Vacant space

End Money plot

Vacant space

25 July 1913

----

18 June 1886

21 July 1973

15 Sept 1889

12 April 1943

25 Aug 1911

17 April 1932

6 Jan 1864

2 April 1933

13 Mar 1859

22 June 1936

1884

1942

1886

1977

24 Oct 1932

25 April 1944

Begin Ashley plot

Vacant space

17 Jan 1905

29 July 1974

28 Mar 1907

5 Jan 1936

5 July 1905

19 Feb 1977

30 Dec 1935

30 Dec 1935

End Ashley plot

Vacant space

-
-
-
-
-
-

Vacant space

-
-
-

Vacant space

-
-
-

Vacant space

-
-
-

No engraving

Vacant space

Vacant space

1855

1917

W.O.W. marker

3 Oct 1866

9 Oct 1908

21 July 1898

20 June 1900

d/o L.S. & E.A. Frost

21 April 1888

16 April 1896

d/o L.S. & E.A. Frost

8 Vacant space

-
-
-

12 Jan 1888

9 Sept 1919

24 June 1888

24 Nov 1945

12 Vacant space

-
-
-

Wire fence

-
-
-