Josephine Cemetery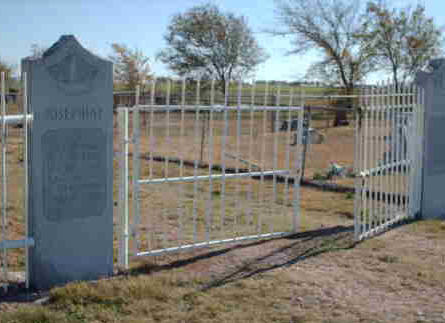 Josephine, Hunt Co Cemeteries of Tx
Submitted by Elaine Nall Bay and Patricia Nall
The town of Josephine is located in Collin Co., but the cemetery is located just across the county line in Hunt Co. Josephine is located between Caddo Mills and Nevada on FM6.
From Josephine, travel east on FM 6. Outside the city limits, pass the "Hunt Co." line sign. Turn south onto Co. Rd 2606. Travel 1.2 miles to the cemetery. The road begins as a paved road, turns into a dirt road, and then a gravel road. Consequently, the road is not safe to drive on during rainy weather.
Inscription on south entrance: "Reeds Chapel stood on this site for many years, for which the cemetery was called. The first known burial was about 1875. To show tribute and respect – a new fence and the memorial entrance was erected in 1958.
The listing of burials is alphabetical since it is small enough to located the exact burial plot easily. Those buried in a family plot will be indicated in the "Comments" column.
Name
Birth
Death
Comments
-----, Pearl Odesa
??? 25 1894
Sept 27 1894
d/o ------ (stone broken into several pieces)
A.E.R.
July 4 1901
Oct 30 1929
In Rosenbalm plot #1
Abell, Etta C.
Oct 13 1899
Sept 13 1901
d/o G.W. & N. Abell
Aday, Claude C.
Jan 23 1893
Nov 20 1969
Texas PFC 2 Wing Brig Air SVC WWI
Aday, Ellis L.
Oct 23 1857
Sept 22 1933
-
Aday, infant
----
----
d/o E.L. & M.E. Aday
Aday, J.D.
Sept 25 1914
Apr 9 1929
In Rosenbalm plot #1
Aday, Lucy Ann
1897
1952
In Rosenbalm plot #1
Aday, Mary E.
Oct 11 1863
July 2 1946
-
Aday, Melvin H.
1890
1984
In Rosenbalm plot #1
Allison, Sarah E.
May 15 1860
Sept 15 1914
Wife of J.W. Allison Aged 54 yrs, 4 mo.
Binkly, Albert Ray
July 3 1902
June 19 1903
s/o J.C. & Texe A. Binkly
Bratton, Dolly
1888
1958
-
Bratton, G.E.
July 24 1883
May 14 1933
-
Brooks, Bonnie
1940
1947
-
Brooks, Carrie Y.
1901
----
-
Brooks, Elisha W.
Dec 1 1826
Aug 10 1918
-
Brooks, Gladis
Dec 18 ----
----
Broken stone
Brooks, Mary F.
June 28 1861
Feb 5 1902
Wife of W.S. Brooks
Brooks, Ora
Aug 20 1900
Aug 21 1901
d/o J.M. & Mary Brooks
Brooks, Ray R.
1898
1975
-
Brooks, Tommy L.
July 25 1941
Dec 17 1995
-
Brooks, W.S.
Apr 15 1858
Jan 16 1917
-
Brown, Oda
Nov 17 1883
Feb 28 1888
-
Brown, Sallie B.
Nov 28 1882
Feb 7 1920
Wife of L.Z. Brown Mother of L.Z. Brown, Jr.
Campbell, J.A.
May 20 1851
Sept 22 1901
husband of Bitha Campbell
Campbell, Joe Frank
Feb 19 1908
Nov 6 1939
-
Clay, James P.
Jan 6 1853
May 2 1939
In Clay plot
Clay, Mime A.
Jan 16 1856
Apr 18 1912
Wife of J.P. Clay In Clay plot
Clay, Pearlie
1886
1962
In Clay plot
Cook, J.N.
Dec 31 1850
Oct 23 1925
-
Cook, R.E.
Feb 2 1860
Aug 20 1891
Wife of J.N. Cook
Coomer, Maud E.

Coomer, infant

July 21 1876
Jan 9 1902
Jan 27 1902

June 9 1902

Wife of E.L. Coomer
d/o E.L. & M.E. Coomer
(both on same tombstone)
Coomer, N.E.
June 1 1882
Jan 9 1887
d/o J.D. & E.C. Coomer
Eddy, infant
Jan 6 1902
Jan 6 1902
s/o A.H. & Susan Eddy
Eddy, Taylor M.
Sept 25 1899
Apr 23 1903
s/o A.H. & Susan Eddy
Elliott, Joe Will, Sr.
Nov 11 1911
Oct 22 1956
In Rosenbalm plot #1 Married Aug 20 1940
Elliott, Leeroy
Sept 5 1883
Aug 21 1906
Royse Camp #457
Elliott, Sue Aday (Susie)
Dec 31 1916
Nov 30 1997
In Rosenbalm plot #1
England, Georgia L.
1920
1994
FHM
England, H.B.
June 3 1921
May 20 1965
Texas PFC HQ Co. 1 BN 21 Infantry WWII BSM
Eubank, Victor
----
----
s/o Ruben & Neely Eubank
Eubanks, Vivian L. Myers
Sept 21 1907
Feb 17 1994
-
Gothard, Francis
Jan 22 1917
Apr 22 1991
-
Hahn, Mary (Maggie)
1891
1970
-
Haraway, Annie H.
June 23 1875
Jan 7 1907
Wife of D.P.M. Haraway
Haraway, Nannie E.
Oct 23 1874
Sept 11 1901
-
Hess, Hue
Feb 9 1890
Mar 15 1907
s/o H.T. & Ellen Hess
Hess, J.A.
July 29 1874
July 14 1898
s/o T. & E. Hess
Hill, Archie Noel
Jan 20 1917
Feb 6 1918
-
Hill, Ola Mae
Oct 28 1890
Dec 4 1917
-
Hill, W.Q.
Apr 3 1881
Jan 15 1935
-
Holmes, infant
Nov 11 1903
Nov 11 1903
infant of W.J. & N.D. Holmes
Houser, Adaline
Mar 1 1827
Apr 28 1902
-
Houser, Daniel
Dec 9 1822
----
-
Houser, Daniel Isaac
Oct 5 1853
Jan 17 1936
-
Houser, David
Sept 10 1905
Sept 10 1905
s/o G.R. & M.M. Houser
Houser, Francis Anice
Aug 11 1898
Sept 8 1899
d/o D.P. & D.A. Houser
Houser, George R.
May 2 1855
Jan 10 1933
-
Houser, Georgia Ann
June 20 1864
Dec 16 1938
-
Houser, Ida
Apr 20 1879
Aug 24 1883
d/o W.H. & Amanda Houser
Houser, Ina I.
Oct 2 1883
Jan 1 1955
In Houser plot #1
Houser, infant
Jan 28 1882
Feb 1 1882
s/o D.J. & Georgia Houser
Houser, infant
July 18 1891
July 28 1891
s/o J.F. & M.M. Houser
Houser, infant
Mar 27 1908
Mar 27 1908
s/o A.C. & E.M. Houser
Houser, Janie
Dec 9 1822
----
-
Houser, Jim A.
Feb 4 1882
Apr 4 1913
In Houser plot #1
Houser, Jimmy Alyne
1910
1926
In Houser plot #1
Houser, Mary
Mar 14 1883
Mar 14 1883
d/o G.R. & M.M. Houser
Houser, Mollie M.
Nov 20 1861
Mar 28 1937
-
Houser, Opal
Nov 27 1911
Nov 30 1911
d/o G.R. & L.M. Houser
Houser, Winnie
Apr 2 1896
June 6 1917
d/o Mr. & Mrs. D.I. Houser
Howell, Amanda M.
Apr 7 1845
----
Wife of Joseph Howell
Howell, Joseph P.
Apr 28 1834
Jan 23 1897
-
Ingram, Myrtle
1889
1972
-
Ingram, Tom
1881
1951
-
Johnston, A.S.
Mar 25 1870
Mar 10 1885
s/o M.P. & J.M. Johnston
Johnston, Jane M.
July 19 1835
July 21 1902
Wife of M.P. Johnston
Jordan, D.P.
----
Apr 6 1890
Born Franklin Co., GA- Aged 76 yrs
Jordan, Doyle
Apr 29 1897
Jan 10 1912
s/o H.E. & R.E. Jordan
Jordan, R.E.
Nov 22 1877
July 4 1903
Wife of H.E. Jordan
Jordan, Roy T.
Dec 24 1893
Sept 7 1894
s/o W.R. & M.D. Jordan
Julian, Arthur
1897
1926
In Julian plot FHM
Julian, Ettinore Meatta
Jan 27 1871
Jan 17 1960
In Julian plot
Julian, infant
----
----
d/o C.M. & O.D. Julian In Julian plot
Julian, LaTona
1951
1951
In Julian plot
Julian, Richard Alexander
Mar 10 1868
Jan 16 1924
In Julian plot
Julian, Wanda Lou
----
Feb 20 1931
In Julian plot d/o C.M. & O.D. Julian
Kirby, Charlie
1907
1946
-
Lindsey, Omar A.
Aug 12 1910
June 18 1918
-
Lindsey, Owen
Aug 7 1905
Aug 20 1906
s/o L.A. & J.W. Lindsey
Martin, Arthur D.
Feb 23 1931
Jan 4 1937
-
Martin, John Ellis
1893
1959
-
Martin, Maggie
Mar 20 1903
July 31 1984
-
Martin, Oscar E.
May 19 1899
May 9 1957
-
Martin, Zora Dixie
1898
1975
-
Mathews, William H.
1966
1969
In Rosenbalm plot #2
May, Albert G., Jr.
1829
1911
-
May, Mary Farris
1838
1920
-
Mays, Beamon
May 3 1902
Nov 8 1902
s/o G.W. & N.E. Mays
McCormack, Ollie May
Sept 13 1897
Oct 1 1897
d/o I.N. & M.A.E. McCormack
McCormack, Rachel
Jan 30 1830
Sept 18 1895
-
Miles, Annie Lucille
May 8 1925
Sept 15 1925
In Miles plot
Miles, Betty Jean Kirby
1936
1949
-
Miles, Hattie Louise
Sept 19 1919
Feb 19 1920
In Miles plot
Miles, infant daughter
----
Sept 19 1916
In Miles plot
Miles, John Henry
Sept 12 1881
June 23 1943
In Miles plot
Miles, Johnnie
Nov 28 1911
May 5 1912
In Miles plot
Miles, Lillie Houser
Jan 25 1887
Jan 20 1971
In Miles plot
Moore, infant of Mary Moore
----
----
FHM
Morris, Winnie Myers
1909
1936
In Myers plot
Morrison, Andrew M.
July 25 1851
Oct 7 1928
-
Morrison, Nancy E.
June 28 1858
Sept 7 1942
-
Myers, Annie
Nov 29 1908
Nov 29 1908
-
Myers, C.A.
June 7 1851
Feb 6 1942
In Myers plot
Myers, Ethan
Dec 26 1875
June 14 1893
s/o C.A. & S. Myers In Myers plot
Myers, James I.
Nov 22 1881
Feb 12 1947
-
Myers, Lula A.
Mar 20 1887
July 26 1970
-
Myers, Maxwell R.
1915
1916
In Myers plot
Myers, Ollie West
1887
1943
In Myers plot
Myers, Robert E. Lee
1878
1947
In Myers plot
Myers, Robert L.
1911
1914
In Myers plot
Myers, Sue
Jan 15 1853
Dec 25 1926
Wife of C.A. Myers In Myers plot
Noble, Charley
Feb 20 1887
Aug 15 1888
1st s/o J. & G. Noble
Noble, Maudie
Jan 28 1893
Dec 4 1894
d/o H. & S.A. Noble
Noble, Oscar
Aug 23 1878
Aug 19 1900
s/o H. & S.A. Noble
Pannell, Willie
May 1 1891
May 9 1894
s/o T.J. & M.A. Pannell
Parks, Betty Eubanks
Dec 27 1930
----
-
Parks, James Myers "Jimbo"
Jan 6 1963
July 3 1971
-
Parks, John Earle "Johnny"
Aug 5 1952
Nov 25 1997
-
Parks, Robert Earle
Apr 18 1927
Mar 14 1996
-
Powell, Fannie
1879
1918
-
Powell, Johnie Mae
1898
1917
-
Reagan, Foy D.
Dec 10 1931
----
In Rosenbalm plot #1
Reagan, James E.
Oct 7 1929
July 25 1984
In Rosenbalm plot #1
Reagan, Jeryl David
----
May 30 1969
In Rosenbalm plot #1
Richmond, Audrea Gothard
Aug 7 1921
June 23 1996
-
Robison, Clyde
Nov 14 1897
July 8 1899
s/o M. & Lillie Robison
Robison, Melba
Dec 8 1901
Nov 11 1904
d/o M. & Lillie Robison
Rosenbalm, Alice
1871
1943
In Rosenbalm plot #1
Rosenbalm, Dorothy M.
1922
1972
In Rosenbalm plot #2
Rosenbalm, Edna P.
1906
1985
In Rosenbalm plot #1
Rosenbalm, F.N.
Oct 29 1873
Jan 23 1917
In Rosenbalm plot #1
Rosenbalm, William F.
1904
1953
In Rosenbalm plot #1
Russell, Helen L.
1916
2006
FHM
Skipper, Hariet
Jan 7 1826
Dec 16 1890
-
Smith, W.E.
July ?? 1862
Mar 8 1911
-
Stephens, Bonnie Lucile
1928
1933
-
Stubblefield, M.J.
Jan 6 1832
July 24 1893
Wife of W.L. Stubblefield
Swanson, Tennie
Oct 21 1866
Apr 18 1890
-
Tarrant, Annie G.
Feb 15 1896
Mar 15 1900
d/o John M. & Lonetta Tarrant
Tarrant, James R.
Oct 30 1872
Nov 30 1895
-
Tarrant, infant
June 8 1893
Apr 16 1894
s/o J.M. & L.E. Tarrant
Tarrant, M.E.
June 15 1842
Feb 2 1900
Wife of Samuel Tarrant
Tarrant, Sam
Apr 3 1844
Aug 15 1911
-
Turner, M.A.
Apr 10 1833
Oct 1 1916
Wife of W.L. Turner
Turner, W.L.
Sept 7 1833
Mar 1 1913
-
Unmarked grave
----
----
beside Lillie & John Miles
Wade, Ivy William
Nov 13 1910
Aug 15 1978
-
Waits, M.G.
Aug 11 1886
Jan 27 1920
Wife of G.L. Waits
Ward, Robert D.
Jan 22 1866
Aug 13 1893
-
Warren, Alice Irene
Nov 28 1880
Mar 16 1942
-
Warren, J.C. (Neely)
Jan 24 1878
Nov 18 1962
-
Warren, Lida
Sept 3 1903
Dec 16 1919
-
Watson, Samantha Joann
Mar 11 1980
Jan 20 1991
-
Williams, Gertrude D.
Dec 25 1881
July 24 1899
d/o G.G. & M.G. Williams
Williams, Robbie P.
1937
----
In Rosenbalm plot #2
Yeatts, Bessie V.
1872
1963
-
Yeatts, Jackson
1858
1923
-
Yeatts, Preston Lee
1892
1965
-
Yelverton, Robert L.
June 19 1869
July 23 1899
-
Young, Willie Bell
May 23 1904
Sept 29 1905
d/o J.G. & T. Young
Illegible stone
-
-
-
G.J.
-
-
Broken footstone
H.E.M.
-
-
Broken footstone
T.S.
-
-
Broken footstone