GUADALUPE CEMETERY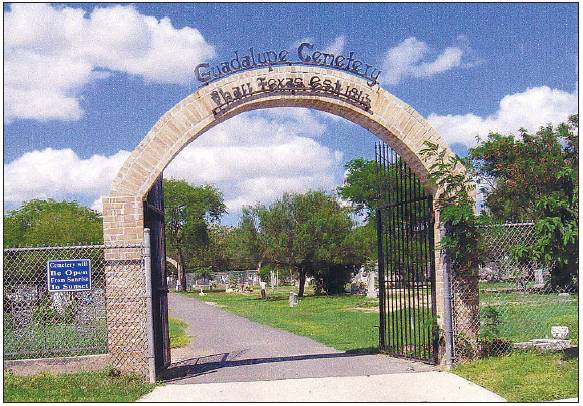 Photo by Francis Isbell
Hidalgo Co. Cemeteries of Tx
Submitted by Fabio Angell and Robert Norton
With Permission of Hidalgo Co. Historical Commission (2005)
To Search : Edit, Find, type in name, click on Find next
---
LOCATION: Pharr, Texas (N26.12.008, W98.11.288) on West Bell Street at Canna Street.
SURVEY: In progress by Las Milpas Boys & Girls Club, other volunteers.
HISTORY: Guadalupe Cemetery (named for Mexico's patron saint, the Virgin of Guadalupe) was founded in 1913 as Pharr's public burial ground. It occupies two city blocks.
The cemetery may have been in use earlier as a ranch cemetery. Pharr is located on Porcion 69 awarded to Juan Jose Hinojosa of Reynosa in 1767; he probably stationed herdsmen there to watch over his cattle and small ranch communities developed, which included cemeteries.
During the 1920s and 1930s, a man sold burial plots, but he left town without leaving records. Reliable records date from 1926. A directory is being compiled. There are between 1,000 and 1,500 graves. It is maintained by the Pharr Parks & Recreation Department.
---
Marion Gail Frasier, Apr 16 1930 , Aug 27 1931 Bios