Chambersville Cemetery
Collin Co Cemeteries of Texas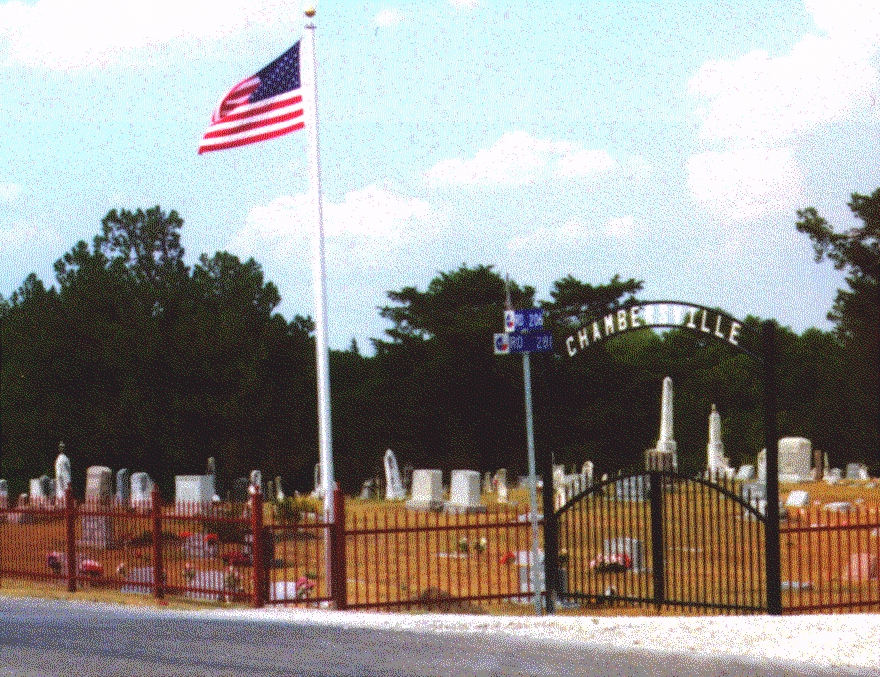 Submitted & Photos by Ben F. Giles
The Chambersville Cemetery has been in use in Collin County since 1853. It is located about 10 miles NNW of McKinney, Texas at the intersection of County Road #206 and #281. To go to the cemetery from McKinney, take State Hiway 543 at Exit 43 on U.S. Hiway 75. Go north about 1.5 miles to the intersection of County Road 206 and State Hiway 543. Take 206 north about 3 miles to Road 281 and the Chambersville Cemetery.
The cemetery was established on land donated by Elisha Chambers, born in Burke county, North Carolina, and wife, Margaret Ann (Mannon) Chambers, born in Owen county, Indiana. The first burial was their child, Lewis Cass Chambers, born January, 1852, died Sept. 1, 1853. Land was donated for a cemetery and school. The location was named "Chambersville" in honor of the donors of the site. The cemetery grounds were for donated as public burying grounds.
The up-keep has been supported by donations from friends and relatives. A Texas State Historical Marker was placed near the Cemetery entrance in May 2000. Names and tombstone inscriptions listed were obtained from an examination of the actual tombstones in the Cemetery. There are some names listed without a location that were obtained from a list prepared in 1972 by Doris Posey, Wanda O"Roark and Alice Pitts. In these instances, no marker could be found but it is assumed that some type of marker existed in 1972.
A-C...............D-M...................N-Z
| | | | | | | |
| --- | --- | --- | --- | --- | --- | --- |
| Surname | Name | Row# | Lot# | Birthdate | Deathdate | Inscription |
| Adamson | Cristina Adamson | G | 5 | 26 Feb 1861 | 25 Oct 1881 | 1st wfe of Henry Sutton Adamson- bro of Larkin L. He is not buried here. |
| Adamson | Cunningham Adamson | G | 26 | Dec 1826 | 26 Feb 1863 | Son of Thomas & Jane Adamson |
| Adamson | Earl T. Adamson | G | 14 | | | Presumed to be son of Larkin L & Nancy R. (Routh) Adamson. An early stone had markings "ETA" & "Darling" |
| Adamson | Earnest Adamson | | | | | Son of M. |
| Adamson | Huldah Isadora Adamson | G | 8 | 6 Jul 1863 | 25 Jun 1880 | Dau. of Larkin A. & Malinda Adamson |
| Adamson | Larkin Adamson | G | 16 | 14 Aug 1806 | 13 Jan 1872 | 9th child of Simon(Jr) & Eleanor(Routh) Adamson. Larkin was one of the founders of Weston Texas and named it after his former home- Weston Missouri. |
| Adamson | Larkin A.(?) Adamson | F | 20 | 7 Jul 1828 | 5 Jul 1911 | Son of Thomas & Jane Adamson |
| Adamson | Malanda Adamson | F | 19 | Age 82 | 3 Feb 1904 | Wife of Larkin A. Adamson |
| Adamson | Martha A. Adamson | G | 2 | 29 Feb 1854 | 17 Aug 1886 | dau. of Larkin A. & Malinda Adamson |
| Adamson | Matilda H. Adamson | I | 13 | 10 Sep 1858 | 27 Dec 1860 | dau. of Larkin A. & Malinda Adamson |
| Adamson | Nancy F. Adamson | G | 13 | 26 Nov 1806 | 1 Nov 1873 | wife of Rev. Larkin L. Adamson |
| Agee | Margaretta Agee | J | 16 | 10 Dec 1835 | 14 Mar 1866 | wife of John C. |
| Allen | Infant Allen | V | 43 | 11 Mar 1896 | 11 Mar 1896 | Infant of L. R. & R. A. |
| Allen | Jane Allen | K | 53 | 1845 | 1931 | |
| Allen | Loran Allen | V | 44 | 23 Mar 1890 | 5 Nov 1893 | son of L.F. & R. A. |
| Anderson | Ammon L. Anderson | 2-M | 16 | 1869 | 1951 | |
| Anderson | Amon Crook Anderson | W | 67 | 5 Dec 1899 | 29 Sep 1974 | Husb. of Lucile Drury |
| Anderson | Arty Raymond Anderson | 2-M | 13 | 1907 | 1972 | |
| Anderson | Edith M. Anderson | 2-N | 16 | 1907 | 1963 | |
| Anderson | Elinoy Anderson | M | 12 | 1873 | 1956 | wife of Thomas L. |
| Anderson | Fred T. Anderson | 2-N | 15 | 1900 | 1970 | |
| Anderson | Ida Anderson | 2-M | 15 | 1872 | 1945 | wife of Ammon L. |
| Anderson | Jessie A. Anderson | N | 48 | 30 Mar 1899 | 25 May 1900 | dau of A. L. & Ida |
| Anderson | J. W. Anderson | M | 8 | 1861 | 1930 | A tender Mother & Faithful Father |
| Anderson | Lucile Drury Anderson | W | 68 | 27 Jul 1910 | 12 Jul 1975 | Dau. of J.K. Drury |
| Anderson | L. E. Anderson | M | 9 | 1860 | 19__ | A tender Mother & Faithful Father |
| Anderson | Matt Anderson | M | 10 | 21 Aug 1897 | 18 Oct 1918 | |
| Anderson | Thos.L. Anderson | M | 11 | 1865 | 1945 | |
| Anderson | Viola R. Anderson | 2-M | 14 | 1908 | 1955 | |
| Armstrong | Baby Armstrong | 2-O | 15 | | | no evidence of grave here |
| Armstrong | Benton Clark Armstrong | A | 45 | 19 Jul 1892 | 21 Oct 1940 | |
| Armstrong | Charles B. Armstrong | 2-C | 11 | 16 Mar 1926 | 11 Jun 1945 | Texas S1 C U.S.Navy WW II |
| Armstrong | Leonard Armstrong | A | 49 | | | |
| Armstrong | Mrs L. T. Armstrong | A | 48 | | | |
| Armstrong | ? Armstrong | 2-O | 16 | | | no evidence of grave here |
| Armstrong | __ Armstrong | A | 46 | | | |
| Armstrong | __ Armstrong | A | 47 | | | |
| Bagley | Opal Blanche Bagley | 2-E | 8 | 19 Nov 1892 | 26 Apr 1966 | |
| Baker | Buford Baker | J | 46 | 2 mo.& 4 days | 19 Jan 1897 | 2 months & 4 days |
| Baxter | Sarah E. Baxter | J | 12 | 16 Sept 1831 | 14 Oct 1871 | wife of W. P. |
| Berry | Alta E. Berry | L | 17 | 1881 | 1968 | wife of John W. |
| Berry | John W. Berry | L | 16 | 1871 | 1966 | |
| Billions | R. S. Billions | K | 45 | 8 Jun 1866 | 9 Jul 1900 | wife of W.H. |
| Billions | William Henry Billions | K | 44 | | | |
| Birmes | Dorothy J. "Dot" Birmes | 2-S | 8 | Feb.12,1911 | Nov 4,2000 | TOGETHER AGAIN |
| Birmes | William "Bill" Birmes | 2-S | 7 | Dec.12,1910 | Dec.14,1982 | TOGETHER AGAIN |
| Black | Ester Joannah Black | G | 9 | 30 Jun 1850 | 14 Apr 1901 | Dau. of Simon H. Wilson. Husband probably buried at Gainesville-Texas |
| Blackwell | Lora Rivers Blackwell | U | 54 | 15 Aug 1897 | 29 Apr 1961 | |
| Blackwell | P. D. (Doll) Blackwell | U | 53 | 9 Apr 1892 | 17 Oct 1964 | |
| Blake | Josephine Blake | V | 18 | 8 Jun 1854 | 17 Jun 1924 | |
| Bounds | Carroll W. Bounds | O | 23 | 6 Nov 1838 | 5 Feb 1882 | |
| Bounds | Della Bounds | O | 32 | 1868 | 1953 | |
| Bounds | Dora Bounds | O | 28 | 18 Jan 1871 | 27 Apr 1887 | |
| Bounds | Infant Bounds | O | 22 | | | Infant of C. W. & M. L. |
| Bounds | Infant Bounds | O | 21 | | | Infant of C. W. & M. L. |
| Bounds | Keziah Bounds | O | 20 | 20 Oct 1797 | 30 Sept 180_ | wife of W. M. |
| Bounds | Mary L. Bounds | O | 25 | 13 May 1843 | 9 Mar 1902 | wife of C. W. |
| Bounds | Mittie Bounds | O | 31 | 1880 | 1936 | |
| Bourland | Infant Bourland | I | 47 | | 14 Nov 1928 | Infant son of Ray |
| Bourland | Irene Bourland | 2-I | 7 | 3 Apr 1902 | 1 Jun 1982 | Wife of Ross O. |
| Bourland | Rev. Ross O. Bourland | 2-I | 8 | 24 May 1899 | 6 Oct 1972 | Married 12 Apr 1920 |
| Bowers | Carrie Bowers | 2-B | 12 | 1 Oct 1897 | 21 Apr 1975 | wife of J. Gray |
| Bowers | J. Gray Bowers | 2-B | 11 | 13 Apr 1895 | 23 Jan 1960 | |
| Boyer | Frances L. Boyer | R | 19 | 18 Oct 1818 | 31 Aug 1880 | wife of Wm. |
| Boyer | William Boyer | R | 17 | 18 Feb 1819 | 10 Jul 1887 | |
| Brandon | Savannah R. Brandon | 2-M | 7 | 1988 | 1988 | |
| Brimer | Daisy Brimer | F | 52 | 19 Aug 1895 | 21 Nov 1908 | dau of J. V. & L. E. |
| Brimer | Jake Brimer | F | 48 | | | |
| Brimer | Janie Brimer | F | 53 | 2 Aug 1897 | 15 Jun 1898 | dau of J. V. & L. F. |
| Brimer | John O. Brimer | G | 53 | 1899 | 1921 | |
| Brimer | Joseph E. Brimer | G | 49 | 1872 | 1937 | |
| Brimer | Josie Lucille | G | 52 | 27 May 1910 | 10 Sept 2000 | |
| Brimer | Mildred L. Brimer | G | 48 | 1907 | 1944 | |
| Brimer | Talitha C. Brimer | G | 51 | 1894 | 1952 | wife of J. E. |
| Brimer | Tommy G. Brimer | G | 54 | 24 Mar 1905 | 5 May 1906 | |
| Brown | Addison N. Brown | D | 7 | 20 May 1827 | 30 Oct 1903 | |
| Brown | Annie L. Brown | D | 6 | 21 Sept 1840 | ? | wife of A. N. |
| Brown | Ben F. Brown | U | 9 | 19 Feb 1884 | 4 Dec 1910 | hus of Beulah |
| Brown | Carlis E. Brown | V | 9 | 30 Nov 1885 | 12 Jan 1886 | son of T. G. & G. A. |
| Brown | Iva M. Brown | 2-I | 11 | 1891 | 1963 | wife of John T. |
| Brown | John Glenn Brown | 2-I | 12 | 1926 | 1947 | |
| Brown | John T. Brown | 2-I | 10 | 1894 | 1960 | |
| Brown | Louella Brown | U | 6 | 16 Sep 1882 | 5 Jul 1968 | |
| Brown | Mary E. Brown | D | 11 | 27 Jun 1879 | 14 Aug 1968 | dau of A.N. & A. L. |
| Brown | Orvie F. Brown | W | 16 | 11 Jul l1899 | 26 May 1900 | dau of S. C. & Dora |
| Brown | Thelliard H. Brown | U | 7 | 26 Mar 1874 | 12 Apr 1948 | Marker/Louella |
| Brown | Thomas George Brown | 2-J | 11 | | 1992 | |
| Brown | T. G. Brown | V | 7 | 14 Jul 1849 | 8 Oct 1913 | |
| Brown | Vita Marie Brown | 2-J | 12 | 1907 | 1993 | |
| Bryan | Elizabeth Bryan | K | 8 | 20 Jan 1842 | 10 Dec 1926 | wife of J. M. |
| Bryan | Francis M. Bryan | K | 27 | 28 Nov 1874 | 20 Apr 1876 | son of J. M. and E. |
| Bryan | Jacob H. Bryan | K | 29 | 20 Mar 1881 | 25 Apr 1881 | son of J. M. & E. |
| Bryan | Jacob M. Bryan | K | 9 | 20 Feb 1839 | 10 Dec 1915 | Father |
| Bryan | Lorena Bryan | K | 30 | 13 Mar 1873 | 22 Dec 1889 | dau of J. M. & E. |
| Bryan | Milley A. Bryan | K | 26 | 14 Dec 1870 | 22 Sept 1871 | dau of J. M. & E. |
| Buchanan | James G. Buchanan | C | 12 | | | |
| Buchanan | Letha V. Buchanan | C | 13 | 17 Jan 1847 | 19 Nov 1884 | wife of J. W. |
| Buckley | A. D. Buckley | I | 31 | 19 Jan 1833 | 29 Jan 1907 | |
| Buckley | Martha J. Buckley | I | 32 | 30 Jan 1829 | 9 Mar 1891 | |
| Buckley | Susan A. Buckley | J | 19 | 26 Nov 1854 | 10 Sep 1859 | dau of A. D. & M. J. |
| Buffington | L. M. M. Buffington | S | 4 | 30 Oct 1860 | 30 Nov 1942 | |
| Buffington | Nannie A. Buffington | S | 6 | 25 Oct 1858 | 14 Dec 1924 | wife of L. M. M. |
| Buffington | Phillip P. Buffington | S | 3 | 21 Mar 1888 | 9 Dec 1917 | |
| Bullard | Annie Bell Bullard | T | 25 | 3 Nov 1900 | 27 Nov 1918 | dau of G. W. & Margaret |
| Bullard | George W. Bullard | T | 27 | 1859 | 1929 | |
| Bullard | Margaret P. Bullard | T | 26 | 1861 | 1944 | |
| Burch | Celia R. Burch | A | 8 | 1830 | 17 Dec 1905 | wife of Jas O. |
| Burch | Cora E. Burch | A | 15 | 5 Dec 1869 | 29 Mar 1875 | dau of J. E. & M. A. |
| Burch | David Burch | 2-D | 18 | 12 Feb 1947 | 9 April 1999 | |
| Burch | F. Johnson Burch | 2-B | 20 | 26 Jun 1861 | 1 Jan 1944 | |
| Burch | Ida Jennings Burch | 2-C | 20 | 19 Aug 1896 | 23 Jan 1943 | |
| Burch | Infant Burch | A | 11 | 26 Jun 1899 | 4 Jul 1899 | son of J. S. & M. T. |
| Burch | Irma Irene Burch | A | 6 | 3 Jan 1891 | 30 Mar 1912 | |
| Burch | James G. Burch | A | 7 | 4 Mar 1828 | 12 Mar 1905 | |
| Burch | James Otto Burch | L | 15 | 18 Sep 1881 | 28 Dec 1881 | son of A. M. & M. E. |
| Burch | Joseph Clothier Burch | 2-C | 19 | 24 Jan 1895 | 7 Apr 1981 | |
| Burch | Joseph S. Burch | B | 5 | 1850 | 1929 | |
| Burch | Louis Walter Burch | 2-D | 19 | 7 Aug 1919 | 16 Nov 1981 | |
| Burch | Mary Frances Burch | 2-D | 20 | 4 Dec 1918 | 6 Apr 2002 | |
| Burch | Minnie T. Burch | B | 4 | 1871 | 1958 | |
| Burch | Sarah Ann Burch | A | 13 | 8 Sept 1861 | 3 Apr 1884 | wife of J. S. |
| Burch | William Pearl Burch | B | 3 | 1888 | 1980 | Pvt U.S.Army |
| Burge | Charlotte A. Burge | P | 10 | 15 Oct 1834 | 21 Mar 1897 | wife of Wm R. (Mother of J.J. & E. S.) |
| Burge | Clyde C. Burge | O | 10 | 1880 | 1931 | |
| Burge | Edgar S. Burge | O | 11 | 1858 | 1934 | |
| Burge | Fred C. Burge | O | 12 | 1881 | 1935 | |
| Burge | Infant Burge | P | 11 | 21 Nov 1884 | 15 Mar 1886 | Infant of E. S. & Maggie |
| Burge | Maggie Baxter Burge | P | 9 | 3 Nov 1859 | 26 Sept 1923 | wife of E. S. |
| Burkett | Dudley Burkett | 2-M | 9 | 1907 | 1992 | |
| Burkett | Myrtle Burkett | 2-M | 10 | 1905 | 2002 | |
| Burkett | Pearl Burkett | R | 42 | 17 Feb 1880 | 30 Jul 1883 | dau of J. & D. |
| Burton | Emma M. Burton | 2-G | 15 | 1900 | 1963 | Wife of J. Trab |
| Burton | Issac D. Burton | 2-M | 20 | 1870 | 1941 | |
| Burton | J. Trab Burton | 2-G | 14 | 1892 | 1975 | Owned Chambersville Store for many years |
| Burton | Lem I. Burton | T | 46 | 6 Mar 1902 | 22 May 1908 | son of I.D. & N. E. |
| Burton | Mary L. Burton | 2-M | 19 | 1873 | 1959 | wife of Isaac D. |
| Campbell | William Campbell | R | 39 | 25 Dec 1809 | 28 Nov 1878 | |
| Carter | Baby Carter | Y | 74 | | | |
| Carter | Chester A. Carter | W | 73 | 1895 | 1980 | U. S. Army W.W. II |
| Carter | Grace Wandene Carter | X | 78 | 4 Sept 1934 | 4 Sep 1934 | |
| Carter | Nellie R. Carter | W | 74 | 24 Apr 1903 | 19 Feb 1933 | |
| Chambers | Eldon M. Chambers | K | 7 | 5 Jan 1919 | 10 May 1919 | |
| Chambers | Elijah Windsor Chambers | K | 14 | 29 Feb 1840 | 1 Mar 1892 | |
| Chambers | Elisha Chambers | K | 11 | 23 Apr 1810 | 14 Jun 1885 | |
| Chambers | Elisha Miller Chambers | K | 38 | 12 Feb 1878 | 8 May 1928 | "Daddy" |
| Chambers | Guy B. Chambers | K | 6 | 9 Aug 1921 | 7 Apr 1922 | |
| Chambers | Julia Chambers | K | 5 | 1886 | 1944 | |
| Chambers | Lewis C. Chambers | K | 21 | 4 Jan 1852 | 1 Sept 1853 | son of E. & M. A.1st grave in Chambesville Cemetery |
| Chambers | Mahala M. Chambers | K | 15 | 20 Dec 1845 | 22 Dec 1924 | wife of Elijah W. |
| Chambers | Margaret A. Chambers | K | 12 | 20 July 1818 | 20 Apr 1901 | wife of Elisha |
| Chambers | Robert A. Chambers | K | 1 | 1906 | 1953 | |
| Chambers | R. M. Chambers | K | 4 | 1881 | 1956 | |
| Chambers | Willie Finis Chambers | K | 20 | 2 Sept 1867 | 15 Oct 1868 | son of E. H. & M.M.1yr1mo13days |
| Chandler | Albert Chandler | I | 37 | 1826 | 1912 | Early Texas Ranger |
| Chandler | Arl Chandler | 2-I | 16 | 1898 | 1944 | |
| Chandler | Baby Chandler | T | 73 | Nov 1930 | Nov 1930 | |
| Chandler | Billie A. Chandler | T | 74 | 1934 | 1937 | |
| Chandler | Burilla Chandler | I | 38 | 1841 | 1922 | |
| Chandler | Cora E. Chandler | I | 42 | 1875 | 1948 | |
| Chandler | Cylistine L. Chandler | 2-G | 8 | Jul 18, 1917 | | |
| Chandler | Emma B. Chandler | I | 25 | 8 Aug 1873 | 6 Jul 1887 | dau of A. & B. |
| Chandler | Fred A. Chandler | I | 33 | 1905 | 1988 | Son of Albert |
| Chandler | Infant Chandler | I | 28 | 6 Mar 1900 | 15 Mar 1900 | Inf of P.L. & S.F. |
| Chandler | Infant Chandler | I | 26 | 11 Apr 1891 | 11 Apr 1891 | M. M. & B. A. |
| Chandler | Inf.of M.M.&Rillie Chandler | I | 35 | | 29 Aug 1911 | Infant & mother in same grave |
| Chandler | Marvin C. Chandler | 2-G | 7 | Jan 4, 1923 | | |
| Chandler | Marvin M. Chandler | 2-I | 14 | 1868 | 1949 | Son of Albert |
| Chandler | Mary M. Chandler | 2-I | 15 | 1883 | 1969 | |
| Chandler | Mary V. Chandler | I | 44 | 18 Feb 1902 | 20 Mar 1969 | |
| Chandler | M. S. Chandler | 2-I | 13 | 1965 | 1965 | |
| Chandler | Preston L. Chandler | I | 41 | 1871 | 1944 | Son of Albert |
| Chandler | Rillie Chandler | I | 35 | 2 Sep 1872 | 29 Aug 1911 | wife of M. M. Infant in same location |
| Chandler | Robert S. Chandler | I | 40 | 12 Oct 1894 | 23 Oct 1912 | |
| Chandler | Thomas E. Chandler | S | 73 | 11 Jun 1924 | 28 Aug 1944 | Texas Pvt 119 Inf. 30 Inf Div. WW II ggrandson of Albert-son of Albert II |
| Chandler | Virgil P. Chandler | I | 43 | 13 Jul 1896 | 9 Spe 1987 | Son of Preston Chandler |
| Chipman | Elizabeth A. Chipman | D | 9 | 1831 | 1919 | |
| Chipman | Joseph H. Chipman | D | 16 | 5 Apr 1870 | 18 Apr 1870 | Son of I.C. & N. J. |
| Chipman | Nancy J. Chipman | D | 22 | 21 Jul 1844 | 6 Oct 1897 | wife of I. C. |
| Chipman | Sarah M. Chipman | D | 10 | 20 Sep 1848 | 31 Dec 1901 | |
| Chipman | Willie B. Chipman | D | 26 | 30 Jun 1910 | 10 Jul 1910 | son of E. S. & A. C. |
| Clark | Kimberly G. Clark | AA | 83 | 28 ? 1975 | 28 ? 1975 | Our Little Girl |
| Clark | Shannon E. Clark | AA | 82 | 1958 | 1993 | |
| Clay | Barbara Sue Clay | V | 24 | 26 Jun 1940 | 16 Sep 1940 | |
| Clay | Ruby Helen Clay | AB | 61 | 26 Aug 1921 | 4 Jul 1959 | |
| Cloer | D. C. Cloer | P | 43 | 16 Aug 1876 | 2 Jul 1883 | sandstone marker |
| Cloer | Rozey B. Cloer | P | 44 | 13 Sep 1878 | 9 Aug 1883 | sandstone marker |
| Close | Clarmenzy Close | L | 47 | 1890 | 1939 | dau. of John Belton Giles |
| Close | J. Raymond Close | V | 66 | 10 Apr 1907 | 17 Oct 1934 | Son of Wink & Clarmenzy |
| Close | Mary J. Close | O | 38 | 1 Jun 1847 | 17 Jul 1904 | wife of J. G. |
| Close | Vera Estelle Close | O | 41 | 18 Jul 1902 | 17 May 1906 | dau of W. T. & M. B. |
| Close | Vida Ann Close | V | 65 | 20 Jun 1933 | 20 Jun 1933 | dau of Raymond & Lucile (Drury) (Anderson) Close |
| Close | W. (Wink) L. Close | L | 48 | 1882 | 1949 | |
| Close | W.(Bill) T. | L | 49 | 4 Apr 1924 | 9 Nov 2000 | |
| Cochran | Bettie E. Cochran | B | 37 | 15 Apr 1847 | 23 Feb 1893 | Daughter of William Giles |
| Coleman | W. W. Coleman | E | 11 | 1842 | 1881 | |
| Combs | Danna Lee Combs | N | 1 | | 8 Oct 1941 | dau of W.L. & Nathalia O. |
| Conley | John C. Conley | L | 41 | 1871 | 1948 | |
| Conley | Minnie F. Conley | L | 42 | 1879 | 1951 | |
| Connor | Connor | L | 7 | | | |
| Connor | Connor | L | 6 | | | |
| Cotner | Mary C. Cotner | K | 3 | 15 Jun 1851 | 29 Sep 1876 | |
| Cox | Chas. F. Cox | W | 13 | 19 May 1870 | 30 Jun 1906 | |
| Cox | Clarence F. Cox | S | 10 | 1892 | 1981 | Chambersville School Teacher for many years |
| Cox | Cynthia Adamson Cox | F | 21 | 1851 | 1925 | wife of John W. Cynthia Ann Cox - Dau. of Larkin A. & Malinda Adamson |
| Cox | Cyrus Avner Cox | S | 26 | 12 Sep 1892 | 9 Feb 1975 | |
| Cox | C. Austin Cox | S | 27 | 11 Feb 1859 | 17 Jan 1936 | |
| Cox | Helena Cox | W | 12 | 10 Feb 1875 | 6 Feb 1899 | wife of C. F. |
| Cox | Infant Cox | S | 37 | | | |
| Cox | Infant Cox | S | 36 | | | |
| Cox | Infant Cox | S | 31 | | | |
| Cox | James Cox | S | 35 | 23 Nov 1838 | 11 Nov 1885 | |
| Cox | Jerry G. Cox | Y | 75 | 1939 | 1939 | |
| Cox | Jo Ann Cox | S | 9 | 1869 | 1962 | |
| Cox | John W. Cox | F | 22 | 1857 | 1947 | |
| Cox | L. M. Cox | W | 21 | 28 Jan 1863 | 8 Nov 1938 | |
| Cox | Martha Cox | S | 30 | 9 Jul 1906 | 22 Apr 1907 | dau of C. A. & S. L. |
| Cox | Martin A. V. Cox | S | 33 | 27 Mar 1877 | 22 Jan 1890 | marker/James |
| Cox | Mary Alice Cox | S | 34 | 2 Apr 1865 | 10 Feb 1886 | marker/James |
| Cox | Mary A. Cox | S | 32 | 10 Aug 1838 | 26 Nov 1910 | wife of James |
| Cox | Ray Cox | T | 30 | 14 Aug 1899 | 22 Nov 1920 | son of T. B. & M. S. |
| Cox | Richmon O. Cox | Y | 76 | 1901 | 1964 | |
| Cox | Roland B. Cox | W | 15 | 1905 | 1927 | |
| Cox | R. O. Cox | S | 8 | 14 Feb 1861 | 7 Apr 1948 | |
| Cox | S. Lavie Cox | S | 28 | 19 Jul 1864 | 6 Dec 1939 | |
| Cox | Thos. B. Cox | T | 29 | 27 Oct 1867 | 14 Dec 1928 | |
| Cox | Vester Cox | S | 7 | 21 Dec 1893 | 1 May 1939 | |
| Cox | W. C. (Dub) Cox | Y | 77 | 4 Aug 1924 | 19 Aug 1990 | |
| Cox | "Mother" Cox | | | ? | ? | "Mother" no name on grave |
| Curry | Clovis Curry | V | 23 | 22 Mar 1912 | 8 Feb 1913 | son of T. L. & E. M. |
| Curry | Ethel Mae Curry | V | 27 | 10 Apr 1887 | 24 May 1972 | |
| Curry | Thaddious L. Curry | V | 26 | 1872 | 1951 | |
| C. | W.A.C. | K | 46 | | | |