Pecan Grove Cemetery Section 16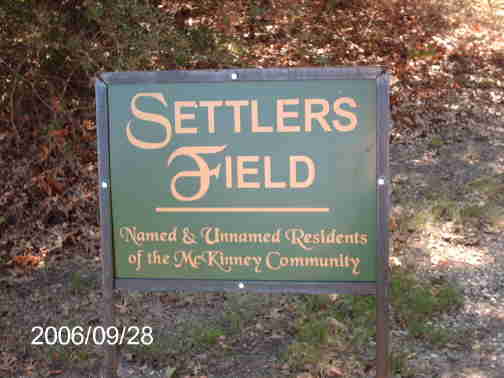 Settlers Field – Named & Unnamed Residents of the McKinney Community
(1870-1958)
McKinney, Collin Co Cemeteries of Texas

Submitted by Elaine Nall Bay & Patricia Nall

-

The name "Pecan Grove Memorial Park", granted in a new charter in 1964, commemorates the courageous and compassionate pioneer men and women of the vicinity. One of these, Dr. James Webb Throckmorton (1825 - 1894) was a Texas Legislator in the 1850s; became a confederate brigadier general during the Civil War, was governor of Texas in 1866-67, and was in the United States Congress, intermittently, from 1875 to 1888. Pecan Grove Decoration Day is held every spring. [1976]

**********************

Located at the corner of Prairie Rose & Trinity Trail. Labeled on map as section 16 for transcription purposes only.
Name
Birth
Death
Comments
Row 1
-
-
-
Garza, Gilbert
June 7 1948
June 21 1987
CPL US Marine Corps Vietnam
8 vacant spots
-
-
-
Row 2 – no markers
-
-
-
Row 3 – no markers
-
-
-
Row 4 – no markers
-
-
-
Row 5 – no markers
-
-
-
Row 6 – no markers
-
-
-
Row 7
-
-
-
Cage, Katherine
Apr 4 1909
June 4 1996
Married Oct 4 1934
Cage, Erwin L.
Oct 11 1906
Aug 16 1992
CMB US Navy WWII
5 vacant spots
-
-
-
Row 8
-
-
-
Lanier, Ellis G.
June 18 1906
Nov 21 1978
Sgt US Army WWII
Gilliland, Dora H.
Dec 8 1891
Nov 29 1980
-
Clayton, Marjorie L.
Aug 5 1917
Nov 1 1985
-
5 vacant spots
-
-
-
Row 9 – no markers
-
-
-
Row 10
-
-
-
Harris, E. Geneva
Sept 18 1931
Aug 20 1977
-
Vacant spot
-
-
-
White, Willie G.
Nov 22 1902
Jan 22 1987
Pvt US Army WWII
4 vacant spots
-
-
-
Row 11
-
-
-
Hubble, Major Merle
Feb 8 1919
Mar 6 1980
Texas US Navy C.B. WWII
Married June 20 1937
Hubble, Grace Douglas
Aug 10 1915
----
-
4 vacant spots
-
-
-
Row 12
-
-
-
Cage, Darcy C.
Sept 30 1914
June 3 1983
S1 US Coast Guard WWII
Married Dec 25 1936
Cage, Verna D.
Jan 22 1913
----
-
Carrington, Maggie Lee
Oct 22 1923
----
Married Nov 20 1942
Carrington, Robert Clark
Mar 6 1918
Dec 18 2000
-
2 vacant spots
-
-
-
Row 13
-
-
-
Castro, Mrs. Florence
1909
198-
FHM
Castro, Alex
July 24 1886
Dec 27 1972
-
4 vacant spots
-
-
-
Row 14
-
-
-
Estep, Omega
Aug 31 1934
Dec 16 1998
-
Ferguson, Joshua L.
Feb 24 1993
Feb 26 1993
s/o Jerry & Valerie Ferguson
Ferguson, Gene W.
Mar 20 1927
Jan 7 1986
PFC US Army WWII
Ferguson, Doris J.
July 12 1931
----
-
2 vacant spots
-
-
-
Row 15
-
-
-
Shelton, Melissa (Chickie)
Oct 22 1969
Aug 5 1985
-
Barrientez, Clara B.
Sept 13 1925
----
-
Barrientez, Domingo F.
Feb 25 1923
Feb 16 1998
-
3 vacant spots
-
-
-
Row 16
-
-
-
Wilson, Louise White
Sept 29 1912
----
-
5 vacant spots
-
-
-
-