Decatur-Maxwell-Murphy Cemetery 1-6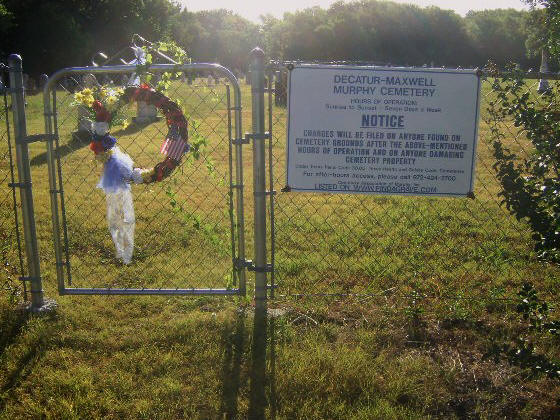 Murphy, Collin Co. Cemeteries of TX
Submitted by Elaine Nall Bay and Patricia Nall
From the intersection of Murphy Rd. and FM 544, turn north onto FM 2551. Cross railroad tracks. Turn east onto Tom Clevenger Dr., just past the Murphy Fire & Rescue station. Travel about ¼ mile; at the curve in the road, turn north onto gravel road with sign "No Outlet". Travel the 1-lane gravel road over the bridge. The cemetery is located behind the school building.
Rows transcribed in North to South direction.
The 3 names are combined for the cemetery - see attached photo:

Comfort A. McMillen moved to the area in 1846. The community was first called Old Decatur and then Maxwell Branch. In 1888 when the St. Louis and Southwestern Railroad (Cottonbelt) came through, the name was changed to Murphy. It was named for William Murphy, who moved to the area in 1850. At one time Murphy had 3 gins, a drug store, several grocery stores, a post office, a barber shop, an ice house, a blacksmith shop and a cafe.

James W. Maxwell deeded 3 acres of land for a cemetery in 1886. Maxwell Creek is on the eastern edge of the cemetery, with a small creek on the south. The cemetery has several names. Today most people refer to it as the Murphy Cemetery.
Name
Birth
Death
Comments
Row 1
-
-
-
20 spaces
-
-
-
Gate
-
-
-
14 spaces
-
-
-
Dowling, Mattie A.
June 28 1877
June 29 1878
d/o W.J. & M.M. Dowling
Reese, Lottie Bell
Jan 13 1882
Aug 4 1883
d/o R.C. & S.E. Reese
2 spaces
-
-
-
Row 2
-
-
-
McMillen, Charley D.
Apr 27 1861
Aug 3 1878
s/o L. & A. McMillen
McMillen, Almedia
1823
June 24 1884
Wife of Louis McMillen
6 spaces
-
-
-
Armstrong, Mary E.
Dec 21 1872
Apr 26 1879
d/o W.P. & Annie A. Armstrong
Armstrong, S.A.
Mar 18 1867
Nov 24 1878
d/o W.P. & A.A. Armstrong
Armstrong, C.C.
Dec 8 1860
Apr 29 1877
s/o W.P. & A.A. Armstrong
Dunlap, -----n D.
July 15 18--
Nov 1 1879
-
Johnson, Alice
Mar 20 1875
-----
-
Johnson, Iola
May 13 1880
July 9 1881
-
3 spaces
-
-
-
Garrett, Benjamin F.
Apr 20 1868
Feb 19 1887
-
1 space
-
-
-
Entrance path
-
-
-
3 spaces
-
-
-
Smith, Rev. J.T.
1869
1941
-
Smith, M.C.
1874
19--
-
1 space
-
-
-
-------, S.A.
-
July 30 ----
"My Wife"
6 spaces
-
-
-
Pitts, Nessie May
Mar 3 1884
June 8 1887
d/o C.W. & N.J. Pitts
England, baby girl
-----
Apr 22 1925
-
England, infant
Sept 14 1918
Sept 14 1918
s/o Amos & Emma England
5 spaces
-
-
-
Chandler, John T.
Nov 21 1825
Oct 25 1885
-
1 space
-
-
-
row 3
-
-
-
1 space
-
-
-
Marsalis, M.J.
July 17 1853
Nov 3 1877
Wife of ?.B. Marsalis
Williams, Etha
May 7 1888
Oct 3 1888
d/o J. & S.E. Williams
4 spaces
-
-
-
Parker, L.
Aug -- ----
Feb -- ----
-
Parker, J.W.
Dec 25 1809
Mar 9 1862
-
4 spaces
-
-
-
Garrett, infant
----
1873
d/o G.W. & L. Garrett
Garrett, Lucinda
Feb 20 1832
July 29 1876
Wife of G.W. Garrett
Entrance path
-
-
-
4 spaces
-
-
-
Russell, Mary E.
Jan 9 1855
Aug 16 1861
d/o J.V. & N.J. Russell
Russell, James W.
Oct 12 1864
Sept 3 1866
s/o J.V. & N.J. Russell
7 spaces
-
-
-
Poynter, Mettie Bell
Mar 25 1880
June 8 1880
Aged 2 months, 18 days
4 spaces
-
-
-
Gentry, M.W.
Dec 10 1825
Jan 19 1917
-
Daniel, W.
-
-
footstone
1 space
-
-
-
Broken headstone
Jan 12 ----
Dec -- ----
-
Row 4
-
-
-
McMillen, W.A.
Mar 8 1847
Mar 17 1921
Begin McMillen plot
McMillen, Mary F.
Aug 19 1852
July 24 1884
Wife of W.A. McMillen
End McMillen plot
Vacant spot
-
-
-
McMillen, Carrie Lee
July 7 1876
June 18 1877
d/o J.D. & M.E. McMillen
3 vacant spots
-
-
-
McMillen, Bennie R.
Apr 6 1874
Sept 28 1874
s/o W.A. & M.F. McMillen
McMillen, Elbert N.
Dec 8 1844
Feb 14 1861
s/o G.A. & Lydia McMillen
2nd stone
Vacant spot
-
-
-
Marked grave
-
-
Cement slab with 3 bricks, metal cross
Mc-------, -----
Mar -- ----
Apr 1 186?
Footstone – H Mc
McMillen, ---------
Sept 26 1796
Dec 31 1869
Footstone = C Mc
Moulden, infant
Aug 18 1870
Sept 2 1870
d/o J.L. & Susan Moulden
Lovelace, Louis A.
May 5 1873
May 10 1873
s/o D.M. & E.J. Lovelace
McMillen, W. Allen
Dec 20 1847
Mar 28 1885
-
8 vacant spots
-
-
-
Broken tombstone
-
-
-
Broken tombstone
-
-
-
Page, Robert T.
Aug 29 1855
July 26 1858
Aged 2 years, 10 months, 26 days
5 vacant spots
-
-
-
Row 5
-
-
-
McMillen, Minnie E.
July 24 1876
Oct 13 1877
d/o W.A. & M.F. McMillen
2 vacant spots
-
-
-
Bumpass, George W.
Jan 15 1810
Aug 21 1885
-
10 vacant spots
-
-
-
McCollough, Mrs. Mary
----
Apr 7 1855
Age 54 years
Brown, Amanda P.
Aug 6 1862
-----
Wife of J. Brown,
broken stone
Brown, James
Aug 8 ----
April 18 -----
s/o J. & A.P. Brown
10 vacant spots
-
-
-
Row 6
-
-
-
24 vacant spots
-
-
-
Tucker, Cyntha A.
----
Mar 11 1855
Aged 25 years
9 vacant spots
-
-
-
Gates, Sarah E.
Mar 10 1840
May 20 1876
Wife of J.M. Gates
Gates, J.M.
Nov 24 1831
June 13 1879
-
Gates, Effie L.
Apr – 1872
June – 1876
d/o J.M. & S.E. Gates
Gates, Lou Ella
----
Oct 9 1876
d/o J.M. & S.E. Gates
Gates, Sarah E.
Aug 28 1866
Apr 9 1882
d/o J.M. & S.E. Gates
5 vacant spots
-
-
-
Huey, Dilly M.
May 14 1882
June 2 1882
d/o G.D. & M.A. Huey
5 vacant spots
-
-
-
-
-
-
-