Uvalde City Cemetery
Recorded and Submitted by S Cantrell
For inscriptions see: * Uvalde City Cemetery.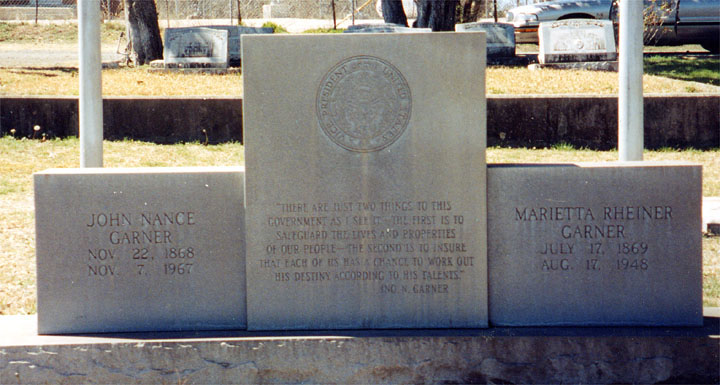 Photos by Faye Westerman
Vice President of the United States, 1933-1941. Began career as Uvalde County Judge 1893-1896. Served in the Texas Legislature 1898-1902; in U.S. Congress 1904-1932, where he was in last term, Speaker of the House of Representatives.
Also an able trial lawyer, rancher, banker and benefactor of Southwest Texas Junior College. Married Ettie Rheiner, had a son Tully: one grandchild, Genevieve G. Currie. Known as "Cactus Jack" for his unique western individualism.

Last, First, Birth Death
Bailey, Roger Lewis born 1/8/1931 died 6/8/1931 s/o Mr. & Mrs. E E Bailey (Sarah Bivens) (grandson of Bessie Bivens (info by Richard Morris)
Bivens, Bessie Mae born June 13, 1874 Aug 27, 1961 in Corpus Christi, TX dau/o James T Loving (Lovin/Loven) and Nancy Hooks OBIT (info by Richard Morris)
Garner, John Nance, Nov. 22, 1868, Nov. 7, 1967
Garner, Marietta Rheiner, Jul. 17, 1869, Aug. 17, 1948

Nave, Carol Janeve, 1933
Nave, Margaret L. (Welty), Jan. 29, 1904, Jul. 25, 1996 (Family plot #303).
Nave, Sam F., Dec. 28, 1902, Jan. 21, 1949, "Married Christmas Day, 1928, produced 3 kids, and lots of love, God Bless!"

Rheiner, August, 1875-1943
---