Plum Branch Cemetery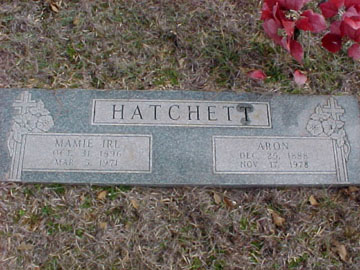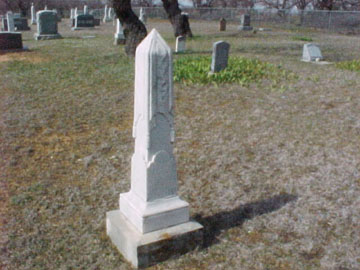 Photos by Richard Tally
Inscriptions by Kathy Tally
Location: From US 20, head north towards Breckenridge, then turned W on FM 576. At Eloian, there's a road sign for Plum Branch Cemetery at country road 296. About 2/10 of mile there is a fork in road, with no sign; turn left and follow road for about one mile. You'll see the cemetery off to your right.
Cemetery is about 70 yards square with a 3-foot high metal fence. The east half of the cemetery appears to not be in use. Rows run east to west. We canvassed from south to north.
Partial Listing Only.

Row 6: near big tree
HAWKINS, Catherine,1859 , 1896
Ketchum, ,1855 , 1933

Row 8:
Oreala ,HATCHETT,1858, 1893

Sofrony, HATCHETT,1833 , 1920
Nelson, HATCHETT,1816 , 1892

Row 10:
Leonadas,HATCHETT, December 31 1853,February 13 1940, (headstone faces south)

Delila Jane [nee BERRY], HATCHETT,March 18 1866,November 27, 1954
Aron,HATCHETT, Dec 25 1888, Nov 17 1978, (headstone faces north)
Mamie IRL,HATCHETT,Oct 31 1896,Mar 5, 1971

Aaron HATCHETT,1888, 1978 ,[military stone at foot of grave] PVT US Army World War I

Tommie Lee,HATCHETT,Nov 10 1926,June 22 1929,Dau of Aaron & Mamie HATCHETT

3 rows before north fence
Sophronia B,OATES, Born Dec 23 1859,Died Mar 8 1904,Wife of T W OATES"She was a kind a affectionate wife. A fond mother and a friend to all"

Last row:
Mary Ann [nee BLANTON], HAWKINS, Apr 10 1825,Dec 3 1899,

William McKiney,HAWKINS,Nov 2 1817,Jan 13 1905,"Cemetery land donated by William McKiney and Mary Ann HAWKINS"

Dr. L. M., HAWKINS,Feb 10 1870,Mar 25 1899,"Gone but not forgotten"

---