Brookshire Cemetery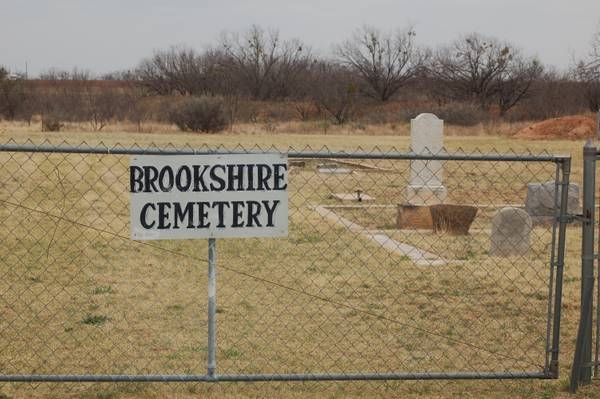 Photo by Carolyn Mioduski
Runnels Co. Cemeteries of TX:
Submitted by Pat Hudgins
This information came from the "Cook County Cemeteries Epitaphs and Dates" book, was compiled and printed in 1990 by Bonita Copeland and Wanda Smith and used with permission
Brookshire Cemetery is 2.1 miles east of the Coke County line, on a Farm & Ranch road in Runnels County. The road moves east and south of Tennyson toward Miles.
----------------------------------------------------------------------------------
Alexander, Jessie Lee "Mama" January 20, 1890 February 12, 1935
Alexander, Norbon Bill "Paise" July 25, 1913 March 15, 1974
Texas, S SGT US Army, WWII
Alexander, W. M. "Bill" "Papa Bill" October 24, 1881 August 5, 1964
Allen, Mrs. Ira Dean 1877 1966
Allen, Rebecca, J. January 7, 1847 July 18, 1915
Allen, W. D. 1873 1923
Bearfield, baby 1954 1954
Boyd, Chester Vaughn "Buddie" 1934 1939
Brown, Miles L. 1931 1931
Brown, Mary 1953 1953
Brown, William Claud September 5, 1913 December 10, 1915
Son of H. & Laura Brown
Clark, Dorothy B. May 6, 1926 December 6, 1936
Clark, Homer 1902 1982
Clark, Jim "Papa" August 25, 1875 November 20, 1962
Clark, Addie "Mama" August 16, 1879 January 18, 1963
Cook, Annie May September 14, 1931 June 4, 1935
Daughter of M/M E. E. Cook
Cook, Elmus E. "Father" February 26, 1887 May 11, 1952
Cook, Mrs. Ivy Olive, Age 75 yrs NBD March 1, 1984
Cook, Mary E. December 25, 1886 April 14, 1978
Cothran, Homer G. 1887 1926
Cothran, Leon 1924 1933
Son of W. H. & Minnie
Cothran, Mary L. 1881 1958
Cothran, Marshel C. 1881 1937
Cothran, Will H. August 16, 1891 May 8, 1959
Texas, PVT 27 Co 165 Depot
Brigade, WWI
Crouch, E. R., Jr. May 8, 1912 June 1, 1942
Davis, Mrs. Maggie, Age 80 yrs. NBD January 12, 1983
Derrick, Jap 1868 1933
Derrick, Chasa 1885 1961
Derrick, Leslie R. January 12, 1924 March 17, 1956
Texas, S 2 USNR, WWII
Derrick, Oma March 1, 1926 January 13, 1930
Duffy, Rev. J. S. "Papa" October 12, 1876 November 13, 1942
Duffy, Laura "Mama" March 3, 1880 January 11, 1956
Duffy, Zora Lee April 20, 1910 NDD
Emmert, Frances August 31, 1863 May 27, 1920
Emmert, Samuel W. March 31, 1866 September 20, 1925
Essary, Lola "Mother" April 5, 1884 July 7, 1955
Gotcher, J. Will August 12, 1878 August 9, 1951
Gotcher, Sara L. September 2, 1878 December 16, 1957
Gotcher, Otis Gliden 1902 1984
Hays, Mary Hellen March 18, 1927 August 28, 1948
Howell, Asa Lee May 24, 1893 December 5, 1970
Howell, Isaac N. 1901 1955
Howell, Joseph L. 1861 1944
Howell, Lela Adra October 10, 1899 December 16, 1926
Howell, Mary M. January 11, 1879 NDD
Howell, Robert A. July 19,1867 October 5, 1941
Howell, Will R. June, 1891 September, 1953
Huddleston, Newton G. 1875 1924
Huddleston, Willie Mae 1907 1927
Hudspeth, Tom D. March 30, 1855 May 14, 1928
Hudspeth, Louise May 31, 1860 September 20, 1945
Isabel, H. B. 1875 1918
Isabel, Myrtle Walden 1891 1978
James, Earnest B. 1907 1960
James, Mary Ada 1907 1960
James, Green Lee 1869 1943
James, Mary Elizabeth 1871 1935
James, Charles E. June 29, 1943 June 29, 1943
Kennemer, Armenta E. 1887 1930
Kennemer, Barney B. 1883 1933
Marks, Jim Nick November 8, 1877 January 6, 1954
Marler, Mrs. M. M. No Dates
Mathews, Geneva N. August 29, 1919 November 9, 1949
Mills, Ira Belle "Mother" December 22, 1896 March 5, 1953
Mills, Odie Bethel September 14, 1895 November 12, 1965
Texas, PFC US Army, WWI
McDonald, W. F. May 29, 1856 July 3, 1922
McDonald, E. J. September 15, 1855 September 3, 1936
Odell, Claude April 24, 1907 June 20, 1969
Penskofer, Annie February 23, 1882 April 20, 1915
Pierce, Mary Ruth, one date only March 1936
Pierce, Violet March 25, 1909 October 12, 1938
Ray, Mattie Cartwright April 25, 1885 March 22, 1949
Ray, Riley Jefferson April 29, 1880 February 8, 1952
Reed, James D. December 27, 1865 November 21, 1932
Simpson, Joseph T., Sr. 1858 1916
Simpson, Nettie Beatrice Ray October, 1887 February 24, 1925
Stephenson, Hattie M. September 11, 1850 March 25, 1918
Wife of M.J. Stephenson
Teal, W. J. J. November 13, 1828 January 20, 1923
Teal, Mrs. W. J. J. August 30, 1857 June 10, 1933
Tucker, W. P. April, 1857 October 26, 1940
Tucker, Lara J. September 3, 1859 June 9, 1948
Watson, Margaret I. 1828 1914
Wilkinson, Samuel 1908 1945
---