St. Paul Lutheran Cemetery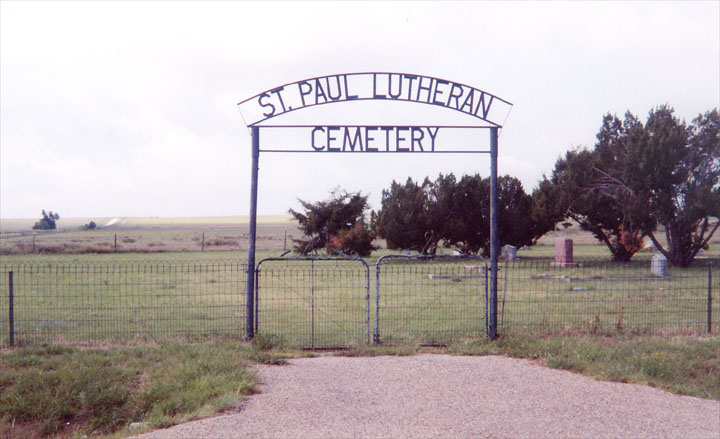 Photos by Bob Sanders
Randall Co, Cemeteries of TX

Location: 3.9 miles on Hwy. 217-east from Interstate 27. (Hwy 217 is the highway that leads into Palo Duro Canyon From Interstate 27)

Use by permission of the Amarillo Genealogical Society, Amarillo, Texas from their publication "Reflector" Vol. 41 Issue 2
Typed for Cemeteries of Texas by: Dolores I. Bishop. Submitted by Bob Sanders.
Albers, Adelheid, Nov 19 1904, -
Albers, Dell Marie, Jun 09 1929, -, Jun 08 1931
Albers, Emma Marie, Mar 25 1890, Apr 10 1943, Mother
Albers, George H., Jul 25 1897, Nov 15 1969
Albers, Gertrude M., Jun 10 1922, -, Mother
Albers, Stephen Emil, Jun 27 1955, Apr 04 1975
Albers, Vance W., Nov 02 1916, -, Father Wife Gertrude M. Albers
Bauer, Edna D., 1900, -
Bayer, Irvin L., 1900, 1969
Blalack, Alan Ray, 1973, 1973
Bruce, Baby, May 10 1940, May 11 1940
Fluegel, Baby, Apr 20 1930, Apr 20 1930, D/o M/M Paul Fluegel
Fluegel, Carl Theodore Paul, Feb 25 1915, Jan 30 1921, S/o M/M Paul Fluegel
Fluegel, Ida, Sep 23 1891, Feb 13 1966
Fluegel, Paul, Jun 11 1884, Jun 04 1975, Wife-Ida Fluegel
Frees, Frederick E., Apr 28 1928, Apr 28 1928
Gerdsen, Alice Frances, Dec 28 1917, -, Mother
Gerdsen, Frieda Wilhelmine, Jul 20 1880, Feb 07 1959, Mother
Gerdsen, Henry Eberhard, Oct 15 1872, Aug 01 1937, FatherWife Frieda Wilhelmine Gerdsen
Gerdsen, Henry H., Oct 08 1902, Jul 01 1962
Gerdsen, Herbert August, Sep 30 1911, Apr 26 1973, FatherWife Alice Frances Gerdsen
Hartenberger, Donald Paul, Jul 18 1943, Jul 19 1943
Hickcox, Hulda, Jan 30 1867, Jun 07 1933
Janhsen, Anna M., Feb 17 1914, -
Janhsen , Henry J., Jun 22 1905, Jun 12 1971
Kuhlman, Anna Marie, Feb 27 1890, Feb 09 1916, Geb Dinkel, Geb Den Feb 27 1890, Gest Den Feb 09 1916Recorded on stone
Kuhlman, Bernice Stefanie, Jan 28 1956 , Jan 15 1977
Kuhlman, Deborah Jean, Sep 11 1951, Oct 10 1952
Kuhlman, Herman, 1884, 1965
Kuhlman, Juanita, Oct 20 1931, Oct 13 1935
Leseberg, Alwine, 1878, 1962
Leseberg, Gustav, 1873, 1939
Meyer, Audrey Modell, Jul 07 1909, Sep 29 1952
Meyer, Helene H., 1880, 1973
Meyer, Henry, 1878, 1944
Meyer, John Albert, Feb 20 1903, Nov 13 1974
Miller, Ann D., Mar -- 1890
Miller, Henry F., Jul 11 1883, May 18 1971
Rogge, Gerhard Ernest, Mar 28 1916, Jun 03 1949
Rogge, Ida Anna (Mrs.), May 23 1889, Apr 30 1967
Schroeder, Baby
Schroeder, Henry A., Jun 18 1860, Nov 21 1928, FatherWife Kate Schroeder
Schroeder, Kate, Sep 14 1873, Feb 24 1926, Mother
Schuette, Friedrich, Jun 08 1882, Feb 22 1949
Schuette, Gesine, Aug 26 1889, Apr 11 1928, Wife of Fred Schuette
Stevens, Chad A., 1975, 1975
Stroebel, Infant, May 06 1933, May 06 1933
Wendelken, George, 1880, 1929
Wragge, Herman G.A., Dec 11 1872, Feb 27 136
Wragge, Minna, Sep 20 1902, Aug 15 1929
---