St. Francis Catholic Cemetery
Potter County, Cemeteries of TX
Submitted by Bob Sanders.
Typed for Cemeteries of Texas by: Dolores I. Bishop.
Location: One mile east of FM 1912 on Hwy. 60 then north of Hwy. 60 .5 miles north on Raef Road.

Used by permission of the Amarillo Genealogical Society, Amarillo, Texas from their publication "Reflector" Vol. 41 Issue 2.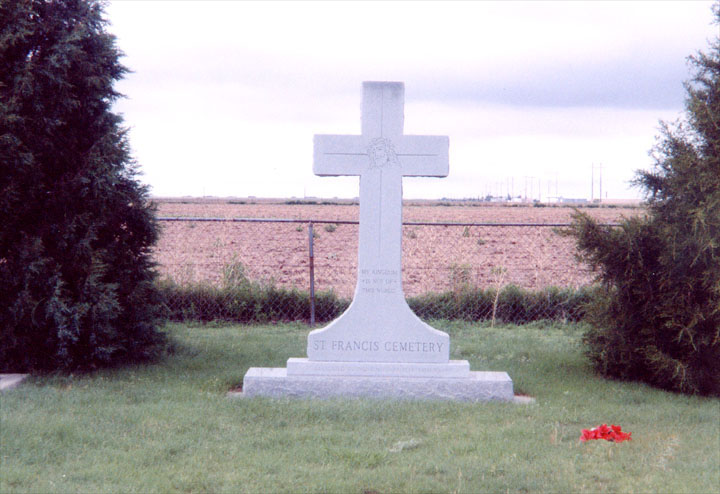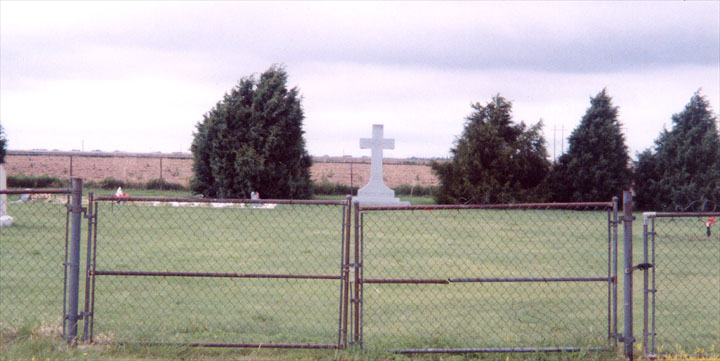 Photos by Bob Sanders
Aichlmayr, Leo F., May 03 1918, Apr 18 1945, Texas PVT 128 INF DIV WWII
Bellinghausen, Henry J., Jun 15 1892
Bellinghausen, Mary A., Sep 08 1893, Dec 26 1962
Berg, Anna M., Jun 19 1869, Nov 03 1955, Mother
Berg, John C., Apr 11 1866, Feb 10 1946, FatherWife-Anna M. Berg
Bertrand, Adolph, 1882, 1959
Bertrand, Ida B., 1887
Bichsel, Aloys P., 1897, 1946, Father
Bichsel, Georgina, Sep 06 1935, Dec 28 1938, D/o Aloys & Martha Bichsel
Boyd, Walter Henry, 1869, 1916
Brinkman, Herman, Aug 16 1870, Jul 12 1931, Wife-Mary Magdalene Brinkman
Brinkman, Mary Magdalene, Feb 28 1862, Dec 16 1933
Detten, Anna, Aug 26 1868, Apr 01 1948
Detten, Anthony John, Nov 02 1975, Nov 05 1975, S/o M/M Paul Detten
Detten, Clara A., Sep 10 1900, Aug 16 1972
Detten, David Arthur, May 06 1934, May 06 1934, Twin S/o M/M Arthur Detten
Detten, Doruthea Anne, Feb 09 1928, Mar 25 1929
Detten, Eulalia C., Mar 30 1899, Jan 21 1976
Detten, Evelyn, Aug 01 1933, Aug 01 1933, D/o M/M Arthur Detten
Detten, Florence, Apr -- 1909, Jun -- 1917
Detten, Henry, Apr 05 1860, Jul 23 1934
Detten, John Henry, Jul 29 1889, Apr 27 1973
Detten, John Joseph, Jan 02 1933, Jan 02 1933, S/o M/M/ Robert Detten
Detten, Lawrence Andrew, Sep 28 1939, Jul 23 1947, S/o M/M Leo F. Detten
Detten, Leo F., Apr 25 1900, Oct 05 1974
Detten, Marvin Daniel, May 06 1934, May 06 1934, Twin S/o M/M/ Arthur Detten
Detten, Odelia Rosalia, Sep 04 1905
Detten, Oscar Arthur, Apr 25 1905, Aug 02 1950, Wife-Odelia Rosalia Detten
Detten, Robert H., Mar 27 1898, May 16 1976, Wife-Eulalia C. DettenWed: Jun 10 1926
Detten, Terry Donald, May 09 1952, Jan 03 1956, S/o M/M Donald Detten
Dillard, David Joseph, Apr 08 1957, Jul 04 1964
Dominico Doan, Viet Hao, Mar 17 1922, Jul 09 19787,
Gabel, Marel C., 1885, 1917, W/o C.R. Gabel
Giuse, Ngo Duc, Mar 24 1978, Mar 28 1978,
Hamel, Blanche M., Jun 06 1887, Jun 30 1972
Hamel, Charles A., Jun 03 1880, Feb 23 1955
Hamel, Clara, Nov 08 1915, Dec 25 1917
Klink, Albert J., Dec 10 1899, Apr 16 1916
Klinke, Caroline, Jan 29 1870, Jan 14 1934
Klinke, Peter, Nov 26 1864, Oct 25 1937
Koenig, Clarence J., Mar 11 1917, Apr 01 1973
Koenig, Leo H., Feb 06 1892, Jun 21 1977
Koenig, Mary E., Oct 16 1896, 1981
Lange, Josephine A., Jan 11 1899
Lange, Peter H., May 09 1891, May 02 1966
Le, Bich Ngoc, Apr 11 1977, Jul 26 1980
Le, Thi Thu, May 18 1979, Aug 30 1980, B: ThailandD: Amarillo, TX
Leng, Ly, 1941, 1980
Leven, Helen Victoria, Jun 13 1934, Feb 06 1939, D/o M/M John Leven
Levin, Henry, Jan 23 1873, Jun 14 1952
Neusch, Angela, Dec 12 1929, Jan 07 1940, Baby Boy
Neusch, Bertha, Nov 22 1857, Jan 05 1929, Mother
Neusch, Catherine, Apr 18 1891, Jan 17 1951
Neusch, Claude C., Feb 21 1944, Nov 09 1960
Neusch, Garland Leo, Jun 07 1948, Dec 24 1948
Neusch, Henry J., Apr 03 1882, Oct 01 1960
Neusch, Henry L., Jun 05 1858, May 04 1946, FatherWife-Bertha Neusch
Neusch, Larry Douglas, Oct 04 1955, Dec 19 1975, Son
Neusch, Marvin F., Dec 14 1950, Dec 17 1950
Neusch, Ralph E., Nov 06 1940, Feb 18 1957, Son
Pham, Chau, Sep 05 1930, Mar 11 1978, B: Quang, VietnamD: Amarillo, TXSister-Pham Thi TySon-Pham Ho-Vu
Pham, Van Hue, Jul 23 1944, Jun 09 1979, B: Saigon, VietnamD: Amarillo, TX
Phero, Ho Thai Tu, May 25 1949, Mar 14 1981
Raef, Blanchie M., Nov 01 1904
Raef, Charles F., Apr 01 1892, Jan 10 1976, Wife- Inez E. Raef Wed- Oct 20 1915
Raef, Charles Leo, May 19 1918, Feb 22 1979, Tec 5 US Army WWII
Raef, Edgar W., Aug 25 1903, Jun 14 1976, Wed Dec 30 1929
Raef, Francis X., Oct 27 1866, Aug 24 1938, Wife- Nellie G. Raef
Raef, Inez E., Jan 27 1896
Raef, James Albert, Jan 04 1932, Jan 04 1932, S/o Charles & Inez Raef
Raef, Kenneth William, Feb 20 1933, May 06 1936
Raef, Lawrence Eli, Aug 26 1919, Oct 27 1927, S/o Charles & Inez Raef
Raef, Lucy G., Dec 26 1898, Jul 23 1968
Raef, Myra Ellen, 1957, 1957
Raef, Nellie G., Mar 08 1875, Nov 13 1940
Raef, Robert Theodore, Dec 06 1932, Dec 06 1932, S/o M/M E.T. Raef
Raef, William Edgar, Sep 27 130, Oct 28 1930
Schwoll, Anthony, Sep 13 1896, May 17 1916
Schwoll, Henry G., Jun 24 1869, Apr 04 1936
Thuseman, Bernard H., Jan 06 1870, Aug 05 1960, Wife-Josephine Bourell Thuseman
Thuseman, Josephine Bourell, Jun 07 1869, Apr 10 1933
Tomlinson, Christopher, 1980, 1980
Tran, Quang Phuoc
Tuggle, Rose Mary Detten, Jul 29 1936, Feb 29 1956, Related to Leo F. Detten
Walden, Donald Paul, Oct 16 1932, Oct 16 1932, S/o M/M Wm. Walden
Walden, Rose Florence, Mar 15 1913, Dec 22 1939, Husband- William WaldenNephew- Vincent Paul Neusch
Whelchel, Rodney Kip, Mar 22 1977, Mar 22 1977
White, C.S.
White, G.A.
White, W.W.
Wink, Eugene John, Oct 10 1934, Jan 12 1951
Wink, John Albert, Nov 13 1889, Jan 12 1951
Wink, Margaret A., Dec 29 1888
Wink, Mary Agatha, Jan 17 1894, Jan 12 1951
Wink, Michael N., Mar 07 1881, Jun 21 1961
Wink, Olivia A., Jun 01 1922, Jun 04 1967

---