Location: In a small pasture on Cap Mountain, just to the East of Waters Creek.
Last, Given, Birth, Death, Comments
Fowler, Maud, 1887, 1909
Thompson, John J., Oct. 22, 1871, May 11, 1893, In memory of, Son of David & Cansady Thompson
Shults, Sarah E., May 5, 1870, Aug. 26. 1889
Fowler, Louisa K., Mar. 18, 1827, Aug. 13, 1902, Blessed are the dead that die in the Lord.
Fowler, Infant, Oct. 8, 1893, Son of J. W. & F. B. Fowler, Sleep on my sweet one sleep so early gone. To earth a child is lasting heaven, a cherub born.
Fowler, Infant, May 27, 1891, Jul. 28, 1891, Daughter of J. W. & F. B. Fowler, Happy infant early blest, Rest in peaceful slumbers rest.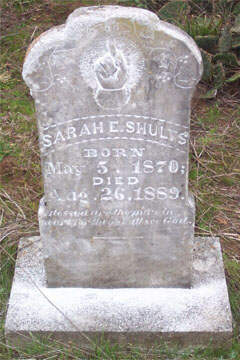 Photos by
Linda Bowden