Olton Cemetery
Lamb County, Cemeteries of Texas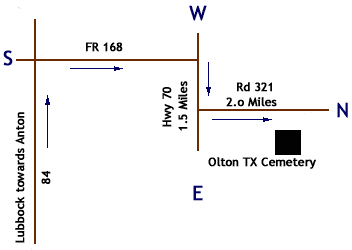 Submitted by Maddy Hall

The Olton Cemetery has been in operation since 1912 when the first stone was erecte , There is no formal entrance, simply a parcel of land enclosed by a chain link fence. The land which the cemetery was erected was donated by H.R. Miller Sr. and his family in 1908. Legal issues prevented it's use until a Warranty Deed was given in Sept of 1911. The lot is 4 acres located at Section 16, Block S-4 of Olton, TX. In 1959 an additional 2.54 acres were aquired and in 1980 another 3.4 acres was purchased thus completing the south annex of the cemetery. Both areas are fenced in and landscaped thanks to the generous memorial donations and the Olton Garden Club

There is a Record Book of Burials which is kept at Foskey Funeral Home in Olton. Apparently, there are many who were buried in the cemetery for which no record was entered, and others still for whom no marker was ever erected , There is also a section which is considered a 'Potter's Field'.




OLDEST MARKER

Charles KEENAN
September 19, 1838
January 04, 1912

2nd OLDEST MARKER

Anna GALLAWAY
May18, 1837
April 30, 1912
| | | | | | |
| --- | --- | --- | --- | --- | --- |
| Adams | John William | Dec. 19 | 1900 | Oct. 19 | 1965 |
| Akin | Robert | 1926 | | Oct. 29 | 2005 |
| Amaya | Felipe | unknown | | Mar. 14 | 2008 |
| Anderson | Annie Louise King | Mar. 6 | 1886 | Mar. 23 | 1961 |
| Anderson | Daniel Miles | Jun. 24 | 1874 | Dec. 21 | 1928 |
| Baker | Jay Lynn | Oct. 23 | 1940 | Oct. 23 | 1940 |
| Banda | Rosa | Mar. 1 | 1932 | Feb 28 | 2009 |
| Bartlett | Amelia Reeves | Feb 8 | 1875 | Feb 29 | 1940 |
| Bartlett | Leatrice Estes | Aug. 5 | 1905 | Sep. 8 | 1948 |
| Bartlett | Lemuel | Jan. 21 | 1869 | May 23 | 1958 |
| Bennett | Larry Losson | Oct. 25 | 1939 | Mar. 17 | 1956 |
| Bennett | Mary Alice Parker | Dec. 9 | 1920 | May 13 | 1970 |
| Bledsoe | James Otis | Oct. 15 | 1890 | Aug. 9 | 1956 |
| Bledsoe | May M. Adams | Apr. 17 | 1896 | Jul. 10 | 1982 |
| Blythe | Ann Bartlett | Feb 4 | 1898 | Oct. 21 | 1972 |
| Blythe | Joe Webster | Aug. 2 | 1923 | Mar. 26 | 1978 |
| Blythe | John Elijah | Feb 6 | 1882 | Mar. 16 | 1938 |
| Boruk | Elizabeth Alice Upton | Jan. 25 | 1914 | Nov. 18 | 2008 |
| Breland | Mary Olita | Jan. 22 | 1927 | Sep. 3 | 1937 |
| Buckner | Helen | May 25 | 1925 | Jan. 9 | 2008 |
| Burrus | Charlie | Sep. 30 | 1944 | Jan. 22 | 2006 |
| Cano | Manuel L. | Jun. 8 | 1921 | Sep. 23 | 2004 |
| Cano | Zenon Natividad | Jun. 23 | 1956 | Sep. 23 | 2004 |
| Cantu | Jesus | Feb 7 | 1949 | Aug. 22 | 2008 |
| Carabajal | Teodoro | Feb 7 | 1917 | Jan. 25 | 1998 |
| Caraway | Lauren | Apr. 13 | 1983 | Sep. 3 | 2000 |
| Carrasco | Jose G | May 8 | 1924 | Mar. 9 | 2007 |
| Carrasco | Jose G. | May 8 | 1924 | Mar. 9 | 2007 |
| Carruth | Nita | Mar. 26 | 1924 | Apr. 4 | 2007 |
| Carson | John L | Oct. 20 | 1882 | Dec. 4 | 1954 |
| Carson | John Raymon | Dec. 15 | 1916 | Sep. 27 | 2008 |
| Carson | Vena Belle Bowden | Mar. 27 | 1887 | May 11 | 1973 |
| Caviness | Goldie Mae Taylor | Jul. 13 | 1895 | Jun. 5 | 1980 |
| Caviness | Robert James | Dec. 23 | 1892 | Sep. 17 | 1981 |
| Chapa | Noe Medina | Nov. 5 | 1954 | Nov. 6 | 1954 |
| Coleman | Pauline Carson | unknown | Jan. 9 | 2004 | |
| Collins | Billy Mack | Jun. 29 | 1926 | Apr. 29 | 2006 |
| Collins | Mary O. | Sep. 14 | 1927 | Mar. 10 | 2009 |
| Collins | Royce | Nov. 6 | 1927 | Aug. 21 | 2009 |
| Combest | Lillie M. Collins | Oct. 4 | 1879 | Apr. 13 | 1964 |
| Combest | Terrell | Jun. 1 | 1868 | Jan. 20 | 1953 |
| Combest | William Lewers | Jul. 1 | 1905 | Mar. 14 | 1936 |
| Cooper | Arthur Garland | May 29 | 1887 | Sep. 8 | 1956 |
| Cooper | Rowena Pearl McCutchen | May 2 | 1889 | Jul. 29 | 1974 |
| Copeland | Fannie Clark | Aug. 13 | 1915 | Mar. 26 | 2007 |
| Copeland | Sally Reeves | Nov. 15 | 1893 | Apr. 30 | 1980 |
| Copeland | Wilburn | unknown | Jun. | 1950 | |
| Cure | Sue Price | Feb 1 | 1939 | Dec. 15 | 2007 |
| Curtis | LaVernia | Sep. 14 | 1913 | May 9 | 2007 |
| Daugherty | Bobby Lee | Mar. 11 | 1934 | Mar. 23 | 2008 |
| Daugherty | John S. | Sep. 7 | 1871 | Sep. 1 | 1924 |
| Daugherty | Sally Mirty Reeves | Aug. 5 | 1873 | Nov. 24 | 1950 |
| Davis | Lucy Bernice | Sep. 14 | 1920 | Jan. 15 | 2007 |
| Dear | James Chamberlain | Apr. 9 | 1899 | Jan. 9 | 1968 |
| Dear | James W. | May 24 | 1929 | Oct. 3 | 1991 |
| Dear | La Velle H. | Sep. 11 | 1928 | unknown | |
| Dear | Mamie Ruth Ogden | Aug. 3 | 1899 | Nov. 17 | 1974 |
| DeLeon | Mylee Daniel | Apr. 29 | 2008 | Apr. 29 | 2008 |
| Durham | John Lee | Oct. 17 | 1934 | Aug. 28 | 2004 |
| Durham | Minnie Lee Moore | Jan. 23 | 1898 | Oct. 2 | 1954 |
| Durham | Onsby Bedford | Dec. 28 | 1891 | Mar. 21 | 1983 |
| Exter | Glen W | Aug. 10 | 1922 | Dec. 23 | 2008 |
| Fancher | Cloma Boyd | Oct. 15 | 1913 | May 8 | 2008 |
| Fancher | Cloys Elijah | Mar. 9 | 1917 | May 3 | 2006 |
| Finley | Karolyn Kay Granbery | Sep. 3 | 1939 | Dec. | 2006 |
| Finney | Dovie Hyman | Apr. 11 | 1913 | Apr. 2 | 1990 |
| Finney | William Galen | Jun. 13 | 1914 | Mar. 1 | 1979 |
| Foley | Madeline F. Foster | unknown | | Nov. 27 | 2000 |
| Fonseca | Malachi | Oct. 13 | 1982 | Jun. 22 | 2007 |
| Fuller | Delia Permelia Bartlett | Mar. 22 | 1891 | Feb 19 | 1982 |
| Fuller | Earl James | Nov. 2 | 1918 | Aug. 10 | 1926 |
| Fuller | Jack B | May 15 | 1915 | Nov. 9 | 2007 |
| Fuller | James Earl | Apr. 22 | 1891 | Nov. 3 | 1970 |
| Gabehart | Opal Smith | Jan. 23 | 1914 | Nov. 7 | 1968 |
| Gabehart | Ray | May 17 | 1910 | Feb 21 | 1998 |
| Gallaway | Wilbur L | Jun. 22 | 1926 | Oct. 12 | 2008 |
| Garcia | Viviana Romo | Dec. 2 | 1926 | unknown | |
| George | James Riley | Aug. 6 | 1864 | May 15 | 1930 |
| Gibson | James Thurston | May 26 | 1899 | Oct. 21 | 1993 |
| Gibson | Mirty R'Lee Bartlett | Mar. 16 | 1903 | Jun. 16 | 1982 |
| Giles | Charles L | Aug. 28 | 1939 | Nov. 20 | 1998 |
| Giles | Mable Agnes Jolly | Apr. 7 | 1912 | Mar. 23 | 1998 |
| Givens | Delmer L | Mar. 24 | 1922 | Mar. 26 | 2009 |
| Glasscock | Jim W | Jun. 1 | 1926 | May 4 | 2009 |
| Gough | David Christopher | Jan. 26 | 1954 | Oct. 7 | 2006 |
| Graham | Eva Lucille Campbell | Sep. 22 | 1922 | Jul. 28 | 2008 |
| Granbery | Charlie Faye Owen | Oct. 30 | 1913 | Dec. 30 | 2003 |
| Granbery | Nettie Fay Bartlett | Sep. 18 | 1911 | May 5 | 1994 |
| Green | Jean | Nov. 3 | 1932 | Mar. 7 | 2009 |
| Green | Jean Wilcox | Nov. 3 | 1932 | Mar. 7 | 2009 |
| Green | Willie Gene | May 19 | 1927 | Apr. 2 | 2008 |
| Grimes | Leah Veazey | Feb 5 | 1857 | Apr. 26 | 1930 |
| Hair | Naomi | Jul. 3 | 1907 | Jan. 20 | 2004 |
| Hair | Ruth | Jul. 26 | 1914 | Jan. 15 | 2004 |
| Hair | Ruth | Jul. 26 | 1914 | Jan. 15 | 2004 |
| Hall | Delphy | Jul. 19 | 1925 | Apr. 23 | 2008 |
| Hasha | Mae | Feb 28 | 1915 | Feb 10 | 2005 |
| Hedges | Willis Pruitt | Dec. 24 | 1886 | Dec. 30 | 1962 |
| Hernandez | Joaquin | Aug. 3 | 1967 | Apr. 12 | 2009 |
| Hines | Ruby | Oct. 14 | 1912 | Jun. 11 | 2007 |
| Hipp | Helen Lucille | Jun. 14 | 1920 | Nov. 30 | 2007 |
| Hopper | Roy H | Feb 15 | 1938 | Jan. 21 | 2005 |
| Huckabee | J. W. | Dec. 20 | 1925 | Sep. 1 | 2007 |
| Hysinger | Clarence Earl | Jun. 19 | 1908 | Feb 17 | 1992 |
| Hysinger | Freddie Mae Reinhardt | Jan. 24 | 1902 | Sep. 26 | 1986 |
| Hysinger | Howard Alvin | Nov. 20 | 1900 | Jul. 14 | 1963 |
| Hysinger | Thelma | | 1910 | Feb 26 | 1999 |
| Ingraham | George "Curley" | Dec. 13 | 1921 | Mar. 28 | 2004 |
| Ingraham | Wilma Lorraine Russell | Jul. 18 | 1922 | Mar. 23 | 2009 |
| Irby | Wanda "Scottie" | Dec. 20 | 1927 | Jun. 20 | 2006 |
| Isbell | Maxine Inys | Nov. 26 | 1916 | Jul. | 2008 |
| Jarrett | Vicki Neinast | Apr. 24 | 1950 | Mar. 27 | 2004 |
| Jenkins | Jimmie | Jan. 16 | 1919 | Mar. 12 | 2002 |
| Jenkins | Shannon Neinast | Sep. 25 | 1954 | Aug. 31 | 2008 |
| Jimenez | Belinda Irene Ramirez | Nov. 18 | 1960 | Jan. 5 | 1998 |
| Jimenez | Lisa Rae | Apr. 1 | 1996 | Jul. 14 | 1996 |
| Jimenez | Raymundo R | Jan. 23 | 1930 | Apr. 5 | 1981 |
| Johnson | Adell Cavett | Aug. 5 | 1930 | Dec. 25 | 2007 |
| Jolly | Jesse Theodore | Mar. 15 | 1879 | Mar. 2 | 1957 |
| Jolly | Mellie Vera Walker | Jan. 14 | 1886 | Oct. 2 | 1952 |
| Jolly | Robert Owen | May 4 | 1910 | Aug. 11 | 1993 |
| Jones | Ethel May Perry | Aug. 26 | 1912 | Oct. 22 | 2003 |
| Jones | Marie Herndon | May 26 | 1916 | Jan. 11 | 2002 |
| Jones | Owen E | Dec. 27 | 1920 | Apr. 11 | 2009 |
| Jordan | Harold | Oct. 20 | 1933 | Mar. 25 | 2009 |
| Kelley | Bill G | Nov. 7 | 1926 | Aug. 5 | 2007 |
| Kelly | Bill G. | Nov. 7 | 1926 | Aug. 5 | 2007 |
| Kemp | Adeline | Feb 1 | 1914 | Aug. 15 | 2000 |
| Kemp | Velma Kinney | Oct. 31 | 1929 | Feb 15 | 2008 |
| Kennedy | Fannie - Drier | Sep. 17 | 1900 | Dec. 9 | 1980 |
| Kennedy | Leslie Bryan Sr | Nov. 1 | 1896 | Aug. 7 | 1982 |
| Kersh | Alva Washington | Apr. 10 | 1908 | Nov. 18 | 1999 |
| Kersh | Thelma | unknown | | May 1 | 2004 |
| Kidd | Odessa Welch | Sep. 3 | 1919 | Nov. 5 | 2007 |
| King | Donal Eggleston | Jul. 24 | 1910 | Nov. 3 | 1954 |
| LaDuke | Hazel | Oct. 12 | 1907 | Aug. 6 | 1983 |
| LaDuke | Leland H. | Aug. 15 | 1902 | Jun. 17 | 1974 |
| LaDuke | Lendon L. | Jan. 10 | 1910 | Aug. 30 | 1994 |
| LaDuke | Mildred Walsworth | Jan. 25 | 1911 | Nov. 8 | 2002 |
| Landers | Mary Pauline Caviness | Sep. 23 | 1923 | May 2 | 2009 |
| Lawson | Chris K | Sep. 13 | 1966 | Aug. 12 | 2009 |
| Leathers | Frances V. | Sep. 17 | 1931 | Jul. 4 | 2008 |
| Light | A C | Jan. 25 | 1930 | Nov. 27 | 2005 |
| Light | Athol | Apr. 5 | 1906 | Feb 10 | 2005 |
| Lively | Peggy | Jan. 22 | 1940 | Aug. 20 | 2007 |
| Lockett | James David | Sep. 18 | 1937 | 1988 | |
| Loveless | Hope E. | May 16 | 1917 | Feb 8 | 2007 |
| Luera | Rey | 1952 | 1997 | | |
| Mandrell | Burl Don | Nov. 11 | 1944 | Oct. 17 | 2008 |
| Mannin | Pam Holt | 1950 | Sep. 23 | 2001 | |
| Martin | Louise | Aug. 30 | 1928 | Oct. 8 | 2004 |
| Martinez | Maria Juana | May 8 | 1950 | Feb 4 | 2008 |
| Mason | Clarence | Apr. 4 | 1914 | Jan. 26 | 2003 |
| May | Marlos | Aug. 13 | 1954 | Aug. 17 | 2006 |
| McAfee | Sarah Elizabeth Kennedy | Dec. 27 | 1897 | Nov. 24 | 1986 |
| McGill | Azzie Lee | Jun. 11 | 1889 | Aug. 20 | 1972 |
| McGill | Lowell | Aug. 21 | 1926 | Jul. 5 | 2008 |
| McGill | Mildred Juanita | Jan. 2 | 1915 | Jun. 27 | 2006 |
| McGill | O. T. | Jun. 20 | 1917 | Apr. 21 | 1918 |
| McGill | Oakley | Dec. 30 | 1886 | Jun. 19 | 1929 |
| McKinzie | Gerald Leorin | Feb 6 | 1922 | Apr. 17 | 1964 |
| McKinzie | Ruth R'Lee Blythe | Feb 12 | 1922 | Jan. 24 | 1997 |
| McLain | John Carter | Feb 15 | 1872 | Mar. 12 | 1938 |
| Montiel | Gabriel Jr | Mar. 2 | 1964 | Dec. 9 | 2004 |
| Montiel | Marie | Sep. 20 | 1938 | Nov. 26 | 2004 |
| Moore | Pearl Brigance | Dec. 2 | 1916 | Jul. 8 | 2009 |
| Moore | Corp Seth A. | Aug. 10 | 1923 | Oct. 17 | 1944 |
| Moses | Lucille | Apr. 19 | 1912 | Oct. 22 | 2007 |
| Moss | Carroll Morgan | Jan. 15 | 1920 | Apr. 13 | 1999 |
| Moss | Virginia | Jul. 28 | 1924 | Sep. 10 | 2009 |
| Motley | Weldon | Jun. 9 | 1942 | Jul. 14 | 2002 |
| Neinast | Lee Barfield | Mar. 15 | 1929 | Nov. 11 | 2003 |
| Nicholas | N B | Jan. 8 | 1909 | May 4 | 1998 |
| Nixon | Benjamin V. | Oct. 9 | 1861 | Mar. 17 | 1929 |
| Nixon | Georgia Elizabeth Grimes | Nov. 24 | 1882 | Nov. 15 | 1970 |
| Nixon | Gerald | Nov. 22 | 1915 | Oct. 11 | 2003 |
| Nixon | Ineta | Feb 4 | 1915 | Mar. 14 | 2008 |
| Nixon | Vernon O | Apr. 22 | 1918 | Apr. 16 | 2007 |
| Ochoa | Hortencia Zamora | Aug. 2 | 1923 | Sep. 10 | 2009 |
| Ogden | Anna Abigail Sander | Jan. 28 | 1877 | Jan. 4 | 1929 |
| Ogden | Indiana Alvantine Sander | Mar. 16 | 1873 | Nov. 9 | 1936 |
| Ogden | Johnathon Peter | Jan. 2 | 1846 | Jun. 21 | 1931 |
| Ogden | Mary Catherine Lemaster | Dec. 1 | 1845 | Mar. 3 | 1929 |
| Ogden | Walter Vermindois | Jun. 21 | 1870 | Dec. 2 | 1924 |
| Ogletree | Clara Emma Adams | Aug. 26 | 1883 | May 12 | 1985 |
| Ogletree | Darrell | Sep. 23 | 1954 | May 12 | 2009 |
| Ogletree | Joseph Clifford | Jun. 28 | 1881 | Jan. 27 | 1963 |
| Ojeda | Jova | Jul. 15 | 1926 | Jan. 11 | 2009 |
| Oursbourn | Aubrey Joseph | Feb 22 | 1915 | Aug. 23 | 2005 |
| Palmer | Wanda | Sep. 28 | 1930 | Mar. 11 | 2009 |
| Park | Brenda Gayle Truelock | Aug. 27 | 1949 | Oct. 6 | 1968 |
| Paul | Mary E. | Jun. 12 | 1838 | Jun. 6 | 1916 |
| Perez | Lidia Villegas | unknown | | Nov. 19 | 2000 |
| Perry | Ethel May Jones | Aug. 26 | 1912 | Oct. 22 | 2003 |
| Petty | Charles Weldon | Jul. 4 | 1915 | Nov. 3 | 2004 |
| Petty | Elsie Irene Bodkin | Oct. 16 | 1913 | Dec. 19 | 2004 |
| Pitillo | Bill | Apr. 7 | 1934 | May 4 | 1998 |
| Pool | Edgar Lewis | Jun. 15 | 1880 | May 21 | 1944 |
| Poteet | Clovis | 1920 | Feb 25 | 1987 | |
| Poteet | Pamela Jean | May 23 | 1949 | May 26 | 1949 |
| Ramirez | Ruben Sr | May 21 | 1947 | Mar. 8 | 2008 |
| Ray | Theona Virginia Green | Nov. 2 | 1925 | Jun. 18 | 2008 |
| Reeves | Richard Cooper | Dec. 22 | 1863 | Mar. 24 | 1946 |
| Reeves | Sarah Texas Sloan | Oct. 15 | 1863 | Jun. 25 | 1941 |
| Reinhardt | Juanelle Carruth | Feb 11 | 1922 | Jul. | 2001 |
| Rivera | Modesta | Feb 24 | 1917 | Jul. 29 | 2008 |
| Robertson | Nora Lee | Mar. 27 | 1937 | Mar. 17 | 2002 |
| Rocha | Concepcion Trevino | Mar. 3 | 1897 | May 21 | 1969 |
| Rocha | Guadalupe | Jan. 15 | 1887 | Feb 26 | 1982 |
| Rucker | Russell | Apr. 11 | 1915 | Nov. 18 | 2003 |
| Rucker | Russell | Apr. 11 | 1915 | Nov. 18 | 2003 |
| Santillan | Jose | Dec. 4 | 1977 | Jun. 23 | 2008 |
| Sauceda | Hannah Michelle | Feb 26 | 1986 | Feb 26 | 1986 |
| Sheffield | Howard Jr | Feb 21 | 1952 | Oct. 6 | 2008 |
| Silcott | Lily May | unknown | Oct. 27 | 2004 | |
| Simmons | Geraldean "Jerri" | Oct. 14 | 1918 | Dec. 1 | 2003 |
| Singleterry | Glen | unknown | | | unknown |
| Small | James L. | Oct. 22 | 1917 | Sep. 11 | 2000 |
| Smyth | Anna Arie | Jul. 19 | 1900 | Nov. 4 | 1979 |
| Smyth | Aubrey John | Oct. 4 | 1899 | May 14 | 1977 |
| Smyth | Katherine | Jan. 2 | 1924 | Jan. 16 | 2004 |
| Sopher | Doug | Dec. 6 | 1919 | Dec. 30 | 2005 |
| Sorley | Archie | May 2 | 1927 | Aug. 28 | 2007 |
| Taylor | Donald Weldon | Dec. 8 | 1935 | Jan. 2 | 2003 |
| Taylor | John Madole | Feb 18 | 1876 | Mar. 12 | 1966 |
| Taylor | Lovie M. | May 5 | 1900 | Jul. 27 | 1984 |
| Taylor | M. E. | Jan. 24 | 1900 | Jan. 7 | 1974 |
| Taylor | Nora Lee Hays | Nov. 14 | 1881 | Sep. 6 | 1956 |
| Thomas | Bertha Amelia Bartlett | Mar. 15 | 1906 | Mar. 26 | 1979 |
| Thomas | PFC Drummond | Oct. 31 | 1923 | Mar. 13 | 1945 |
| Thomas | Harry Rosco Sr | Aug. 14 | 1905 | Dec. 14 | 1995 |
| Truelock | Arthur Clyde | Aug. 13 | 1927 | May 14 | 2003 |
| Truelock | Betty Jo Wright | Dec. 31 | 1931 | May 16 | 1999 |
| Truelock | Gary Lynn | Jul. 7 | 1950 | Aug. 1 | 1950 |
| Vaughn | Wilburn Garvin | Oct. 24 | 1918 | Mar. 1 | 1980 |
| Vaughn | Zorene Josephine Jackson | Nov. 2 | 1921 | Mar. 25 | 1991 |
| Villanueva | Guadalupe C. | Jan. 10 | 1919 | Aug. 22 | 2007 |
| Villanueva | Pedro | Nov. 17 | 1914 | Sep. 11 | 2000 |
| Weaver | Bill | unknown | | Mar. 22 | 2007 |
| Weeks | Zilphia Ann Peel | Feb 9 | 1847 | Feb 6 | 1934 |
| Williams | Felix G | unknown | | Apr. 21 | 1999 |
| Williams | Vaneta I Murrer | Apr. 7 | 1916 | Dec. 10 | 1996 |
| Wood | Nell | Aug. 17 | 1915 | Sep. 7 | 2005 |
| Wood | Raymond Ancil | Jul. 15 | 1913 | Aug. 2 | 1999 |
| Wood | Truman | Mar. 2 | 1931 | Aug. 20 | 2004 |
| Workman | Bobbye Haynie | Nov. 13 | 1935 | Jan. 10 | 2009 |
| Wozencraft | Ivan L. Jr | Jan. 10 | 1940 | Feb 8 | 2001 |
| Young | Valera Vestal | May 30 | 1919 | Aug. 6 | 2009 |
---