Truscott Cemetery
Truscott, Knox County, Cemeteries of Texas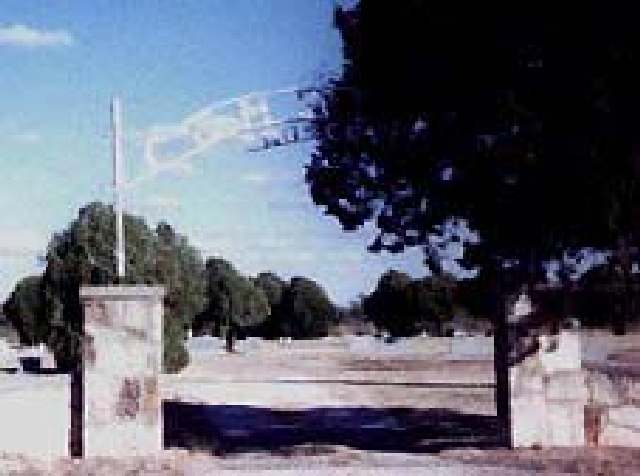 Pictured at left is the entrance gate to the Truscott Cemetery.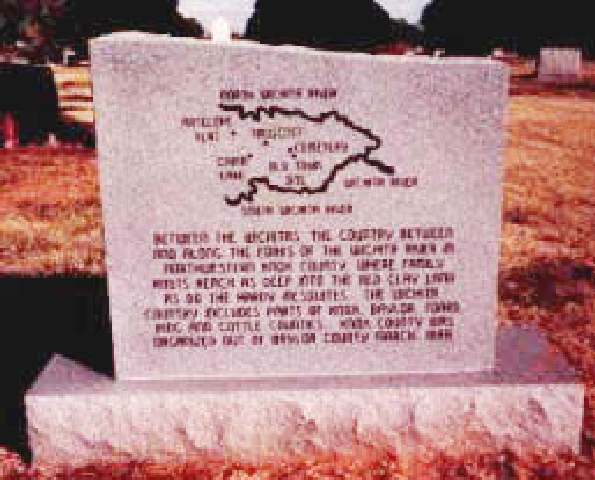 Between The Wichitas
The Wichita Divide was once a part of the Permian Sea of Texas, Archeologists claim Indians lived along the Wichitas about 10,000 b.c.. Area historic Indians were Kiowa, Apache, and Comanche. Texas was under Spanish Rule until 1821, Then under Mexico until 1836. In 1841 Mirabeau B. Lamar, President of Texas ordered the Santa Fe Expedition to New Mexico. From Austin they went north near the mouth of the Wichita river and turned west. One expedition writer stated that the Wichitas were known only to Indians and Fur Traders. Reports mentioned huge prairie dog towns and immense rattlesnakes near the South Wichita between present Truscott and King County. Most reports mentioned water was cyppy or salty. The summer of 1854 Capt Randolph and Marcy seeking land for an Indian reservation led an expedition NW from Fort Belknap to the North side of the South Wichita river. Marcy reported of the Wichita river country, The most forbidding land i have ever visited. This section was not designed by the creator for occupation and I question if the next century will see it populated by civilized man. Even the Indians shun this valley. The bears are left in undisturbed possession. During the Civil War men living on the Texas frontier explored the rolling plains country as they tracked marauding Indians. From the Cross Timbers to Cap Rock Texas, encouraged railroads by giving 16 sectors of land for each rail mile built. Railroad survey crews brought back stories of thousands of Buffalo in the King and Knox county area in the 1870's. About 1874 a day Land and Cattle Co. cowboy on the eastward drift of buffalo in the South Wichita river valley. The Buffalo was pushed west saving the grass for the cattle, In the 1870's , Indians swarmed frontier counties then retreated up the Wichitas and Brazos beyond the reach.
Between the Wichitas, The Country between and along the forks of the Wichita river in the Northwestern Knox County. Where Family Roots reach as deep into the Red Clay Land as do the hardy mesquites. The Wichita Country includes parts of Knox, Baylor, Foard, King and Cottle Counties. Knox County was organized out of Baylor County, March 1886.


Photos and text provided by Clifford Smith
Thanks go to Clifford Smith who sent in these inscriptions of the Truscott Cemetery. While this is not a complete list of the burials there, it might help someone to have the information anyway. Other families were buried there as well, and Clifford is planning to return the cemetery this summer to transcribe the rest. Clifford can be reached at canonfun@aol.com
This is a partial listing only.
Pete (Peter) Moody
B- Sept 6,1854
D- July 16,1948
Wife on "same Headstone"
Harriett Ann (Read) Moody
B- Oct 16,1869
D-Nov 1,1957
Criss Henry Moody "Son of Pete and Harriett Moody"
B- Apr 4, 1902
D- Sept 29, 1991
Wife has separate headstone
Mabel (Hunter) Moody
B- Apr 9, 1907
D- Jan 29,1996
Charley Pete Moody " Son of Criss and Mabel Moody"
Texas, Sgt., Artillery
B- Mar 6, 1929
D- Oct 29, 1954
S.A. Moody " Sam"
B-Apr 10,1850
D- Apr 18,1917
Eddie P. Moody Son of Pete and Harriett Moody and a twin to freddie Moody
B- Aug 4, 1911
D- Nov 11, 1911
Glenn Luther Moody " Son of Luther and Mattie Moody" and a Twin to Glenna Moody
B- Aug 4, 1933
D- Sept 16, 1933
James Allen Moody
B- Dec 19, 1861
D- Dec 27, 1940
Wife on "same Headstone"
Sarah Eugenia (Dugat) Moody
B- abt 1877
D- Dec 3, 1910
Luther Artimus Moody, Son of James A. and Sarah Moody"
B- Jan 22, 1900
D- Nov 23, 1967
Wife on Same Headstone
Mattie Rebecca (Brian) Moody
B- July 21, 1907
D- Apr 21, 1990
The above are Brothers Pete, S. A."Sam", and James Allen Moody.
In 1908, my Great Grandfather John H. Westbrook deeded 5 acres for the sum of one dollar to trustees with the stipulation that the land be used as a community cemetary for the area. He reserved a plot for his family 50 feet N-S and 16 feet E-W, with the grave of his son, John H Westbrook Jr. to be in the center. His son died in 1891, and was already interred there. Ken Westbrook
J. H. Westbrook, h/o Fannie
B- May 29 1849
D Apr 18 1924
Fannie Westbrook w/o J. H.
B Aug 17 1857
D Aug 31 1934
---