Benjamin Cemetery
Benjamin, Knox County, Cemeteries of Texas
Sorry, cemetery inscriptions not available to us at this time.
Location: On the East side of Benjamin about one mile east of the courthouse and four blocks south.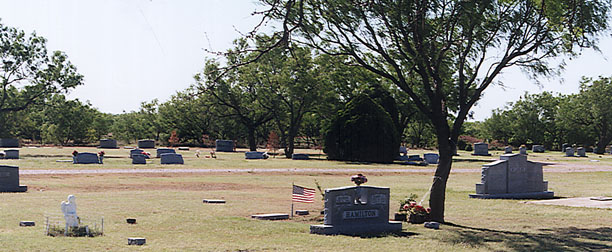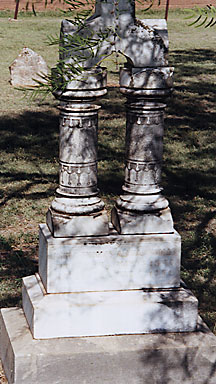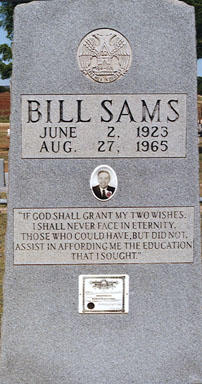 Above left is an interesting and unique marker. Though small in size it reminds me of the Roman Era. Bill Sams huge marker located near the South side of the cemetery with iron fence and gate surrounding it, and granite bench for visitors.



Notice the size of this monolithic black granite stone which marks a grave at center. A marker for the Burnett family.
Below is a very interesting double marker. Behind it, notice a raised stone slab. Very common in some East Texas cemeteries, but
not so common in West Texas.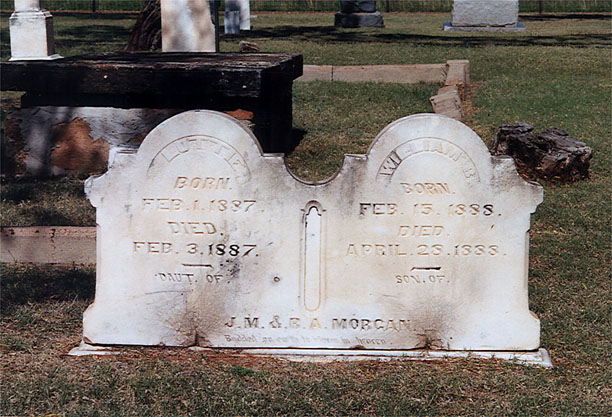 Photos by Gary Webb

Submitted by Judy (Rushing) Clifton gmclifton@att.net

Back several years ago, we went to the Longs Cemetery of Roosevelt Co., N M. Mr. Victor happened to be there and we talked with him. I had made temporary headstones "of sorts" for my great-grandpa: Mr. Victor said that he had heard his wife talk of the Rushing family & that the original cemetery listing was ? lost?
Joseph Albert Rushing (b: January 09, 1850 Anson Co., NC d: March 17, 1914 Minco, Roosevelt Co., NM and buried at Longs Cemetery), his wife: Texas Ann (Hendricks) Snider / Rushing & their son: Joseph Raymond 'Joe' Rushing are both buried in Benjamin Cemetery in Knox Co. TX, Their graves are unrecorded and unmarked. (information : burial place according to a letter written by his son-in-law in my possession).
Texas Ann (Hendricks) Snider / Rushing (b:Dec. 22, 1858 d: May 27, 1934) is the wife of Joseph Albert Rushing and mother of Joseph Raymond Rushing
Joseph Raymond "Joe" Rushing (b:July 17, 1897 Texas d: October 11, 1920 .his horse bolted during a thunderstorm and Uncle Joe was dragged by the horse to his death Then when his mother died, she was buried beside him in the Benjamin cemetery.