Paul H. Gorman Obit
Midway Cemetery, Jones Co. TX
Submitted by Sean MacGorman Powell
Paul H. Gorman died on March 16, 1946, and was buried on March 18. Below is a copy of his obituary and funeral service announcement from the Abilene Reporter-News:

======================================
Obituary from The Abilene Reporter-News (Abilene, Texas), dated March 17, 1946:

Elderly Man Dies At Local Hospital. Paul H. Gorman, about 75, who had been living alone in a trailer house at South 11th and Cherry, died at Hendrick Memorial hospital at 3:50 p.m. Saturday. He was sent to the hospital several days ago by the Taylor County Welfare Board. Elliott's Funeral home said it had been unable to contact his relatives. He was thought to have lived on a ranch on route 1 before moving to Abilene recently. Funeral arrangements were incomplete.
======================================

The funeral notice, dated March 18, 1946, reads:

Gorman Funeral At Midway Today. Graveside Services for Paul H. Gorman, about 75, who died at Hendrick Memorial Hospital Saturday afternoon, will be conducted at Midway cemetery in the Hodges community at 2 p.m. today. Burial will be under the direction of Elliott's funeral home of Abilene. Mr. Gorman had been ill for several days. He lived alone in a trailer house at South 11th and Cherry.
======================================

I also have a copy of his official death certificate, which was signed over a month after his death, showing his place of burial as "Hamby, Texas" on March 17. 1930 (Fed Census show him at Precinct 3 Jones Co. TX). That's the place where he is shown on this cemetery survey:

http://www.cemeteries-of-tx.com/Wtx/Jones/cemetery/Hamby.html

His grave marker at Midway Cemetery has no dates on it, probably because nobody who lived near him knew when he was born. It also looks rather homemade, so I'm not sure if this would have been a county marker, or perhaps just something that a friend set up for him to replace a county marker. Here are a couple of photos.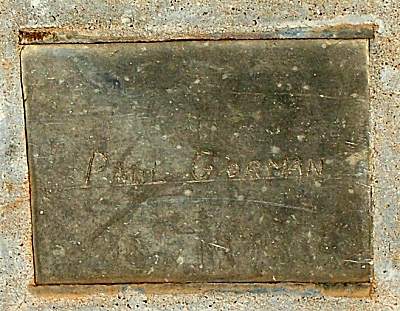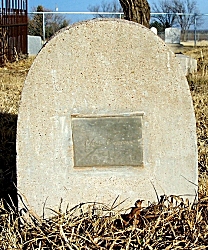 I contacted Elliott-Hamil Funeral Home, but their records do not go back that far.
I'd like to give credit to the person who researched Paul's grave location for me. His name is Gary Spargo, He went to Midway Cemetery for me twice, looking for the grave without success, then finally found an inventory of the cemetery in Anson Public Library, showing the location of Paul's grave. He then went back to the cemetery a third time, found the grave from the description in the inventory, and took the photos that I sent you. I very much appreciate his diligence.


Thanks Gloria, and thanks for forwarding me Cassie's reply. The above marker is undoubtedly the one she saw when she surveyed the cemetery. Sean MacGorman Powell
---