TRUBY CEMETERY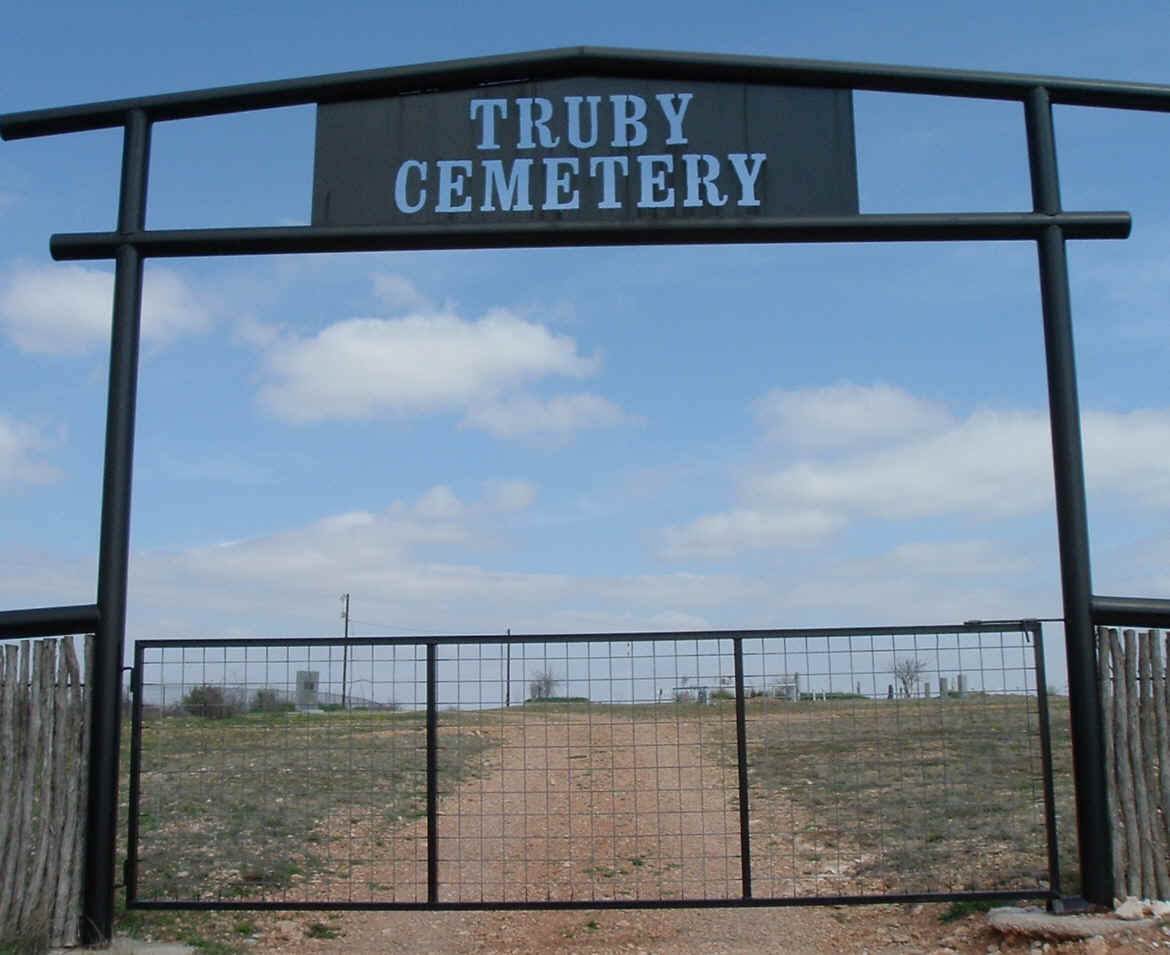 Photos and submitted by Cassie Jarrett

Located by: I-20 at FM 707 turn North, go 13.2 miles to CR 474, there is a marker for the Truby Cemetery, turn West .5 miles, the road Ys in three directions, take the first road to the right .1 mile to cemetery gate.
Historic Texas Cemetery marker by the Texas Historical Commission
Truby Cemetery:
Several gravestones at this site attest to its use as a burial
grounds by nearby settlers. Area ranchers, formally deeded these
three acres for cemetery use on December 4,1906. The oldest
marked grave is that of infant Madge S McCargo (1897-1898),
granddaughter of pioneer Baptist minister George W Scarborough
and his wife Martha, who settled on this land in 1877. Caring
descendents erected a fence in the 1950s and a flagpole in 1998.
Out of respect for the pioneers, veterans, and citizens laid to
rest here; their gravestones remain a chronicle of the heritage
of Jones County. (2000)

Verterans of War Memorial
(at the gate with the historical marker)
J F Bristow 12-10-1900 CSA
Isaac L Lollar 7-11-1919 CSA
Eugene Bumpass 11-19-1955 WWI
Robert John Rhome 10-24-1975 WWI
Roy N Sandidge 10- 9-1918 WWI KIA
James W McDuff 3-14-1932 Texas Guard
Leslie F Lipham Jr. 10-18-1996 WWII
Al E Newman 3-19-2001 WWII
Joseph W Hampton 2-17-1998 Vietnam
Oscar Leo McIlroy 6-21-1973 WWII
Van L Welch 9- 8-2001 Vietnam
There are 37 white crosses that mark graves with no writing on them. There are 6 unmarked graves, some with flowers. There is a grave marked with a tin marker with part of the lettering missing. What lettering there is reads: Tennie ail 1895. It is beside the John L. Baker grave. There are many graves covered with shells.
Althup, Infant
  daughter of JR & FH Althup      Aug  8,1922     Aug  8,1922
Archer, Jerry Frank               Jun 14,1928     Jun 29,1928

Baker, John L                     Mar 31,1917     Jan 31,1944
Bales, David                      Sep  1,1837     Apr 22,1916
Bales, Lydia Jane
  wife of David Boles             Jun 16,1840     Jan 30,1931
Ball, James B                     Dec 23,1860     Dec 12,1951
Ball, Harriett A                  Oct  1,1862     Apr  5,1938
Boun, Amuel Glen                  Dec 24,1889     Jan 14,1919
Bowen, D L                        May 13,1852     Jul  4,1924
Bristow, J F                      Nov 25,1846     Dec 10,1900
Bumpass, Tinah Haywood Poland     Jul 15,1901     Mar 13,1993
Bumpass, Eugene B                 Jun 13,1894     Nov 19,1955
  TEXAS  PFC CO B 15 SUPPLY TRAIN WWI

Cole, Abe L                       Dec 15,1861     Sep 17,1937
Cole Frances A                    Mar 16,1868     Jul 19,1949
Cole, Allie Ruth                  Jan 10,1902     Sep  3,1902
Cole, Leonard Stanley                    1911            1911
Cole, Johnnie Brooking                   1889            1931
Cole, Ann                                1895            1934
Collins, Evia                     Aug 20,1865     Jan 14,1913

Davis, Elizabeth
  daughter of Mr & Mrs JM Davis   Feb  3,1902     Apr 10,1918
Davis, Mattie Pearl
  wife of JM Davis                Aug  9,1883     Dec 31,1916
Dougherty, Starlye Love                  1905            1907

Easley, Lady Hampton              Jul 23,1911     Aug  3,1993 
Emerson, James D "Jim" Jr         Jan  4,1945     Jul 25,2002
  married Dec 24,1967
Emerson, Sandra J Godley          Oct 28,1939

Foy, John R (Son)                 Jan 28,1909     Jun 23,1974
Foy, Winnie (Mother)              Oct  7,1888     Nov 24,1924

Gentry, M E                       Feb 10,1884     May 19,1930
Gentry, S G                       Mar 17,1850     May 18,1926
Gentry, James Arwood              Oct 18,1923     Jun 30,1925
Grogan, Hannibal W                
  Woodsman of the World marker    Oct 15,1850     Apr 26,1918
Grogan, Palace L B                Nov 20,1906     May 23,1907
Grogan, Jack Howard               Sep 19,1909     Apr 24,1993
  married Sep 10,1933
Grogan, Fay Loreta                Aug  9,1912     Nov  6,1977
Grogan/Owens family plot an unmarked grave

Hall, Infant
  son of WC & Fannie Hall         Sep 18,1909     Sep 18,1909
Hall, David Lee
  son of HC & Flora M Hall        Apr 11,1893     Jun 14,1929
Hall, Flora M                            1865            1927
Hall, Henry C                            1869            1958
Hall, Thomas L                    Aug 21,1873     Sep  9,1951     (Father-Grandfather)
Hampton, Philip W                 Nov 11,1912
  married Jul  3,1937
Hampton, Evlyn C                  Nov 13,1918     Aug 18,1986
Hampton, Joseph Hill
  ETN2 US NAVY                    Jan 12,1943     Feb 17,1998
Hampton, Hill E                   Aug  8,1909     Mar 13,1965
Hampton, Ethel W                  Jan 19,1882     Oct 15,1979
Hampton, Allie W                  Dec 30,1876     Apr 27,1966
Hampton, Hill Edmond              Aug  8,1909     Mar 13,1965 

Jones, A (Rebecca)                Oct 23,1833     Nov 11,1911
Jones,A A                         Dec  8,1834     Jan 23,1901
Jones Thomas L (Father)                  1849            1930
Jones, Lavonia M (Mother)                1848            1905   
Jordan, P R                       Jul  8,1839     Aug 27,1918
Jordan, M M                       no dates

Lipham, Rita W                    Jul  2,1935
Lipham, Leslie Frederick Jr
  SGT US ARMY WWII                Jul 20,1926     Oct 18,1996
Lipham, Jerimy Joe Brown          Mar 30,1984     May  5,2002          
  In memory of (plaque)
   Jerimy "JJ" Brown-Lipham
   from the US Border Patrol
   San Angelo, Texas             
Lollar, Louise M                  Oct 10,1838     Jun 29,1909
Lollar, Issac L
  C O 1 W MISS CAV
  CONFEDERATE STATES ARMY         Jul 13,1832     Jul 11,1919

Marr, Sherry Evlyn                Mar  3,1961     Dec 30,1999
McCargo, Henry L                  Jun 14,1899     Jun 23,1899
McCargo, Madge                    Nov 27,1897     Apr 30,1898
McDougle, Alexander Neal          Sep 20,1850     Jan  8,1932
McDougle, John Wylie              Sep 29,1916     Mar 25,1932
McDougle, Julia Virginia          Aug 15,1875     Jan 12,1965
McDuff, James Wesley              
  TEXAS PVT PROVOST GUARD CO      no date         Mar 14,1932 
McIlroy, Oscar Leo                       1911            1973
Mitchell, Milton Fletcher         Jan 15,1874     Jan  3,1908

Newman, Al Ervin (Father)         Dec 30,1914     Mar 29,2001     Family Marker
  married Oct 15,1938 
Newman, Anna Belle (Mother)       Feb  8,1921
Newman, W E (Brother)             Dec  8,1908     Jan 14,1961
Newman, Joe B                     Dec 29,1899     Mar  9,1958
Newman, Mammie Webb
  wife of Joe B                          1908            1992
Newman, Al Ervin
  T SGT US ARMY AIR FORCES WWII
  DISTINGUISHED FLYING CROSS      Dec 30,1914     Mar 29,2001

Owens, Virginia Ann Grogan        Sep 29,1938     Nov  4,1988

Packer, Craigie Rice              Jul 19,1912     Feb 18,1998
  married Sep 10,1949
Packer, Gita Bumpass              Jun  1,1922
Poland, Julia A                          1866            1953
Poland, Miss Fay                         1891            1970
Poland, T H                              1853            1913
Poland, Nellie
  daughter of TH & JA             Sep 12,1907     Jun 10,1909

Rhome, Robert J
  LTJG US NAVY WWII               Jul 23,1891     Oct 24,1975
  
Sandidge, Martha M                Jul 20,1860     Aug  1,1924
Sandidge, Azro T                  Jan 18,1885     Mar  3,1909
Sandidge, Roy N
  PVT US ARMY WWI                 Oct  2,1895     Oct  9,1918

Thompson, Nancy                   Oct 24,1816     Feb  9,1900

Welch, Van                        Jan 17,1934     Sep  8,1901
Welch, Frances Richter            Jul 27,1923
Welch, Dorthy Welch               Feb 22,1924     Jul  4,1902 
Williams, Cora L
  daughter of CC & MC Brownfield  Jun  5,1883     Apr 19,1904