Big Valley Cemetery
Hardeman County, Cemeteries of Texas
Submitted by Jean Hopkins and Leaton Clark Carlton.
more by Anita Stermer-Ogle
Cemeteries of Texas Coordinator: Dolores I. Bishop
(partial)
All Photos by Gary Webb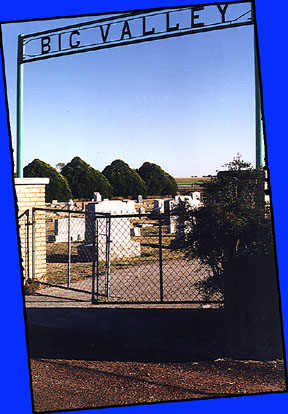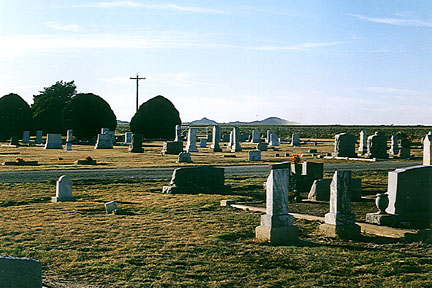 The Big Valley Cemetery is located about six miles south-west of Chillicothe, Texas, near Medicine Mound. Pictured directly above is a view of the four peaks that make up Medicine Mounds, and the town of Medicine Mound is just this side of these peaks in this picture. The cemetery is located just above the valley to the north, and Big Valley is very beautiful. The picture at left shows just a small portion of it between the trees and bushes on the left and right respectively. If you look close you can see the green grass and the blue lake there. These pictures were taken in December, so much of the green has faded to browns, as grass tends to do, but I can imagine how beautiful this place must be in the Spring and Summer. A very secluded cemetery but well kept.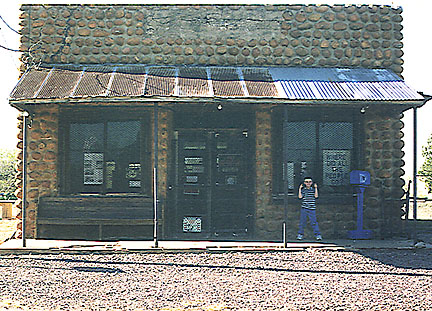 This building is one of two which were rebuilt after a fire gutted the whole town of Medicine Mound. This building houses a museum open only a few hours during the winter months.
The Orange looking Cobble Stone was imported from Oklahoma but the owners.
These stones are very large, and create a rough look to the buildings. The other building has been abandoned.
This cemetery not transcribed at this time, but here are a few names of people that I had taken pictures
| | | | | |
| --- | --- | --- | --- | --- |
| Last Name | First Name | Birth Date | Death Date | Comments |
| Coats | Albert Earl | Oct 13 1901 | Aug 09 1977 | - |
| Coats | Joe C. | Mar 17 1880 | Jul 14 1951 | - |
| Coats | Pearl (Stubblefield) | Jan 14 1879 | Sep 09 1955 | - |
| Coats | Sarah Linnie | Jul 25 1906 | Jul 27 1994 | - |
| Gilliland | John A. | Sep 02 1893 | May 29 1956 | TX WAGR SUP CO 142 Inf 36 Div WWI |
| Gilliland | Minerva R. | Mar 05 1895 | Jun 28 1985 | - |
| Green | Myrtle Ellen (Lance) | Mar 17 1896 | Dec 13 1972 | - |
| Green | William T. | - | - | - |
| Griffin | B.W. | May 11 1902 | Oct 30 1962 | H/o Lola Richardson |
| Griffin | Lola | Dec 28 1907 | Feb 05 1972 | D/o Jesse & Pearl Richardson |
| Hardage | Annie Bell | Oct 15 1877 | Dec 11 1925 | Mother |
| Hardage | James A. | Aug 24 1874 | Jan 06 1940 | Father |
| Hewell | Eula Orlenia (Walser) | Sep 08 1906 | Jan 01 1958 | - |
| Hewett | S.L. (Doc) | Aug 09 1900 | Mar 30 1975 | - |
| Hopkins | Bernice A. | Dec 21 1907 | Oct 19 1978 | S/o PT |
| Hopkins | P.T. | Mar 19 1880 | Mar 22 1942 | - |
| Jenkins | H. Clay | Apr 10 1895? | Dec 12 199? | M: Feb 14 1926;"Thy Life was beauty, truth, goodness and love" |
| Jenkins | Lois G. | Mar 25 1899 | Mar 01 1989 | M: Feb 14 1926; "Thy Life was beauty, truth, goodness and love" |
| Jenkins | John | Aug 15 1864 | Apr 06 1920 | - |
| Lance | Alford Melvin | Sep 18 1874 | Oct 19 1908 | - |
| Lance | Claudis Melvin | Dec 13 1892 | Oct 07 1935 | - |
| Lance | John Alexander | Feb 11 1834 | Sep 08 1911 | - |
| Lance | Margritte Lavina (Little) | Apr 19 1848 | Apr 20 1929 | - |
| Lance | Sarah Lottie (Mulkey, Briscoe) | Mar 02 1896 | Oct 31 1967 | - |
| Lance | William Harrison | 1845 | May 27 1924 | - |
| Neece | Armine Pearl | Nov 11 1888 | Mar 13 1920 | - |
| Parker | Aldred E. | 1917 | 1999 | - |
| Parker | Ethel Irene (Wright-Turner) | 1908 | 1998 | - |
| Richardson | Jesse N. | Oct 22 1882 | Apr 19 1968 | - |
| Richardson | Pearl U. | Oct 21 1889 | Jul 09 1935 | - |
| Rogers | Mose C. | May 03 1867 | Aug 21 1947 | - |
| Rogers | Rachel Williamson | Mar 30 1869 | Mar 08 1922 | - |
| Smith | S.E. "Bill" | - | 1949 | - |
| Smith | Sarah Elenora (Walser) | Jan 12 1912 | Jan 06 1996 | - |
| Stermer | John Lowery | Mar 14 1921 | Apr 09 1991 | S/o John W & Ella; H/o Nola Daphine; M: 1945 |
| Stermer | John William | Oct 27 1873 | Apr 14 1964 | H/o Ella |
| Stermer | Ella Mary | Nov 13 1882 | May 04 1967 | W/o John William |
| Stermer | Bernadine Gibson | Jan 16 1920 | Jun 08 1968 | W/o Raymond;M: May 30 1936 |
| Stermer | James Raymond | Feb 11 1912 | Jul 19 1987 | H/o Bernadine |
| Stevens | Claude William | Oct 04 1897 | Jan 06 1982 | - |
| Stevens | Ola Mae (Walser) | Nov 08 1900 | Aug 26 1987 | - |
| Thomas | Charles | Dec 14 1898 | Jun 23 1953 | - |
| Thompson | Lena Alonso (Walser) | May 02 1900 | Aug 28 1984 | - |
| Thurman | Adron Vernon | Jan 22 1895 | Apr 24 1923 | - |
| Thurman | Etta Mae (Walser) | Sep 08 1898 | Jan 16 1995 | - |
| Wall | Carl Edgar | Dec 23 1898 | Aug 29 1955 | - |
| Walser | Audrey Rebecca (Chandler) | Sep 21 1913 | Dec 25 1992 | - |
| Walser | Beulah Irene (Barnes) | Jul 06 1908 | Jul 18 1999 | - |
| Walser | Calvin Samuel | Feb 16 1912 | Jul 27 1993 | - |
| Walser | Cephas Alonza | Apr 03 1875 | Jun 13 1973 | - |
| Walser | Elizabeth Jane (Lance) | Nov 21 1869 | Jul 09 1953 | - |
| Walser | Eva Lena (Allen) | Nov 27 1877 | Aug 06 1968 | - |
| Walser | Flora Mae | Jul 12 1915 | Dec 28 1918 | - |
| Walser | Gwendolyn Bernice (Sis) | Dec 08 1927 | Aug 04 1997 | - |
| Walser | Hoye Lemuel | Nov 27 1909 | Sep 03 1993 | - |
| Walser | Irene | Nov 21 1911 | Jan 11 1912 | - |
| Walser | James David (Buck) | Feb 28 1872 | Feb 26 1951 | - |
| Walser | Jessie Leonia | Jan 15 1911 | Apr 09 1912 | - |
| Walser | Jodie Virgil | Sep 96 1904 | Feb 06 1973 | - |
| Walser | Lenora Roxann (Holt) | Dec 28 1880 | Jun 08 1961 | - |
| Walser | Lillie Lenora | Mar 16 1903 | Apr 13 1972 | - |
| Walser | Lula Kathleen (Gibson) | Apr 30 1916 | Sep 14 1999 | - |
| Walser | Martha Elizabeth (Philley) | Dec 11 1882 | Jul 04 1967 | - |
| Walser | Richard Jonah | Jun 01 1902 | Apr 28 1912 | - |
| Walser | Robert Euen | May 03 1894 | Jun 22 1955 | - |
| Walser | Thomas Lemuel | Apr 28 1879 | Apr 28 1973 | - |
| Walser | Wallace Dwight | Feb 22 1929 | Feb 07 1996 | - |