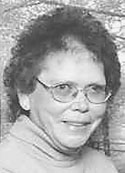 Frances Long

ODESSA Frances Long, 68, of Odessa, passed away Tuesday, Nov. 30, 2004.
She was born on Jan. 14, 1936, to Wyle Lawton and Hester Faye Payne in Hobbs, N.M.
On Dec. 26, 1974, she married Charles William Long. She was a lifelong Odessa resident, a homemaker and a member of Full Gospel River of Life Church.
Mrs. Long is preceded in death by her husband, Charles William Long; one brother, Wilburn Payne and one son, Simon Stephen Smith.
Frances is survived by son, Chad Long and wife Lisa of Odessa; daughters, Tanice Wilson and husband Howard of Odessa, Kimila Walser and husband Jay of Odessa, Cherrie Loftin and husband Don of Vidor; grandchildren, Brandon McPherson, Shelby Loftin, Brandon Long, Shannon Wilson and wife Nicole, Christie Gamboa, Laura Johnson and husband Don; and great-grandchildren, Dylan Wilson, Heather Gamboa and Christopher Gamboa, Kylea Johnson, Serenty Wilson and Colby Johnson.
Graveside services will be held at 1 p.m. Wednesday, Dec. 1, 2004, at Sunset Memorial Gardens with the Rev. Scott Sprouse and Don Heatherington officiating.
Services entrusted to Sunset Memorial Funeral Home.