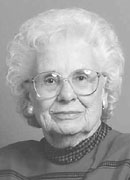 Evelyn P. King

ODESSA — Evelyn P. King, age 89, of Odessa, passed away Friday, Sept. 24, 2004, at Midland Memorial Hospital.
Graveside services are scheduled for 1 p.m. Tuesday, Sept. 28, at Sunset Memorial Gardens with the Rev. Charles Tapley officiating.
Evelyn was born Nov. 15, 1914, in Cookville, Texas, to James and Mattie McCormack. Evelyn was a teacher, and she taught at ECISD for 27 years, mostly at Bonham Junior High. She married Harmon L. King on June 19, 1932, and they shared 61 wonderful years of marriage together. She was a member of the First United Methodist Church.
She is survived by her daughter, Jimmy K. Story and husband Ernest; son, Harmon L. King Jr. and wife Toni; grandchildren, Kathleen Story, Laura J. Young, Evelyn A. Miller, Kris Tullos and Scott King; great-grandchildren, Colleen Young, Calder Young, Caleb Stricklen, Kennedy Tullos, Keegan Tullos and Sara Tullos.
Services are entrusted to Sunset Memorial Funeral Home.