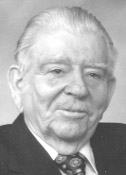 Lawrence D. 'Larry' Jones

ODESSA Lawrence D. Jones passed away Monday, November 1, 2004, at the Hospice House in Odessa. Dad left us to be with his maker after a 27-year battle with life and the injuries it had inflicted upon him. He went to soar on the wings of eagles amongst the stars with all those who had gone before him. He was a man of great integrity, honesty and one of the wisest and caring men who had ever walked.
He was proud to have served in the military in many overseas operations and worked in the oilfields of Illinois, Indiana, Oklahoma, and Texas. He had worked for TMBR/Sharp for 17 years in many capacities and enjoyed every day of his labor.
He was preceded in death by his loving daughter, Sheila Rae Jones; his mother and father, Edgar and Wave Jones; two brothers, Don Jones and Gale Jones; and a sister, Glenna McVaigh.
He is survived by his wife, Velda Jones of 54 years of marriage; one sister, Charlene Lively; two sons, Larry D. Jones and Rickey Lee Jones and wife, Tina; six grandchildren, Joshua Cain Jones and Natalie Jones, Houston Lee Jones, Kathleen Noel Jones, Maddison Raye Jones, Shon Riley and Carissa Childress; and one great-grandchild, Adriana Marie Jones.
There will be a visitation from 6 p.m. to 8 p.m. Thursday, November 4, 2004, at Hubbard-Kelly Funeral Home.
Funeral services will be held at 4 p.m. Friday, November 5, 2004, at Hubbard-Kelly Funeral Home Chapel. with Rev. Jimmy Braswell officiating. Military graveside will follow at Sunset Memorial Gardens.
In lieu of flowers, the family requests memorial donations be sent to the Hospice House.
Services entrusted to Hubbard-Kelly Funeral Home.