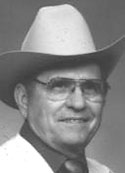 Barnie Ray 'B.R.' Jones

ODESSA Barnie Ray Jones, well known and respected businessman in Odessa for more than half a century passed, away at his home Monday, November 29, 2004.
Born May 27, 1926, in Big Spring, one of six sons of Abe and Fannie Mae Jones. Barnie moved to Odessa in 1942, where he worked in the oil fields until 1952, when he co-founded Jones Bros Dirt & Paving Contractors, Inc.
He was a very loving and generous man who always had time to greet you with a smile and his symbolic handshake. He loved people and enjoyed sharing the fruits of his labor with his community, friends and family.
Barnie was a member of Temple Baptist Church. His past memberships included the Odessa Chamber Of Commerce, West Texas Chamber of Commerce, Texas Police Association, Sheriff's Posse, 32nd Mason member of H.A. McFarland Lodge #1338 Odessa, Scottish Rites Bodies, El Maida Temple El Paso, and the Chuck Wagon Gang. Past honors include 1990 American Business Women's Association "Boss Of The Year", 1993 Chamber of Commerce "Odessa Small Business Person Of the Year", and 2002 Heritage of Odessa Foundation honored him for his Significant Contributions in Business. He was Area Chairman of West Texas Assoc. of General Contractors of America in 1968, in 1972-74 State Director of Associated General Contractors ,1975 State Director of Texas Hot Mix Asphalt Association of America, 2001 Board of Directors of AGC of Texas, Director of Odessa Industrial Foundation of America, Director of three area Banks, and director of Sandhills Hereford and Quarter Horse Show. He was a valued community leader and was an avid supporter of UTPB and Odessa College. He loved fishing, hunting, ranching and RV'ing.
He is survived by his wife, LaCretia; four sons, Rex Chitty of Odessa, Justin Jones of Daytona Beach, Florida, Kirk Chitty Odem, TX, and Kyle Chitty of Odessa; and one daughter, Tammie Jones of Odessa; seven grandchildren, and three great-grandchildren; two brothers, Troy and Earl Jones of Odessa; and 20 nieces and nephews.
He was preceded in death by his parents and brothers, Bobby, R.L. "Slim" and J. W. "Curley" Jones.
Visitation will be Thursday night, December 2, 2004, from 7 p.m. to 9 p.m. at Hubbard-Kelly Funeral Home. Final services will be Friday, December 3, 2004, 10 a.m. at Temple Baptist Church, 1000 North Texas, with Dr. Griffin Jones officiating. Burial will follow at Sunset Memorial Gardens.
Pallbearers will be Charles Carlson, Dwayne Crawford, Sam Holloman, Tom Johnson, Bill McCoy and Dwain McMillan. Honorary Pallbearers will be Mike Michelson, Jarbo Wright and Louis Rochester.
In lieu of flowers, memorial donations may be made to the Scottish Rites Hospital for Crippled Children's Fund, Attn. Business Office, 2222 Welborn St., Dallas, TX 75219.
Services entrusted to Hubbard-Kelly Funeral Home.