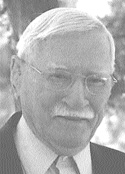 Halsard Eugene Horton

ODESSA — Halsard Eugene Horton, 97, passed from this life in Odessa on October 2, 2004. Mr. Horton was born December 20, 1906, in Hopkins County, Texas, the eighth child born to Eugene M. and Alice E. Bullock Horton.
Mr. Horton worked on farms and in a dairy, and spent 37 years working in the oil field as a pumper for Amoco Production Company. He was a Christian and a member of the Parkview congregation of the Church of Christ.
He married Katy Lou Haynes on October 5, 1938, in McCamey, Texas. They moved to Ector County in 1941, living in Penwell for thirteen years before moving to Odessa in 1955.
He is survived by his wife, Katy Lou Horton; son, N. Stephen Horton and wife, Linda, of Odessa; two daughters, Carol L. Horton of Odessa and Ora Beth Royal and husband, Richard, of Belton. He is survived by grandsons, Chris Horton and wife, Deb, of Scottsdale, Ariz., Joshua Horton of Midland, Spc. Derek Horton of Ft. Hood, Jordan Horton of Odessa and Jarrad Forman and wife, Melissa, of Victoria, Texas; two granddaughters, Renelle Romine and husband, Kent, of Beeville, Texas, and Dawn Littlehat and husband, Adair, of Mesa, Ariz.; and five great-grandchildren. He is also survived by one brother, Hobert Horton; and several nephews and nieces. The grandsons and great-grandsons will serve as pall bearers.
A visitation is scheduled for 6 p.m. to 8 p.m. Tuesday, October 5, 2004, at Hubbard-Kelly Funeral Home.
Services will be at 11 a.m. Wednesday, October 6, 2004, at Hubbard-Kelly Chapel
with Steve Horton officiating. Burial will follow at Sunset Memorial Gardens.
The family would like to express their deep love and appreciation to the nurses and staff of Four Central of Medical Center Hospital, Regency Hospital and the Hospice House who have been so kind and loving to us and our loved one.
Memorials may be made to the Hospice House or to Odessa Christian School.
Services entrusted to Hubbard-Kelly Funeral Home.