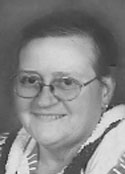 ODESSA Sandra Kay "Dut" Hawkins, was born May 7, 1951, to Emery and Barbara Nell Bloxom in Memphis, TX. She left this earth surrounded by her loving family and friends on Nov. 20, 2004. She went to join her family that awaited her in Heaven: her father and stepmother, Emery and Edith Bloxom; her mother and father, Barbara and Eddie Keeton; her brother, Donald Glenn Charbonneau; as well as her grandparents.
Sandy was referred to as "Dut" by all of our family and many of her friends. She has been our Dut for the last 25 years because a niece was unable to say Sandy. She loved her nieces and nephews as if they were her own. They knew that they could always call Dut when they needed anything from a ride or just to hang out and watch a movie. They will always remember her as the "Cool Aunt."
Our lives were forever changed in January of 2002, when she was diagnosed with colon cancer. This devastating monster also consumed her lungs. Dut fought the battle with everything that she had. She took the opportunity to do things that she had always wanted to do. She got the chance to live like she was dying, and what a journey that was.
Our family enjoyed many trips over the last few years with Dut. She was able to go to all the places that she always wanted to see. She got to got to several states in the northeast as she helped "drive Miss Daisy" (B.B.), as well as Las Vegas with Marlin, the sandy hills with Netter, in the boat on Lake Colorado City going as fast as we could with Mae, and a dream trip to Hawaii so her and Hunny could set on the sandy beach and watch the waves and the handsome guys. As you can tell Dut enjoyed spending time with her family.
Dut spent many hours on the internet with the many friends that she met on line. Even though she may never meet all of them face to face, they gave her many hours of comfort on sleepless nights as she did for them.
Sandy worked at Stockade Grocery in West Odessa for 12 years. In 2000, she took a leap of faith and went to work at Town & Country as an assistant manager. She earned the honor of "Assistant Manager Of The Year." After becoming manager she was forced to retire because of her illness.
Dut is survived by her step-mother, Theda Bloxom of Friona, TX.; sisters, Betty Harkrider and husband, Ron, Jeanette Keeton, Chris Ray and husband, Wesley, Ella Mae Hightower, all of Odessa, Nell Dean Williams and husband, Willie, of Easton, MD., Frances Johnson of Bovina, TX., Georgie Wells and husband, Gary, of Escondido, CA.; brothers, Tommy Keeton of Odessa; Jack Charbonneau and wife, Lynn, of Richardson, TX, Terry Hardy and wife, Jeanette, of Hereford, TX, Larry Johnson and wife, Debbie, of Friona, TX., George David Charbonneau of Odessa; numerous nieces, nephews, aunts, uncles, cousins and very special friends will miss her dearly.
We would like to thank the Cancer Center staff and doctors for all the love and care you gave her. Thank you Dr. Dar for all the love, compassion, and smiles that you gave to our sister while she was under you care. Dr. Kaczor, you and Dr. Dar helped her get well enough to take the dream trip to Hawaii and that was a very special gift to her and our family, Thank You so much. Thank you Home Hospice and Julie for the love and care you gave her. Also we want to thank all of the friends and everyone for the love and support during this time.
Many hearts are filled with sadness at the loss of our sister, aunt, cousin, and friend, but we can all hold close the memory of her smile and spirit, as well as they knowledge that its all better now, and Heaven there is no pain or sadness, and she is rejoined with all who went before her.
There will be a visitation from 6 p.m. to 8 p.m. Tuesday, November 23, 2004, at Hubbard-Kelly Funeral Home.
Services will be held at 11 a.m. Wednesday, November 24, 2004, at Hubbard-Kelly Chapel with Home Hospice Chaplain Emmett Barnard officiating. Burial will follow at Sunset Memorial Gardens.
Services entrusted to Hubbard-Kelly Funeral Home.