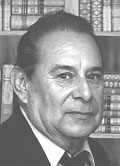 Ynes M. Luna

ODESSA Ynes M. Luna, 78, our beloved Husband, Dad, and Grandpa went home with his Lord and Savior to rejoice in his magnificent glory on Sunday, December 26, 2004, at Medical Center Hospital. He was born December 7, 1926, in Runge, TX. He moved to Odessa in 1976 from Balmorhea. He married Carolina Hernandez Oct. 8, 1951, in Balmorhea. He worked for the City of Odessa in the street dept. for 16 years. He had also been a farmer.
He was preceded in death by his parents, Ynes and Ramona Luna; son, Ruben Luna in 1964; and his sister, Maria Lozano.
He is survived by his wife, Carolina Luna of Odessa; sons, Rudy Luna and wife, Vickey, of Odessa, Felipe Luna and wife, Orfa, of Odessa and Roy Luna and wife, Theresa, of Waco; daughters, Maria Dix of San Antonio, Biola Cordero and husband, Oscar, of Ft. Worth and Delmira Jimenez and husband, Ismael, of Odessa; sister, Elida Luna of Pecos; 12 grandchildren; and eight great-grandchildren.
We love you very much Dad, rest in the arms of the almighty God, Psalms 100:4.
Funeral services will be held at 10 a.m. Thursday, December 30, 2004, at Hubbard-Kelly Funeral Home with Rev. David Campos officiating. Interment will follow at Sunset Memorial Gardens.
Services entrusted to Hubbard-Kelly Funeral Home.