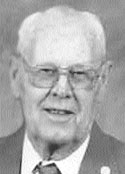 Pershing "P.J." Johnson

ODESSA — Pershing "P.J." Johnson, 85, of Odessa joined our Lord on April 20, 2004, at the Hospice House. He was born December 4, 1918, in Lockesburg, Sevier County, Ark., to Robert E. Lee Johnson and Rilla Dorthia Jester.
P.J., an electrician by trade, met and married his "Shorty," Esther Ward, on July 4, 1941, at the Methodist Parsonage in Lockesburg. P.J. was working at the Lone star Arsenal and Defense plant in Texarkana, Ark., when he answered the call of the West Texas Oil Fields in Big Lake. He worked as a derrick man for Carl J. Westland Drilling Company until he was able to move his family to Big Lake in 1952.
In 1956, he went to work for Southland Royalty Oil Company in the Spraberry Aldwell Unit Camp, where he raised his children. After retirement from Southland, he and Esther relocated to Odessa in April of 1981.
At his passing, P.J. was a member of Asbury United Methodist Church; a member and Past Master of Belleville Lodge No. 35, Lockesburg, Ark., Ancient Free and Accepted Masons; a member of the Roy Jesse Fry Class of 1957, El Paso, Scottish Rite and a member of Friendship Chapter No. 1008, Order of the Eastern Star.
P.J. was preceded in death by his mother, father, two brothers, Lloyd and Will, and grandson, Toby Lane Johnson.
He is survived by his loving wife, Esther of Odessa; Billy Robert Johnson and wife, Donna, of Gillette, Wyo., Frances Ann Johnson of Odessa, Texas; brother-in-law, R.A. "Berry" Brock of Lake Chatham, La.; sister-in-law, Hope Elise Ward of Ogden, Ark.; very much loved friend, Sally Everett of Odessa; grandsons, Walter Neil Johnson and wife, Tiffany, of Houston, Robert Scott Johnson and wife, Melissa, of Odessa, Tim Bath and wife, Virginia, of Estes Park, Colo., Randy Bath and wife, Dana, of Gillette, Wyo.; granddaughter, Piper Volz of Odessa; numerous great-grandchildren, nieces, nephews and many friends.
Honorary pallbearers are brothers, Kenneth Scates and James Kelley. Pallbearers are Walter Marion Brock of Smith Mountain Lake, Va., R.G. "Sonny" Kirkland of Chatham, La., Douglas Ward of Ogden, Ark., Dick Miller of Mathis, Texas, Bill Miller of Aurora, Colo., and Harley Miller of Atlanta, Texas.
The family will receive visitors from 6 to 8 p.m. Friday, April 23, at Sunset Memorial Funeral Home.
Funeral services will be held at 10 a.m. Saturday, April 24, at Asbury United Methodist Church, 4001 E. University with the Rev. Dave Dineen officiating. A Masonic Ceremony will be held at the burial in Sunset Memorial Gardens.
In lieu of flowers, the family asks that memorials be made to the Asbury United Methodist Church, Odessa Home Hospice, Scottish Rite Crippled Children Hospital or Order of the Eastern Star – ESTARL.
Services entrusted to Sunset Memorial Funeral Home.