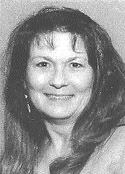 Linda Kay Johnson

ODESSA — Linda Kay Johnson, 53, of Odessa, died Sunday, September 26, 2004, at Medical Center Hospital. She was born March 10, 1951, in Fort Stockton to Fred and Inez Nevans Lane.
A family visitation will be held from 6 p.m. to 8 p.m. Wednesday, September 29, 2004, at Frank W. Wilson Funeral Directors.
Funeral Services will be held at 2 p.m. Thursday, September 30, 2004, in the chapel of Frank W. Wilson Funeral Directors with the Rev. Terry Wright officiating. Interment will follow at Sunset Memorial Gardens.
Mrs. Johnson was an insurance agent and service representative. She attended Odessa High School. She served seven years in the United States Army, including two tours in Germany, and she was a Baptist and was baptized in 1965. She was raised in Ft. Stockton and Odessa. In previous years, she owned two businesses in Fort Stockton. She was a Girl Scout and Girl Scout Leader for several years. She was an adventuress and a cowgirl who enjoyed horseback riding, canoeing, camping, and motorcycling. She also enjoyed her extensive Southwest art and Betty Boop collections. However, the loves of her life were her two sons and two grandchildren.
She was preceded in death by her daughter-in-law, Tina Rains, and her parents.
She is survived by her sons, Ron Rains Jr. of Odessa and Tre' Parker and his wife, Miriam Brickey, of Las Vegas, Nev.; brother, Freddie Lane and his wife, Jeannie, of Odessa; sisters, Dorothy Smith and husband, Albert, of Odessa and Jennie Sue Jones and husband, Joe, of Tucson, Ariz.; grandchildren, Larry Rains and Summer Rains of Odessa; and numerous nieces, nephews, aunts, uncles and cousins.
Services entrusted to Frank W. Wilson Funeral Directors.