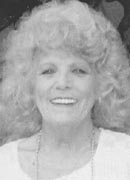 Joyce 'JoDee' Cook Hogan

ODESSA — On Sept. 29, 2004, JoDee was reunited with the love of her life, her husband R.D. Hogan who preceded her in death in December 1998.
JoDee was born June 26, 1936, in Stephenville, Texas, to Sawnie and Buton Cook. They moved to Odessa in 1939. She attended Northside Elementry, the old Crockett Junior High and Odessa High School.
On Aug. 26, 1952, she married R.D. Hogan, and in their 46 years together raised two sons and two daughters. The family spent their early years working around the country but always returned home to Odessa.
In the late '60s, JoDee began a lifelong career as a hairstylist specializing in long hair, now a long forgotten art. Spanning over four decades, her career began at Frenches Salon. She opened her own business Salon De Villa and worked there for many years. Later went to Sahara Wig & Hair Salon to work, where many wonderful friendships and lasting bonds were forged. She had special relationships with each of her devoted customers and when they could no longer come to her she would go the them. JoDee worked many years with cancer patients helping them to regain their confidence and self esteem.
JoDee loved to dance and enjoy the night life where she played pool and spent time with her many friends. She was proud of her affiliation with the Odessa Pool League and was especially proud to participate in many charity events and fund-raisers. She enjoyed weekend getaways to the Casinos, but her greatest love was fishing. Some of her most memorable moments were spent with her family and friends on the lake or river.
JoDee has spoken of her life many times and would leave us with these words to remember. "I have lived a full wonderful life and was twice blessed. First with such a strong family who loved me so deeply. We stood strong through the hard times, laughed and danced through the good. Blessed again with many friendships that were rare and wonderful. If I have not said this to you please know that in life I have loved and cherished you deeply."
JoDee was preceded in death by her father; husband; and two sisters.
She is survived by mother; Buton Lewis Cook of Odessa; her sons, Troy "Coco" Hogan and wife Gwen of Odessa and Rocky Dean Hogan of Lubbock; daughters, Teri Elaine Burgess of Odessa and Tami Marie Heifner and husband Bryan of Odessa; brothers-in-law, Bill Hogan and Kenneth Orren both of Odessa; sisters-in-law, Reta Lowell and Ann Hogan, both of Odessa; six grandchildren, Robin and Scott Crow, April Cowen and husband Michael, Jennifer Hogan and fiancé Lance Autry, and Brittany and Baylie Heifner; seven great-grandchildren, Cheyenne and Hanah Cowen, Corey, Danielle, Reighly, Colton Autry and Dawson Hogan.
Visitation was Saturday and today at Odessa Funeral Home. The family will greet friends from 6 p.m. to 8 p.m. today.
Funeral services have been set for 10 a.m. Monday, Oct. 4, 2004, at St. Andrew's Cumberland Presbyterian Church with Dr. Jimmy Braswell officiating. Burial will follow at Sunset Memorial Gardens.
Pallbearers will be Kevin Rogers, Charlie Brown, Mikie Thompson, Terry Olliff, Terry Huckaby, Michael Soules, Michael Cowen Honorary Pallbearers Robin and Scott Crow.
Services by Odessa Funeral Home.