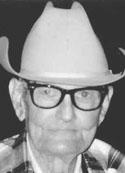 Bill E. Green

ODESSA Bill E. Green, also referred to in the military as ďBillie Green,Ē passed away on Sunday, November 21, 2004, at Midland Memorial Hospital. Funeral Services are scheduled for 2 p.m. Friday, November 26, 2004, at Sunset Memorial Funeral Home Chapel. Interment to follow at Sunset Memorial Gardens.
Our hearts are saddened by the loss of this man with a ďLoving and Giving Heart.Ē We look forward to our reunion with him in Heaven.
Bill was born in Waldrup, Mississippi, on October 2, 1921. He was welcomed into a large family (including him were 11 kids).
On November 16, 1942, Bill entered the Army Infantry in which he also served as a military head cook. Bill fought in World War II, fought at the Battle of Normandy and the Battle of the Bulge. He endured enemy attack and when an explosion occurred near Bill, penetrating inside his body, a medical team removed as much metal as they could. Bill recuperated strongly. On July 1, 1963, at Fort Benning, Georgia, Bill retired with the military in which he served very well.
On his way to Arizona to retire, Bill stopped in Odessa, Texas, to visit relatives Fredna Brown, Sammy Green and others. Another chapter began in Billís life as he chose to remain in Odessa as a Superintendent with Wyly Brown Construction, Co., Inc. Bill with his multiple talents supervised the building of many new homes in the Odessa area. After approximately 20 years, Bill retired from home building. He then began serving as a Cook for his relatives and friends.
Bill was a member of Faith Tabernacle Assembly of God in which he attended regularly with some of his relatives.
As his heart affected his physical body, Bill later resided at the Texas Veteranís Home in Big Spring, Texas. Bill would cook some of his specialties for the Veteranís Home. He also attended Chapel services.
After a bad fall, Bill was hospitalized at Midland Memorial Hospital. Billís mind was very keen all the way to his last breath. Many family and friends were with Bill on his last day of life.
Family members who preceded Billís passing away were Mary L. Green, mother and Berry Green, father from Bay Springs, Mississippi; brothers, Johnny Green, Lavelle Green and Gleen Green (who passed away on the ship Arizona Memorial in 1941 at Pearl Harbor); and a sister who died very young.
Surviving family members are brothers, Rudolph Green of Bay Springs, Mississippi, and Ray Green of Loraine, Kansas; and sisters, Evelyn Jay of Pensacola, Florida, Dorothy Dennis of Prattville, Alabama, Betty Craft of Pearl, Mississippi, Fannie Mae Therill of Mountain Home, Idaho, and Rebecca Smith of Bay Springs, Mississippi. Also survived by relatives Sammy Green, Fredna Brown of Odessa, TX, and many more relatives.
Services have been entrusted to Sunset Funeral Home.