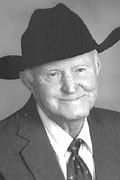 Roy Segal French

ODESSA — Roy Segal French, 74 years of age, passed away October 14, 2004, at the Hospice House in Odessa.
He was born November 23, 1929, in Hall County, Turkey, Texas. He was a truck driver in the oil industry and member of Westover Baptist Church. He married his wife, Lois, on October 28, 1945. She preceded him in death on November 3, 1997.
Surviving are his sons, Roy David French of Angleton TX., Belvie Carroll French of Cleveland, TX., and Randall Allen French of Abilene, TX.; daughters; Jo Ann French and Linda Faye French, both of Odessa, Sharon Annette Haggard of Ft. Worth, TX., and Charlotte Rene Wilson of Cleveland, TX.; brother, Belvie Darrel French of Tolar, TX., sister, Helen Wilson of Roswell N.M.; 24 grandchildren; and 38 great-grandchildren.
Funeral services have been set for Saturday, October 16, 2004, at 2 p.m. at Odessa Funeral Home Chapel with the Reverend Terry Wright officiating. Burial will follow at Sunset Memorial Gardens.
In lieu of flowers, the family suggest memorials be made to the Hospice House of Odessa.
Services by Odessa Funeral Home.