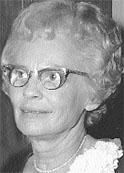 Mary Kessler Fowler

ODESSA — Mary Kessler Fowler passed away Monday, August 23, 2004, at Medical Center Hospital. She was born March 10, 1918, in Belview, Texas, to William Spradling and Edna Kessler.
Graveside services will be at 9:30 a.m. Saturday at Sunset Memorial Gardens.
Memorial services will be at 11 a.m. Saturday at First United Methodist Church with the Rev. Blossom Matthews officiating. Services entrusted to Frank W. Wilson Funeral Directors.
She was preceded in death by her husband, George L. Fowler; her parents; and a sister, Martha Blaney.
She was a homemaker and a member of First Methodist Church, Junior League and Odessa Country Club Golf Association. She water-skied up until her 65th birthday.
She is survived by her son, G. William Fowler and wife, Lynda Beth, of Odessa; daughters, Janie Howell and husband, Sam, of Odessa and Marcy Wenzler and husband, Mike, of Bloomington Ind.; nine grandchildren, Christie Geseell, Ramsey Fowler, Larry Crane, Lisa Crane, Eric Crane, Wade Howell, Mary Howell, Ryan Wenzler and Rachel Wenzler; and six great-grandchildren.
In lieu of flowers, memorials may be made to the Globe of the Great Southwest Theatre, Girl Scouts of the Permian Basin or Legal Aid of West Texas.