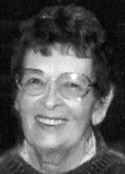 Patricia Louise Simpson Fleming

ODESSA — Patricia Louise Simpson Fleming, 75, of Katy, Texas, formerly of Odessa, Texas, passed away Monday, August 16, 2004, at her home under Hospice Care, attended by family and close friends.
Mrs. Fleming was born June 18, 1929, in Pecos, Texas, to Hattie Louise Martin Simpson and Quintin Earl Simpson.
The Simpsons were longtime residents of Odessa, Texas, where Patricia attended The First Christian Church and graduated from Odessa High School in 1947. She was a member of Rainbow Girls and a very talented singer. She went on to Tulsa University to pursue her singing career receiving a degree in Music Education in 1951. She completed her Master's Degree at Hardin-Simmons University. She was a much-loved music teacher at Rusk Elementary and involved in teaching and counseling for many years.
Her parents passed away in 1985. Her former husband, Robert William Fleming, passed away in 1989.
She is survived by her loving sister, Carl Simpson Wight, of Goldsmith, Texas; her children, Cynthia Louise Fleming of London, England, Charles Earl Fleming of Houston, Texas, Rebecca Marie Chapman of Sugar Land, Texas, and Richard Walter Fleming of San Antonio, Texas; and her six grandchildren. She will be much missed by her "adopted" children, extended family and friends.
Services will be held at 10 a.m. Saturday, August 21, 2004, at Antioch Christian Church with the Rev. Don Fankhauser and the Rev. Clydell Chapman officiating. Interment will follow at Sunset Memorial Gardens.
Services entrusted to Hubbard-Kelly Funeral Home.
The family suggests memorials to the Alzheimer's Foundation.