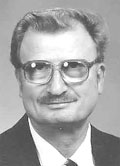 Orbie Lee Edson

ODESSA Orbie Lee Edson, 62, beloved husband, brother, father, grandfather and great-grandfather, went home to his heavenly father on Tuesday, December 21, 2004. He passed away due to complications of heart disease at Hospice House.
Orbie was born on August 16, 1942, in Covington County, Alabama, the son of Ealy and Cora Blackwell Edson. He was the youngest of nine children. He came to Odessa in 1957, where he married Patsy Bell on January 7, 1961. He was employed by Sivallís Tanks for thirty years before retiring in 1996, but his main focus was his wife of 43 years and his family.
One of Orbieís greatest enjoyments was fishing at his retirement home at Spring Creek in San Angelo, TX, with his family and friends.
He was preceded in death by his parents; brothers, Calvin and George; sisters, Bertha Mitchell, Jane Ard and Ella Hendrix; and his infant grandson Jeremy Wade.
He is survived by his wife, Patsy; two daughters, Deidra and husband, Tom Snider, of Odessa, and Cora and husband, Donnie Jerkins, of Rosenberg, TX; grandchildren, Colby and Andria Wade, Ashley, Chase, and Clayton Jerkins, Joe and Brandy Snider and James and Keri Reed; sisters, Bessie Cunningham of Montgomery, Alabama, and Mae Lacroix of Odessa, TX; brother, Hilton Edson of Odessa, TX; and three great-grandchildren, McKenzie and Cody Snider and Hunter Reed.
Pallbearers will be Robert, Dale, David Lacroix, Billy Hendrix, Jake Hendrix, Joe Snider and Donnie Jerkins. Honorary Pallbearer is Larry Hendrix.
Funeral Services will be held at 2 p.m. Thursday, December 23, 2004, at The Latter Rain Worship Center at 19th and Jackson in Odessa, TX, with Pastor Craig DeArmond officiating. Internment will follow at Sunset Memorial Gardens. Visitation will be held at Sunset Memorial Funeral Home on Wednesday, December 22, 2004, from 6 p.m. to 8 p.m.