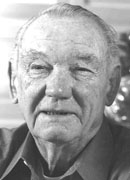 ODESSA Charles E. Dick, "Papa", 74, of Odessa, left this life to be with our Lord and Savior, Jesus Christ on December 16, 2004. Charles was born March 23, 1931, in Olden, TX. He married Anita Yvonne Tankersley Dick on June 7, 1953, in Eastland, TX. Yvonne and Charles lived in Kermit for 47 years, 44 of which were in the same home. Yvonne passed away on January 7, 2003.
Charles later married Bettye Smith on March 12, 2004, who remained by his side until he passed. He is also survived by one sister, Barbara Sims; four daughters, Bunny Chapman of Andrews, and Valerie Duncan and husband, Joe, Cynthia McNabb and husband, Bobby, and Jana Drake, all of Odessa; son, Michael Dick and wife, Deena, of Shallowater, TX; and one nephew, Winston Dick of Odessa. Charles is also survived by his grandchildren, Rebekah Welch, Rita Shrum, Steven and Trevor Duncan, Lori Richie, Justin and Kara McNabb and Nathana Overly, Jyl and Beau Dick, Lindsay and Landon Drake and Meghan Clark. He also had five great-grandchildren, Bridgett House and Heather Robinson, and Hunter Richie, Ashley Shrum, and Hayden Overly.
He is also survived by his stepson, Steve Smith, and wife, Kiera, and their daughters, Keena Traylor and Kasha Urban, and husband Fred Urban. Stepson's Greg Smith and wife, Blaine, and one stepdaughter, Sara Lange and husband, Andy. Grandchildren are Keena Traylor, Kasha Urban, Jesamy Smith, Toni Smith, Leah Lange and Lisa Lange. Great-grandchildren are Trey, Tara, and Tori Urban and Dylen Smith. He loved
his grandchildren, great grandchildren and children dearly, in the knowledge that one day they will all be reunited.
Services are scheduled for Saturday, December 18, 2004, at 2 p.m. at Kingston Avenue Baptist Church in Odessa with Rev. John Taylor officiating. Burial will follow at Sunset Memorial Gardens and Funeral Home.