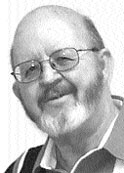 Terry Otto Deutsch

ODESSA — Terry O. Deutsch, 67, a longtime resident of Odessa, went to be with his Lord and Saviour Tuesday, October 19, 2004, at the Hospice House. He was born February 18, 1937, in Jefferson City, Texas, to Otto and Bertha Deutsch. He married Juannell Overton August 28, 1968, in Andrews.
He worked the last 27 years for E.C.I.S.D. as a custodial foreman. He retired February 2004. He previously worked for Bob's Casing Crews. He enjoyed westerns, going to the movies and Shania Twain.
He is preceded in death by his parents and brother, Dayle Deutsch.
He is survived by his wife, Juannell "Sam" Deutsch of Odessa; nine children, Jack Edwards and wife, Susie, of Odessa, Steve Edwards of Odessa, Darrell Edwards and wife, Teresa, of Artesia, N.M., Sherry Graham and Dana Deutsch, both of Odessa, Susan Gulley of San Angelo, Dalene Rasco and husband, Royce, of Clarksville, Tenn., Fay Washburn and husband, Terrall, of Odessa and Gaynell Gagner and husband, Philip, of Tucson, Ariz.; brother, Dalton Deutsch of Abilene; 27 grandchildren; three great-grandchildren; and numerous nieces, nephews, cousins, other family and friends.
The family will receive visitors from 6 p.m. to 8 p.m. Thursday, October 21, 2004, at Hubbard-Kelly Funeral Home.
Funeral services will be held at 2 p.m. Friday, October 22, 2004, at the Bible Baptist Church with the Rev. John Lyons and James Channell officiating. Interment will follow at Sunset Memorial Gardens.
In lieu of flowers, memorials may be made to the Hospice House.
Services entrusted to Hubbard-Kelly Funeral Home.