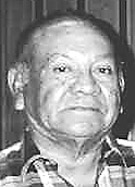 Frank Davila
ODESSA Frank Davila, 74, of Odessa, passed away November 8, 2004, at Medical Center Hospital. He was born Aug. 21, 1930, in Colorado City, TX.
He was a retired custodian for ECISD. He was a loving husband to Esperanza Davila for 53 years, as well as a loving father, grandfather and great-grandfather. He enjoyed spending time with all his grandchildren and great-grandchildren.
He was preceded in death by his father, Esequiel Davila; mother, Cecelia Davila; four brothers; and three sisters.
He is survived by his wife, Esperanza Davila of Odessa; son, Frank Davila Jr. and wife, Lolly, of Denver City, TX; daughters, Lydia Marin and husband, David Estrada, of Odessa, and Elanie Munoz and husband, Roy, of Odessa; grandsons, Freddie Davila, Brandon Munoz and Lucas Munoz; granddaughters, Cindy Bennett, Lori Garcia and Jessica Davila; and great-grandchildren, Jordan, Michael, Nicholas, Samantha, Alexandria, Avery, Charlee and Kayle. As well as brothers, Jose Davila and Willie Davila and sisters, Esther Flores and Petra Guerrero, all of Colorado City, TX; and many nieces and nephews. He will be greatly missed by all.
Popo, although your passing leaves an empty and painful place in our hearts, we know God has a great plan for you. We greatly appreciate the time HE gave us to share your love and wisdom. Till we meet again remember always that we love you.
Pallbearers will be nephews Joey Davila, Marty Davila, Louis Davila, David Davila, Mike Davila and Benjamin Davila.
Services will be held at 2 p.m. today, Nov. 10, 2004, at Frank W. Wilson Funeral Directors Chapel. Interment will follow at Sunset Memorial Gardens.
Arrangements entrusted to Frank W. Wilson Funeral Directors.