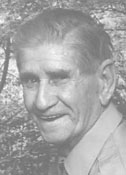 Truitt J. Dane
ODESSA Truitt J. Dane, 78, passed away Saturday, November 20, 2004, at Alliance Hospital in Odessa.
He was born February 19, 1926, to Paul and Virginia Dane in Poolville, TX. He served in the U.S. Airforce. He moved to Odessa in 1945, and later married Edna Grizzell on February 8, 1947, in Nocona, TX. He was employed for 27 years as a tool pusher for C. E. Phillips Well Service, and after retirement, served as a school crossing guard for ten years. He was a member of Temple Baptist Church.
Survivors include his wife, Edna Dane of Odessa; sons, Larry Dane of Carrizo Springs, TX, and Eddie Dane of Odessa; and daughters, Cozetta Dane and LaDonna Johnson, both of Odessa; brother, Billy Ray Dane of Big Lake, TX; six grandchildren; and three great-grandchildren.
Services will be held at 2 p.m. Tuesday, November 23, 2004, at Temple Baptist Church with Rev. Kyle Rodgers officiating. Burial will follow at Sunset Memorial Gardens.
Donations may be made in his memory to Hospice House or to the American Heart Association.
Services entrusted to Hubbard-Kelly Funeral Home.