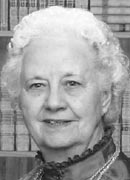 Velva Iva Cooper

ODESSA Velva Iva Cooper, 92, of Odessa, passed away November 11, 2004. She was born December 20, 1911, to John Wesley Strout and Ausley Lena Leslie on the Lemon Ranch outside of Tulia, Swisher County, Texas, in a half dug-out house.
Velva graduated from high school in 1929. She belonged to the Dramatic Society and played the violin in the orchestra. Upon graduation, she went to work for the Western Union in Tulsa. On July 8, 1933, in Sand Springs, Oklahoma, Velva married Paul Ward Cooper and in 1956, they moved to Odessa. They were charter members of Bethany Christian Church and both were chairman of the board. After Paulís passing in 1960, she continued to work in Odessa for Grimshaw Construction Co. She was named Woman of the Year for Women in Construction and for the American Business Womenís Association. In addition she was a chairperson of the Ector County Heart Association. She retired as the executive secretary for the Odessa Board of Realtors and after her retirement she traveled extensively in the U.S., Europe and the Far East.
Velva is preceded in death by her husband, Paul Ward Cooper; and two grandchildren.
She is survived by her son, Paul Willis Cooper and wife, Carolyn, of Odessa; daughters, Sue Cooper Hayes and husband, William T. Hayes, of Tiki, TX, and Pauline Gleason and husband, Pat Gleason, of Seattle, Washington; 10 grandchildren, 25 great-grandchildren; and two great-great-grandchildren.
Funeral services will be held at 2 p.m. Saturday, November 13, 2004, at Sunset Memorial Funeral Home Chapel with Joe Harker officiating. Interment will follow immediately at Sunset Memorial Gardens.