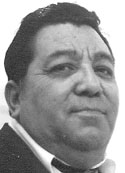 Jose Bustamante

ODESSA Jose Bustamante, 77, passed away November 23, 2004, at his Odessa residence.
He was born March 25, 1927, in Alpine, Texas. He was a foreman for a furniture store and was member of Holy Redeemer Catholic Church.
Mr. Bustamante was preceded in death by his mother; Paulina Bustamante; son, Orlando Bustamante; brothers, Jesus and Danny Bustamante; and grandson Eddie Rae Bustamante.
Surviving are his wife, Marta Bustamante of Odessa; sons, Jody Bustamante and wife, Cindy, of Sherman, Eddie Bustamante and wife, Mary, of Odessa and Adolfo Bustamante of Odessa; daughters, Elda Hernandez and husband, Julian, and Elva Gay Wagner and husband, Orville, both of Ft. Worth; sisters, Cruz Payne of Alpine, Maria Espinoza of Odessa, Ester Sanchez of Lubbock, Eulalia Muniz of Alpine and Ramona Fierro of Odessa; and nine grandchildren, Brandie, Eva, Michelle, Joseph, Athena, Sunjay, Mercy, Jericho and Dianna. A rosary will be recited on Friday, November 26, 2004, at 7 p.m. at Odessa Funeral Home Chapel. Mass will be celebrated on Saturday at 10 a.m. at Holy Redeemer Catholic Church.
Burial will follow at Sunset Memorial Gardens. Family members will serve as pallbearers.
Services by Odessa Funeral Home.