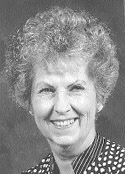 Dorothy Helen Burnett

ODESSA — Dorothy Helen Burnett, 86, of Odessa, died Monday, September 27, 2004, at the Hospice Midland Inpatient Unit at Midland Memorial Hospital. She was born August 27, 1918, in Bowie, TX., to Ed and Ellie Arledge.
The family will receive visitors from 7 p.m. to 8 p.m. Wednesday at Frank W. Wilson Funeral Directors.
Funeral Services will be held at 11 a.m. Thursday, September 30, 2004, at St. Luke's United Methodist Church with the Rev. Kevin Bushart officiating. Interment will follow at Sunset Memorial Gardens.
Mrs. Burnett had been employed as a records clerk for the school district before her retirement. She was a member of St. Luke's United Methodist Church.
She is preceded in death by her husband, Wm. Hardy Miller; daughter, Judy Longino of Odessa; parents; and siblings, Alma Moore, Ann Moore, Bess Jones and Bud Arledge.
She is survived by her husband, Charles "Buddy" Burnett of Odessa; daughter, Sandra Kratky of West Columbia, TX.; son, William Hardy Miller Jr. of Deer Park, TX.; step-sons, John Burnett and Charles Burnett III of Albuquerque, N.M.; step-daughter, Carolyn Morris of Albuquerque, N.M.; brother, Joe Arledge of Gilmer, TX.; sisters, Gertrude Weeks and Fran Gleaton of Odessa; grandchildren, Kim McCann, Julie Salmon, Jeff Longino, Kirk Kratky, Rita Miller and Tracy Miller; great-grandchildren, McCain Lauterbach, Ryan Longino, Bailee McCann, Logan Longino and Jackson Longino; numerous nieces and nephews, including Max B. Lloyd; and her faithful, longtime friend, Dean Longino.
In lieu of flowers, the family requests donations made to the Alzheimers Association.
Services entrusted to Frank W. Wilson Funeral Directors.