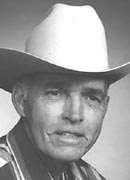 'J.C.' James Carol Burleson 'Pop'

ODESSA "J. C." James Carol "Pop" Burleson, 69, a longtime resident of Odessa, passed away Thursday, November 11, 2004, at his residence surrounded by family and friends. He was born May 15, 1935, in Winfield, Ala. He married Romia McClain Nov. 20, 1952, in Lovington, N.M. He was a two-time survivor of cancer. He was a family man and enjoyed working on his land. He also enjoyed metal and woodworking. He worked as a truck driver in the oilfield.
He is preceded in death by his parents, William and Ella Burleson; three brothers; three sisters; son-in-law, Johnny Clark; and grandson, James Paul Brunner.
He is survived by his wife, Romia Burleson of Odessa; three sons, Bill Burleson and Sue, Richard Burleson and Julia and Gayland Burleson and Cindy, all of Odessa; three daughters, Carol Campbell and Gary of Gulf Breeze, Fla., LaVon Lewis and Philip of Odessa and Lisa Brunner and Larry of Hobbs, N.M.; brother, Tom Burleson of Battlecreek, Mich.; sister, Dorothy Conway of Winfield, Ala.; 13 grandchildren, Stephanie, Kristy, Brian, Justin, Michael, Larry Warren, Misty, Kevin, Troy, Kelsey, Christopher, Alex and Cody; and two great-grandchildren, Raymond, Dameon and one on the way. Also many friends.
Pallbearers will be Johnny Mitchell, Joe Whitley, Toby Bullard, Russell McBride, Mike McBride and John Smitz.
There will be a visitation from 7 p.m. to 9 p.m. Saturday, November 13, 2004, at Hubbard-Kelly Funeral Home.
Funeral services will be held at 2 p.m. Sunday, November 14, 2004, at Hubbard-Kelly Funeral Home Chapel with Rev. Jimmy Braswell officiating.
Interment will follow at Sunset Memorial Gardens.
Memorials may be made to the American Cancer Society or Home Hospice.
Services entrusted to Hubbard-Kelly Funeral Home.