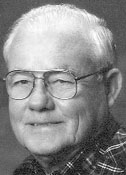 William Calvin Burke
ODESSA William Calvin Burke of Odessa went to be with his Lord and Savior, Tuesday, December 14, 2004, after a prolonged illness. He was born June 7, 1927, to Samuel and Bessie Burke of Anadarko, Oklahoma. Calvin married the love of his life, Patsy Ruth King, on November 23, 1945, in Shawnee, Oklahoma. They shared the next fifty-nine years side-by-side. Calvin and Pat moved to Monahans, Texas in 1956, where he worked for Frost Bakery until transferring to Odessa. Calvin worked for Frost Bakery for 26 years. In 1982, he purchased Globe Cleaners in Odessa, which he owned and operated until his death.
Calvin was preceded in death by his parents; eight sisters; seven brothers; and one great-grandson. Calvin was a loving husband, father and grandfather. More than anything Calvin loved his family, each and every one. He was affectionately known as "Papa Burke" to his grandchildren and great-grandchildren.
He is survived by his loving wife Pat; daughter, Donna Vaughn and her husband, Ronnie; daughter, Patsy Berry and her husband, Jay; and daughter, Debbie Harris, all of Midland. Ten grandchildren, Corey Harrison, Cari McNutt and her husband, Clint McNutt, of Odessa, Brian Vaughn and his wife, Leighana, of Andrews, Meredith Jumper of San Antonio, Jason Jumper and his wife, Leah, of Amarillo, Derrick Berry of Plano, Jaden Berry of Midland, Jennifer Creek and her husband, Matt, of Midland, Steve Jumper and his wife, Christy, of Midland, and Stephanie Grace and her husband, Johnny, of Dallas; six great-grandchildren, Kylie, Kara and Kahler Vaughn of Andrews, Braden Jumper of Amarillo, and Julianna Berry and Railea Creek of Midland, Texas. Calvin's other enjoyment in life was his fishing and spending time at his place at the lake in Colorado City, Texas. Calvin was a member of Immanual Baptist Church. Pallbearers are Corey Harrison, Brian Vaughn, Jason Jumper, Derrick Berry, Jaden Berry and Clint McNutt.
Services are scheduled for 10 a.m. Thursday, December 16, 2004, at Immanual Baptist Church in Odessa, Texas. Interment will follow at Sunset Memorial Gardens.
The family would like to give special thanks to his private caregiver, Tiffaney York, Hospice of Odessa and Pastor Bill Cook and his wife Dorothy.
Memorial gifts may be made to Children's Ministry of Immanual Baptist Church of Odessa, Texas.
Funeral arrangements are under the direction of Frank Wilson Funeral Home of Odessa, Texas.