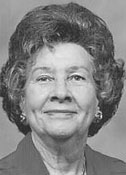 Margaret Louise 'Lucy' Brown

Torrington, Wyo. Memorial services for Margaret Louise "Lucy" Brown, 88, will be at 10 a.m. Tuesday, Nov. 30, 2004, at the First Presbyterian Church of Odessa, Texas, with the Rev. Allan Farquhar and the Rev. Peggy Brown co-officiating.
Burial will be held earlier that day at 9 a.m. at Sunset Memorial Gardens.
Louise passed away on Nov. 22, 2004, at the Goshen Care Center in Torrington. The Colyer Funeral Home was in charge of cremation arrangements. Those who wish may direct memorial contributions in her memory to either the First Presbyterian Church of Odessa, Texas, or to the Goshen Care Center of Torrington, Wyo.
She was born Nov. 12, 1916, in Anson, Texas, the daughter of Gaines and Mary (Kilpatrick) Hall. She spent much of her childhood moving with her family, as her father was a Presbyterian minister who traveled frequently.
After high school, Lousie attended Austin College in Sherman, Texas, where she earned her Bachelor's Degree in English. Following college, she spent two years teaching in the Itasca Children's Home in Itasca, Texas.
She then married Joe Milton Brown, a Presbyterian minister, on June 3, 1941, in Graham, Texas, and they served together in churches in El Campo, Port Arthur and Odessa, Texas. Joe and Lucy moved to Odessa in 1950, where they served until Joe's retirement in 1979. Known as "Lucy" to the many people who loved her, Lucy remained in Odessa after the death of her husband in 1983. In 1999, she moved to Torrington, Wyo. To be with her daughter, Peggy Brown.
She is survived by her son, Michael Brown of Snyder, Texas; her two daughters, Linda Brown of Fort Worth, Texas, and Peggy Brown of Torrington, Wyo.; and two grandchildren.
She was preceded in death by her parents; husband; one brother, Clifford Hall; one sister, Sarah Anderson; and one granddaughter, Becky Blake.